The Nissan Leaf is one of the most affordable EVs on the market.
Like most other cars it uses various beeps and chimes to alert the driver.
If you're unsure why your Leaf keeps beeping, this article is here to help.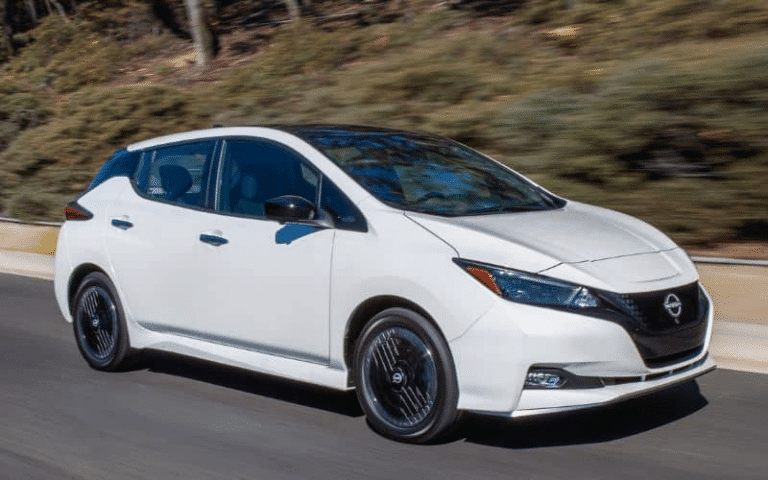 Nissan Leaf Beeping
The most common cause of beeping from a Nissan Leaf is due to speed limit alerts. Other possible causes include opening the car door before shutting off the car, charging beeps, driver assistance features and a low key fob battery.
1. Speed Limit Alert
If you've bought a used Leaf then the previous owner may have set up the Speed Alert feature or it may have been set up at the dealership.
The Speed Alert will deliver a warning beep to the driver once a certain speed threshold has been reached, reminding the driver to slow down.
This feature can be enabled or disabled on the NissanConnect Services app or MyNISSAN Owner Portal. Or you can disable the speed warnings via the Navigation Settings.
"Update (May 13 2021): I finally found out what one of the users suggested were correct, it is the speed limit warning. I'll keep it cause it's a safety feature!" – MyNissanLeaf.com
"It worked. The road runner beep beep is gone. Thanks for the help. I disabled speed warning in navigation." – MyNissanLeaf.com
"I had the same thing when my car was new and couldn't find much information.. I looked around in the menu…maybe navigation menu and turned off the speed warning…then it stopped." – MyNissanLeaf.com
2. Opening The Car Door
A common cause of beeping on the Nissan Leaf is opening the car door before the car is turned off. It is simply a reminder that the vehicle is still ON.
To stop this from happening, ensure the vehicle is off before opening the door.
"Turns out that happens if you open the car door before the car is turned off. Why? Why is that important enough to beep at me urgently like something is seriously wrong?" – Reddit.com/r/Leaf
3. Charging Beeps
When charging your Nissan Leaf you may hear various beeping sounds, such as when opening the charge flap. This is perfectly normal although some owners find it extremely annoying.
If the beeping noises whilst charging irritates you, you can disable them via LeafSpy.
LeafySpy is an app that is available to download for Android and iOS devices.
You will need to disable "Charge Sounds" which you can get to by enabling the "Service Menu" option.
4. Lane Departure Warning
The Lane Departure Warning System on the Nissan Leaf will beep if you drive too close to the road markings.
The LDW system can be quite sensitive on Nissan models and will often beep at everything, even when you cross cracks in the roads.
5. Blind Spot Warning
When the system detects a vehicle driving in an adjacent lane approaching the rear of the driver's vehicle – a common blind spot area, it notifies the driver with an indicator – usually a beep.
6. Key Inside Vehicle
If you've left a key in the vehicle and you go to lock the car you will hear three chimes.
The manual states you will hear 3 chimes if "The Intelligent Key is inside the vehicle or cargo area".
Related: Nissan Leaf Alarm Going Off? (13 Causes & Solutions)
7. Weight on the Passenger Seat
If you've got an item such as some groceries or even your pet dog on the passenger seat this can trigger a beeping noise as your car will think your 'passenger' needs to buckle up as it detects a presence on the seat.
You can simply buckle the seatbelt to see if this stops the beeping.
8. Low Key Fob Battery
A low key fob battery can cause a wide range of electrical issues, including triggering the alarm or nuisance beeps.
Ensure the fob is clean and free from dirt and debris and replace the battery.
It's worth buying a good brand of battery too and ensure it is inserted correctly.
9. 12V Battery
If the battery is starting to die you may hear a warning beep, most 12V car batterys last 3-4 years on average.
You can always check the battery life with a voltmeter, by measuring the voltage across the battery's terminals.
If it's under 11V then this is likely causing the beeps and you'll need to replace it.
10. Low Tire Pressure
A chime will sound if the system detects low tire pressure.
"Are you running Leafspy while you drive? I had this issue and it turned out to be the low tire pressure alarm on Leafspy." – MyNissanLeaf.com
11. Lights
It's a good idea to make sure that no bulbs have blown, check your headlight, emergency (hazard) lights and brake lights, this may trigger a warning noise.
12. Faulty latches, Sticking Door Mechanisms or Door Not Shut Properly
If you've got a door latch that's sticking this will make the car think you've got a door open or ajar when you haven't.
This is a common cause of beeping on many car models.
Try giving a good clean to all door mechanisms and lubricating with WD-40.
Make sure all door locks are opening and closing as they should.
Related: 7 Most Common Problems With Nissan Leaf (Explained)
Nissan Leaf Beeping Sound While Driving
If you're Nissan Leaf is beeping whilst driving this is most likely caused by the Speed Alert feature, this is designed to send a warning beep once a certain speed has been reached.
This feature has left many Nissan owners confused, as they have no idea where the beeps are coming from.
Fortunately, this feature can be disabled quite easily on the NissanConnect Services app or MyNISSAN Owner Port or in the Navigation Settings.
Nissan Leaf Beeping When Door Opens
If you're Nissan Leaf beeps when you open the door, this can be because you need to turn off the car first, put the vehicle into Park and then open the door.
Nissan Leaf Doesn't Beep When Locked
If your Nissan Leaf doesn't beep when locked this is because the Answer Back Horn feature has been disabled. It can be activated and deactivated using the Key Fob.
To Deactivate: Press and hold the 'locked padlock' and 'unlocked padlock' buttons on the key fob for at least two seconds.
The hazard indicator lights will flash three times to confirm that the answer back horn feature has been deactivated.
To Activate: Press and hold the 'locked padlock' and 'unlocked padlock' buttons on the key fob for at least two seconds once more.
The hazard indicator lights will flash once and the horn will sound once to confirm that the horn beep feature has been reactivated.
Deactivating the horn beep feature does not silence the horn if the alarm is triggered.
Nissan Leaf Three Beeps
Three Beeps from a Nissan Leaf can be caused by the Rear Automatic Braking system which detects obstacles behind the vehicle using the parking sensors located on the rear bumper. It may also be caused by the Lane Departure Warning or a warning that your car is still ON.
From the Nissan Leaf owners manual:
If a risk of a collision with an obstacle is detected when your vehicle is backing up, the RAB system warning indicator will flash in the vehicle information display, a red frame will appear in the center display (for vehicles with the Intelligent Around View Monitor system), and the system will chime three times.
The system will then automatically apply the brakes. After the automatic brake application, the driver must depress the brake pedal to maintain brake pressure.
Make sure your sensors are free of dirt and debris.
Be sure to check all your gauge and information displays for information too.
What Features Driving Aids Cause Beeps?
Automatic Emergency Braking (AEB)
Automatic Emergency Braking (AEB) with Pedestrian Detection
Blind Spot Warning (BSW)/Rear Cross Traffic Alert (RCTA)
Intelligent Cruise Control (ICC)
Intelligent Lane Intervention (I-LI)
Lane Departure Warning (LDW)
ProPILOT Assist
Rear Automatic Braking (RAB)
Rear Sonar System (RSS)
Faulty or dirty sensors, wiring shorts or electronic faults may cause unexplained beeps.
Alternative Suggestions
Disconnect the Battery
Some innocuous beeps can disappear with a simple reset.
Disconnect the battery for 20 seconds.
Check the Gauge Cluster
When the beeping occurs can you see any lights come on at the same time on the gauge cluster?
This can give a clue as to what's causing the beeping.
On some vehicles, a warning beep indicates a bulb in the gauge cluster is blown.
Take it to a Nissan Dealership
If needed, take your car to the dealership.
Tell them you are NOT paying for a check on what the problem might be.
Ask them if they will check it for free.
Most dealerships and other places do quick/initial diagnosis for no money as they plan to make money for the repair of your vehicle.
Check for Recalls or TSBs:
By entering your car's VIN number on Nissans recall page you can determine whether or not there is a recall for your vehicle and if there is you'll want to get it fixed.
Similarly, a quick google search will help you determine whether there is a Technical Service Bulletin for your car, these are less serious but may give a reason why your car is beeping.
A recall is issued by a vehicle manufacturer for issues that are safety-related, while a TSB covers components that may be malfunctioning but don't compromise the safety of the vehicle.
Diagnosing Beeps With a Scanner
Another possible option if you're hearing a beeping sound is to use an OBD2 diagnostic scanner tool.
These are fairly easy to use, you simply plug them into your car – there's usually an OBD2 port under the steering wheel.
Once you have the scan codes you can research these online specifically for the Trailblazer.
There are also OBD apps available so you can connect your car straight to your smartphone (either with a cable or Bluetooth) without even needing a scanner.
Warning Signals
From the Nissan Leaf owners manual:
To help prevent the vehicle from moving unexpectedly by erroneous operation of the Intelligent Key or to help prevent the vehicle from being stolen, a chime or buzzer sounds from inside and outside the vehicle and a warning is displayed in the instrument panel.
When a chime or beep sounds or a warning is displayed, be sure to check the vehicle and the Intelligent Key
Sources
https://www.nissan-cdn.net/content/dam/Nissan/pr/vehicles/leaf/2020/2020-nissan-leaf-owner-manual.pdf
https://owners.nissanusa.com/content/techpub/ManualsAndGuides/LEAF/2016/2016-LEAF-owner-manual.pdf