The Nissan Leaf is the world's first mass-marketed electric vehicle (EV)
It's been a huge success in the US thanks to its affordable price tag and eco-friendly powertrain.
Like any other vehicle, the Leaf has its share of problems, in this article we'll cover the most common ones.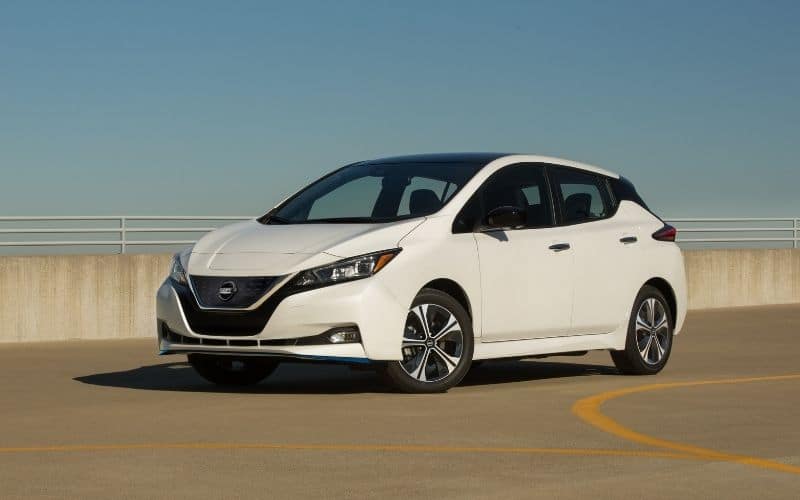 1. Loss of Brake Function
On the Car Problem Zoo website, a site dedicated to collecting owner feedback – the most commonly reported Leaf complaint is due to its service brakes.
Owners have described that the brakes stopped working and in some cases, the brake pedal would depress to the floor without resistance.
Some owners have had to apply the manual brake to stop the vehicle to prevent a collision.
This problem is mainly reported on the 2013, 2014, 2015 and 2016 vehicles although there are some reports for 2018 and 2022 models too.
Here are a couple of owner experiences:
"Much like other complaints here, just after starting the car and putting it into reverse from a parking spot, pressing the brake pedal did not slow the car down, even with the pedal fully depressed. Only after letting the brake up and pressing it again did it work. Fortunately, I didn't hit anyone or anything and was able to get the brakes to work in time"
"The e-pedal was on. I was trying to park the car and it jumped the curb, when it lurched forward the brakes would not engage so I had to hit a tree to stop."
Online you'll find no shortage of owners with similar experiences.
Solution
Nissan recalled a total of 46,000 Nissan Leaf vehicles for model years 2013 – 2015 due to a defect that interferes with braking in cold weather.
Specifically, the problem is caused by an electrical fault with the car's brake booster and is often accompanied by a brake warning lamp.
However, not all of the braking issues are directly related to this recall and many owners have experienced brake problems even when the weather hasn't been cold.
One owner on the My Nissan Leaf forum suggested checking the 12V lead-acid battery before contacting the dealership.
"There are dozens of threads on this board about the crazy stuff that happens when that [12V] battery goes bad, including brake system failures."
Make sure the battery connections are tight and that is has at least 12V of charge, you can measure across the terminals with a voltmeter or take it to a local repair shop and have them run a quick battery test.
12V battery's typically last 3-4 years.
2. Brakes Unexepedly Activated
There have been numerous reports from Leaf owners who have been driving along and all of a sudden the vehicle unexpectedly and violently applies the brakes without any driver input whatsoever.
Owners have described this phenomenon happening on multiple occasions.
"I was driving down the freeway going roughly 70mph with pro pilot cruise control enabled. The car sensed a car ahead and slammed on the brakes, but there were no cars in front of me and was almost rear-ended by a car going 70+ mph on i5 ."
"I was driving alone at 4:20pm at about 30 mph, with no other cars or pedestrians around when the brakes suddenly activated, and the accelerator went to idle. The braking lasted about one second and did not stop the car completely. This occurred on a city street. These events have been happening several times a month."
This problem has been most commonly reported on 2018 Nissan Leafs.
Solution
This problem seems to be a bit of a mystery on the Leaf although it is likely a fault in the automatic braking emergency system.
If you have this problem you should contact your local Nissan dealership immediately and have them investigate it.
In some instances, owners have reported that the dealership would not allow them to drive the vehicle home without signing a release of liability document.
It's probably a good idea to check the 12V battery just in case.
3. Faulty Backup Camera
Nissan Leaf owners have reported that the images from their backup camera can disappear while in reverse, which increases the risk of a crash.
If the backup camera isn't working then the vehicle fails to comply with Federal Motor Vehicle Safety Standard (FMVSS) number 111, "Rear Visibility."
Solution
There has been a recall on certain 2020 Leaf vehicles and this has been addressed with a simple software update, free of charge.
This problem has been reported on other model years too, though – not just 2020. In which case the problem has been traced back to a loose electrical connection.
When car doors and the trunk get repeatedly slammed, it's not uncommon for electrical connections to come loose.
Remove the square panel in the trunk door trim
You should see the connections for the backup camera, and trunk handle.
Put the car in camera calibration mode (turn radio off, press map 3 times, power button 2 times, and map 1 more time)
Check all of the electrical connections between the camera and radio/navigation unit.
4. Airbag Problems
Accounting for 65 reported complaints on the Car Problem Zoo website, the Nissan Leaf has been known to suffer from airbag issues.
Most commonly reported for the 2011 and 2012 model years, this problem caused the airbag light to come on and was linked to a passenger occupancy sensor that had failed.
If the passenger occupancy sensor fails, the airbags are disabled – which is a big safety concern.
Solution
This problem is best left to the experts at Nissan to fix due to the seriousness of it.
In many cases the passenger seat will need to be replaced as reportedly Nissan does not sell the airbag sensor separately.
Unfortunately, this repair is not cheap – some owners have quoted repair costs in the region of $3000.
5. Battery Capacity
This problem wasn't overly widespread, although there were enough Nissan Leaf customers complaining about it we thought we should mention it.
It's important to note the battery capacity issues were only really mentioned on the 2011 model years.
Some owners think Nissan were using sneaky, technical tactics that would ensure the battery would need replacing right after the warranty ran out.
Nissan released a statement at the time, essentially reassuring customers there was nothing to worry about and that the complaints were merely isolated incidents.
The Leafs battery has come a long way from the 24-kilowatt hour battery used in the earlier models.
Modern-day versions are equipped with a 40 kWh lithium-ion battery and has an EPA range of up to 149 miles, while Nissan LEAF PLUS models are fitted with a 62 kWh lithium-ion battery that has a range of up to 226 miles.
These batteries have been fairly problem-free so far.
Solution
If your Nissan Leaf battery degrades severely the only option is to have a new battery fitted.
If you are outside of the warranty period, this repair can be expensive.
Related: How Long Will a Nissan Leaf Last? (Useful Guide)
6. Uncompetitive Range
The Nissan Leaf advertisers a range of up to 239 miles, which is lower than most other non-luxury EVs, let's look at a few examples:
| | |
| --- | --- |
| Make & Model | Range (Miles) |
| Nissan Leaf | 239 |
| Chevy Bolt | 259 |
| Tesla Model 3 | 315 |
| Hyundai Ioniq 5 | 275 |
| Kia Niro | 253 Miles |
7. Not Compatible With All Public Charging Stations
Due to the design of the Nissan Leaf you will find it is only compatible with certain charging stations.
On the owner forum MyNissanLeaf.com you'll find a few owners venting their frustration about this.
There have also been many charging incompatibility issues reported with Eaton chargers, particularly for the 2018 Leaf.
Solution
Some owners have reported seeing the red fault light when trying to charge, however after pressing the station's reset button a few times they've been able to charge their car without issue.
Nissan Leaf Model Years With the Most Problems
According to Car Problem Zoo, the most problematic model years for the Nissan Leaf are 2011, 2013 and 1015.
| | |
| --- | --- |
| Nissan LeafModel Year | Problems |
| 2022 | 8 |
| 2021 | 8 |
| 2020 | 12 |
| 2019 | 28 |
| 2018 | 36 |
| 2017 | 15 |
| 2016 | 25 |
| 2015 | 100 |
| 2014 | 39 |
| 2013 | 107 |
| 2012 | 59 |
| 2011 | 105 |
Source: Car Problem Zoo
Nissan Leaf Pros and Cons
If you're considering a Nissan Leaf as your next car you might be wondering what its strengths and weaknesses are…
Pros
Spacious interior for a small car
Comfortable seats
Cheap and cheerful
Optional semi-autonomous driving mode
Attractive starting price
Plus models offer good power
Eco-friendly
Cons
Range not as good as some competitors
Not compatible with all public charging stations
Performance is OK but not on par with the leading EVs (a bit boring to drive)
Disappointing stereo systems
Related: 9 Best & Worst Nissan Leaf Years (With Pictures)
Nissan Leaf Reliability Compared to Similar Cars
Consumer Reports rankings detailed below is based on the model's newest three years. The Nissan Leaf sits near the top, safely securing second place with a reliability rating of 77/100.
Note: Consumer Reports may have given the Nissan Leaf the lowest ranking although other auto review sites have given much more favorable scores.
| | |
| --- | --- |
| Make & Model | Consumer ReportsReliability Score |
| Kia Niro Electric | 95 |
| Nissan Leaf | 77 |
| Chevrolet Bolt | 34 |
| Chevrolet Bolt EUV | 34 |
| Hyundai Kona Electric | 33 |
Source: Consumer Reports
Nissan Leaf Used Value
We've taken a look on Car Gurus to gauge the resale value of a Nissan Leaf, below are typical asking prices for each model year.
According to Car Edge, a Nissan Leaf will depreciate 44% after 5 years and have a 5 year resale value of $21,575.
Note: Used model prices will vary depending on trim level.
| | | |
| --- | --- | --- |
| Model Year | Mileage (miles) | Resale Price |
| 2022 | 3,941 | $34,400 |
| 2021 | 6,850 | $30,995 |
| 2020 | 8,977 | $26,689 |
| 2019 | 9,855 | $28,478 |
| 2018 | 19,289 | $23,999 |
| 2017 | 52,000 | $13,877 |
| 2016 | 44,865 | $14,399 |
| 2015 | 29,596 | $12,995 |
| 2014 | 71,952 | $8,999 |
| 2013 | 66,351 | $8,995 |
| 2012 | 49,000 | $7,995 |
| 2011 | 63,416 | $6,398 |
Source: Car Gurus
What Do Owners Like and Dislike About the Nissan Leaf?
Based on owner feedback from the Kelley Blue Book site here are what real-life owners love and hate about the Nissan Leaf.
Likes
Fun to drive
No concern about gasoline
Best value in the EV market
Performance
Comfort
Safety features
Dislikes
No spare tire
Small vehicle
Not very grippy in curves
Not enough range
Resale value
Owners Reviews
"Second EV and it's excellent. No mechanical issues, 150+ miles per charge and fully charges in under 5 hours with the 240-volt cable, good pick up, amazing safety features, love the Ebrake (seldom ever use the brakes). I bought for the tax credits but now I just like the car and its features."
Source: Kelley Blue Book
"I purchased my 2019 Nissan Leaf SL Plus over 2 years ago and it currently has about 20,000 miles on it. It has been absolutely perfect and has exceeded my expectations. I have had zero problems and other than rotating the tires, I have done nothing to the vehicle."
Source: Kelley Blue Book
"Owned for over a year and no issues. Great overall EV. Comfortable, reliable, and great value. Consistently getting over the EPA range listed."
Source: Edmunds
How Reliable Are Nissan Cars?
According to a recent report from Consumer Reports, Nissan are ranked the 9th most reliable car manufacturer out of 28 brands with a score of 63/100.
| | | |
| --- | --- | --- |
| Ranking | Brand | Score |
| 1 | Lexus | 76 |
| 2 | Mazda | 75 |
| 3 | Toyota | 71 |
| 4 | Infiniti | 69 |
| 5 | Buick | 66 |
| 6 | Honda | 66 |
| 7 | Subaru | 66 |
| 8 | Acura | 64 |
| 9 | Nissan | 63 |
| 10 | Mini | 60 |
| 11 | Hyundai | 56 |
| 12 | Chrysler | 54 |
| 13 | Porsche | 52 |
| 14 | Chevy | 48 |
| 15 | Audi | 47 |
| 16 | Cadillac | 47 |
| 17 | BMW | 45 |
| 18 | Ford | 44 |
| 19 | Kia | 43 |
| 20 | Volvo | 42 |
| 21 | Ram | 40 |
| 22 | GMC | 37 |
| 23 | Mercedes-Benz | 34 |
| 24 | Volkswagen | 31 |
| 25 | Genesis | 30 |
| 26 | Jeep | 26 |
| 27 | Tesla | 25 |
| 28 | Lincoln | 18 |
Source: Consumer Reports
Related: Nissan Leaf Alarm Going Off? (13 Causes & Solutions)
Sources
https://www.consumerreports.org/cars/nissan/leaf/
https://caredge.com/nissan/leaf/depreciation
https://www.cargurus.com/Cars/l-Used-Nissan-LEAF-d2077
https://www.kbb.com/nissan/leaf/
https://www.edmunds.com/nissan/leaf/
https://www.carproblemzoo.com/nissan/leaf/