Launched in 2011, the Nissan Leaf was the first mass-produced EV, it featured a small battery that offered a limited range of 84 miles.
By 2017, the compact EV hatchback was completely redesigned with twice the original battery capacity and range.
A Plus model was also introduced in 2019 with an even bigger battery and an estimated range of over 200 miles.
The Leaf remains one of the more affordable all-electric vehicles on the market today and is a great option for those wanting to dip their toes into the world of EVs.
We'll cover the Leaf's average lifespan in this article, read on to find out…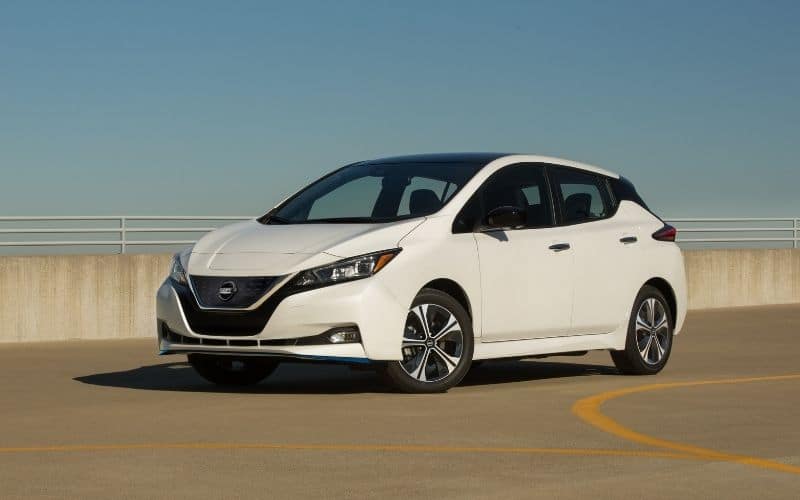 Here is the short answer to how long the Nissan Leaf lasts:
First generation Leafs came with either a 24 or 30 kWh battery which can last 100,000 – 150,000 miles at most. The second generation uses either a 40 or 66 kWh battery which can last 200,000 – 300,000 miles. Since batteries also degrade with age, we expect around 10 – 15 years of service out of the Leaf.
How Many Miles Can You Expect from a Nissan Leaf?
The maximum mileage you can expect out of any EV (Electric Vehicle) is largely dependent on the usable lifespan of its battery.
The Nissan Leaf comes with a battery health bar, the 12 bars represent how many of the original battery cells are still working. As the battery degrades over time, the range of the vehicle will also decrease.
The first generation Nissan Leaf came with a 24 kWh battery which allowed it a maximum range of 84 miles.
The 2016 model bumped up battery capacity to 30 kWh and range was increased to 107 miles.
The 24 kWh batteries in the early model years only came with a 5-year/60,000-mile warranty which will have expired by now.
Newer batteries used in the 2016 models and onwards came with an 8-year/100,000-mile warranty in case the capacity shown on the dash falls to 8 bars or less – the original battery has 12 bars with no battery degradation.
An all-electric vehicle with a small battery will not only have a lower range but also have less longevity.
It will go through more charge cycles to cover long distances than an EV with a larger battery.
As the number of charge cycles increases, the battery's capacity decreases until it reaches a point where range and vehicle performance are severely affected.
Batteries also degrade with age and in higher temperatures.
Nissan has been criticized a lot for not using liquid cooling on the Leaf's battery to prolong its life.
The Leaf's original battery chemistry was also prone to premature degradation which prompted Nissan to update their batteries in 2013.
In 2016 an upgraded 30 kWh battery was introduced although this didn't significantly improve the degradation issue either.
You won't see many first gen Nissan Leafs with over 150,000 miles because their batteries have degraded so much that they've become impractical for daily use.
Many first gen Leafs with 50,000 – 100,000 miles have seen a significant decrease in their battery capacity and range simply due to degradation over time.
The second generation Nissan Leaf has a larger 40 kWh battery and roughly 150 miles of range.
In 2019, a Plus model with a 62 kWh battery and 226 miles of range was released.
The second gen Leaf's larger battery gives it better longevity, but it still isn't liquid-cooled like many other EVs in the market today.
We remain conservative with our mileage predictions for the second gen Nissan Leaf and estimate that it will likely last 200,000 – 300,000 miles at the most.
Does the Nissan Leaf Rust Easily?
The front strut towers are a fairly common problem area on the Nissan Leaf.
Water tends to collect in the well of the structure which causes excessive rusting of the strut bolt and the surrounding area.
Some owners put a piece of plastic or rubber on top of the strut tower to keep the corrosion issue from getting worse.
The brake rotors are also prone to rusting since they don't get used very much.
You can simply use the brakes a little more to wipe off any surface rust that forms on the rotors.
Other than these minor issues, the Nissan Leaf is quite resilient against rust and corrosion.
If you live in an area that uses road salt during the winter or somewhere near the coast where salt air is prevalent, you'll likely see surface rust start to appear in 5 to 10 years. But it shouldn't be worse than any other modern vehicle.
Nissan also offers a 5-year/unlimited-mile corrosion perforation warranty on all their vehicles
You can ask your local dealer to fix any excessive corrosion that occurs within the warranty period that's caused by manufacturing defects.
Tips to protect your Nissan Leaf from rust:
Regularly wash and dry your car: This includes its underside (especially during the winter) to remove the salt, dirt and grime that causes rust. We recommend having a detail shop wash everything underneath at the end of each winter.
Repair paint damage and scratches: Exposed metal will oxidize. If it's beyond a DIY fix, speak to your local body repair shop.
Garage: Store your Nissan Leaf in a garage to protect it from harsh weather and bird droppings.
Waxing: Wax your car twice a year. Not only will this give your Nissan Leaf a nice shine, it also gives it a protective coating against rust.
Rustproofing: If you're planning on keeping your Nissan Leaf for a very long time, you might want to consider a rustproofing treatment; popular choices are Krown and Rust Check.
Ceramic Coating: A popular choice for those who want to add an extra layer of protection to the paint job.
Related: 5 Most Common Problems With Nissan Leaf (Explained)
What is High Mileage for a Nissan Leaf?
A Nissan Leaf with 80,000 miles is considered high-mileage. A first gen, high mileage Leaf will likely have its battery capacity gauge showing 10 bars or less out of a possible 12, which means the battery is below 80% of its original capacity, which means it will have less range.
A second gen Leaf will have a lot more life left in it at 80,000 miles, especially if it's the Plus model with the larger battery.
As long as it's not using the older 24 kWh battery, you might still have some miles and a couple of years left in the warranty which should give you some peace of mind.
Nissan has been replacing defective 30 kWh batteries in the 2016 – 2017 models with 40 kWh ones.
So you might be able to pick up a good deal on one that's due for or just had a battery replacement.
Even if you're not worried about the health of the battery, at 80,000 to 100,000 miles, many of the car's wear items might be near the end of their effective lifespan, such as:
Brake rotors
Shocks
CV axles
A/C system.
To make sure you won't regret the purchase, check how much range and battery capacity the battery has left.
You might want to pick up an OBDII Bluetooth scanner and purchase the LeafSpy app to verify the battery's health.
When buying a used Nissan Leaf, consider the following:
Maintenance history. Check that the car was properly serviced and the owner can provide evidence of this.
Get a second opinion. Take it to an independent auto repair shop or at least have it inspected by a mechanic you trust.
Check the CarFax. This doesn't guarantee anything but it will provide a clearer picture of wear-and-tear. Ensure it has minimal damage, if any, and has not been involved in a major accident.
Number of previous owners. As a general rule, less is better. More owners usually means more wear-and-tear. If one family owned it and drove the full mileage and serviced the car, then you can almost guarantee they took good care of it throughout their ownership.
How long you are planning on keeping the car. If you're planning on keeping the car for a long time, you should evaluate whether the short-term savings outweigh spending a bit extra on something more reliable.
The average length of your commute. The vehicle's max range should be well over day-to-day driving needs. Its range will also drop significantly in the winter and it might not be enough for a full round trip.
How Long Does the Nissan Leaf Last Compared to its Rivals?
In this section, we compare the Nissan Leaf to some of its rivals.
We'll limit the comparison to the 2nd gen Nissan Leaf because the 1st gen Leaf simply cannot compete when it comes to the range of these newer EVs.
Nissan Leaf vs. Chevy Bolt
The Chevy Bolt was first released in 2017; the same year as the second generation Leaf. Since it's release, it's been the best selling EV in the U.S. that's not a Tesla.
It's also a hatchback but it offers even more range than the Plus version of the leaf, as well as better acceleration.
The Chevy Bolt has roughly the same battery size as the Leaf Plus but it has the added benefit of liquid cooling. This will allow it to last 300,000 – 400,000 miles.
Kelley Blue Book's consumer rating index gave the Nissan Leaf a reliability rating of 4.4/5 which is slightly lower than the Chevy Bolt's rating of 4.7/5.
Edmunds consumer reviews gave the 2020 Nissan Leaf an overall score of 3.6/5 which is much lower than the 2020 Bolt's 4.1/5.
RepairPal gave the Nissan brand a reliability rating of 4/5 while Chevy got a slightly lower 3.5/5.
Car and Driver ranked the Nissan Leaf as the 11th best EV while the Bolt was ranked 7th when it compared the 2022 model years of both vehicles.
The Leaf Plus and Bolt have similar battery capacity and range, so they'll consume roughly the same number of charge cycles to cover the same distance.
Though the Nissan Leaf is currently the most affordable EV you can buy in the U.S., you'll have to get the Leaf Plus to get close to the Bolt's range.
The Leaf Plus and the Bolt have roughly the same retail price, but you can still get tax credits for the Leaf, unlike with the Bolt.
The Bolt does have a significant advantage when it comes to battery longevity since it's liquid-cooled and not just air-cooled.
GM is replacing the batteries for Bolts sold from 2017 to 2022 due to a potential battery fire issue which has so far affected less than a dozen cars.
These new batteries will come with a fresh 8-year/100,000-mile warranty which adds even more life to the vehicle.
You may also be interested in our article: How Long Does the Chevy Bolt Last?
Nissan Leaf vs. Tesla Model 3
The Model 3 is one of the best-selling and most popular EVs in the U.S.
It has loads of cutting-edge tech, an upscale interior, great performance and excellent range, as well as a premium badge.
The downside is that it's significantly more expensive than the Leaf.
Tesla is the leader when it comes to innovations in the EV segment. Its extensive R&D and experience should make the Model 3 last 300,000 – 500,000 miles.
Kelley Blue Book's consumer rating index gave the Tesla Model 3 a reliability rating of 4.7/5 which is slightly lower than the Leaf's rating of 4.4/5.
Edmunds consumer reviews gave the 2020 Model 3 an overall score of 4.4/5 which is much higher than the 2020 Leaf's 3.6/5.
RepairPal does not have any ratings for Tesla or the Model 3, though build quality issues with Teslas are quite common. Nissan got a very good reliability rating of 4/5.
Car and Driver ranked the Model 3 as the 2nd best EV while the Leaf was ranked 11th when it compared the 2022 model years of both vehicles.
The Model 3 features bigger battery sizes and significantly more range than the Leaf.
The Model 3 is on a different level when it comes to price, performance, luxury, features, longevity and resale value.
It also benefits from Tesla's extensive network of Supercharger stations all across the country, making it a better choice for long road trips.
The Model 3 can't compete with the Leaf when it comes to affordability though, and the Leaf is a perfectly capable vehicle for daily commutes and errands.
If you're looking for a low buy-in price and equally low running costs, the Leaf is tough to beat.
You may also be interested in our article: How Long Do Tesla Model 3 Last?
Nissan Leaf vs. BMW i3
The BMW i3 has been available since 2014 and has seen numerous improvements over time.
It's battery size grew from 21 kWh to 42 kWh in 2019 giving it a more acceptable range. A 'range extender' gas engine is also an option for those who need more range.
The larger battery in the newer i3s will make it easier for the vehicle to last 200,000 – 300,000 miles.
Kelley Blue Book's consumer rating index gave the BMW i3 a reliability rating of 4.5/5 which is pretty much the same as the Leaf's rating of 4.4/5.
RepairPal gave BMW as a brand a reliability rating of 2.5/5 which is much lower than Nissan's rating of 4/5.
Car and Driver did not include the i3 in its 2022 comparison and Edmunds does not have any owner reviews for it either.
Newer models of the i3 sport the same battery size and have the same range as the base model Nissan Leaf.
Despite being a smaller hatchback with not much range, the BMW i3 costs as much as a Tesla Model 3.
It's also pretty cramped in the back compared to the Leaf, making it less practical for passengers and cargo.
Although the battery of the newer versions of the BMW i3 is similar in size to that of the base model Nissan Leaf, it's also liquid cooled which significantly improves its longevity.
Many older i3s have gone over 150,000 miles using the original small battery and owners have reported that it hasn't shown much degradation — which is more than can be said about the Leaf.
It's important to keep in mind that since it's still a BMW, repairs and maintenance will be significantly more expensive.
Related: How Long Will a Mini Cooper Electric Last?
Comparison Chart
| | | | | |
| --- | --- | --- | --- | --- |
| | Nissan Leaf | Chevy Bolt | Tesla Model 3 | BMW i3 |
| KBB Consumer Rating | 4.4 | 4.7 | 4.7 | 4.5 |
| Edmunds Consumer Rating (2020) | 3.6/5 | 4.1/5 | 4.4/5 | NA |
| RepairPal Brand Reliability | 4/5 | 3.5/ | NA | 2.5 |
| Car and Driver Ranking (2022) | 11th | 7th | 2nd | NA |
| Battery Size (kWh) | 40 – 62 | 60 – 66 | 50 – 75 | 21 – 42 |
| Electric Range (miles) | 149 – 226 | 259 | 263 – 353 | 81 – 153 |
| Expected Lifespan (miles) | 200k – 300k | 300k – 400k | 300k – 500k | 200k – 300k |
Is the Nissan Leaf Reliable?
The Nissan Leaf has been sold in different parts of the world for roughly a decade and it's had a great track record for reliability ever since it was released.
Setting battery degradation and range issues aside, the Nissan Leaf requires very little maintenance.
One of the main benefits of EVs is that it has less moving parts compared to an ICE or internal combustion engine-powered vehicle.
It doesn't even need a transmission, which is another common point of failure since the rotation of the wheels is controlled by the electric motors.
Most owners report not having to do much to their Nissan Leafs aside from very basic maintenance such as tires, brakes, alignments and cabin filter changes.
Here is more proof of the Nissan Leaf's reliability:
Kelley Blue Book's consumer rating index gave the current generation of the Nissan Leaf a very high reliability rating of 4.4/5.
Edmunds consumer reviews gave the 2019 Nissan Leaf an overall score of 4.5/5 while the 2020 Leaf got a 3.6/5. The low ratings are just people complaining about how basic the Leaf is.
RepairPal gave the Nissan Leaf a reliability rating of 4/5, which is the same as Nissan's overall brand rating.
You may also be interested in our article: How Long Will a VW ID.4 Last?
Nissan Reliability Compared to Other Brands
Source: Consumer Reports
| | | |
| --- | --- | --- |
| Ranking | Brand | Score |
| 1 | Lexus | 76 |
| 2 | Mazda | 75 |
| 3 | Toyota | 71 |
| 4 | Infiniti | 69 |
| 5 | Buick | 66 |
| 6 | Honda | 66 |
| 7 | Subaru | 66 |
| 8 | Acura | 64 |
| 9 | Nissan | 63 |
| 10 | Mini | 60 |
| 11 | Hyundai | 56 |
| 12 | Chrysler | 54 |
| 13 | Porsche | 52 |
| 14 | Chevy | 48 |
| 15 | Audi | 47 |
| 16 | Cadillac | 47 |
| 17 | BMW | 45 |
| 18 | Ford | 44 |
| 19 | Kia | 43 |
| 20 | Volvo | 42 |
| 21 | Ram | 40 |
| 22 | GMC | 37 |
| 23 | Mercedes-Benz | 34 |
| 24 | Volkswagen | 31 |
| 25 | Genesis | 30 |
| 26 | Jeep | 26 |
| 27 | Tesla | 25 |
| 28 | Lincoln | 18 |
The Best and Worst Years for the Nissan Leaf
The Nissan Leaf has been on the market for a decade and it's certainly had its good and bad years.
Worst Model Year
According to CarComplaints, the 2011 Nissan Leaf received the most complaints which is why we consider it as the worst model year.
2011 is the first year Nissan Leaf and the first year that any EV was made widely available, and Nissan had to deal with many roadblocks to get to where they are today.
It's not surprising that the most common complaint about the Nissan Leaf is related to its electrical system, specifically the battery.
Best Model Year
The best model years for the Leaf are from 2020 onwards, they are the most reliabe, have the latest tech and safety features and the most modern designs.
The 2019 model is another good model year because it was the first year the Leaf Plus model was introduced.
This brought the Leaf into the modern era of EVs and allowed it to stand toe-to-toe with many of its rivals when it comes to range.
Related:
Related: 9 Best & Worst Nissan Leaf Years (With Pictures)
Model Year and Number of Complaints
Here is the total number of complaints on the CarComplaints database for every model year of the Nissan Leaf:
| | |
| --- | --- |
| Model Year | No. of Complaints |
| 2020 | 0 |
| 2019 | 0 |
| 2018 | 1 |
| 2017 | 2 |
| 2016 | 3 |
| 2015 | 3 |
| 2014 | 2 |
| 2013 | 8 |
| 2012 | 5 |
| 2011 | 11 |
Related: 9 Best & Worst Nissan Leaf Years (With Pictures)
What About Recalls for the Nissan Leaf?
The Nissan has had a total of 20 recall campaigns since 2011.
You can check if your Nissan Leaf has been subjected to a recall campaign by entering your VIN (Vehicle Identification Number) on the Nissan Recall Lookup site or the NHTSA recall database.
It is important to note that recalls are manufacturing faults repaired at no charge to the consumer.
Here is the total number of recall campaigns for every model year of the Nissan Leaf:
2021: 0
2020: 2
2019: 1
2018: 1
2017: 1
2016: 3
2015: 3
2014: 5
2013: 4
2012: 0
2011: 0
Nissan Leaf Model Year List
First Generation:
2011 Nissan Leaf
2012 Nissan Leaf
2013 Nissan Leaf (battery updates for mid-2013 models and newer)
2014 Nissan Leaf
2015 Nissan Leaf
2016 Nissan Leaf (30 kWh battery replaced the 24 kWh)
2017 Nissan Leaf
Second Generation:
2018 Nissan Leaf
2019 Nissan Leaf (Leaf Plus was introduced)
2020 Nissan Leaf
2021 Nissan Leaf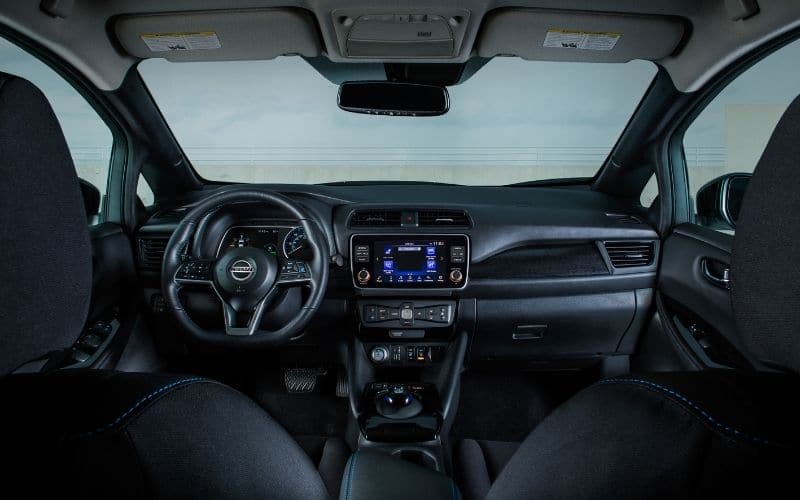 Is the Nissan Leaf Expensive to Maintain?
Based on Consumer Reports research of 2011 models, the Nissan Leaf "cost owners almost nothing to keep running" whilst other auto review sites estimate average maintenance and repair costs to be in the region of $500 – $700 per year.
It will need the tires, wipers, 12V battery and other basic wear items to be replaced every few years.
Nissan recommends replacing the cabin filters every 15,000 miles or every year, whichever comes first.
Replacing the brake fluid or at least having it inspected is recommended every 30,000 miles or every 2 years.
How Long Do the Brakes Last?
Brake pads on the Nissan Leaf tend to last over 100,000 miles.
Most people hardly ever use them since the Leaf's regenerative braking does a good job of slowing the vehicle down.
The brake rotors may start rusting prematurely due to how infrequently the brakes are used, so it's best to step on the brakes from time to time to clean off any built-up surface rust.
How Long Do the Tires Last?
The lifespan of the Nissan Leaf's stock tires largely depends on your driving style.
Some Nissan Leaf owners report needing new tires at 20,000 to 30,000 while others can get around 50,000 miles out of a set of tires.
Although the Nissan Leaf is a small hatchback, it's much heavier than other subcompact vehicles powered by an internal combustion engine.
This extra weight and instant torque from the electric motor will make your tires wear out faster whenever you corner, accelerate or brake.
Tire wear is also dependent on various factors such as driving habits, climate, and road conditions.
Here are a couple of tips that will help you preserve the life of your tires:
Rotate your tires every 5,000 miles to ensure even wear.
If you have to drive on rough roads or go off-roading, your tires will take more of a beating.
Check your tire pressure every few weeks to make sure they're at the correct tire pressure.
Check your tires every so often for uneven wear and have it addressed quickly.
Check your wheel alignment every 6 months.
How Long Do the Transmissions Last?
The Nissan Leaf doesn't use a traditional transmission with multiple gears but instead uses what is essentially a single-speed transmission.
The gears that transfer power from the motor to the drive wheels don't deal with as much friction or stress as a traditional transmission because it doesn't need to constantly change from one gear ratio to another.
The power that's sent to the wheels and the speed at which the wheels rotate is controlled directly by the electric motors.
How Long Will the Nissan Leaf's Electric Motor Last?
According to the Renault Group, which has close ties with Nissan, an electric motor can last 15 to 20 years in optimal conditions.
There have been no reports of anyone needing to replace the electric motor in the Nissan Leaf in the past 10 years regardless of mileage.
We expect that a Nissan Leaf's motor will be good for at least 300,000 miles.
How Long Do the Spark Plugs Last?
The Nissan Leaf doesn't use any spark plugs and relies entirely on battery power.
You may also be interested in our article: How Long Will a Ford Mustang Mach-E Last?
How Long Do Nissan Leaf Batteries Last?
The longevity of the Nissan Leaf's batteries is a common concern for many.
The first generation Nissan Leaf doesn't have a great reputation when it comes to battery degradation — particularly when it comes to the 2011 to 2012 models.
Considering that a battery replacement costs around $8,000, most owners just sell the car off for a bargain price once the range becomes unacceptable.
The 2015 and 2016 Nissan Leafs are a safer option because they not only come with a larger 30 kWh battery but their 8-year/100,000-mile battery warranty also covers excessive degradation.
With the 30 kWh battery, you can comfortably drive it over 100,000 or even up to 150,000 miles before serious degradation sets in.
The second generation Leaf's 40 to 60 kWh battery will get you closer to 200,000 to 300,000 miles.
But since all batteries degrade with age, and combined with the Leaf's lack of active battery cooling, you might need a new battery in 10 to 15 years.
Here are some other tips to keep your Nissan Leaf batteries in good condition:
Avoid using or storing the vehicle in extremely hot temperatures
Don't let the vehicle sit unused for long periods of time
When storing the Leaf for long periods, occasionally slow charge it to avoid battery degradation
Avoid regularly draining the battery to 0% or charging it to 100%
Charging up to 80% is recommended
Minimize the use of DC fast chargers at public charging stations
What is the Range of the Nissan Leaf?
The 2011 to 2015 Nissan Leafs have an estimated range of 84 miles. The 2016 to 2017 models with the 30 kWh battery bumped up the range to 107 miles.
Starting with the 2018 model, the Leaf's range went up to 150 miles, and in 2019, the Leaf Plus increased this even more to 226 miles.
Keep in mind that these are all just estimates. Range will also drop up to 40% in colder weather — especially when the winter hits.
How Long Does the Nissan Leaf Take to Charge?
| | | |
| --- | --- | --- |
| Charger Type | Range per Hour of Charge (miles) | 0 to 100% Charge |
| Level 1/120V | 2 to 5 | 2 to 3 days |
| Level 2/240V | 25 | 8 to 12 hours |
When you connect to a fast charger you can charge the Leaf up to 80% in less than 30 minutes.
The charging rate slows down significantly once it reaches 80% to protect the battery from premature degradation. This makes it hard to predict how long it will take to fully charge to 100% when using a fast charger.
What About Insurance Costs?
According to Insuraviz, the average cost of full comprehensive coverage for a Nissan Leaf is $1,636 per year or around $136 per month.
Finder estimates the Leaf's insurance to be around $2,220 per year or roughly $185 per month.
Insurance costs can vary from person to person, so be sure to shop around to find the best possible deal for your Nissan Leaf.
costs an average of $1,636 per year, $818 for a 6-month policy, or $136 per month.
Tips to Prolong the Life of Your Nissan Leaf
Adopt smooth driving habits.
Use regenerative braking to extend range and battery life.
Charging every couple of days is better than charging every day to keep it topped up.
Keep up to date with factory-recommended maintenance.
Use quality parts and fluids.
Keep on top of repairs to prevent them from developing into larger problems.
Regularly wash your Nissan Leaf to remove dirt and grime to protect the paint and undercarriage from rust.
Keep your Nissan Leaf stored in a garage to help protect it from extreme heat.
Read the owner's manual to learn the location of important components, what your Nissan Leaf needs and what quantity, and to understand the symbols and dashboard warning lights.
Resources
https://www.greencarreports.com/news/1116020_nissan-leaf-30-kwh-battery-decline-3-times-that-of-earlier-electric-cars-study
https://www.greencarreports.com/news/1109640_lessons-learned-from-early-electric-car-2011-nissan-leaf-at-90000-miles
https://www.caranddriver.com/reviews/a14986916/2018-nissan-leaf-first-drive-review/
https://www.nissanusa.com/content/dam/Nissan/us/manuals-and-guides/leaf/2021/2021-nissan-leaf-warranty-booklet.pdf
https://repairpal.com/reliability/nissan/leaf
https://www.kbb.com/nissan/leaf/
https://www.edmunds.com/nissan/leaf/2020/consumer-reviews/
https://www.carcomplaints.com/Nissan/Leaf/