The Ram 1500 is a light-duty full-size pickup truck designed for both work and play.
Formerly known as the Dodge Ram 1500, the Ram 1500 started a near era in 2011 with the launch of the fourth generation.
It's known for its lavish interior, comfort, and wide variety of powerful and reliable engine options.
In this article, we'll take a closer look at the best and worst model years of the Ram 1500.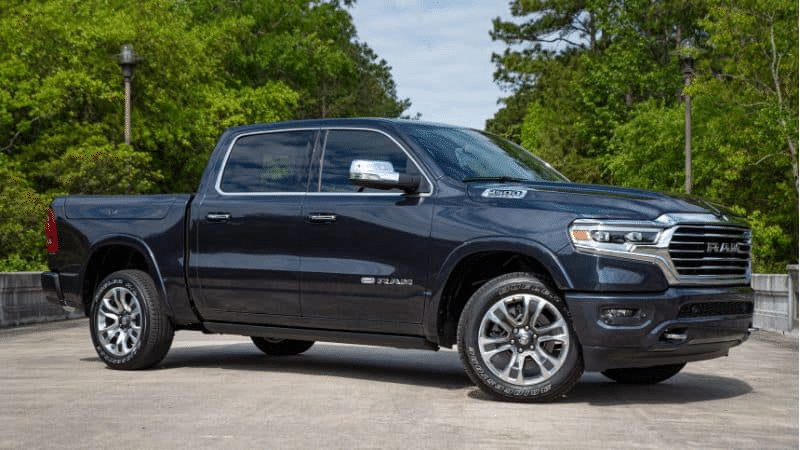 Here's The Short Answer To What The Best And Worst Years For The Ram 1500 Are:
The best Ram 1500 model years are 2023, 2022, 2021, 2020, 2018, and 2017. The worst model years of the 1500 are 2011, 2012, 2013, and 2014. This is based on auto industry reviews, NHTSA statistics, reported problems, and consumer feedback.
What Are The Best Years For The Ram 1500?
2023 Ram 1500
The 2023 Ram 1500 has been ranked #1 in Car and Drivers half-ton pickup rankings and it's no surprise why.
It boasts a great ride and handling, incredible levels of comfort and a selection of workhorse powertrains.
The experience is further enhanced by an upscale interior that is available with a large 12-inch touchscreen infotainment display.
It comes in 8 trim levels: Tradesman, Lone Star, Big Horn, Laramie, Rebel, Longhorn, Limited, and TRX.
Pricing ranges from approximately $42,000 to $86,300. The most popular trim is the midrange Big Horn, which costs approximately $47,200.
The Ram 1500 offers 48-volt hybrid supported V6 and V8 engines, as well as a diesel engine variant.
Fuel economy is commendable. With a rear-wheel-drive configuration, owners can expect up to 26 MPG for combined driving.
With a 4WD configuration, tests have averaged approximately 24 MPG for combined driving.
When equipped with the proper equipment and add-ons, the maximum towing capacity of this truck is around 11,500 pounds, while the maximum payload capacity is around 2,000 pounds.
Edmunds: 4.0 / 5.0
Kelley Blue Book: 4.4 / 5.0
JD Power: NA
2023 1500, Edmunds review:
"I have had five Ford F-150 including two raptors. I test drove the Ram 1500 Limited and the ride was incredible. It reminded me of my 2009 Lexus LS 460 . I really liked the soft Lexus ride. I could not believe that the Ram 1500 Limited drives like a Lexus as a result of the Air suspension. I immediately purchased the vehicle."
2022 Ram 1500
The 2022 Ram 1500 is a powerhouse of a truck that has great fuel economy ratings and tons of new customization options. It is part of the Ram 1500 5th Generation that was launched as 2019 model year.
It has a roomy and quiet interior that is fitted with a lot of premium tech.
Towing power is excellent, even for the base models, with around 11,500 pounds of maximum towing capacity and around 2,000 pounds of maximum payload capacity.
The top qualities of this model according to verified owners are fuel efficiency, ride quality, and spaciousness.
The EcoDiesel V6 engine would be the best in terms of fuel efficiency, reaching up to 26 MPG for combined driving.
If your truck is fitted with this EcoDiesel V6 engine and upgraded with an optional 33-gallon tank, you can expect to drive up to 1,000 highway miles with a single full tank.
Edmunds: 3.9 / 5.0
Kelley Blue Book: 4.4 / 5.0
JD Power: 81 / 100
2022 1500, Edmunds review:
"I've driven quite a few trucks for personal and work use and this is by far and away the best truck I've ever driven. Ram 2022 limited night edition with all options (12" UC5, MF tailgate, ramboxes, 3.21 gears, pano-roof, 5.7 eTorque) ticked except for the camera towing package. Quietest cabin, throaty V8, stunning sound system, smoothest ride with the auto start and stop almost imperceptible, and tons of technology that hasn't disappointed."
2021 Ram 1500
The 2021 Ram 1500 is another great option when shopping for a full-size pickup. It has great fuel economy and towing power as well as an impressively smooth ride.
It secured a 5-star NHTSA safety rating and is equipped with Forward Collision Mitigation, Blind Spot Monitoring, and Lane Departure Warning Plus.
The range-topping TRX trim provides industry-leading off-road capabilities and reliable performance.
There are 7 trims to choose from: Tradesman, Big Horn, Rebel, Laramie, Long Horn, Limited, and the newly-introduced top-spec TRX.
The entry-level Tradesman is sufficient enough for the average truck enthusiast. It comes with 18-inch steel wheels, a 5-inch touch screen, air conditioning, tilt and telescopic steering wheel, and trailer sway damping.
The more popular Big Horn trim has all the offerings of the Tradesman and introduces 18-inch aluminum wheels, fog lights, and a 60/40-split folding rear seat.
Edmunds: 3.2 / 5.0
Kelley Blue Book: 4.4 / 5.0
JD Power: NA
2021 1500, Edmunds review:
"This truck is amazing. The comfort level is off the charts and there's more than enough power for what I tow. There are a few things to be aware of, but not complaints.. The night edition came with a 3.92 rear end which is so far giving me an average of about 15mpg even with Etorque, for reference my 2017 with the 3.21 rear end averaged about 17 mpg. I did replace the stock tires pretty quickly with cooper AT3 4s to better suit my needs though this didn't seem to effect the mpg. The new tires gave me a little better handling on curvy roads.The only real problem with the truck is that I don't want to stop driving it."
2020 Ram 1500
The 2020 Ram 1500, benefits from the redesign and upgrades of the previous model year although with far fewer reported problems.
Updates included a more powerful 3-liter EcoDiesel engine, new exterior styling packages (such as the Black Edition and Night Edition), improved fuel economy for the HFE trim, and minor changes to optional feature availability.
All trims of this 1500 come with generously appointed interiors, a unique rear suspension, and excellent driving dynamics.
Towing and payload capacity rival the top players in its segment, providing 11,500 pounds of towing capacity.
Depending on trim level and drivetrain, you can expect anywhere from 16 to 24 MPG for combined driving.
The special EcoDiesel V6, however, can achieve up to 26 MPG for combined driving, which is above average for the vehicle segment.
Edmunds: 3.6 / 5.0
Kelley Blue Book: 4.4 / 5.0
JD Power: 83 / 100
2020 1500, Edmunds review:
"I looked for months and couldn't be happier with the Ram 1500. I settled on the Laramie with a lot of upgrades rather than the Limited or Longhorn because, while the options like moonroof, power running boards, 12-inch nav, were important, I didn't particularly find a lot of value in the other differences to justify paying more at the base level. And I added the options I wanted to the Laramie. Bottom line is that you can't go wrong with any of the trim levels. In my opinion, better value and better truck than anything else out there right now."
2018 Ram 1500
The 2018 1500 is another solid pick thanks to its smooth-riding suspension, quiet and attractive cabin, and efficient 8-speed automatic transmission.
Prospective buyers get to choose from 11 standard trim levels: Tradesman, HFE EcoDiesel, Express, Big Horn (Lone Star), Sport, Night, Lone Star Silver, Laramie, Rebel, Laramie Longhorn, and Limited.
The Tradesman is considered to be the workhorse of the lineup.
It is an entry-level trim that has minimal luxury features and amenities but has the horsepower and equipment to handle hauling and off-road activities.
The HFE EcoDiesel trim is equipped with a 3-liter diesel engine and is without a double the fuel economy standout of the lineup. It comes exclusively in a Quad Cab configuration.
Sport and Night trims come with 20-inch wheels, bucket seats, projector headlights, and LED interior lighting.
The top-of-the-line Limited trim is fitted with a powerful V8 engine and adds monotone paint color schemes, side-step bars, automatic windshield wipers, automatic high beams, and a self-leveling air suspension, making it the most feature-rich variant of the entire lineup.
Edmunds: 4.3 / 5.0
Kelley Blue Book: 4.6 / 5.0
JD Power: 82 / 100
2018 1500, Edmunds review:
"I went from a 16 charger to a 2018 ram 1500 crew cab with a 5.7 hemi. I love this truck. It's roomy and has comfortable seats and simple controls. It has a lot of power and plenty of ground clearance. I work in rock quarries and needles to say this truck is perfect for said operations. The suspension is pretty phenomenal though. it absorbs shocks on both dirt roads and paved road pretty well. I average about 13 MPG with a medium foot. So be forewarned it uses a lot of fuel. very reliable and comfortable truck. I love it and am happy with it."
2017 Ram 1500
The 2017 Ram 1500 scored impressively high consumer reviews. It has commendable tow ratings, a diesel engine option, and numerous safety and driver assistance features.
The model's smooth-riding suspension provides a lot of comfort, it comes in a trio of excellent engine choices and the cabin is quiet and nicely appointed.
For 2017 the 6-speed automatic transmission was swapped in favor of a new 8-speed automatic transmission.
When properly equipped, most trim levels can achieve approximately 10,300 pounds of maximum towing capacity.
This towing capacity is more than capable of towing travel trailers, RVs, mid-sized boats, and standard horse trailers.
Owners appreciate this vehicle for its ride quality, driving experience, reliability, and manufacturing quality. 
Edmunds: 4.4 / 5.0
Kelley Blue Book: 4.6 / 5.0
JD Power: 82 / 100
2017 1500, Edmunds review:
"Went shopping for a new pickup truck and drove the F150 and Silverado along with the 1500 and although I went expecting to purchase a F150 I was impressed with the ride and power of the Hemi in the Ram 1500. The build quality of the Ram is outstanding and the interior materials and layout really caught my eye. The 5.7L Hemi engine is simply awesome. The truck never feels like it struggles at any power range and the MPG is amazingly good and exceeded by expectations. I chose the Laramie model because the big chrome grill and chrome bumpers jumped out at me and the rest Is history."
Consumer Scores For Best Ram 1500 Years
Model Year
Edmunds
Consumer Rating
Kelley Blue Book
Consumer Rating
JD Power
Consumer Rating
2023 Ram 1500
4.0 / 5.0
4.4 / 5.0
NA
2022 Ram 1500
3.9 / 5.0
4.4 / 5.0
81 / 100
2021 Ram 1500
3.2 / 5.0
4.4 / 5.0
NA
2020 Ram 1500
3.6 / 5.0
4.4 / 5.0
83 / 100
2018 Ram 1500
4.3 / 5.0
4.6 / 5.0
82 / 100
2017 Ram 1500
4.4 / 5.0
4.6 / 5.0
82 / 100
Related: 13 Most Common Ram 1500 Problems (Explained)
What Are The Worst Years For The Ram 1500?
2011 Ram 1500
The 2011 Ram 1500 is the most problematic model ever produced according to NHTSA data.
Numerous owners suffered from a defective rear axle pinion which is a critical component of a rear-wheel-drive vehicle's drivetrain.
Numerous recall campaigns were initiated by the manufacturer to address this issue and replace the affected components.
Unfortunately, a lot of owners have claimed that their needs were not attended to in a timely manner, with several people still waiting for the needed repair and replacement several years after.
The 2011 1500 had a total 245 problems at CarProblemZoo.com.
Common problems:
Engine light on
Engine stalling
Rear axle spindle problems
2012 Ram 1500
The 2012 1500 had numerous problems falling under several different problem categories: Engine and Engine Cooling, Powertrain, and Electrical System.
Upon further investigation, the most prevalent occurrence was engine stalling or vehicle shutdown whilst driving.
Various stories were shared by owners, and it seemed apparent that there was no single identifiable issue that led to the aforementioned stalling.
Here is what one owner had to say about his experience with this model:
"My 2012 Dodge ram shuts off or stalls for no apparent reason. Sometimes upon starting, while going down the freeway (at freeway speeds), as well as speeds in between, this has happened with my family in the vehicle and even when we are towing our stock trailer with animals inside. This is very scary for all of us and dangerous for all those [around us.] While we have not been involved in any accidents, it's just a matter of time. There is never any warning when this happens and it not only shuts off it loses power to everything. [Sometimes it catches itself] and restarts, other times we have to manually restart the engine."
The 2012 1500 had a total of 195 complaints at CarComplaints.com and 197 problems at CarProblemZoo.com.
Common problems:
Camshaft issue
Lifter locks up
Engine knocking
Valve noise
Engine will not turn over
2013 Ram 1500
Most of the problems and issues experienced by owners of the 2013 model year is related to the truck's faulty electrical system.
Owners frequently experienced the loss of power on displays including the infotainment system, instrument cluster, etc.
This would usually last for a few seconds then go back to normal as if the electrical system just conducted a system reboot.
Other owners also mentioned that the steering wheel would lock up during this electrical failure. This may be related to the power steering module which is also dependent on electrical power.
The 2013 1500 had a total of 276 complaints at CarComplaints.com and 131 problems at CarProblemZoo.com.
Common problems:
Engine failure
Power steering stopped working
GPS/UConnect malfunction
2014 Ram 1500
Based on statistics obtained from CarComplaints.com, the 2014 model year is the most complained about Ram 1500 truck ever.
Owners mainly reported transmission and gear selection issues, including getting stuck at a lower gear or going into motion when the gear shift selector is in park.
Another reported issue was suspension-related. Numerous reports indicated a variety of alignment and structural problems, including front-end vibration, air suspension failure, and rear-end sagging.
Recall campaigns were initiated for several models under this model year but these campaigns did not specify what the root cause of these suspension issues were, leaving a lot of owners wondering why their vehicles were recalled in the first place.
The 2014 1500 had a total of 363 complaints at CarComplaints.com and 114 problems at CarProblemZoo.com.
Common problems:
Air suspension does not work properly
Power steering failure
Various electrical issues
Related: How Long Do Ram 1500 Last? (Solved & Explained)
What Years Have The Most Complaints?
| Model Year | Complaints(CarComplaints.com) | Problems(CarProblemZoo.com) |
| --- | --- | --- |
| 2023 Ram 1500 | – | – |
| 2022 Ram 1500 | 1 | – |
| 2021 Ram 1500 | 8 | – |
| 2020 Ram 1500 | 32 | – |
| 2019 Ram 1500 | 131 | – |
| 2018 Ram 1500 | 37 | – |
| 2017 Ram 1500 | 55 | – |
| 2016 Ram 1500 | 125 | – |
| 2015 Ram 1500 | 136 | 11 |
| 2014 Ram 1500 | 363 | 114 |
| 2013 Ram 1500 | 276 | 131 |
| 2012 Ram 1500 | 195 | 197 |
| 2011 Ram 1500 | – | 245 |
What Problems Do Ram 1500s Have?
Jumps when coming to a stop
Air suspension does not work properly
Power steering failure
Engine failure
GPS/UConnect Malfunction
Various electrical issues
Camshaft issue
Lifter locks up
Engine knocking
Valve noise
Engine will not turn over
Suspension failure
Water leaks into the vehicle
Engine light on
Steering wheel intermittently gets stuck
Multiple electrical features not working
What Are The Best Alternatives To The Ram 1500?
| | | | |
| --- | --- | --- | --- |
| Make & Model | Score | MSRP | Fuel Economy (MPG) |
| Ford F-150 | 9.0 | $34,585 – $84,910 | City: 2 – 20 /Highway: 2 – 26 |
| Ram 1500 | 9.0 | $30,695 – $84,355 | City: 10 – 21 /Highway: 14 – 29 |
| GMC Sierra 1500 | 8.5 | $31,200 – $81,900 | City: 13 – 23 /Highway: 16 – 30 |
| Chevrolet Silverado 1500 | 8.4 | $34,600 – $68,400 | City: 13 – 23 /Highway: 17 – 31 |
| Toyota Tundra | 8.1 | $37,865 – $76,145 | City: 17 – 20 /Highway: 20 – 24 |
| Nissan Titan | 7.2 | $39,700 – $61,980 | City: 15 – 16 /Highway: 20 – 21 |
Source: cars.usnews.com, edmunds.com
Related: Ram 1500: 16 Common Problems (Solution Guide)
References
https://www.caranddriver.com/ram/1500
https://cars.usnews.com/cars-trucks/ram/1500
https://www.edmunds.com/ram/1500/
https://www.kbb.com/ram/1500-trucks/
https://www.jdpower.com/cars/2022/ram/1500
https://www.carcomplaints.com/Ram/1500/