The Forester was first unveiled in 1997 and is Subaru's flagship Compact SUV.
Featuring advanced technology and safety, the Forester offers a spacious and comfortable ride.
But does it have what it takes do get you through the winter? Read on to find out…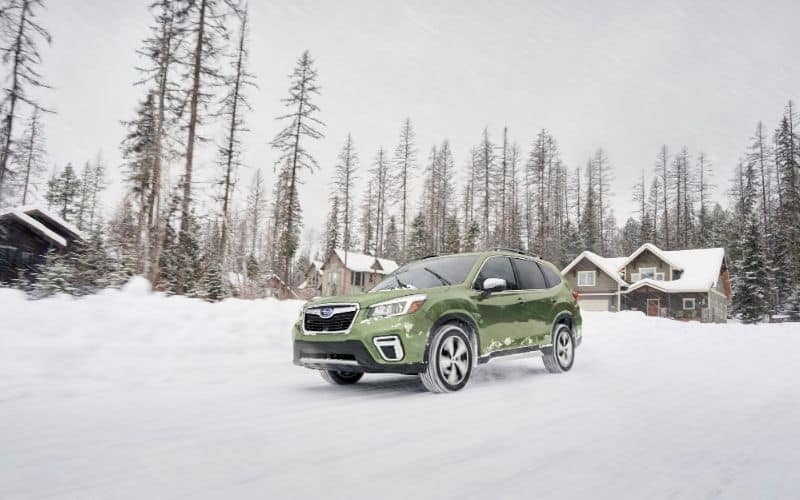 Here is the short answer to whether the Subaru Forester is good for snow and winter driving:
The Subaru Forester is excellent for driving in snow. With All-Wheel-Drive as standard and a ground clearance of 8.7 inches, the Forester can tackle snowy terrain with ease. Features such as EyeSight Driver Assist, X-Mode, ABS, and Vehicle Dynamics Control make this SUV great in the winter.
Is a Subaru Forester Good in Snow?
The Subaru Forester is a first class choice for winter driving.
One of the Forester's main draws for snowy terrain is its 8.7 inch ground clearance, well above that of the average car and surpassing that of the Honda CR-V, Hyundai Tucson, and Ford Escape.
When it comes to keeping the undercarriage clear from the snow, more ground clearance will always be the optimal choice, put simply this reduces the chance of getting stuck and makes navigating unplowed roads that much easier.
The all-wheel drivetrain comes as standard and is another added winter advantage; by sending torque to all four wheels getting moving in slippery conditions is much easier as there is an increased chance of gaining traction.
This is compounded by the weight of the vehicle. Weighing between 3,449 and 3,589 lbs the Forester has plenty of weight which allows you to you have a better contact patch to get moving.
The Forester is great for family winter holidays and those who lead active lifestyles, providing plenty of passenger and cargo space.
Equipment such as ski's and snowboards can easily be mounted to the roof utilizing the vehicles roof bars.
In recent years the Forester has received impeccable safety reviews, with the Insurance Institute for Highway Safety (IIHS) awarding the 2021 model the title of Top Safety Pick+ and the National Highway Traffic Safety Administration (NHTSA) gave the Forester an overall 5-star safety rating.
In conclusion, we can certainly recommend the Forester as an excellent choice for winter driving, however if you live somewhere where levels of snow are likely to reach 10+ inches you might want to consider a vehicle with an even greater ground clearance.
What Features Will Improve Winter Driving?
Here are some of the features which make the Forester suitable for winter driving:
Symmetrical All-Wheel Drive (AWD)
Designed to optimize both traction and balance, the system lies along the vehicle's centreline, balancing weight distribution between either side to help provide optimal performance and control.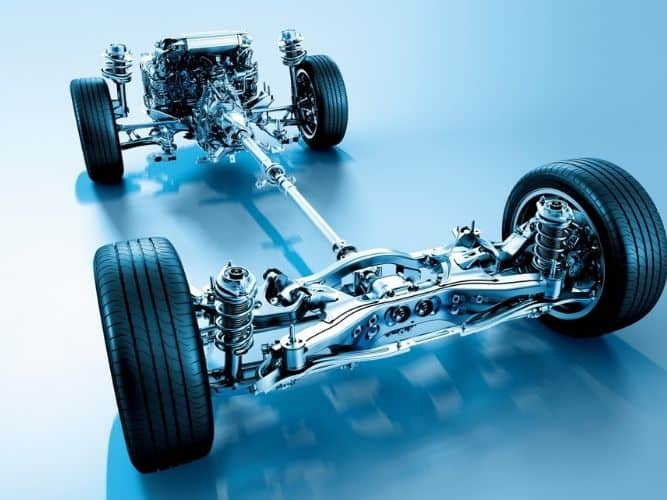 The Symmetrical All-Wheel-Drive is ideal for winter conditions as it helps provide the vehicle with a solid connection to the road.
The system does this by ensuring power is actively distributed to the wheels with the best traction which gives much better grip and control on slick surfaces.
EyeSight Driver Assist Technology
Fitted as standard on all new Foresters, EyeSight Driver Assist Technology boasts a whole host of features.
When driving is at its most challenging during the winter months these additional safety aids can give you that extra peace of mind and added confidence.
The primary functions of EyeSight are:
Adaptive Cruise Control – helps you to keep a safe distance from the car in front, automatically adjusting your speed to maintain your selected distance (always allow more stopping distance in slippery conditions).
Lane Keep Assist and Sway Warning – EyeSight will alert you if you begin to drift out of your lane.
Pre-Collision Braking – helps to avoid or reduce front end impacts by warning you and applying the full force of the brakes in an emergency
Pre-Collision Throttle Management – When an object ahead of you has been detected and there is a strong chance of impact, engine power is restricted to help minimize impact force.
These are excellent safety features however they are not substitutes for diligent driving.
Related: 11 Most Common Problems With the Subaru Forester (Explained)
Anti-Lock Brakes (ABS)
When traction is limited, such as on roads covered in snow or ice, ABS is an incredibly useful feature.
During hard braking or on slippery surfaces, a driver may apply a braking force that is greater than the tires capacity to grip.
If this happens the wheels can 'lock up', causing the vehicle to skid out of control.
By preventing this lock-up the vehicle stops sooner and remains under the drivers control.
The anti-lock brakes on the Forester provides this assistance.
Vehicle Dynamic Control
Vehicle Dynamic Control otherwise know as VDC is a type of Electronic Stability Control, and is a great feature in the winter when roads are slippery and loss of control can occur.
It utilizes strategically placed sensors to monitor:
Wheel speed
Steering wheel position
Lateral acceleration
Yaw rate
Should the sensors detect the vehicle is not moving in the desired direction, the system will take measures to auto correct the situation.
As Foresters are equipped with symmetrical full-time All-Wheel-Drive, the system will utilize this first to re-establish traction and stability at the first signs of trouble.
Failing that VDC will kick in and take corrective measures by:
Sending power from the front to rear
Applying brakes to individual wheels
Adjusting engine timing
Limiting the flow of fuel to the engine
The combination of these is designed to help the vehicle regain control, stability, traction and direction.
X-Mode
This is an optional feature on the Forester, and is an excellent feature for winter driving as its primary objective is to increase traction and control.
By activating the X-mode 5 different forms of control are utilized to minimize slipping tires.
Throttle – Reduces throttle sensitivity and gradually delivers torque (similar to traditional 'Snow Modes'.
Transmission – Keeps the transmission in lower gears to ensure engine power is optimized.
AWD – The force of the front/rear coupling force is raised thereby improving the overall control of the AWD. This effectively increases traction and helps deliver power more evenly between all four wheels.
Hill Descent Control – For speeds under 12 mph the HDC helps maintain starting speeds, this allows the driver to focus more on steering whilst the car manages throttle.
Heating Equipment
The Forester has optional
Heated steering wheel
Heated rear seats
However heated front seats come as standard, when its cold outside these little features can make a big difference.
Does a Forester Have a Snow Mode?
The Subaru Forester has an optional 'X Mode' which acts in a similar way to a 'Snow Mode'.
The X-Mode is more advanced than traditional Snow Modes and its main aim is to improve grip and control in inclement driving conditions.
X-Mode is activated by pressing the X-Mode button in the center console, this will activate the system and an indicator light should then illuminate on the instrument panel.
Does the Forester Have 4WD?
The Forester is equipped with Permanent Symmetrical All-Wheel-Drive.
This means power can be delivered to all four wheels for optimum traction.
Symmetrical AWD systems are considered safer than normal AWD as it allows for better balance and thus increased control.
Permanent means all four wheels are driven at all times
Can You Install Additional Snow Gear on Foresters?
Here are some additional winter accessories that are available for the Forester:
Snow tires – Provide better stopping distances and increased handling
Snow socks – These wrap around the tire to increase traction
Snow chains – This is at the owner's discretion as some states and conditions require them however the owners manual will advise you not to install them
Roof racks – Extra space for storage, perfect for skis and snowboards
Rooftop Tent – Extend your days on the slopes without paying for expensive accommodation
Related: where are Subaru Foresters made and 11 Subaru Forester facts and statistics
How Do Foresters Handle Low Winter Temperatures?
The Forester comes with direct fuel injection, meaning starting in the winter will not a problem for it.
The Forester also has the ability for remote engine start using the MySubaru App, so you can get the engine running from the comfort of your home and get the cabin nice and toasty before you set off.
If you live in a region that is subject to extremely cold conditions an engine block heater might need to be considered. Engine block heaters can help prevent engine damage when starting in sub-zero temperatures.
Before the winter months have a service technician take a look at your vehicle. They should check tires, brakes, battery, and coolant mix, to name a few things.
Low temperature related issues that are common across most vehicles that could hinder operation are:
Battery problems – If your vehicle struggles to start in the cold, in most instances it is a battery related issue. Cold weather is particularly hard on batteries, it's a good idea to have a battery health check before the winter sets in.
Tire pressure dropping – Check pressure every two weeks, as cold weather sets in tire pressure can drop. Check your tire tread depth is adequate also.
Freezing fluids – make sure both screenwash and antifreeze are topped up with a solution that will stay in liquid form, even in sub-zero temperatures.
Failed spark plugs – Any old or damaged spark plugs should be replaced, when the temperature dips spark plugs can fail due to their susceptibility to corrosion.
Frozen windshield wiper – Wiper blades can become particularly vulnerable in the cold, if they are frozen to the glass, when activated they can tear off when activated. Consider investing in winter wiper blades.
Can A Forester Drive on Ice?
The Forester is capable of driving on ice however it should be done so with extreme caution, speeds should be lowered and corners should be taken with much greater care.
SUVs have a much higher center of gravity when compared to a sedan and therefore there is an increased chance of rolling the vehicle especially in slick conditions, as such it's important to drive cautiously when encountering ice and ensure you have suitable tires.
Does the Forester Need Snow Tires?
Snow tires will ensure you get the best possible winter performance from your Forester, and are highly recommended.
Snow tires are proven to significantly improve handling and stopping distances in winter driving conditions.
The compound is made to grip the road better in lower temperatures as it remains soft and flexible in cold weather.
The tread pattern is designed to push the snow out from underneath the tire.
What About Older Forester Models and Winter Driving?
Older models of the Forester are still equipped with AWD and are very capable in the snow, they will lack the latest technology and most up to date safety features however they are still a robust vehicle for winter driving.
How Much Snow Can a Subaru Forester Handle?
With a ground clearance of 8.7 inches, we would advise not attempting to drive in snow any deeper than 8 inches. Doing so could potentially damage the vehicle and cause it to become stuck.
Can You Mount a Snow Plow on a Forester?
We would advise not attempting to mount a plow to your Forester, this would ultimately mean fabricating a piece of kit onto your vehicle for which it was not designed.
This could cause damage to your vehicle, invalidate its warranty and compromise safety.
Related: how long do Subaru Foresters last
Resources
https://www.subaru.com/vehicles/forester/index.html