The Forester made its US debut back in '97 and is one of the highest-selling vehicles in the country.
They're ideal for adventurous families and offer lots of practicality and comfort both on and off-road.
If you're considering buying one, it's a good idea to familiarise yourself with its most common pitfalls, which we'll cover in this article.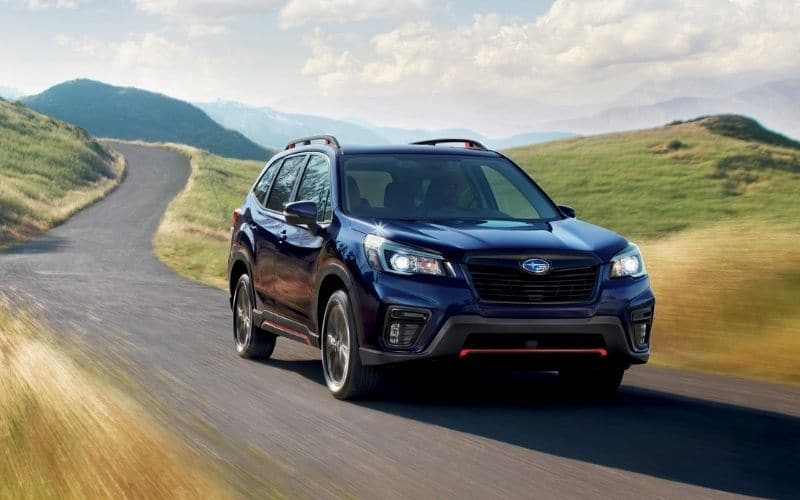 1. Windshield Cracking
According to Car Problem Zoo, a site dedicated to owner feedback, the most commonly reported problem on the Forester is windshield cracking.
A well-known Subaru problem, drivers have reported spontaneous cracks and chips in their windshields appearing out of nowhere.
The cracks start out small and then keep expanding.
The real kicker with this issue is Subaru has been reluctant to fix this under warranty.
This problem is most common on model years 2018, 2019, 2020 and 2021.
Solution
If your windshield cracks the only solution is to have it replaced asap. You should really push to have this covered under warranty, always ask to speak to senior management if you feel like you're not getting anywhere with the person your dealing with.
2. High Oil Consumption
On a similar owner feedback site, CarComplaints.com the #1 worst complaint is due to excessive oil consumption. It's deemed the worst problem due to the high cost of repairs and the low mileage it usually occurs at.
According to Car Complaints, this problem typically occurs around the 30K miles mark and has a repair cost of around $2000.
Burning a quart of oil every 1,000 miles is far from normal, although Subaru has tried to argue it's within "normal specifications".
High oil consumption has left owners having to top off their oil reserves multiple times between every 5,000 miles oil change.
This problem was reported on models as early as 2011 all the way up to 2015.
There have been recalls for this issue, if you think you may have been affected run a VIN check on your Forester.
Solution
High oil consumption on a Forester will require an engine replacement or at the very least major engine work.
3. Stalling
Stalling issues have been commonly reported for the Forester across multiple model years.
Many of these incidents are likely related to the excessive oil consumption we previously mentioned, however by no means all of them.
Owners have reported the vehicles stalling multiple times and losing all power – sometimes whilst driving at high speeds, here's one owner's account:
"I was driving on the interstate going 75 mph and my car suddenly acted like I was on ice and shut down. Tons of traffic behind me and I was in the passing lane with no place to go. I stepped on the accelerator pedal not believing what was happening and NOTHING!! It could have been a fatal accident for me and many others had I not been able to get off the road."
The Forester has a history of these problems and there have been recalls.
Solution
This issue is sometimes caused when the tumble generators on the air intake manifold fail and also by worn-out fuel lines, in which case these will need to be replaced.
Tumble generators are designed to better mix the air/fuel by making the incoming air turbulent.
However, the cause of this will be model year specific and you should always check for recalls.
4. Passenger Airbag Not Working
For Forester models from around 2015 to 2018, there have been numerous complaints related to the passenger airbag.
Common symptoms include:
Passenger airbag turns off
Airbag / SRS notification light indicates that the airbag is 'OFF'.
Display screen indicating "PASSENGER AIRBAG OFF"
Car does not accurately sense when a passenger is in the seat
In some instances, Subaru has been slow to address this problem on owners' vehicles and exceeded a reasonable amount of time to have it fixed, this could be due to a huge backlog of airbag recalls.
Solution
All airbag-related issues should be left to the dealership to resolve, playing around with your airbags will void your warranty and is dangerous to do so.
5. Cracked Oxygen Sensor
On Repair Pal, the most commonly reported problem for the Forester is a failed front oxygen sensor.
In most cases, the oxygen sensor develops a crack and the check engine light comes on.
The O2 sensor lets the car's computer know if the fuel mix is lean (too much oxygen) or burning rich (not enough oxygen). Knowing the ratio of fuel to air allows the engine to make any necessary adjustments to ensure things run smoothly.
Subaru has recalled various models to replace sensors that may fail.
Solution
Take your Forester into the dealership and see if they'll fix it for free.
If you suspect this may be the problem and you're mechanically inclined, you can always try running a diagnostics check with an OBD2 scanner and then googling the error code.
Once you've confirmed the issues you'll need to replace the sensor, although in some cases the idle control valve will also need replacing.
Related: How Long Do Subaru Foresters Last?
6. Catalytic Converter Failure
The 2nd most commonly reported problem on Repair Pal for the Forester is in relation to the catalytic converter – a device incorporated in the exhaust system containing a catalyst for turning pollutant gases into less harmful ones.
Specifically, the problem is that the efficiency of the catalytic converter is low, which means high levels of pollutants are being discharged.
This problem is usually accompanied by a check engine light.
In some states where a smog test is required, the Forester could well fail the test because of this.
This has been a problem on models from 2000 all the way up to 2014.
Solution
Although this won't necessarily affect the operation of your car, the environment will thank you for taking your car into the dealership.
In most cases you'll need a new catalytic converter which can cost upwards of $1000 although it can also be replaced under warranty.
7. Head Gasket Failure
Head gasket failure is a common complaint on Forester models from '98 – 2011.
Due to this problem, Subaru extended the warranty on a number of vehicles when they became aware of how widespread the issue was.
In a car engine, a head gasket provides the seal between the engine block and cylinder head. Its designed to seal the combustion gases within the cylinders and to prevent coolant or engine oil leaking into the cylinders.
Solution
If the head gasket goes, then it will have to be replaced. According to Repair Pal this can cost between $1,800 and $2,000.
8. Battery Always Dying
This issue is much more common on newer Forester models, from around 2019.
For a car with such a great reputation, it is an unnecessary problem.
A flat battery will and has left owners stranded and the replacing of batteries can get expensive.
One owner had this to say:
"Had to wait with the dogs in the park in the Heat. When the tow truck guy came, he said try it again and it turned over. He laughed and said it happens a lot with Subaru."
Solution
You'll have to jumpstart the vehicle or call roadside assistance. One Subaru dealership advised their customer to use a trickle charger and drive the car at least 30 minutes every 5 days although this is far from ideal.
Replacing the battery is a short-term solution and ultimately a more reliable battery system is needed.
9. Tailgate Not Working
The tailgate not opening problem has been reported on newer Forester models and older models alike, although it is more common on newer models.
In some scenarios owners are unable to open the rear hatch when the car is turned on.
In other cases, owners report hearing three beeps and no matter what they do, the hatch just won't open.
Solution
Make sure you unlock the car – if the doors were locked when it was running, the rear gate will be locked too, and it won't open. Try hitting the unlock button to unlock all the doors.
One Forester owner shared this tip:
"I searched the manual (which is hard to follow) and found 'Initialization of rear gate' in the Rear gate section of the manual. (page 148 in my manual). #1. Keep pressing the rear gate opener button until it is unlocked and lift up the rear gate….."
Failing that you could try removing the cable from the 12V battery for 30 seconds to reset the electrics.
10. Shuddering, jerking and vibrations
Shuddering and vibrations was most commonly reported on the 2012 – 2017 Foresters however it has been reported on other model years too.
Subaru are aware of this issue and has extended the warranty on affected vehicles, although they haven't been massively helpful with all their customers judging by owner feedback.
The shuddering problem can take many forms, such as:
Hesitation at different speeds
Lunges forward on the freeway
Random shutters and/or jerks
Surging forward while parking or taking off
Shudders when accelerating
Bucking at low speeds
Shakes when idling
Shakes when braking
These problems have mostly been linked to the CVT (continuously variable transmission) and online you can find no shortage of disgruntled customers.
Solution
There are recalls for this issue and also software updates too.
Some dealerships have reportedly tried telling customers "it's just the way the car drives" which is unacceptable.
Related: 18 Best & Worst Subaru Forester Years (With Facts & Stats)
11. Beeping
Not the most serious issue but certainly one of the more annoying and mysterious ones.
Owners have been left scratching their heads as to why their Forester keeps beeping.
Solution
There are various causes behind this one but it is usually caused by navigation alerts.
We go into a lot more detail about the common causes in this article here.
Subaru Forester Model Years With the Most Problems
To get a better idea of which Subaru Forester has the most problems the fairest way is to compare models based on the number of vehicles sold in relation to the number of reported problems.
For example, newer cars will have fewer complaints simply because they've been around for less time.
We're using Car Complaints PPMY index which means Problems Reported Per Thousand Vehicles Per Year.
Based on this index, the most problematic years are:
2019 – 1.25 PPMY
2020 – 1.08 PPMY
2017 – 0.53 PPMY
And the least problematic years are:
2002 – 0.10 PPMY
2001, 2005, 2007 – 0.12 PPMY
2006 – 0.13 PPMY
Subaru Forester
Model Year
Problems
Sales
PPMY Index
2022
7
–
–
2021
86
176,275
0.49
2020
411
190,394
1.08
2019
670
179,257
1.25
2018
409
202,761
0.50
2017
515
194,976
0.53
2016
397
156,361
0.42
2015
687
224,272
0.44
2014
475
146,483
0.41
2013
78
42,774
0.20
2012
126
64,138
0.20
2011
181
74,802
0.22
2010
287
112,517
0.21
2009
220
88,759
0.19
2008
60
30,406
0.14
2007
77
43,985
0.12
2006
112
55,165
0.13
2005
101
51,547
0.12
2004
267
63,323
0.23
2003
235
66,770
0.19
2002
109
55,764
0.10
2001
168
64,051
0.12
2000
90
29,996
0.14
1999
156
46,567
0.15
1998
137
–
–
Source: Car Problem Zoo
Subaru Forester Pros and Cons
If you're considering a Subaru Forester as your next car you might be wondering what its strengths and weaknesses are…
Pros
Lots of cargo space
Comfortable layout
Smooth ride
Very practical
Good handling
Cons
Base models are lacking in features, luxuries and are quite basic
Slow acceleration
Base engine lacks oompf
Even some of the newer models look a bit outdated and have an underwhelming design
Related: 11 Subaru Forester Facts and Statistics You Should Know
Subaru Forester Reliability Compared to Similar Cars
Consumer Reports rankings detailed below is based on the model's newest three years, the Subaru Forester scores a very respectable 80/100.
Make & Model
Consumer Reports
Reliability Score
Hyundai Tucson
87
Honda CR-V
80
Mazda CX-5
80
Subaru Forester
80
Toyota RAV4
44
Ford Escape
25
Source: Consumer Reports
Subaru Forester Used Value
We've taken a look on Car Gurus to gauge the resale value of a Subaru Forester, below are typical asking prices for each model year.
According to Car Edge, a Subaru Forester will depreciate 40% after 5 years and have a 5 year resale value of $17,698.
Note: Used model prices will vary depending on trim level.
| | | |
| --- | --- | --- |
| Model Year | Mileage (miles) | Resale Price |
| 2022 | 4,389 | $34,588 |
| 2021 | 2,985 | $31,900 |
| 2020 | 36,776 | $26,988 |
| 2019 | 26,993 | $26,900 |
| 2018 | 26,714 | $25,977 |
| 2017 | 24,840 | $24,950 |
| 2016 | 131,421 | $12,500 |
| 2015 | 53,160 | $19,379 |
| 2014 | 123,362 | $11,995 |
| 2013 | 97,522 | $13,995 |
| 2012 | 141,000 | $9,995 |
| 2011 | 127,667 | $8,450 |
| 2010 | 87,051 | $6,995 |
Source: Car Gurus
Related: Where Are Subaru Foresters Made?
What Do Owners Like and Dislike About the Subaru Forester?
Based on owner feedback from the Kelley Blue Book site here are what real-life owners love and hate about the Subaru Forester.
Likes
Safety
Style
Performance
Visibility
Amazing in winter conditions
Design
Nimble
Rigid body
Dislikes
Infotainment system
Annoying stop/start feature
Noisy
Uncomfortable on bumpy roads
Underpowered
Owners Reviews
"I am a loyal Subaru fan, and went from an Outback to a Forester. Love this car because it is comfortable with plenty of room and stylish. A plus is that it is a beast in the snow. Love the softer seats and so easy to clean. Wish Subaru would come out with a hybrid model for better gas mileage."
Source: Kelley Blue Book
"Radio is good. Gas economy far from advertised especially city driving. Outside features are very nice except the looks. Long and narrow. Not very stable on the road if compare to my Mazda CX-5."
Source: Kelley Blue Book
"Owned my Forester 2.5 years and it's one of the best quality vehicles I have owned and I've owned a lot. Smooth ride and it's like floating on a cloud."
Source: Kelley Blue Book
"Love the car. Everything I hoped for, large doors, easy in an out. I'm 6'3″ and have lots of headroom in both front and rear seating, go figure! It sits high with lots of glass all the way around. Just a great car, no buyers remorse from me."
Source: Edmunds
How Reliable Are Subaru Cars?
According to a recent report from Consumer Reports, Subaru are ranked the 7th most reliable car manufacturer out of 28 brands.
| | | |
| --- | --- | --- |
| Ranking | Brand | Score |
| 1 | Lexus | 76 |
| 2 | Mazda | 75 |
| 3 | Toyota | 71 |
| 4 | Infiniti | 69 |
| 5 | Buick | 66 |
| 6 | Honda | 66 |
| 7 | Subaru | 66 |
| 8 | Acura | 64 |
| 9 | Nissan | 63 |
| 10 | Mini | 60 |
| 11 | Hyundai | 56 |
| 12 | Chrysler | 54 |
| 13 | Porsche | 52 |
| 14 | Chevy | 48 |
| 15 | Audi | 47 |
| 16 | Cadillac | 47 |
| 17 | BMW | 45 |
| 18 | Ford | 44 |
| 19 | Kia | 43 |
| 20 | Volvo | 42 |
| 21 | Ram | 40 |
| 22 | GMC | 37 |
| 23 | Mercedes-Benz | 34 |
| 24 | Volkswagen | 31 |
| 25 | Genesis | 30 |
| 26 | Jeep | 26 |
| 27 | Tesla | 25 |
| 28 | Lincoln | 18 |
Source: Consumer Reports
Related: Subaru Forester in Snow & Winter Driving
Sources
https://www.consumerreports.org/cars/subaru/forester/
https://caredge.com/subaru/forester/depreciation
https://www.cargurus.com/Cars/l-Used-Subaru-Forester-d374
https://www.kbb.com/subaru/forester/
https://www.edmunds.com/subaru/forester/
https://www.carcomplaints.com/Subaru/Forester/