The Suzuki Boulevard C50 and C50 T are entry-level cruiser-style baggers with 50 cubic inches (803cc) V-Twin motors.
Unlike other sportier, nimbler, cafe-oriented midweight-cc cruisers on the market, the Boulevard C50 is designed to be a roomy, comfortable highway cruiser.
With its stylish, hardtail-resembling rear suspension, raked forks, and chrome exhaust, the C50 doesn't look like a 50 cc beginners' bike from afar.
In this article we'll take a look at the Boulevard's most common problems…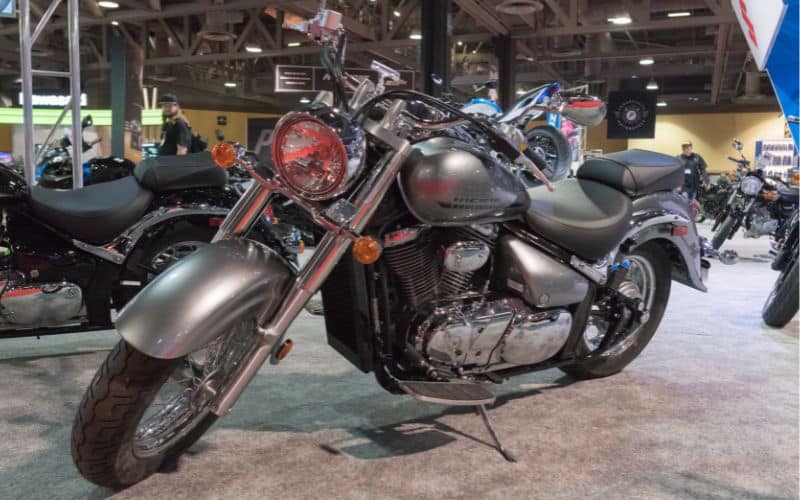 1. Ignition Switch Shorts Out
In 2006, Suzuki recalled various 2005-2006-year models, including the Boulevard C50 line, due to the potential electrical failure of its ignition switch. Apparently, a short in the switch's wiring was causing affected units to stall while riding.
If the bike's ignition switch fails while riding, the rider can lose control of the motorcycle, causing an accident or collision.
If it happens while the motorcycle is in a turn, the bike can lose momentum and fall on its side, causing damage, injury, or even death.
Suzuki's official notice read as follows:
"Suzuki Strongly recommends that you do not ride your affected 2005 or 2006 VL800/T/Z Boulevard C50/T or VZ800 Boulevard M50 motorcycle until the ignition switch inspection/replacement has been completed.
To minimize the risk of injury or death, do not ride, or allow anyone else to ride, your 2005 or 2006 model year VL800/T/Z and VZ800 M50 until a Suzuki dealer has completed the recall service."
Don't let this information deter you if you're in the market for a used Boulard C50.
Request the recall information from the seller, and you may be surprised that the bike wasn't affected, that the bike was already fitted with the replacement ignition switch, or that the motorcycle qualifies for a free upgrade.
2. Charging System Failure
Some Suzuki's have experienced issues with faulty charging system components, the stator, or the regulator rectifier. This failure can cause power sputtering and dim lights while you rev your Suzuki, or starting problems if left unchecked.
A motorcycle charging system is more straightforward than a car but performs the same core function.
Your stator converts unused engine power into an AC charger.
The Regulator/Rectifier rectifies this AC charge into a DC charge it can use to recharge your battery while you ride.
It also regulates how much current is transferred to the battery, so it won't explode from overcharging.
Therefore, if either of these primary charging system components fails, your motorcycle's battery will experience many problems.
The leading cause for charging system failure on a Suzuki Boulevard C50 is electrical shortages in the wiring harness, frying the Regulator/Rectifier, or the Stator.  Engine overheating can also kill these components early.
3. Battery Not Charging
One of the most common complaints about the Boulevard is that the battery dies early or won't hold a charge. In some situations, riders report the battery dying while riding the bike. The leading cause of this is engine vibration.
While the Boulevard C50 is designed to be a comfortable cruiser even on the highway, it doesn't have the power other cross-country cruisers do.
Therefore, when pushed to its limit at highway speeds, the Boulevard C50 tends to vibrate.
In some cases, riders are on the highway vibrating long enough for the battery terminals to rattle loose.
Some riders experience periodic dips in engine power, while others say they discovered the issue when their bike died and wouldn't start back up.
Ensure both battery terminals are hooked up and tightened to spec.
Inspect the terminals for corrosion or debris that may be weakening the connection.
Inspect the Boulevard's voltage regulator isn't loose or shorting out.
Inspect the rest of the charging system to be sure the battery isn't damaged due to the problem outlined in the previous section.
Electrical problems develop on many older motorcycles, especially those that rattle and vibrate at high speeds.
That said, numerous consumer reports have also outlined improper electrical installation on new Boulevards.
Therefore, we suggest you have your C50's electrical harness inspected by a pro technician at least once a year.
4. Ignition Coil Burns Out
Ignition coils on some Suzuki C50s tend to burn out due to improper wiring, overheating, or worn spark plugs. Bad ignition coils cause rough idling, slow acceleration, decreased fuel efficiency, and increased emissions.
Improper factory wiring or shorts in the wiring harness can cause an increase in electrical resistance going to the ignition coil, eventually burning it out.
In other cases, engine heating had reportedly caused the coil to melt.
The engine overheating can be caused by oil failures or by any of the fuel system issues mentioned later in the article.
The various fuel system failures can also clog your fuel injectors, causing your coils to burn out even after replacing your spark plugs.
And finally, riding your Suzuki C50 with expired spark plugs increases the resilience of your ignition system, increasing the voltage absorbed by your ignition coil and eventually breaking the C50's coil down.
5. Develops Piston Slap
More than a few consumer reports claim Suzuki Boulevard C50s have developed piston slapping or knocking – when the piston skirt hits against the cylinder wall during the rotation of the piston. While there are no reports of a design flaw with the C50's cylinders or pistons, it can develop from wear and tear.
While this problem is not as common as other problems on the list, piston knocking can be more than just alarming if it develops on your C50; it causes engine damage.
If the pistons and bores on your Suzuki Boulevard C50 are set up and machined to the correct specs, piston slapping shouldn't occur.
The C50 is often used for long-distance touring, ridden at full speed for miles on end.
The 800cc engine on the Boulevard has its limits, as it is half the size of full-sized touring bikes.
If pushed to its limit for hours a day over the course of a few years, your piston can wear down, decreasing in size and increasing the space between the piston skirt and the cylinder wall. The extra space allows it to move, gain momentum, and knock against your C50's cylinder walls.
Again, this isn't indicative of a design flaw in the C50 – it's the result of pushing your engine too hard for too long over the course of ownership.
Still, if you suspect piston slapping on your Boulevard, have it inspected asap; ignoring it could lead to complete piston skirt wear/failure over time.
6. Stalls Out at Low Speeds
Two common issues can result in a Suzuki Boulevard C50 not getting enough fuel or power at low speeds, clogged fuel injectors, or a poorly adjusted throttle screw.
Here's an example of the issue we're talking about, straight from the report of a real-life Suzuki Boulevard C50 owner:
"I am having a heck of a time trying to find out why my 2005 Suzuki C50 Boulevard keeps stalling out on me at slow speeds. It will start right back up again after it stalls. I changed the air filter and spark plugs, but the same result happened again. It is fuel injected. I haven't changed the pipes."
Modern Suzuki Boulevard C50s and C50Ts are all fuel injected, meaning a computer-regulated fuel system is responsible for injecting the fuel into your C50s combustion chamber.
If the injectors are clogged, they may be able to inject fuel at high speeds while the throttle is wide open, though you may notice a dip in your C50s performance.
That said, a C50 with clogged injectors will stall out at low speeds, as the low throttle isn't enough to pump fuel through the clogged injector.
That said, in another consumer report we found, a Boulevard owner shed some light on a different issue they were able to quickly fix to stop their C50T from dying at slow speeds:
"I have had the [stalling at low speeds] issue on my 2005 C50T. I increased the throttle set screw a 1/8 turn, and it solved the problem."
7. Fuel Pressure Failure; Fuel Leaks from Fuel Cap
One common problem on the Suzuki Boulevard C50/C50T is fuel leaking from the overflow underneath the fuel cap. The fuel cap collects extra fuel when the tank is overfilled, but these reports claim the leak happens with the correct fuel level.
C50 owners indicate that the Boulevard's fuel lines build up pressure, especially in hot weather.
The pressure lift inside the fuel lines causes the fuel to thin out and expand until it passes the overfill level and leaks into the cap drain designed to leak out any excess fuel.
Once the fuel cools, the leak will stop, and the fuel level will lower significantly due to the missing fuel.
This issue indicated an issue with the fuel pressure sensor, injectors, fuel filter, the ECU, or a problem elsewhere in the fuel tank or fuel lines.
However, more than a few Boulevard owners theorize that the issue indicates a problem with the fuel cap, leading some riders to install an aftermarket fuel cap.
Pros and Cons
Pros
Comfort-oriented suspension
Overall, Very Reliable
Simple and Rustic Design
Stylish, Kicked-Out Front Forks
Full chromed, staggered-out Twin Exhaust system.
Fuel Injected.
Comfort-driven frame, body, and seating position.
Cons
No 6th Gear
Suzuki is not always Responsive to Warranty Claims
Modern Muscle Bike Style Not for Everyone
Muscle Bike Bark with Underwhelming Bite
Not Customizable
Not as Much Aftermarket Gear available as some other Medium Cruisers
Fuel Pressure Failure; Fuel Leaks from Fuel Cap
Ignition Switch Shorts Out
What Do the Reviews Say?
"The middleweight Boulevard C50 is powered by a liquid-cooled, fuel-injected 803cc 45-degree V-twin with an offset dual-pin crankshaft and shaft drive. It is offered as a black-only base model ($8,399), as the special edition tested here ($8,799), which adds two-tone paint and cast instead of wire-spoke wheels, and as a touring model ($9,599), with a windshield, and saddlebags, passenger backrest, and two-tone paint."
"In terms of fuel economy, the Suzuki is at the bottom of the heap—an average of 41.4 mpg compared to 44.5-51.5 mpg on the others. With 4.1 gallons of fuel capacity, the range is just 170 miles."
SOURCE: 2013 Suzuki Boulevard C50 SE Review | Rider Magazine | Rider Magazine
"Dealership was fairly misleading on this bike. Missing a few parts, dirty air filter. One front fork compression adjuster is frozen; I can't adjust it. Missing the front fork reflectors; these are needed to pass inspection. The engine has a ticking noise as well. I will need to take it to a local dealership to check out all these issues. Very unimpressed with this dealer. In my opinion, all of these issues should have been addressed before selling the bike. Will not purchase from them again."
"I bought this bike in '07 new. I had carbureted bikes before, but this is my first bike with the combination I wanted – fuel injection, water-cooled, shaft drive, and Mag rims/tubeless tires. The only problem I have ever had is a small brake issue after swapping to a new set of rubber and turn signal lenses coming apart. Both are small issues barely mentionable. This bike has never failed to start or stalled on downshift. I also purchased it with intentions of moving up in a couple of years and since decided it's all I will need."
SOURCE: Suzuki Boulevard C50 Reviews Reviews on Cycle Insider
What's the Resale Value of a Suzuki Boulevard C50?
| | | |
| --- | --- | --- |
| Year | Mileage | Price |
| 2005 | 15,105 | $2,999 |
| 2005 | 6,806 | $5,495 |
| 2007 | 5,000 | $3,995 |
| 2011 | 17,000 | $3,500 |
| 2018 | 10,357 | $5,995 |
What are Some Alternatives to the Suzuki Boulevard C50?
| | | |
| --- | --- | --- |
| Make/Model | MSRP | Average MPG |
| Suzuki Boulevard C50 | $8,299 | 42.3 |
| Moto Guzzi V9 Roamer | $9,999 | 51.8 |
| Kawasaki W800 | $9,199 | 53.8 |
| Ducati Monster 821 | $11, 995 | 45.54 |
| Triumph Bonneville 865 | $11,990 | 45 |
Sources:
Suzuki Boulevard C50 Reviews Reviews on Cycle Insider
2013 Suzuki Boulevard C50 SE Review | Rider Magazine | Rider Magazine