The Model X took the world by storm when it was first released in 2015 with its futuristic looks and falcon-wing doors.
Aside from being the world's first all-electric luxury SUV, it also features ground-breaking tech innovations, rapid acceleration and industry-leading range.
But despite all the fanfare, it's had more than its fair share of issues.
If you're trying to find a solution to a problem with your Model X or just doing some pre-sale research, this article is here to help.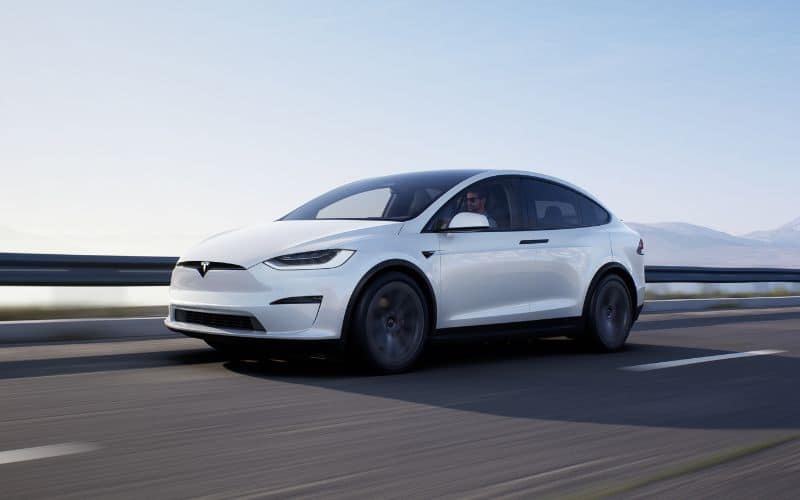 1. Tesla Model X Alarm Keeps Going Off
False alarms are a fairly common problem for the Model X and they're usually triggered by loud noises and vibrations.
If you have Sentry mode turned on, check the footage and see if anything happened to your car while you were away.
If you don't notice anything out of the ordinary, here are a couple of things you can try to fix it.
Check for Bugs
Teslas equipped with Enhanced Anti-Theft System (EATS) can detect movement inside the car.
This system is quite sensitive and can easily be triggered by small insects like flies that are trapped inside the cabin.
You can leave your doors and windows open to let the bugs out.
You can also use some bug spray to get rid of any pesky ones that refuse to leave the car.
Faulty Door Latch or Sensor
Several Model X owners have encountered issues with defective door latches and sensors making the car think that the door is open and inadvertently triggering the alarm.
If you take the car to a service center, they can check the logs to determine what exactly is causing the issue.
If it is a hardware issue, they'll be able to quickly deal with it.
Turn Off Sentry Mode
If you're constantly receiving Sentry mode alerts and getting false alarms for no apparent reason, you can set it so that it excludes your saved 'Home' and 'Work' locations.
As long as you're certain that these excluded locations are safe, you'll be able to avoid disturbing your neighbors with false alarms at odd hours.
Once the Sentry mode is off, you can also disable the Tilt/Intrusion alarm for more peace of mind.
2. Tesla Model X Door Keeps Opening
There are several reports of Model X doors randomly opening on their own. This often happens with the falcon wing doors, but some have also had issues with the driver and front passenger doors.
Let's take a look at what could be causing this particular issue and how you can fix it.
Key Fob Issues
Most people who have encountered this problem eventually find out that it's caused by accidentally pressing the door button on the key fob.
The door button can be easily pushed even if it's sitting in your pocket or inside a bag.
This often happens if you're wearing tight pants or if your bag has a lot of stuff in it that can hit the key fob.
Some key fob covers can also make it easier to accidentally press the key fob buttons.
To find out if this is what's causing the issue, remove the cover temporarily and observe if it happens again.
A weak key fob battery can also cause strange behaviors, so it's a good idea to replace it with a brand new one.
Faulty Door Latch
A defective door latch can also make the doors open on their own.
In a lot of cases, the car can't tell whether the doors are open or closed because the door latch isn't sending the right signals.
If you suspect that this is what's causing your issue, take the car to a service center or ask a mobile ranger to come and fix it.
Tesla technicians will be able to check the logs and see what is actually causing the doors to go haywire.
Turn Off Automatic Doors
If you have the Automatic Doors enabled, the car will not only unlock the doors when you approach the car while carrying the key fob, it will also partially open the driver door for you.
If your Model X comes with this feature, make sure it's turned off by going to 'Controls' and checking the 'Lock' settings if you don't want the driver door opening on its own.
3. Tesla Model X Charge Port Keeps Opening
Some Model X owners have had problems with their charge port door opening on its own.
Keep in mind that if you're at a Tesla Supercharger and someone starts charging their car, your charge port door will open if you're close enough when they push the button on the charging plug.
It shouldn't open if your car is locked and the key fob is not nearby.
If you have issues with your charge port door, here are some things you can try to fix it.
Check the Key Fob
Normally, the charge port door will open if you hold down the trunk button on the key fob.
You may be accidentally pushing the trunk button while the key fob is in your pocket and causing the charge port door to open.
A weak key fob battery can also cause random issues with the doors and the charge port.
To make sure it's not the key fob, remove the battery and observe if the problem persists.
You can also try replacing the key fob battery just to make sure everything is working as it should be.
Check the Charge Port
Dust, dirt and moisture can cause the charge port door to act strangely.
Try wiping down the charge port and inside of the charge port door to make sure the sensors are working properly.
If all else fails, your charge port might be defective. You'll have to take it in for service so they can replace the entire charge port assembly.
4. Tesla Model X Won't Connect to WiFi
Teslas are notorious for having weak Wi-Fi reception. It can have trouble detecting or connecting to WiFi even if your other devices can connect to the same WiFi signal from the same location.
If your Model X is consistently having issues connecting to WiFi, here are some things you can try to fix it.
Reboot the System
If you are encountering errors when trying to connect to a WiFi signal, you can try restarting the MCU to clear out any bugs that may be causing the issue.
Hold down the two steering wheel buttons until the screen turns off and turns back on and you should be able to reconnect with no problems once the system is up and running again.
Connect to a 2.4GHz WiFi Signal
5GHz WiFi has faster speeds but also has much less range than 2.4GHz WiFi signals.
If the car is automatically connecting to a 5GHz signal but isn't getting a good connection, click on WiFi settings and click 'Forget Network'.
Once you're sure it's not automatically connecting to the 5GHz signal, you can simply connect it to the more stable 2.4GHz signal.
Add a Wireless Repeater or Park Closer to the Router
Try parking the car in a different position so that it's much closer to the router that's broadcasting the WiFi signal.
If the router is pretty far from the vehicle, extending its WiFi range using an extender or a mesh network is the only viable solution.
Use Your Phone as a Hotspot
If you can't download an update because of WiFi issues, you can always use your phone as a mobile hotspot and let the car download updates using your mobile data instead.
This is the quickest solution and won't require buying additional equipment or too much additional troubleshooting.
Related: How Long Does the Tesla Model X Last? (14 Important Facts)
5. Tesla Model X Stiff Steering Wheel
The Model X uses electric power steering so if the wheel suddenly becomes extremely heavy when turning, it's usually due to an electrical or mechanical issue.
It doesn't need any power steering fluid so you don't need to worry about topping it up like in older hydraulic assisted power steering systems.
Let's take a closer look at some of the more common steering issues owners have reported and ways you can fix them.
Software or Electrical Issues
The Model X power steering system is more complicated than those found in other vehicles due to the addition of Autopilot.
Some owners have reported that their steering will suddenly seize up which will sometimes be accompanied by an error message on the dashboard.
If it's just a software glitch, you can try resetting the car by holding down the two steering wheel buttons until the touchscreen reboots.
If that doesn't help, try powering down the vehicle for a couple of minutes by going to the 'Controls' settings then selecting 'Power Off' under 'Safety'.
Power Steering Bolt Recall
Tesla issued a recall for the early model years of the Model X that were built before October 2016.
This recall addressed excessive corrosion found in some of the steering system's bolts which could potentially lead to power steering failures.
These early failures were mostly found in vehicles that were used in places that used a lot of road salt during winter.
Defective Intermediate Shaft
If you only feel stiffness or resistance after turning the wheel at certain angles, then you might be dealing with a defective intermediate shaft, also known as a U-joint.
Similar to the steering bolt issue, the intermediate shaft in the Model X and the Model S has a tendency to corrode quite easily — especially when it's exposed to road salts.
You can check the condition of the intermediate shaft by taking off the front right wheel.
The intermediate shaft should be just behind the suspension damper and the front axle.
Defective Power Steering Rack
Although electric power steering systems require less maintenance, they can also suddenly fail without warning.
Power steering failures can be caused by:
A faulty electric motor
Failed sensors,
Bad wiring
Issues with the steering module
Fixing this would require a trip to a service center so they can properly diagnose the root of the problem.
If they do find an issue with the power steering components, they'll usually replace the entire steering rack.
6. Tesla Model X Won't Unlock
The Model X's door locks are quite reliable, but it's not unusual for it to malfunction from time to time.
If you have Passive Entry enabled in the Safety menu, the doors should automatically unlock when you approach with the key fob.
Otherwise, you just have to push the door lock button on the key fob just like in any other car.
If you want all the doors to automatically unlock as you approach the vehicle, make sure the 'Driver Door Unlock' is disabled by going to 'Control' then clicking on 'Vehicle' settings.
You can also unlock the car using the Tesla app on your phone or via the touchscreen if you have access to it.
Newer versions of the Model X can also be unlocked with a key card as a last resort.
If you're having trouble unlocking the car manually, here are a couple of things you can try.
Try Different Unlocking Methods
If your preferred method of unlocking the doors suddenly stops working, try alternative methods like the Tesla app or the key card.
This will allow you to narrow down the issue and troubleshoot further.
If you're unable to unlock the vehicle using the Tesla app, make sure 'Allow Mobile Access' is enabled under the 'Control' and 'Safety' menu.
Check the Key Fob
The car should warn you beforehand if the key fob's battery is dying, but there are times when the battery just suddenly stops working.
You can still unlock the Model X even if the key fob battery is completely dead by placing the flat side of the fob on the bottom of the driver side falcon wing door for a couple of seconds.
It should ideally be placed on the front edge of the rear door, just behind the rear edge of the front door.
When you do replace the key fob battery, it's best to do it when you're inside or near the car.
This should allow the car to immediately detect the key fob once the new battery is installed.
Some people have had issues right after replacing the battery because the key fob loses the programming it originally had.
It's usually solved by reprogramming the key fob or replacing it altogether.
Related: 6 Most Common Problems With Tesla Model X (Explained)
Check the 12-Volt Battery
If the Model X's 12-volt battery dies, you won't be able to wake up the car or unlock the doors using the key fob.
You'll need to remove the plastic cover on the bottom left of the front bumper to access the emergency hood release.
Once the hood is open you can hook up a jump pack or a battery charger to recharge the battery.
7. Tesla Model X Keeps Beeping
The Model X has lots of different beeps, chimes and other alerts, but you'll also normally get notifications on the touchscreen at the same time informing you what the noise is all about.
Some of the more common beeps and chimes come from safety and security features like:
Parking assist sensors
Blind-spot monitoring
Speed limit warning
Door lock confirmation
Here are some other reasons why your Model S could be beeping at you.
Open Doors and Hatch
If you try to drive off without fully closing the doors, hood or hatch, the car will warn you by emitting three quick beeps.
There should also be a notification on the screen telling you which door is still open.
If the doors, hood and hatch are closed properly but the car is still beeping and warning you that they're open, you might have a faulty sensor or door latch.
Forgetting to Put the Car in Park
If you try to exit the car while it's still in Drive, Reverse or Neutral, you'll hear a beep as it shifts to Park by itself.
The car will also beep if you lift yourself out of the driver's seat temporarily because of the car's seat weight sensor.
It's basically thinking that there's no one sitting in the driver's seat.
If the car continues to beep for no reason, your best bet is to take it to a service center so that it can be properly diagnosed.
8. Tesla Model X Won't Wake Up
Some owners have reported experiencing problems communicating with their cars using the Tesla app because it's not waking up as it normally would.
A more severe issue is when the car simply won't turn on at all even if you try to unlock it with the key fob.
Here are some things you can try if you're unable to wake up your Model X.
Enable Mobile Access
The Model X will only be able to receive remote commands from the Tesla app if the 'Enable Mobile Access' setting is actually enabled.
If you've recently had your car serviced, you'll need to turn back on the 'Enable Mobile Access' feature in the 'Controls' and 'Safety' menus.
It's standard procedure for the technicians to turn this setting off so you can't accidentally send commands to the car while it's being worked on.
Check the Cell Reception
The car needs to be connected to the Internet using a cellular or WiFi connection for it to be able to receive commands.
If there's no cell reception in the area, such as when you're parked in an underground garage, you won't be able to remotely connect to the vehicle — unless you're close enough for it to connect via Bluetooth.
Reboot the Car And Restart the App
If you're having issues waking up the car, try rebooting the car's computer by holding down the two scroll wheels on the steering wheel.
This should clear out any software glitches that could be causing the issue.
You can also try turning your phone's Bluetooth off and on again, as well as restarting the App to refresh its connection with the vehicle.
Some people have also reported that reinstalling the app can help resolve the issue.
Check the Battery
If the car is not powering on at all, there might be a problem with either the 12-volt or the high voltage battery.
You can try jump-starting the 12-volt as you would in any other vehicle and see if that gives it enough juice to power on the car.
The Model X's 12-volt is under the hood which you can manually open by pulling the emergency release on the bottom right of the front bumper.
A bad ground can also produce similar symptoms, as well as lots of other strange electrical issues.
You can check if the ground wire is connected properly by opening up the frunk and removing the tub.
Otherwise, you can have the car towed to a service center.
9. Tesla Model X Not Receiving Updates
Whenever new software updates are available, you'll get a notification on your touchscreen to either download it immediately or at a later time.
Tesla service centers can also force new updates if they think that it will help resolve any issues you may be encountering.
If your Model X is stuck on an older software version or if it's unable to download new updates, here are a couple of things you can try.
Connect to a Stable WiFi Connection
Though the Model X can connect to the Internet via LTE, it can only download software updates via WiFi.
Once it's connected to WiFi, it will eventually download the update on its own.
Sometimes, it may look like it's not downloading at all, but it will eventually finish after waiting an hour or two.
If you don't have access to a WiFi signal, you can always use your phone as a mobile hotspot and download updates using mobile data.
Wait a Couple of Weeks
If you've just gotten hold of your Model X, it usually takes a few weeks before software updates are pushed to a new vehicle.
Some owners have reported having to wait 5 to 6 weeks before finally getting their first update.
Updates are also pushed over the air in waves or batches.
Even if there's a new software update available, it doesn't mean that everybody will get it at the same time.
Set Software Update Preference to Advanced
If you want to get the latest software updates as soon as they're available go to the Software settings in the touchscreen controls and select 'Advanced' instead of 'Standard'.
This will allow you to get the latest updates faster.
If your Model X's software hasn't been updated in months and it's still running on a really old version, you can submit a service request to see if Tesla can manually push the update to your vehicle.
Related: 7 Best & Worst Tesla Model X Years (With Facts & Stats)
10. Tesla Model X Heating Not Working
Problems with the Model X's heater and climate control system are not very common, but when they do occur, it can be extremely uncomfortable if you're in sub-zero temperatures.
Many Model X owners have complained that the heating in the rear is not as good as in the front seats, but this is more of a design issue than an actual fault with the system.
The Subzero weather package adds heated rear seats and lots of other creature comforts that make the cabin significantly more comfortable in cold climates.
Tesla has also issued a recall for Model Xs produced between late October 2021 to January 2022.
Fortunately, the fix can be easily done via a software update.
If your Model X's heater suddenly stops blowing hot air, here are some solutions you can try.
Reboot The Car
A few people have complained about their heater suddenly going out for no apparent reason.
Luckily, many were able to quickly fix the issue by simply rebooting the car using the two steering wheel buttons.
This usually means that it's just a weird software glitch and you shouldn't have to take it in for service unless it keeps reoccurring.
In most cases, a reboot seems to be able to fix the heater problem completely.
Take it to the Service Center
If a reboot doesn't bring the heat back, your only other option is to take your car to a service center.
It might just need a new fuse, but it could also be something major like a broken heater core or heat pump.
11. Tesla Model X Stops Charging
Charging problems can make any electric vehicle near unusable because it significantly affects the car's usable range.
Charging issues could be caused by any of the following:
Damaged charging port or plug
Issues with the charger's power source/electrical circuit installation/configuration
Faulty hardware or software in the vehicle itself
Extreme weather conditions
If your Model X suddenly stops charging in the middle of a session for no apparent reason, here are a couple of things you can look at to try and troubleshoot the issue.
Disable Mobile Access
If the car is receiving commands from the Tesla app or any other third-party apps, it might be interfering with the charging process.
To make sure the car is not responding to unwanted commands go into the 'Controls' and 'Safety' menu and turn off 'Allow Mobile Access'.
You can also change your Tesla account password to make sure all external apps and services are no longer able to communicate with the vehicle.
Check the Electrical Circuit
Charging an EV can easily max out the capabilities of regular household electrical circuits.
Even if the electrical circuit is designed to handle lots of amps, faulty wiring and/or degraded electrical components can cause all kinds of failures and errors.
In some cases, you just need to reset the circuit breaker to get everything working again.
You can also lower the car's charging current so it doesn't draw too much power and overload the circuit.
The only downside is that charging will take a little bit longer.
Try Another Charger
Trying out different chargers lets you better isolate and troubleshoot the issue.
If you're having issues charging at home, try going to a Tesla Supercharger and see if you're able to charge the battery to its full capacity there.
You might even have to try out different stalls and different public charging stations until you can find one that works properly.
If all else fails, your only other recourse is to have the car checked at a service center because they'll be able to fix any software and hardware issues.
They can fully diagnose if your issues are being caused by a damaged charge port, bad wiring or a faulty onboard charger.