The Model X was first released in 2016 and is still Tesla's flagship SUV.
Aside from its industry-leading EV tech and performance, the Model X is also known for its fold-up falcon-wing doors.
It received an update in 2021 which helps it better compete with the new crop of luxury EVs coming in from the traditional car brands.
In this article, we'll take a closer look at the longevity and reliability of the Model X.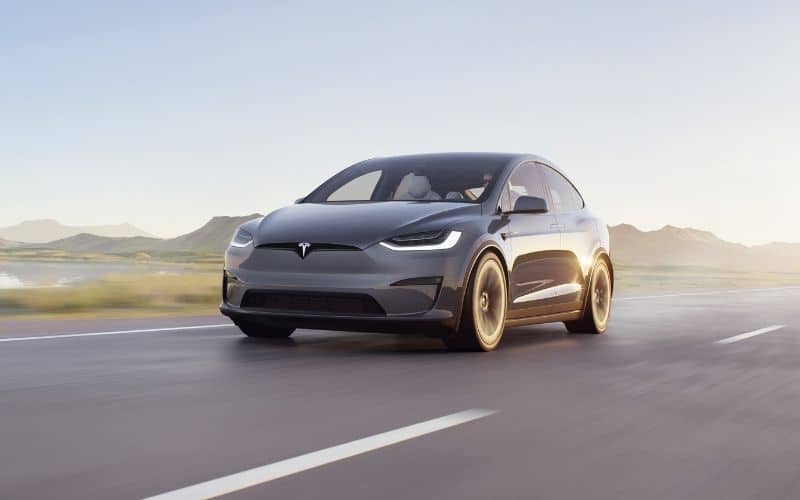 Here is the short answer to how long the Tesla Model X lasts:
A Tesla Model X can last 300,000 – 500,000 miles with good ownership habits and proper maintenance. On average, a Model X can provide at least 10 – 15 years of trouble-free motoring. The Model X is a pioneer in the EV segment and it's one of the most tested and proven EV platforms to date.
How Many Miles Can You Expect from a Tesla Model X?
The Model X has been around for a few years now although it's still relatively new and so there isn't a whole lot of them with big odometer readings.
Having said that, there is every reason to believe these cars will do incredibly well at high mileages, and there has already been a handful of owners who have clocked 400,000 miles before requiring a battery replacement.
On used car websites you'll find Model X's with over 100,000 miles and still going strong and on Tesla owner forums you can find anecdotal reports from owners who have clocked hundreds of thousands of miles.
A Tesla Model X should be able to last over 300,000 miles with proper maintenance and correct charging procedures. Taking into consideration battery degradation and based on an annual mileage of 15,000 miles, a Model X should last at least 10 – 15 years.
One of the biggest financial expenses you'll face as a Tesla owner will be having to replace the battery due to degradation which essentially means the loss of battery capacity and range over time.
If the vehicle is already over 15 years old you may decide the money needed for a replacement battery would be better spent on a new vehicle.
All new Tesla Model Xs also come with a 4-year/50,000-mile limited warranty and an 8-year/150,000-mile powertrain warranty.
Common Problems of the Model X
The Model X's early build quality issues are pretty well known by now.
But on top of the many panel gap alignment and paint issues, here are some of the most common issues Model X owners have reported so far:
Falcon Wing Door Issues
The Model X's most notable feature is its falcon-wing doors that fold upwards.
One of the most common complaints about these fold-up doors is that they sometimes won't fully open because it detects an obstruction.
The power front doors have also suffered from similar issues.
Some early models also had alignment and panel gap issues, which Tesla service centers were able to easily fix. This also usually solved water intrusion problems.
But aside from these minor design and fitment issues, they've proven to be very reliable and don't require constant maintenance.
Vibration from the Front
A common issue with early models of the Model X is a shuddering or vibration during acceleration.
This is usually caused by a broken CV joint which requires replacing at least one of the half shafts.
Tesla has redesigned the half shafts in new models, but it's not completely eliminated the problem yet.
In most cases, the problem only shows up when accelerating hard with the suspension set to high. It creates a weird angle in the suspension geometry that causes the half shaft to wear down and start to vibrate and rattle.
Aside from replacing the defective half shaft, most owners just stick to the low suspension setting to avoid the problem altogether.
Squeaking/Creaking at Low Speed
Lots of Model X owners have complained about their cars squeaking or making strange noises while turning at low speeds.
This is usually caused by worn-out bushings, but it could also be the control arm itself that needs replacing.
Some owners have even reported having to replace their control arms more than once as the problem eventually reappears.
MCU Issues
The MCU or Media Control Unit in Model Xs sold prior to March 2018 was an older version that was slow and had a tendency to fail completely.
The MCU is the heart of the large touchscreen on the center console and controls a lot of the vehicle's settings and features.
A non-functioning touchscreen can really affect the overall usability of the car.
This was eventually fixed by the updated MCU2 in newer models, and Tesla has issued a recall to update the memory on older units.
Some owners also just upgraded to MCU2 out of their own pockets.
The infotainment screen's borders were also prone to yellowing, but this could be fixed with a quick UV light treatment.
Related: 11 Common Problems With the Tesla Model X (Solution Guide)
What is High Mileage for a Model X?
A Model X with 100,000 miles is considered high mileage.
The standard warranty expires after 50,000 miles and there are many things that can get worn down after another 50,000 miles.
Although an EV like the Model X requires less maintenance than a gas vehicle, it still uses a lot of systems and parts used in regular cars that can break due to wear and tear — and finding replacement parts for a Model X isn't exactly cheap or easy.
Driving around 100,000 miles will also have quite an effect on the battery's longevity. It might have over 100,000 miles left in it, but it will always have slightly less range compared to when it was new.
The battery and drive units are some of the most expensive components to replace, so having some life left in the EV powertrain warranty will give some peace of mind.
When buying a used Model X, consider the following:
Maintenance history. Check that the car was properly serviced and the owner can provide documented evidence of this.
Battery health. Check for signs of battery degradation and find out how much driving range it can still deliver when it's fully charged.
Check for cracks in the roof: This can be an expensive repair – make sure to look where the edges connect.
Number of previous owners. As a general rule, less is better. More owners usually means more wear-and-tear.
How long you are planning on keeping the car. If you're planning on keeping the car for a long time, you should evaluate whether the short-term savings outweigh spending a bit extra on something more reliable.
Examine the interior. The condition of the interior tells the story of how well the car was maintained and cared for.
How Long Does the Model X Last Compared to its Rivals?
In this section, we'll compare the Model X to some of its more popular rivals in the SUV EV segment.
Tesla Model X vs. Model Y
The Model Y is Tesla's latest SUV model. It's a lot cheaper and slightly smaller than the Model X.
It's based on the newer Model 3 platform, so it benefits from all of Tesla's latest innovations and improvements.
The Model Y will last 300,000 – 500,000 miles which is the same mileages you can expect from a Model X.
Kelley Blue Book's consumer rating index gave the Model X a reliability rating of 4.6/5 which is higher than the 4.1/5 that the Model Y from the same year got.
Edmunds consumer reviews gave the 2020 Model X an overall score of 3.2/5 which is slightly lower than the 2020 Model Y's 3.5/5.
Car and Driver ranked the 2022 Model X 7th place in the midsize EV segment while the 2022 Model Y got 9th in the compact EV segment.
The current Model X has a 100 kWh battery while the Model Y has a slightly smaller 80 kWh unit. Though both Teslas are able to deliver a similar driving range
Although the Model Y is a little basic when compared to the Model X, it also benefits from Tesla's latest EV tech. It shouldn't have as many bugs and defects as the Model X when it first launched.
Maintenance costs should be lower overall for the Model Y because it's not as complicated as the Model X.
If you don't need the extra space and uniqueness that the Model X offers, the Model Y is a more sensible choice.
Related: How Long Do Tesla Model Y Last
Tesla Model X vs. Audi e-tron
The e-tron is Audi's first fully-electric vehicle. It was first released in 2019.
It comes in 2 flavors: one that looks like a traditional midsize SUV, and a sportier e-tron Sportback version.
It's priced cheaper than the Model X, but it promises the same build quality and refinement people have come to expect from an Audi.
The Audi e-tron should be able to last 300,000 – 400,000 miles with proper care and maintenance.
Kelley Blue Book's consumer rating index gave the e-tron a 4.9/5 for reliability which is higher than the Model X's 4.6/5.
Edmunds consumer reviews gave the e-tron an overall rating of 3.3/5 which is not much higher than the 3.2/5 the Model X got.
RepairPal gave the Audi brand an overall reliability rating of 3/5 which is considered average. It does not have ratings for any of Tesla's vehicles.
Car and Driver ranked the 2022 e-tron as the 2nd best midsize EV SUV while the Model X was placed in 7th place.
The e-tron has a pretty large 95 kWh battery while the the Model X has a 100 kWh unit. But the e-tron delivers less range per charge.
The e-tron is not as efficient as the Model X so it will go through more charge cycles to travel the same distance, which can degrade the battery faster. But this should only be an issue after around 10 years of use or after several hundred thousand miles.
Although Audi's EV tech is yet to be tested, the e-tron will likely have better build quality overall, which helps its long-term reliability. Although repair costs can still be very expensive if something breaks out of warranty as you would expect with any modern Audi.
Related: How Long Will an Audi e-tron Last?
Tesla Model X vs. BMW iX
The BMW iX is a new entrant in the midsize luxury EV segment but it shows a lot of promise.
It's got everything a luxury EV would normally look for — great range, modern tech, exciting looks, a stunning yet refined interior, and stellar EV acceleration.
It's aimed right at the Model X's typical target market and it's actually slightly more affordable.
The BMW iX should be able to easily last 300,000 – 400,000 miles under normal conditions and with proper maintenance.
Kelley Blue Book's consumer rating index gave the BMW iX a reliability rating of 5/5 while the Model X got 4.6/5.
Edmunds consumer reviews gave the iX an overall rating of 5/5 while the Model X got 3.2/5.
RepairPal gave BMW an overall reliability rating of 2.5/5 which is still considered average. It does not have ratings for Tesla.
Car and Driver gave the 2023 BMW iX 1st place in the midsize SUV EV segment while the Model X got 7th.
Both EVs have large batteries and deliver almost the same driving range.
The BMW iX has got very few owner ratings so far so the scores (at the time of writing) are a little bit skewed.
The iX should have the same build quality and refinement you would expect from a top-spec BMW. It should feel more solid and well built than the Model X — especially after a decade of use.
But since it's a new vehicle, there's not much data to go on just yet. We can only speculate how reliable it will be based on people's first impressions and BMW's reputation for building well-designed cars.
Comparison Chart
| | | | | |
| --- | --- | --- | --- | --- |
| | Tesla Model X | Tesla Model Y | Audi e-tron | BMW iX |
| KBB Consumer Rating | 4.6/5 | 4.1/5 | 4.9/5 | 5/5 |
| Edmunds Consumer Rating | 3.2/5 | 3.5/5 | 3.3/5 | 5/5 |
| RepairPal Brand Reliability* | NA | NA | 3/5 | 2.5/5 |
| Car and Driver Ranking | 7th | NA | 2nd | 1st |
| Battery Capacity (kWh) | 75 – 100 | 80 | 95 | 76 – 111 |
| Electric Range (miles) | 238 – 325 | 291 | 218 | 315 |
| Expected Lifespan (miles) | 300k – 500k | 300k – 500k | 300k – 400k | 300k – 400k |
(*) Ratings are for the brand as a whole not the individual model
Is the Model X Reliable?
The Model X has been extensively tested and based on owner feedback, it has proven to be a very reliable vehicle so far.
Despite all the negative reports you'll see online, a lot of Model X owners have been pretty satisfied with their vehicles.
In most cases, the EV powertrain has always been perfectly reliable and battery degradation doesn't seem to be much of an issue — except in extreme cases of high mileage use.
Older models are more prone to squeaks and rattles, as well as different software problems, but they're still very reliable daily drivers if you ignore these minor problems.
Additional data that demonstrates the Model X's reliability:
Kelley Blue Book's consumer rating index gave the Model X a pretty respectable reliability rating of 4.6/5.
Edmunds consumer reviews only gave the Model X an overall rating of 3.2/5, but it's actually not that far off from what its rivals received.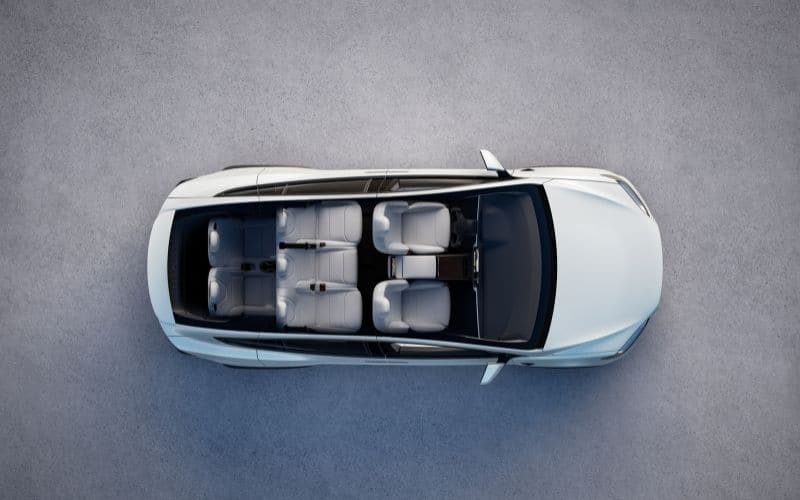 Tesla Reliability Compared to Other Brands
Source: Consumer Reports
| | | |
| --- | --- | --- |
| Ranking | Brand | Score |
| 1 | Lexus | 76 |
| 2 | Mazda | 75 |
| 3 | Toyota | 71 |
| 4 | Infiniti | 69 |
| 5 | Buick | 66 |
| 6 | Honda | 66 |
| 7 | Subaru | 66 |
| 8 | Acura | 64 |
| 9 | Nissan | 63 |
| 10 | Mini | 60 |
| 11 | Hyundai | 56 |
| 12 | Chrysler | 54 |
| 13 | Porsche | 52 |
| 14 | Chevy | 48 |
| 15 | Audi | 47 |
| 16 | Cadillac | 47 |
| 17 | BMW | 45 |
| 18 | Ford | 44 |
| 19 | Kia | 43 |
| 20 | Volvo | 42 |
| 21 | Ram | 40 |
| 22 | GMC | 37 |
| 23 | Mercedes-Benz | 34 |
| 24 | Volkswagen | 31 |
| 25 | Genesis | 30 |
| 26 | Jeep | 26 |
| 27 | Tesla | 25 |
| 28 | Lincoln | 18 |
The Best and Worst Years for the Tesla Model X
The Model X has had lots of improvements since it was first released. This section takes a look at which model years are good buys and which ones you should avoid.
Worst Model Year
2016 and 2017 are the worst model years for the Model X.
Both of these model years had the most number of complaints logged on CarComplaints and CarProblemZoo.
These will likely have more early build quality problems, and are also still using the older and slower MCU.
Best Model Year
The 2021 Model X is the best model year as it refreshed the design a little bit and introduced the high-performance Plaid variant. The 2022 model is an equally good choice. These models also have the latest and most up-to-date tech.
The 2021 and 2022 models feature a rectangular-shaped steering wheel which has come under some criticism for being awkward.
The 2019 Model X is also a good choice because Tesla had already sorted out a lot of their issues and was considered an engineering refresh at the time of its release.
Related: 7 Best & Worst Tesla Model X Years (With Facts & Stats)
What About Recalls for the Model X?
The Tesla Model X has had 38 recalls logged on the NHTSA recall database so far.
You can check if your Model X has been subjected to a recall campaign by entering your VIN (Vehicle Identification Number) on the Tesla recall site or the NHTSA recall database.
Recalls are manufacturing faults repaired at no charge to the consumer.
Total number of recall campaigns for every model year of the Model X:
2022 Tesla Model X: 6
2021 Tesla Model X: 8
2020 Tesla Model X: 4
2019 Tesla Model X: 3
2018 Tesla Model X: 4
2017 Tesla Model X: 5
2016 Tesla Model X: 7
2015 Tesla Model X: 1
Related: 6 Most Common Problems With Tesla Model X (Explained)
Model X Model Year List
The Model X is still in its first generation, but it's been continually improved almost every year.
First Generation (2016 – present):
2016 Tesla Model X
2017 Tesla Model X
2018 Tesla Model X
2019 Tesla Model X
2020 Tesla Model X
2021 Tesla Model X
2022 Tesla Model X
Is the Model X Expensive to Maintain?
The Model X should require less regular maintenance than an ICE-powered vehicle.
Most Model X owners report a mostly worry-free ownership experience, but there are still some that have to bring in their car for repairs several times a year. Reliability and build quality can be a hit or a miss when it comes to Teslas.
Tesla parts aren't cheap or widely available, so any potential repairs out of warranty can get expensive really fast.
If you pick one of the newer models where many of the defects have been addressed, repairs and maintenance shouldn't be much of a concern till a couple more years down the road.
During its first few years, you should only have to bring the car in for cabin filter replacements and brake fluid checks every 2 years.
How Long Do the Brakes Last?
The factory brakes on the Model X should be able to easily last 100,000 miles when driven normally.
The Model X uses regenerative braking which charges the battery while slowing down the vehicle at the same time, so the brakes don't need to be used as much.
How Long Do the Tires Last?
The Model X's tires should be able to last around 20,000 – 30,000 miles per set.
The batteries add a lot of weight to the Model X which causes the tires to wear out more. The electric motors also produce a lot of instant torque which isn't too kind on the rubber.
However, tire wear is also dependent on various factors such as driving habits, climate, and road conditions.
Here are a couple of tips that will help you preserve the life of your tires:
Rotate your tires every 5,000 miles to ensure even wear
Check your tires every few weeks to make sure they're at the correct pressure.
Check your tires every so often for uneven wear and have it addressed quickly.
Check your wheel alignment every 6 months.
How Long Do the Transmissions Last?
The Model X doesn't use a traditional automobile transmission and uses, what is essentially, a single gear.
It's a much simpler system that will last much longer than a modern car transmission because the components are subjected to much less stress, heat and friction.
In most cases, the transmission-related components of the drive train should easily last well over 500,000 miles.
How Long Will the Model X's Electric Motors Last?
The Model X's drive units should be able to last the lifetime of the vehicle.
Most industry experts predict that modern EV motors have an average lifespan of around 15 to 20 years.
Although it's not unheard of for a Tesla to need a new drive unit, the chances of it happening to a Model X are not as high. Its drive units also received upgrades and improvements year after year, which hopefully made them more reliable.
How Long Do the Spark Plugs Last?
The Tesla Model X doesn't use any spark plugs because it doesn't use an internal combustion engine.
Related: How Long Does The Polestar 2 Last?
How Long Do Model X Batteries Last?
The Model X's battery should be able to easily last around 10 years before it starts showing signs of degradation.
It will also get worn down as it gets used. But you shouldn't see extreme degradation until around 200,000 – 300,000 miles.
The Model X's battery is also liquid-cooled which protects it from overheating and helps extend its overall lifespan.
Here are some other tips to keep your Model X batteries in good condition:
Avoid using or storing the vehicle in extremely hot temperatures
Don't let the vehicle sit unused for long periods of time
When storing the Model X, slow charge it to avoid battery degradation
Avoid regularly draining the battery to 0% or charging it to 100%
Charging up to 80% is recommended
Minimize the use of DC fast chargers at public charging stations
What is the Range of the Model X?
Newer Model Xs have better range and can go up to an EPA-estimated 350 miles.
Older Model X releases topped out at 295 miles before the improvements were introduced.
Even the high-performance Model X Plaid can now go up to 330 miles on a single charge.
How Long Does the Model X Take to Charge?
| | | |
| --- | --- | --- |
| Charger Type | Range per Hour of Charge (miles) | 0 to 100% Charge |
| Level 1/120V | 2 to 3 | 7 to 8 days |
| Level 2/240V | 20 to 30 | 8 to 10 hours |
One of the perks of owning a Tesla is its well-established network of Superchargers.
A Model X can get as much 175 miles of range after only 15 minutes connected to a Supercharger.
Charging to a full 100% will take longer because it slows down after 80% to protect the battery.
What About Insurance Costs?
According to Insuraviz, the Model X costs around $2,044 per year or roughly $171 per month to insure.
Insurance costs can vary from person to person, so be sure to shop around to find the best possible deal for your Model X.
Tips to Prolong the Life of Your Model X
Practice smooth and safe driving habits.
Use regenerative braking to extend range and battery life.
Charging every couple of days is better than charging every day to keep it topped up.
Keep up to date with factory-recommended maintenance.
Use quality parts and fluids.
Keep on top of repairs to prevent them from developing into larger problems.
Regularly wash your Model X to remove dirt and grime to protect the paint and undercarriage from rust.
Keep your Model X stored in a garage to help protect it from extreme heat and the elements.
Read the owner's manual to learn the location of important components, what your Tesla needs and in what quantities, and to understand the symbols and dashboard warning lights.
Sources
https://www.caranddriver.com/tesla/model-x
https://www.forbes.com/wheels/news/tesla-recalls-135000-cars/
https://www.kbb.com/tesla/model-x/
https://www.edmunds.com/tesla/model-x/2020/review/
https://www.carcomplaints.com/Tesla/Model_X
https://www.carproblemzoo.com/tesla/modelx/
https://www.tesla.com/support/home-charging-installation/wall-connector
https://www.tesla.com/support/supercharger
https://insuraviz.com/vehicles/tesla/tesla-model-x-insurance/