The Toyota C-HR is a subcompact crossover that had a short production run from 2018 to 2022. 
It has futuristic looks and lots of tech goodies but has been criticized for its sluggish acceleration.
In this article, we'll cover its best and worst years.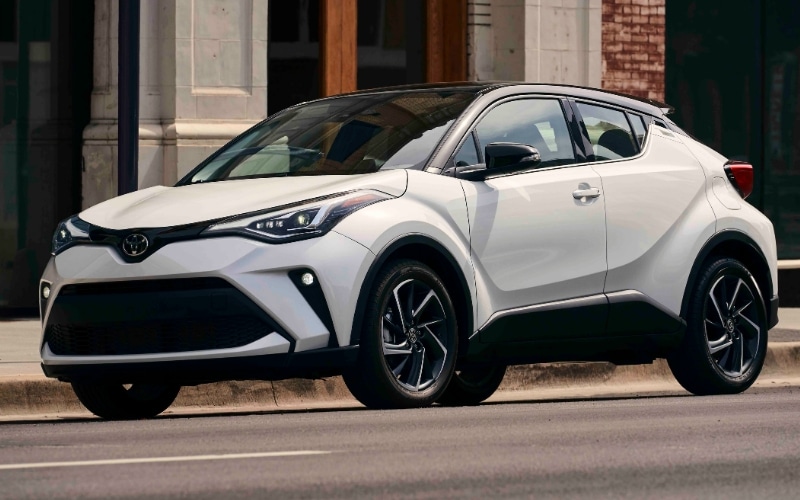 Here's The Short Answer To What The Best And Worst Years For The Toyota C-HR Are:
The best Toyota C-HR model years are 2022, 2021, and 2020. The worst model years of this model are 2018 and 2019. This is based on auto industry reviews, NHTSA statistics, reported problems, and consumer feedback.
What Are The Best Years For The Toyota C-HR?
2022 Toyota C-HR
The 2022 C-HR is the final model year ever produced and is the most reliable according to NHTSA data.
It is praised for its sporty handling, abundance of standard features, cushioned and supportive seating and funky styling.
For 2022 the base LE trim was discontinued leaving just the XLE, Nightshade Edition, and Limited trims.
All models come with a 2-liter 4-cylinder gasoline engine (144 hp) mated to a continuously variable automatic transmission (CVT) and are front-wheel-drive.
According to owners' reviews, these are the highlights of this model: fuel economy, technology, interior, comfort, handling, steering, safety, and engine.
Based on EPA's, fuel economy is 29 MPG for combined city and highway driving. 
Edmunds: 4.5 / 5.0
Kelley Blue Book: 4.0 / 5.0
J.D. Power: 81 / 100
2022 C-HR, Edmunds Review:
"This is my third Toyota (Yaris, Corrolla(2)) and thought we would try something different. We got the premium package Bronze oxide and its a great car. Rides high and smooth. We really enjoy driving the car and the newest safety features are a good improvement over the 2017 we had. Especially like the blind spot indicators on the mirror. Some reviewers say the engine is lacking but I am not a race car driver and don't need to do 120 to Costco on the weekend. I can pass any cars/trucks I need to on the highway so that is all I need. We would recommend this car and look forward to driving it more. 2 years later and it's still awesome with no issues. Drives like I just picked it up the first day."
2021 Toyota C-HR
The 2021 C-HR is the penultimate model year produced and it has received minimal complaints and excellent owner reviews. It has solid build quality and a nicely outfitted although storage space is a bit tight and the engine is a bit sluggish.
For 2021 the Toyota Safety Sense 2.5 was made standard across the lineup, which includes the following safety features:
Full Range Dynamic Radar Cruise Control
Pre-Collision System
Lane Departure Alert with Steering Assist
The NHTSA also awarded this model 4 stars (out of 5) in terms of overall safety based on crash tests.
Each model is powered by a four-cylinder engine that produces 144 horsepower with a fuel economy of 29 mpg  (27 city/31 highway), which is about average for the class.
Edmunds: 4.5 / 5.0
Kelley Blue Book: 4.0 / 5.0
J.D. Power: 81 / 100
2021 C-HR, Edmunds Review:
"Rented an XLE for a week and drove it 710 miles. I was really surprised this little car offers near 2021 Camry levels of ride comfort and quietness and far better seat comfort. After 2 straight hours of freeway driving I did not feel sore because the front seats of the CH-R somehow make the pressure points vanish. The newer Camrys, by contrast, have hard, fatigue inducing seats…"
2020 Toyota C-HR
The 2020 C-HR is another safe choice when shopping for a small SUV with sporty handling.
For 2021 updates include a new front-end design, Android Auto availability, and standard LED headlights and satellite radio across all trims.
There are 3 trims available: LE, XLE, and Limited.
Each trim comes with a 2-liter 4-cylinder engine (144 horsepower) that is matched to a front-wheel-drive and a continuously variable transmission (CVT) system.
Owners like this model for the following aspects: appearance, fuel efficiency, comfort, lights, transmission, safety, handling, and steering.
NHTSA awarded this model year a perfect 5 out of 5 overall safety rating based on crash tests.
Auto critics have pointed out that the CH-R is fairly slow, low on cargo space and has a cramped back seat.
Edmunds: 4.6 / 5.0
Kelley Blue Book: 4.0 / 5.0
J.D. Power: 84 / 100
2020 C-HR, Edmunds Review:
"Absolutely fell in love with the exterior of the CH-R! In my opinion it is the most attractive option in its class. The ruby flare pearl is stunning in any light! Yes, there's no AWD, but honestly not a deal breaker for me. In "Sport" mode it has plenty of acceleration from the 2.0…"
Consumer Scores For Best Toyota C-HR Years
Model Year
Edmunds
Consumer Rating
Kelley Blue Book
Consumer Rating
J.D. Power
Consumer Rating
2022 Toyota C-HR
4.5 / 5.0
4.0 / 5.0
81 / 100
2021 Toyota C-HR
4.5 / 5.0
4.0 / 5.0
81 / 100
2020 Toyota C-HR
4.6 / 5.0
4.0 / 5.0
84 / 100
Related: 8 Best & Worst Honda HR-V Years (With Facts & Stats)
What Are The Worst Years For The Toyota C-HR?
2018 Toyota C-HR
The 2018 C-HR is, by far, the most problematic model year ever produced, which is to be somewhat expected of a debut model.
Most complaints were filed under 'Powertrain' with owners reporting various symptoms, including:
Gear slippage
Rattling and buzzing noises
Engine stalling
Jerking
Bearing failure
Transmission failure
"Just rolled over 100K miles and the Toyota service center just diagnosed it saying we need a new transmission. Upon further researching, it turns out the noise that started at 80k miles was actually the transmission failing. After doing a quick Google search, it turns out to be a very common issue for this make and model." – NHTSA.gov
"The final drive bearing within the continuously variable transmission is causing a whining noise. Diagnosis from the dealer is that the entire transmission needs to be replaced." – NHTSA.gov
"Transmission is failing. Apparently it's a very common problem in this car. Bunch of people are complaining about it on here and just do a regular Google search on any CHR forum." – NHTSA.gov
This model also had issues with the Electronic Parking Brake and there was an increased risk of the vehicle rolling away if parked on a hill and not placed into "Park". A recall was issued.
"EPB brake warning is showing on my display. I see there is a recall for this exacy item for the 2018 CH-R vehicles but it says that my car isnt involved. Is it just a coincidence?" – NHTSA.gov
The 2018 C-HR had a total of 12 complaints on CarComplaints.com and 98 problems based on NHTSA.gov data.
Common problems:
Transmisison failure
EPB failure
Doors rattle while driving
Squeaking
Windshield chips and dents easily
2018 Toyota C-HR
2019 Toyota C-HR
The 2019 C-HR is the second-most problematic model year ever produced although it is far less problematic than the 2018 model year.
Complaints filed were varied although a very common complaint was that the windshield would crack too easily.
"Got into my car and closed the door and the windshield cracked, there is no impact point from a rock, it just cracked right before my eyes, it's a crack about 20 inches long, after researching this, I've found thousands of people having the same problem." – NHTSA.gov
"Windshield cracked while sitting in my carport overnight. No impact damage, cracked from bottom of Windshield and is halfway across the Windshield." – NHTSA.gov 
"While sitting stationary in the driveway, 4500 miles on the vehicle one morning i noticed a large crack had appeared across the windshield" – NHTSA.gov
The 2019 CH-R also had the most recalls, including the following:
Rear Seat Belt Assemblies May Not Lock As Intended
Non-Permanent Text on Load Capacity Label
Insufficiently Tightened Rear Axle Bearing Bolts
The 2019 C-HR had a total of 4 complaints on CarComplaints.com and 23 problems based on NHTSA.gov data.
Common problems:
Air conditioner not working
Windshield cracks and chips easily
Dead battery
What Years Have The Most Complaints?
Model Year
Complaints
(CarComplaints.com)
Problems
(NHTSA.gov)
Recalls
(NHTSA.gov)
2022 Toyota C-HR
0
0
0
2021 Toyota C-HR
2
14
1
2020 Toyota C-HR
1
7
1
2019 Toyota C-HR
4
23
3
2018 Toyota C-HR
12
98
1
What Problems Do Toyota C-HRs Have?
Inaccurate fuel range
Sudden unintended acceleration
Doors rattle while driving
Squeaking
Windshield chips and cracks easily
Air conditioner not working
Dead battery
What Are The Best Alternatives To The Toyota C-HR?
Make & Model
Score
MSRP
Fuel Economy (MPG)
Mazda CX-30
8.6
$22,950 – $35,400
City: 22 – 26 /Highway: 30 – 33
Kia Soul
8.5
$19,790 – $24,090
City: 28 – 29 /Highway: 33 – 35
Hyundai Kona
8.4
$21,990 – $34,700
City: 20 – 30 /Highway: 27 – 35
Kia Seltos
8.4
$24,390 – $29,990
City: 25 – 28 /Highway: 27 – 34
Volkswagen Taos
8.1
$24,155 – $34,535
City: 25 – 28 /Highway: 32 – 36
Buick Encore GX
8.0
$25,600 – $33,500
City: 26 – 30 /HIghway: 28 – 31
Honda HR-V
7.9
$24,100 – $29,700
City: 25 – 26 /Highway: 30 – 32
Subaru Crosstrek
7.9
$24,995 – $31,995
City: 26 – 27 /
Highway: 33 – 34
Chevrolet Trailblazer
7.8
$22,100 – $27,700
City: 26 – 29 /Highway: 30 – 33
Nissan Kicks
7.8
$20,290 – $22,850
City: 31 /Highway: 36
Toyota Corolla Cross
7.7
$23,060 – $28,465
City: 29 – 31 /Highway: 32 – 33
Hyundai Venue
7.6
$19,500 – $22,750
City: 29 /Highway: 33
Source: cars.usnews.com, edmunds.com
Related: 17 Hybrid SUVs with Head-Up Display (With Pictures)
References
https://www.caranddriver.com/toyota/c-hr
https://cars.usnews.com/cars-trucks/toyota/c-hr
https://www.edmunds.com/toyota/c-hr/
https://www.kbb.com/toyota/c-hr/
https://www.jdpower.com/cars/2022/toyota/c-hr
https://www.carcomplaints.com/Toyota/C-HR/
https://www.carproblemzoo.com/tsb/toyota/c-hr/
https://www.cars.com/research/toyota-c_hr/recalls/