The Toyota Highlander Hybrid was the first seven-seater hybrid when it was released in 2005.
Now in its fourth generation, the Highlander Hybrid now features a modern look and updated tech and still retains its outstanding reliability.
However, throughout the years, it has had its share of problems – we'll cover these in this article…
1. Inverter Failure
The first and second-generation Toyota Highlander Hybrid had issues with their inverters going bad after several years of use.
Inverter failures are more common with the 2006 to 2007 Highlander Hybrid, but it's also been known to fail in the 2008 to 2010 model years.
The inverter is an essential part of the hybrid system and typically costs several thousand dollars to replace.
When the inverter goes, the car will go into safe mode or limp-home mode. In some cases, it will stop running completely and not start at all.
Here's how one owner described their experience:
"In September of 2017, my 2009 Highlander Hybrid just stopped running. At least 4 dash lights started flashing, there was lots of dinging, I felt a hitch in my forward motion and the car just lost power. Luckily, it was a Saturday, I was slowing for a light in the neighborhood and could pull over and get a tow truck relatively easily. Unluckily, the call on Monday from Toyota Service indicated I needed an $8800 inverter/converter."
Solution
Toyota recalled the 2006 to 2010 models of the Highlander Hybrid to address potential inverter failures.
The problem was caused by solder joints for the inverter's IPM (Intelligent Power Module) going bad after exposure to higher temperatures.
Recalls are done at no cost to the owner, but if for some reason a vehicle's inverter hasn't been replaced yet, it could still eventually fail at some point.
If you're on the hook for an inverter replacement, you can look for used units to save some money. It might also be possible to repair the faulty components by taking it to someone who specializes in circuit board repair.
2. ABS Pump Failure
On Car Complaints, a website dedicated to collecting car owner feedback, ABS brake issues is the most reported issue for the Toyota Highlander Hybrid.
The 2006 and 2008 model years had the most number of complaints by a large margin, but the issue seems to be pretty consistent in the 2006 to 2010 Highlander Hybrids.
When the ABS Pump fails the dash will flash different warning lights related to ABS (Antilock Braking System) and VSC (Vehicle Stability Control). Braking will also be severely affected since the brake pedal will become extremely hard to press down.
Here's what a few unhappy owners had to report:
"I am the third owner of a 07 Highlander Hybrid which has 104k miles. One day driving the vehicle several lights appeared on the dash instrument panel. Check VSC system came on, brakes pedal immediately became hard when pressed."
"2008 Highlander hybrid ABS light is on and warning sign is flashing to stop safely and have dealer inspect your vehicle. Took it to Toyota dealer, charged me 130 diagnostic and told me that I need to change my Actuator Assembly and Pump Assembly, quoted for 5500."
Solution
Toyota extended the warranty to cover any ABS failures in the 2006 to 2007 Highlander Hybrid, but the second gen 2008 to 2010 models were left out.
Due to the age of these vehicles, any extended warranty will likely be expired by now and replacing the ABS actuator and pump at the dealer can cost several thousand dollars.
If you want to save on repair costs, sourcing a used unit would be your best bet.
3. Hybrid Battery Degradation
At this point in time, the hybrid battery in many first and second generation Highlander Hybrids will have already seen noticeable degradation simply due to age.
Once the hybrid/traction battery fails, fuel economy won't be as good since the electric motor is no longer helping the engine to move the car along.
Symptoms of a degraded hybrid battery include:
Poor fuel economy
Engine fires up immediately after starting the car
Engine starts up more frequently when stopped at a light
The battery charge indicator no longer indicates a full charge
Error messages for 'EV Mode Not Available – Low Battery" will appear
The hybrid battery is normally covered under the hybrid powertrain warranty which typically lasts up to 10 years/100,000 miles.
But since many Highlander Hybrids are already more than 15 years old, replacing the battery will have to be done out of pocket for these vehicles.
Solution
Getting the hybrid battery replaced at a Toyota dealer can be very expensive. Fortunately, there are lots of aftermarket options for Toyota hybrid batteries which should only cost around $2,000.
To extend the life of the hybrid battery way past the warranty period, it's best to avoid using any Eco or EV modes as these drain the battery much faster.
Battery degradation occurs naturally over time, but it gets worse as the number of charge and discharge cycles goes up. So just letting the car decide when to use the hybrid battery on its own should be enough to prolong its life.
4. Fuel Tank Issues
Early model years of the fourth generation Toyota Highlander Hybrid had issues with the fuel tank not accepting the advertised tank capacity.
This issue affects all Highlander Hybrids from the 2020 to 2021 model years.
Owners report that when trying to fill the gas tank, the fuel nozzle would automatically click off before the tank is filled to its full capacity.
Instead of the advertised 19 gallons of fuel, the car would only take 13 to 14 gallons if you don't intentionally try to refill the tank manually and not rely on the fuel nozzle's automatic stop feature.
Since there's less gas in the tank, the car's total range is significantly affected and you'd have to stop to top it up more often.
Solution
Toyota eventually addressed the issue by releasing a TSB (Technical Service Bulletin) that required dealers to replace the fuel tank and fuel sender gauge with updated parts.
Since it's a TSB, it will only be done if the customer brings the car in and complains of the issue within the standard 3-year warranty.
If the vehicle is still fairly new but is no longer under the warranty period, you may be able to convince the dealership to cover some of the cost if you have a good relationship with them.
5. Steering Clunk
The steering clunk issue that affects a lot of second generation Toyota Highlanders also affects the Highlander Hybrid.
It usually occurs when turning the wheel either left or right while driving at slow speeds, e.g., while parking or getting out of the driveway.
This issue is quite common for all years of the 2nd gen Toyota Highlander from 2008 to 2013, but not every vehicle suffers from the steering clunk.
Here's how a few owners described the issue:
"When turning the steering wheel left or right, it makes a clunk noise. Mechanic told me that the noise comes from steering Intermediate shaft and needs to be replaced. which will cost me around $900-1000."
"At first I thought maybe the clunking, clicking steering wheel noise I felt was just part of the 2012 Toyota Highlander design, I purchased the car used in June 2020 with about 64K miles on it. I feel this clunking more at slow speeds. In fact my wife did not notice the issue at all when driving the vehicle."
As the clunking happens more and more, it can be quite concerning. But no one has reported encountering any steering failures stemming from this strange noise, so it seems to be more of an annoyance more than anything else.
The clunking noise also occurs in other Toyotas from the same period such as the Camry and RAV4.
Solution
Toyota released a TSB in 2013 to fix the issue which required replacing the intermediate steering shaft with an updated part.
People who have gotten their steering shaft replaced have reported that the noise hasn't come back since.
Replacing the steering shaft can cost several hundred dollars. If you want to save some money, you can try fixing it yourself by injecting some grease or lube on the steering shaft spline. Some Highlander owners were also able to fix the issue by tightening a few bolts.
6. Squeaky Rear Suspension
The third generation Toyota Highlander Hybrid had issues with its rear suspension making squeaking or creaking noises when going over bumps.
This issue affects all model years of the third gen Toyota Highlander from 2014 to 2019.
Some report that their cars have had the noise since new while others say that it only started occurring after owning it for some time.
The noise often stems from the rear control arms and is more apparent in colder weather.
Here is how one owner described their experience:
"Our 2018 was silent at first and then developed the crunching sound (like a rubber crunching sound, not a squeak) which was VERY noticeable over speed bumps; the more passengers in the back the worse it got."
Solution
Toyota issued a TSB in 2017 which acknowledged the problem and recommended replacing the rear trailing arm assembly.
The repair would be done for free if the vehicle was still within the 3-year/36,000-mile basic warranty. Otherwise, customers would have to pay out of pocket to get it fixed. Although some report that the noise came back after some time.
Many owners on the Toyota Nation forum were able to get rid of the noise by applying some lubricant such as silicone spray or WD40 on the rear control arm bushings.
7. Limited Third Row Space
One of the most common complaints from Highlander owners and auto critics alike is that the third row is just a bit too snug.
In terms of passenger space, its more spacious than the CX-9 but not as spacious as the Chevy Traverse.
However, the Highlander is only one of a few three-row SUVs that comes available as a hybrid.
Solution
Not much you can do about this one sadly.
Pros
Third-row seats
Quiet and comfy ride quality
Ample cargo space
Excellent overall reliability
Low maintenance costs
Lots of standard tech and driver assists
Good fuel economy
Cons
Average handling and power
Cramped third-row seats
Fuel economy not as good as other Toyota hybrids
Some competitors are more fun to drive
Related: How Long Do Toyota Highlander Hybrids Last? (Solved)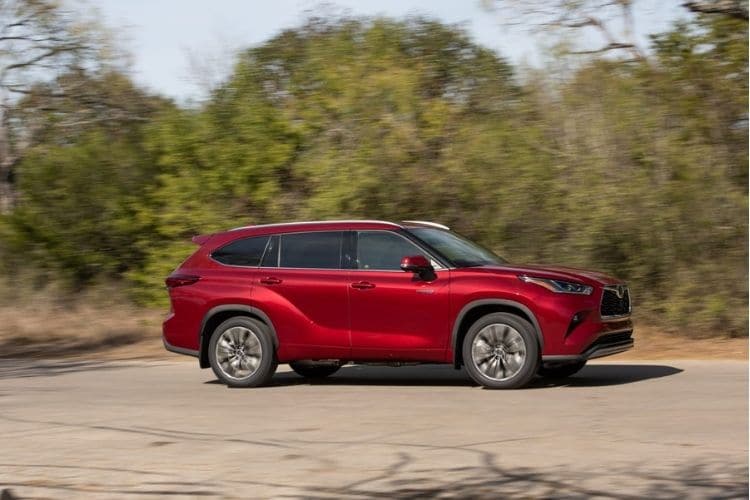 Toyota Highlander Hybrid Reliability Compared to Similar Cars
Consumer Reports rankings detailed below is based on the model's newest three years, the Toyota Highlander sits at the top, with a great score of 86/100, this includes both gas nad hybrid powertrains.
| | |
| --- | --- |
| Make & Model | Consumer ReportsReliability Score |
| Toyota Highlander | 86 |
| Mazda CX-9 | 85 |
| Kia Telluride | 84 |
| Hyundai Palisade | 68 |
| Honda Pilot | 53 |
| Chevrolet Traverse | 49 |
| Volkswagen Atlas | 41 |
| Jeep Grand Cherokee L | 35 |
| Dodge Durango | 30 |
| Nissan Pathfinder | 30 |
| Subaru Ascent | 18 |
| Ford Explorer | 8 |
| Kia Sorento | 5 |
Source: Consumer Reports
Toyota Highlander Hybrid Used Value
We've taken a look on Car Gurus to gauge the resale value of a Toyota Highlander Hybrid, below are typical asking prices for each model year.
According to Car Edge, a Toyota Highlander will depreciate 21% after 5 years and have a 5 year resale value of $36,496.
Note: Used model prices will vary depending on trim level.
| | | |
| --- | --- | --- |
| Model Year | Mileage (miles) | Resale Price |
| 2022 | 6,744 | $47,999 |
| 2021 | 38,640 | $35,900 |
| 2020 | 24,702 | $36,736 |
| 2019 | 44,939 | $34,529 |
| 2018 | 87,115 | $29,694 |
| 2017 | 55,637 | $30,500 |
| 2016 | 84,329 | $26,495 |
| 2015 | 123,604 | $19,800 |
| 2014 | 186,204 | $15,886 |
| 2013 | 50,810 | $18,077 |
| 2012 | 166,105 | $12,999 |
| 2011 | 150,000 | $11,000 |
| 2010 | 171,507 | $10,990 |
Source: Car Gurus
What Do Owners Like and Dislike About the Toyota Highlander Hybrid?
Based on owner feedback from the Kelley Blue Book site here are what real-life owners love and hate about the Toyota Highlander.
Likes
Spacious
Versatile
Comfortable
Fuel economy
Quiet ride
Design
Dislikes
Slightly pricey
Infotainment system
Brakes
Cruise control
Owners Reviews
"Fuel-economy-wise, it just makes sense – driving an 8-seat SUV but consuming less gasoline than my Honda Civic Sedan. Driving for 500+ miles, it only takes one stop at the pump! I call this Liberation." – 5 stars
Source: Kelley Blue Book
"Just bought a brand new Toyota Highlander Hybrid le and have terrible wind noise on both sides in stronger wind and not sure about a smooth ride. Is the xle any different?" – 3 stars
Source: Kelley Blue Book
"I am very happy with my new Toyota Highlander Hybrid. It is comfortable, has fantastic gas mileage, and is well designed with the following relatively minor exceptions. Although the rear cargo space is very good, the rear window cannot open, therefore not allowing tall cargo loads such as a ladder, small trees, or pieces of lumber to hang out the back. The accessory roof rack is poorly designed, in so far as the two horizontal struts are too close to each other, and also there are no tie-down features along the sides. So, for example, a Christmas tree cannot be securely attached to the roof rack without also running a cord through the slightly opened rear windows. But all in all, I do not regret my purchase!" – 5 stars
Source: Edmunds
Related: 19 Best & Worst Toyota Highlander Years (With Facts & Stats)
How Reliable Are Toyota Cars?
According to a recent report from Consumer Reports, Toyota are ranked the 3rd most reliable car manufacturer out of 28 brands, with a score of 71/100.
| | | |
| --- | --- | --- |
| Ranking | Brand | Score |
| 1 | Lexus | 76 |
| 2 | Mazda | 75 |
| 3 | Toyota | 71 |
| 4 | Infiniti | 69 |
| 5 | Buick | 66 |
| 6 | Honda | 66 |
| 7 | Subaru | 66 |
| 8 | Acura | 64 |
| 9 | Nissan | 63 |
| 10 | Mini | 60 |
| 11 | Hyundai | 56 |
| 12 | Chrysler | 54 |
| 13 | Porsche | 52 |
| 14 | Chevy | 48 |
| 15 | Audi | 47 |
| 16 | Cadillac | 47 |
| 17 | BMW | 45 |
| 18 | Ford | 44 |
| 19 | Kia | 43 |
| 20 | Volvo | 42 |
| 21 | Ram | 40 |
| 22 | GMC | 37 |
| 23 | Mercedes-Benz | 34 |
| 24 | Volkswagen | 31 |
| 25 | Genesis | 30 |
| 26 | Jeep | 26 |
| 27 | Tesla | 25 |
| 28 | Lincoln | 18 |
Source: Consumer Reports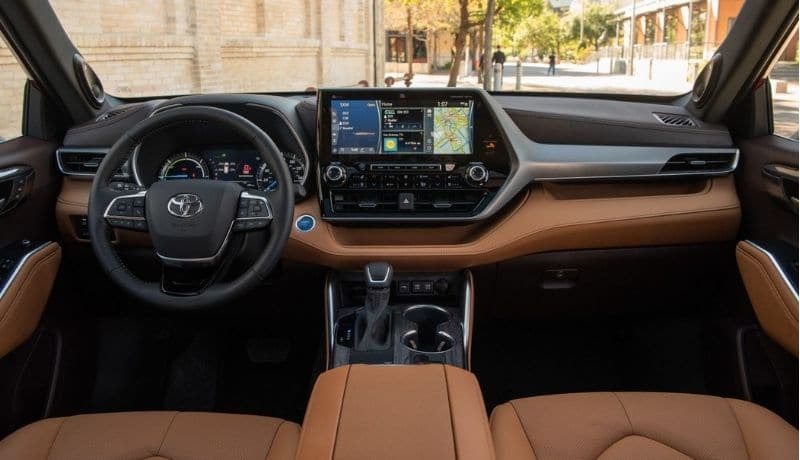 Sources
https://www.consumerreports.org/cars/toyota/highlander/
https://www.carcomplaints.com/Toyota/Highlander/
https://www.carproblemzoo.com/toyota/highlander/
https://www.kbb.com/toyota/highlander/
https://www.edmunds.com/toyota/highlander/
https://caredge.com/toyota/highlander/depreciation