The Volkswagen Atlas is a midsize SUV that was first introduced as a 2018 model year.
It offers tons of practicality – great legroom, loads of cargo space, and above-average towing capacity.
However, it has been criticized for its dull interior materials and for being less fuel efficient than advertised.
In this article, we'll analyze the best and worst model years of the Volkswagen Atlas.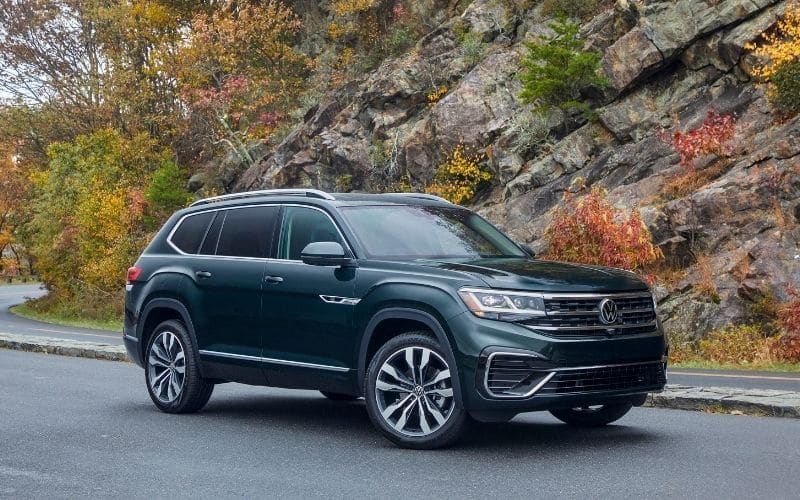 Here are the Best and Worst Years for Volkswagen Atlas
Detailed below we've ranked the Volkswagen Atlas Models.
Best Years for Volkswagen Atlas:
2023
2020
2022
Worst Years for Volkswagen Atlas:
2018
2021
2019
What Are The Best Years For The Volkswagen Atlas?
2023 Volkswagen Atlas
The Atlas is known for a lot of things, and the 2023 model year takes it a notch above the previous models.
It can either be equipped with a 235 horsepower turbocharged 2-liter 4-cylinder engine or a 276 horsepower V6 engine that can easily tow up to 5,000 pounds.
Eight-speed automatic transmission is standard for both versions of the model and it can come with either a front-wheel-drive system or an all-wheel-drive system.
Edmunds gave this model an overall rating of 8.0/10 whilst JD Power gave it a score of 77/100 and ranked it #6 in the midsize SUV charts.
A new base model was also introduced, named the Atlas SE. It replaces the previously available Atlas S.
For trim levels above SE, owners can enjoy a 10.25-inch digital cockpit pro instrument cluster as a newly standardized feature.
The 2023 Atlas is the latest offering of VW but is still part of the first generation which began with the 2018 model.
2020 Volkswagen Atlas
The 2020 Atlas provides plenty of space for both passengers and cargo, has hard-to-beat value and excellent driving manners.
If you are looking for a classic, boxy and stylish European design, then the exterior of this model is just what you might want.
No major changes or revisions were implemented for this version of the Atlas but a lot of necessary technology updates were introduced, including Car-Net 2.0, Wi-Fi hotspot capability, and a few improved driver assistance features.
Auto review site Kelley Blue Book gave this model a stellar 4.4 / 5.0 stars based on their expert opinion.
There were five variants offered, beginning with the base-level S trim and the more high-end trim levels known as the SEL and SEL Premium.
Owners and drivers of this vehicle praise its handling and grip on the road, not to mention its comfortable seating.
The cabin design is also simplistic in nature, with straightforward and intuitive controls, knobs, and buttons.
2022 Volkswagen Atlas
The 2022 Atlas is a solid, reliable, and more stylish alternative to many of the other SUVs and minivans currently offered in the market.
Its three-row seating configuration offers maximum comfort, cargo space was not neglected as it can accommodate close to 100 cubic feet of cargo, and there is no shortage of power from the standard turbo-four engine.
Whilst this model is essentially a carryover from the 2021 model year, which received revamped front and rear bodywork and interior upgrades, it is notably less problematic according to data from the NHTSA.
Thus, if you are deciding between a 2022 Atlas or a 2021 Atlas we would strongly recommend the 2022 model.
Edmunds gave this model a strong 8.0/10, and they were impressed by the balance of precision handling and everyday comfort.
Related: 7 Most Common Volkswagen Atlas Problems (Explained)
What Are The Worst Years For The Volkswagen Atlas?
2018 Volkswagen Atlas
According to both CarProblemZoo.com and CarComplaints.com, the 2018 Atlas is statistically the most problematic and complained Atlas model.
Problems that were frequently reported included radiator leakage, broken axles, and defective batteries.
The most severe issues involved the electrical system, brake system, engine system, and equipment.
Owners were most annoyed by the constant battery drain as this was the most frequently experienced problem.
The reports indicated that the vehicle would suddenly lose power and stall, accompanied by a battery warning indicator on the instrument panel.
In terms of safety, the most aggravating issue was none other than the brake system. Reports made it seem like the brakes of the vehicle had a mind of their own.
Instances of unintended emergency brake activation, poor stopping power at low speeds, and other similar incidents were reported by infuriated owners as this rendered their vehicles unsafe to drive.
2021 Volkswagen Atlas
The 2021 Atlas may not have been as problematic as the previously discussed 2018 model year but it has garnered quite a high level of notoriety from frustrated owners due to certain types of recurring issues on the road.
Some of these issues involved the following: transmission rattling noises, noisy interior, and sunroof leaking.
The most pressing concern, however, is none other than the vehicle's faulty electrical system, which affected a lot of major systems and components.
Unintended electronic parking brake deployment, unreliable adaptive cruise control, and windows abruptly rolling down were the most frequently specified issues experienced by owners of this model year.
2019 Volkswagen Atlas
The 2019 Atlas was a bad egg that did not reflect the best qualities of the model.
There were multiple design and build-related flaws, including a flood-prone interior, clock spring failure, and tri-zone climate system malfunctions.
The most worrisome defect experienced by owners, however, is frequent issues with the brake system of the vehicle.
Much like the other model years on this list, the 2019 Atlas was migraine-inducing for several owners because the brake system had times when it operated on its own, leading to outright vehicle shutdown or unintended stops on the road which could endanger fellow motorists.
One owner even tested out the presence of brake-related issues at different speeds (10 miles per hour, 30 miles per hour, and 70 miles per hour) and was able to conclude that brake-related issues were present regardless of how the vehicle was driven.
Related: How Long Do Volkswagen Atlas Last? (12 Important Facts)
What Problems Do Volkswagen Atlas Have?
Dead Battery Issues
Certain model years of the Atlas struggled a lot when it came to retaining adequate charge for the vehicle to operate.
According to several reports hailing from owners of the 2018 and 2019 model years, owners have experienced sudden vehicle stalling or shutdown as a result of battery issues.
This has led to several unsafe and inconvenient circumstances that required owners to call roadside assistance for towing services.
It is also not a rare occurrence, according to some reports. One owner even stated that his vehicle had to be jump-started twice in the same week.
Brake-related Concerns
An unfortunate type of problem experienced by nearly all model years of the Atlas is brake-related.
Widespread reports have specified the activation of the vehicle's electronic parking brake (emergency brake) while driving, squeaking, grinding, and whining sounds when the brake pedal is depressed, and terrible brake performance when activated at lower speeds.
These issues have led to costly and time-consuming repairs and replacements, and some owners even reported that parts availability was a major concern, perhaps because of how widespread the problems were across all model years.
Electronics Failure
While a couple of glitches or non-responsive moments with electronics may be acceptable, certain model years of the Atlas have given owners major headaches.
Owners of model years 2019, 2020, 2021, and 2022 have reportedly experienced power window failure.
This failure came in one of two ways: the power window module would refuse to work or the windows would roll down without prompt or activation.
Another serious and frequent issue was related to the rear liftgate of the Atlas.
According to owners, liftgate issues were so prevalent and could even occur while driving.
Issues included failure to open, no response to keyfob, sudden locking and unlocking, inability to open or close all the way, and outright mechanical failure of its components.
What Are The Best Alternatives to the Volkswagen Atlas?
Kia Telluride
The Telluride is one of the best family haulers in the market today and comes at a relatively inexpensive price point.
While both the Telluride and Atlas offer ample cargo space with the rear seats folded, the former can only hold up to 87 cubic feet of cargo space while the latter can accommodate up to 97 cubic feet of cargo space.
The Telluride also boasts a 3.8-liter 6-cylinder engine powered by gasoline fuel while the Atlas only comes with a downsized 2-liter 4-cylinder engine.
If you are in need of more power in your ride, then the Telluride is a better choice. However, if fuel efficiency is a major factor in your purchase, then the Atlas may be more practical.
It also is worth noting that the Atlas has slightly better safety and collision ratings.
Pricing for the latest model years of both vehicles is similar, with the base-level Telluride coming in at approximately $33,000 and the base-level Atlas being sold at roughly $34,000.
Hyundai Palisade
The Palisade is considered to be the best value-for-money purchase in the SUV segment, and it is easy to see why.
This model is loaded with safety features and entertainment tech and has a powerful V6 engine.
In terms of fuel efficiency, the Palisade is edged out by the Atlas in terms of city driving (19 miles per gallon vs. 21 miles per gallon) but on the open road, the Palisade performs slightly better (26 miles per gallon vs 25 miles per gallon).
In terms of cargo space, the Atlas comes out on top as it allows for roughly 97 cubic feet of cargo space when the rear seats are folded as opposed to the Palisade's 86.5 cubic feet of cargo space.
The Atlas is larger in all relevant dimensions, too.
It has a longer wheelbase, longer length, greater width (without mirrors), and a taller overall height.
The Palisade offers up to 5,000 pounds of towing capacity while the Atlas only reports 2,000 pounds of towing capacity.
Pricing for the latest model years of both vehicles is similar, with the base-level Palisade coming in at approximately $35,000 and the base-level Atlas being sold at roughly $34,000.
Chevrolet Traverse
The Traverse is equipped with a V6 engine, can confidently accommodate up to eight passengers, and is reasonably priced.
While the Traverse comes as a 3-row SUV, the Atlas can be availed of as a 2-row SUV as its third row is an optional add-on.
Both offer tremendously large cargo space, even for their segment.
However, the Traverse performs better in this aspect as its latest model year can offer up to 100 cubic feet of cargo space with the rear seats folded as opposed to that 90 cubic feet maximum cargo space of the Atlas.
Engine size, power, and overall performance are also very different between the two vehicles. The Traverse comes equipped with a 3.6-liter V6 engine while the Atlas only comes with a 2-liter 4-cylinder engine.
The bigger size of the Traverse means it can accommodate passengers more comfortably, particularly in terms of headroom and legroom.
How Long Do Volkswagen Atlas Last?
If a typical Volkswagen Atlas is cared for and subjected to the recommended maintenance schedule, it could last around 200,000 miles.
However, there are a lot of factors that must be considered, such as driving habits, weather conditions and maintenance upkeep.
If we were to base it on the national average for driving which is 15,000 miles per year, a Volkswagen Atlas should last approximately 13 years.
To prolong the life of your Volkswagen Atlas, we suggest frequent oil changes, high-quality fuel and regular car washes.
What are the Pros and Cons of Volkswagen Atlas?
Pros
Spacious interior
Good warranty terms
Great towing capacity
Lots of cargo space
Comfortable seating
Intuitive infotainment system
Excellent handling
Straightforward interior design
Cons
Dull interior build
Below-average transmission performance
Pricier premium trims not justifiable
Poor acceleration
Relatively bad fuel economy
Underwhelming engine power
Related: 9 Best & Worst Volkswagen Touareg Years (With Facts & Stats)
References
https://cars.usnews.com/cars-trucks/volkswagen/atlas
https://www.carcomplaints.com/Volkswagen/Atlas/
https://www.carproblemzoo.com/volkswagen/atlas/
https://www.edmunds.com/volkswagen/atlas/
https://www.kbb.com/volkswagen/atlas/