Introduced in the USA in 2017, the VW Atlas is a three-row, midsize SUV.
It boasts an impressive towing capacity, a suave exterior and plenty of cargo space.
The Atlas has had its share of problems – we'll cover the most common ones in this article.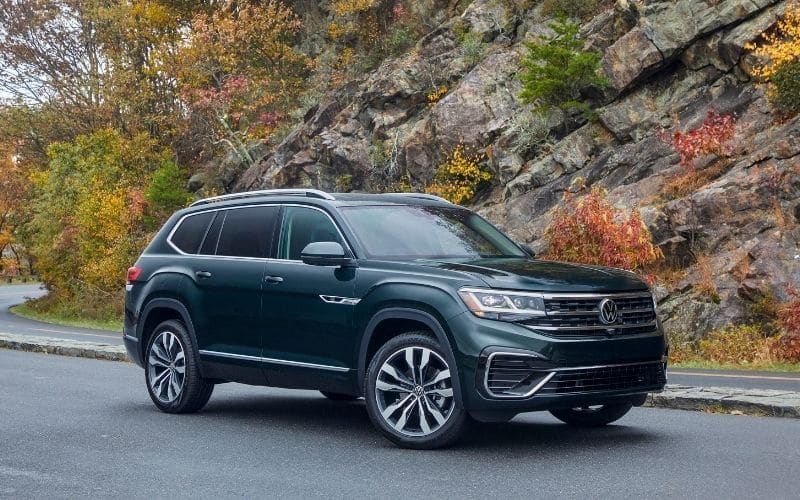 1. Dead Battery Issues
According to NHTSA data, one of the most common issues with the Atlas is that the 12V battery keeps dying.
This problem has been mostly reported on the 2018 and 2019 models.
Many owners have reported their Atlas has died whilst driving and have been forced to call roadside assistance.
In many instances you'll find reports of Atlas' dying at intersections without warning, causing the entire vehicle to shut down making braking and steering impossible.
Here's one owner's experience:
"I was stopped at a busy intersection when the battery died. This was the second time in 2 weeks that the battery died. Traffic had to be rerouted around me as I sat waiting for a jump start. I took it to the dealer and they say the battery is on back order which makes me think that this is a systemic problem affecting this vehicle."
Solution
The battery drain issue has been linked to the Start-Stop feature of the Atlas. The feature works by turning the vehicle's engine off when you come to a stop and then restarts it when your foot is taken off of the brake, this is designed to save fuel and improve efficiency.
Essentially the Start-Stop feature is too much on the battery and that's why so many owners have broken down when coming to a stop.
At the time of writing there currently isn't a recall for this issue however some owners have decided to manually shut off the on/off feature each time they drive the car.
Unfortunately, there is no way to permanently shut off the ignition on/off so it must be done manually.
However, some sources are adamant that replacing the battery is the solution and the problem lies with the standard battery being used at the time and it is known to have issues (batteries should be replaced under warranty).
Some owners have had to replace the battery numerous times, so no concrete solution for this one.
2. Emergency Brake Applies Whilst Driving
One of the most frightening common problems of the Atlas is that the emergency brakes are activated whilst driving for no apparent reason.
There have been reports of this occurring on all model years of the Atlas, which includes 2018, 2019, 2020, 2021 and 2022.
For some this has happened whilst driving at low speeds, however we've come across more than a few reports from owners who were driving at considerable speeds down the highway when the emergency brakes were suddenly applied.
Here's one owner's testimony:
"While driving at approximately 40 miles per hour on a busy major road, my vehicle engaged the emergency brake and suddenly stopped. Multiple people slammed on brakes and swerved to avoid hitting me almost killing me."
Solution
Volkswagen has recalled nearly 225,000 Atlas SUVs for electrical issues, this recall affects certain 2019-2023 models (it also includes Atlas Cross Sports too).
The emergency brake being applied whilst driving has been linked to this recall.
The electrical issues are caused by corrosion of the wiring harness contacts.
The wiring harness is a collection of wires that connects all of the electrical devices and components in the vehicle to the main power source.
If you have been affected by this recall VW will replace any of the front door wiring harnesses showing a fault code, free of charge.
To see if you have been affected you should run a VIN check on the NHTSA website.
3. Windows Roll Down On Their Own
Not the most life-threatening problem but one that certainly gets tedious after a while – a number of Atlas owners have complained that the windows on their vehicle mysteriously rolled up and down by themselves.
This problem has been reported on models from 2019 – 2022.
Here's one owner's account:
"While my wife was driving home from work, all lights on the dashboard illuminated and the airbag warning symbol came on as well as both front windows opened on their own. Upon arrival at home as she pulled into the drive the emergency brake momentarily activated."
Solution
The windows rolling up and down on their own has been linked to faults with the electrical wiring harness.
As mentioned above, VW recalled nearly 225,000 Atlas vehicles for electrical issues linked to the wiring harness.
4. Excessive Wind Noise
A common complaint from 2018 VW Atlas owners is that the vehicle produces excessive noise when driving, it is most noticable at speeds above 40 mph.
Here's one owner's complaint:
"Above 45 mph there is a nonstop, annoying wind noise that comes through the window gasket. We could hear it even with the radio on."
Solution
The problem has been linked to the driver's side outside mirrors and a TSB (TSB#66-18-01) was issued to rectify it.
The TSB states to use Part Number: 1J0971798C (foam tape) along the bottom side of the mirror cap (interior seam).
5. Squeaky Brakes
A common complaint from VW Atlas owners is that the brakes are making "squeaky" noises and also "grinding" noises. This has been reported on 2019, 2020, 2021 and 2022 models.
Across owner forums such as vwatlasforum.com and vwvortex.com, squeaky brakes are an all too familiar topic.
We found a number of complaints on the NHTSA too, here's what one owner had to say:
"Brakes are making loud squeaking and grinding noises when brake is applied at low speeds. It feels like the entire braking system is about to fall apart. Took the vehicle to the Volkswagen dealership and they said Volkswagen brakes are known to make noise. They said there is nothing they can do about it. The sounds are very loud even with all the windows up, it's like an old car."
Other owners have complained that the brakes seem to grind/shudder/skip at low speeds.
Solution
A common cause of squeaking or squealing brakes on a VW Atlas is defective brake pads, it can also be caused by defective rotors. SWapping out the pads and or pads and rotors should solve the issue.
If your Atlas is still under warranty these should be replaced free of charge.
Related: 6 Best & Worst Volkswagen Atlas Years (With Facts & Stats)
6. Wiper Blade Hitting the Left A-Pillar
A number of Atlas owners have complained that the left wiper blade is hitting the left A-pillar, this is most noticeable on the high-speed setting, but also on low and intermittent.
A-Pillars straddle the windshield.
Solution
Simple-to-fix-problem, the wiper arm will just need to adjusted down slightly.
Owners account:
"I had the same problem with the driver's side wiper hitting the A-pillar but only at highway speeds. I guess the heavy rain and wind pushes the wiper over farther than normal. I popped the cap off the wiper nut, removed the nut and adjusted the wiper down one notch and all is well."
7. Rear Liftgate Problems
A number of Atlas owners have taken to the forums to complain of various rear liftgate issues.
There are reports of various problems including:
Doesn't always open
Sometimes the key fob doesn't open or close the door
Has a mind of its own
Won't open all the way and sometimes it won't close all the way
Doesn't go up about half the time
Solution
We were unable to find any concrete solutions to these issues, and it has left a number of very unhappy customers venting online as VW has reportedly not been too helpful.
"Ours has become a nightmare as well. VW corporate won't do anything to help. We have hired an attorney. Ours has been in at least 9 times for repairs. Plus 2 more times to fix problems caused by the dealer while it was in for repairs."
"Once I started to drive off and all my stuff fell out of the back. We had it looked at a few times while it was in for numerous other repairs and nothing was ever done to fix it. Hated our atlas! What nightmare vehicle!"
Volkswagen Atlas Model Years With the Most Problems
To get a better idea of which Volkswagen Atlas has the most problems the fairest way is to compare models based on the number of vehicles sold in relation to the number of reported problems.
We're using the Car Problem Zoo PPMY index which means problems reported per thousand vehicles per Year.
Based on this index, the most problematic years are:
2021 – 2.34 PPMY
2018 – 1.08 PPMY
Volkswagen Atlas
Model Year
Problems
Sales
Vehicle Age
PPMY Index
2022
22
–
–
–
2021
310
132,681
1
2.34
2020
20
35,638
2
0.28
2019
293
100,354
3
0.97
2018
364
83,906
4
1.08
Source: Car Problem Zoo
Volkswagen Atlas Pros and Cons
If you're considering a Volkswagen Atlas as your next car you might be wondering what its strengths and weaknesses are…
Pros
Lots of interior space
Above average warranty
Intuitive tech features
Solid towing capacity
Three roomy rows
Value pricing
Cons
Dull cabin materials
Unexciting to drive
Underwhelming engines
Bumpy roads expose rough ride
So-so fuel economy
Volkswagen Atlas Reliability Compared to Similar Cars
Consumer Reports ranks the Volkswagen Atlas in the middle-of-the-pack, with a sub par score of 41/100.
| | |
| --- | --- |
| Make & Model | Consumer ReportsReliability Score |
| Toyota Highlander | 86 |
| Mazda CX-9 | 85 |
| Kia Telluride | 84 |
| Hyundai Palisade | 68 |
| Honda Pilot | 53 |
| Chevrolet Traverse | 49 |
| Volkswagen Atlas | 41 |
| Jeep Grand Cherokee L | 35 |
| Dodge Durango | 30 |
| Nissan Pathfinder | 30 |
| Subaru Ascent | 18 |
| Ford Explorer | 8 |
| Kia Sorento | 5 |
Source: Consumer Reports
Volkswagen Atlas Used Value
We've taken a look on Car Gurus to gauge the resale value of a Volkswagen Atlas, below are typical asking prices for each model year.
According to Car Edge, a Volkswagen Atlas will depreciate 28% after 5 years and have a 5 year resale value of $32,362.
Note: Used model prices will vary depending on trim level.
| | | |
| --- | --- | --- |
| Model Year | Mileage (miles) | Resale Price |
| 2022 | – | $35,730 |
| 2021 | 12,781 | $35,882 |
| 2020 | 28,145 | $32,178 |
| 2019 | 39,300 | $36,990 |
| 2018 | 78,394 | $20,991 |
Source: Car Gurus
Related: How Long Do Volkswagen Atlas Last? (12 Important Facts)
What Do Owners Like and Dislike About the Volkswagen Atlas?
Based on owner feedback from the Kelley Blue Book site here are what real-life owners love and hate about the Volkswagen Atlas.
Likes
Great ride
Spacious and roomy interior
Infotainment system
Updated technology
Smooth driving
Dislikes
Sound system
Acceleration
Turbo lag
Owners Reviews
"After comparing and test driving similar 3rd row SUVs, the space that the Atlas offers is… well spacious. Even with the 3rd row up, you're able to fit 2 large suitcases in the trunk. My 6'2" husband is able to sit in the 3rd row. It drives smooth and has great tech features – especially if you have an iPhone."
Source: Edmunds
"A lot of car, tech and utility for the money. Very pleased with our purchase."
Source: Edmunds
"What else is there to say other than my car has been to the dealership 9 times since July and the issues are still not resolved!"
Source: Edmunds
How Reliable Are Volkswagen Cars?
According to a recent report from Consumer Reports, Volkswagen are ranked the 24th most reliable car manufacturer out of 28 brands, with a score of 31/100.
| | | |
| --- | --- | --- |
| Rank | Brand | Score |
| 1 | Lexus | 76 |
| 2 | Mazda | 75 |
| 3 | Toyota | 71 |
| 4 | Infiniti | 69 |
| 5 | Buick | 66 |
| 6 | Honda | 66 |
| 7 | Subaru | 66 |
| 8 | Acura | 64 |
| 9 | Nissan | 63 |
| 10 | Mini | 60 |
| 11 | Hyundai | 56 |
| 12 | Chrysler | 54 |
| 13 | Porsche | 52 |
| 14 | Chevy | 48 |
| 15 | Audi | 47 |
| 16 | Cadillac | 47 |
| 17 | BMW | 45 |
| 18 | Ford | 44 |
| 19 | Kia | 43 |
| 20 | Volvo | 42 |
| 21 | Ram | 40 |
| 22 | GMC | 37 |
| 23 | Mercedes-Benz | 34 |
| 24 | Volkswagen | 31 |
| 25 | Genesis | 30 |
| 26 | Jeep | 26 |
| 27 | Tesla | 25 |
| 28 | Lincoln | 18 |
Source: Consumer Reports
Sources
https://www.consumerreports.org/cars/volkswagen/atlas/
https://www.carcomplaints.com/Volkswagen/Atlas/
https://www.carproblemzoo.com/volkswagen/atlas/
https://www.kbb.com/volkswagen/atlas/
https://www.edmunds.com/volkswagen/atlas/
https://caredge.com/volkswagen/atlas/depreciation