The Volkswagen ID.4 is one of the more affordable crossover EVs in the market.
Though it lacks the futuristic and sexy looks of other EVs, it's got a spacious cabin, good ride quality and pretty decent range, making it a very practical choice.
This article compiles some of the most common issues and complaints reported by actual owners to help you with your buying decisions.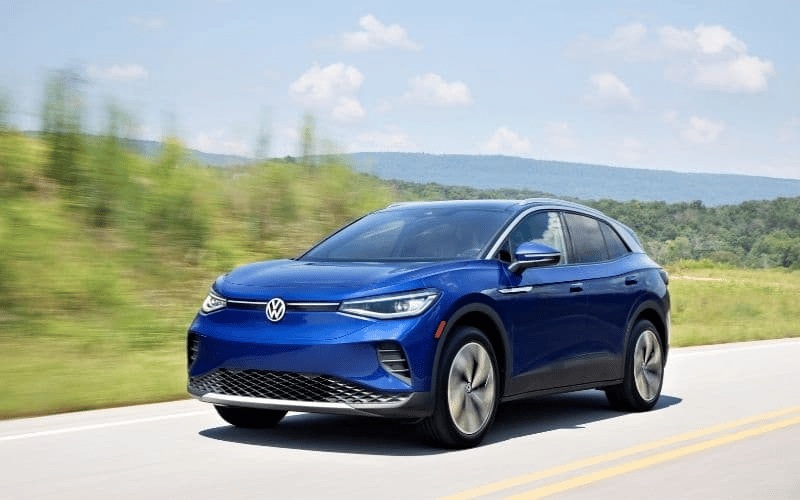 1. Random Stability Control (ESC) Activation
Some early models of the Volkswagen ID.4 have a tendency to suddenly trigger the traction and stability control system, or what VW calls Electronic Stability Control (ESC), even when the roads are perfectly dry and speeds well below the posted limit.
When the ESC is activated, a light will flash on the dash and the ABS will pump the brakes. This will cause you to unexpectedly slow down, but not to a complete stop.
ID.4 owners who have this issue say that it only triggers when going through long sweeping curves with a slight gradient at relatively low highway speeds — i.e., driving on highway off-ramps and country roads.
"It is very easy to trigger it, and after 10k miles I can almost always predict when it will happen. As others have mentioned, it's happening on slight gradient up or down, lower speed. It's even easier to trigger if the turn is banked."
According to an informal poll on the VWIDTalk forum, it mostly affects the early AWD models. It rarely happens on RWD vehicles, and even less so in the 2022 and 2023 models.
There's no official resolution yet from Volkswagen at the time of writing, but a lot of people assume that it can be eventually addressed by a software update.
2. Infotainment System Issues
The Volkswagen ID.4's infotainment system has been the subject of many complaints and criticisms since the very beginning.
Complaints range from the questionable UI choices to random errors and bugs.
Some of the more common complaints regarding the infotainment include:
Takes a long time to boot up
Randomly restarts
Screen goes blank
Random crashes and freezing
Some of the infotainment issues that people have complained about have been improved after some software updates, but lots of others still remain.
Most ID.4 owners just rely on Apple CarPlay or Android Auto to avoid having to deal with the ID.4's infotainment software.
But there are still quirks like using the up and down arrow on the steering wheel to go to the previous or next track instead of using the left and right arrows.
A lot of owners also don't like that the radio automatically starts playing as soon as you start the car. One has to either lower the startup volume in the settings or remember to touch the infotainment's power button every time the car is started.
Holding down the infotainment's power button for about 10 seconds until the screen turns off usually helps fix some of the random software glitches and crashes.
If the infotainment system is still not responsive, you can turn off the car and then open the door to force the car to shut off all the electronics.
3. User Profile Issues
Many ID.4 owners have had lots of difficulties in trying to set up their user profiles while others have complained that the car keeps resetting the custom profile settings.
Several ID.4 owners have had to use a guest profile for several months because they keep getting stuck on the user profile setup and are unable to link their Car-Net profile to the car.
It's a fairly common issue on 2022 and 2023 models of the ID.4 that usually requires a lot of back and forth with VW Car-Net support to finally get it to work.
Those who have successfully set up their user profile also report that the car will randomly display a message that says 'New settings are now available for your account' and asks to apply the changes.
If you hit 'Ok' or 'Cancel', the car will still change previously saved settings such as:
Interior ambient lights
Climate control
Seat memory
Audio preferences
Driver assists
Here's how one ID.4 owner describes their experience:
"Sometimes it reverts back to the blue and white ambient lighting as others have experienced and the seating position is way too far forward for me."
At least one owner has suggested that they were able to fix the problem by logging out of the myVW app, resetting the car to factory settings, and deleting their phone from the car.
4. Backup Camera Issues
One of the more common complaints owners have with the Volkswagen ID.4 is the poor image quality of the backup camera.
The ID.4's backup camera uses a wide angle lens that introduces distortions in the image. The image displayed is also a little lower resolution than what others have gotten used to in their other vehicles.
In addition, the glare from the license plate makes the backup camera's image very difficult to see at night.
To fix this, you have to fit an aftermarket backup camera hood that's specifically designed for the ID.4 to block out the glare and correct the image's exposure.
5. Aggressive Reverse Auto Brake
The Volkswagen ID.4's automatic braking feature has a tendency to slam on the brakes when backing in and out of parking spaces even when there aren't any obstacles in the way.
Here's how one ID.4 describes it:
"I was backing out of my driveway at a pretty decent clip and as the rear bumper approached the street, it suddenly stopped. It was very jarring and felt like I had hit something, even though there was nothing around."
The ID.4's parking sensors tend to get easily confused by walls and inclines, so you have to be more careful and drive slower in order to avoid being jarred by the automatic brakes. Placing a bike rack in the back, or a similar accessory, will also trigger the automatic braking.
The car will also automatically brake if it senses that there is nobody in the driver seat. If you shift your weight enough, like when you're turning your head to look behind while backing up, the auto brake will sometimes engage.
You can turn off the 'Maneuver Braking' in the parking settings to disable it completely. However, you'll have to do this every time because it gets enabled by default whenever you start the car.
6. Window Control Glitches
Some ID.4 owners have noticed that the windows will sometimes do the opposite of what they're telling it to do, i.e., roll down if you're trying to roll it up and vice versa.
This glitch happens more often with the auto roll up/down feature, but can still happen with the manual controls.
Unfortunately, this seems like a common issue in other Volkswagen models so it's not unique to the ID.4.
It's only a minor inconvenience and doesn't happen all the time. But it can be pretty confusing if you've never experienced it before.
7. Electrical System Error
A lot of ID.4 owners have gotten a rather distressing error message on the dash that says 'Electrical system not working correctly. Please service vehicle'
This error can pop up whether the vehicle has just rolled off the lot or it already has a few thousand miles on it.
The problem is that the error message can be triggered by any number of software glitches and hardware problems.
It tends to happen more often when the weather gets really cold or soon after using a DC fast charger.
In a lot of cases, the car continues to drive the same even with the error on the dash. It eventually goes away on its own without any other symptoms that could indicate what actually caused it. Sometimes, simply turning the car off and on again gets rid of the error message.
If it keeps appearing or if the car goes into limp mode, it's best to take it to the dealer for a proper diagnosis.
Some owners have reported that the error was caused by battery coolant or 12-volt battery issues, which are typically easy to fix. Others say that it was caused by a faulty heater. And then there are others that had to have their high voltage battery or electric motors replaced.
8. Battery Management System Recall
Volkswagen America released a massive recall in February 2023 involving the battery management system's software which affects all 2021 model years of the ID.4.
According to the recall, the battery management system's computer has a tendency to unnecessarily reset and can cause the car to completely lose power.
Although no actual cases have been reported so far, VW has determined that the problem should go away on its own after restarting the car. But the car stalling and losing power in the middle of the road can lead to dangerous situations.
Fixing this issue requires a software update that can only be done at the dealership.
Recalls are done completely free of charge since they present a safety issue. All you need to do is set up an appointment and the dealer should be able to get your car back to you in a couple of hours.
9. 12-volt Battery Issues
A number of ID.4 owners have complained about the 12-volt battery suddenly losing charge or completely dying out of nowhere.
Usually, when the car detects that the 12-volt battery is low on charge, it will show an 12-volt battery error on the dash and tell you to drive the car to charge the battery back up. A weak battery can also cause random error messages to appear on the dash.
But there are also instances when the car will be completely dead and not respond to the key fob or any other buttons to wake it up.
The ID.4 needs the 12-volt battery to power all of its electronics and computer systems. When the battery dies, the car will act like it's completely bricked.
The 12-volt battery also doesn't necessarily get charged whenever the car is plugged into the charger. It gets charged by the high voltage battery which is only turned on when you're driving around.
It can quickly lose its charge if you don't drive for several weeks or if you leave it outside in cold weather. Some batteries can also start failing early even if they're not even a year old due to manufacturing defects.
Volkswagen also upgraded the 12-volt battery in newer model years to an EFB (Enhanced Flooded Battery) which lasts longer even after repeated deep discharges — likely due to the number of battery complaints they received with the 2021 and 2022 model years.
If you have a jump pack or a spare battery, try these first to see if a properly charged electrical system gets rid of any glitches or random problems.
Volkswagen ID.4 Pros & Cons
Pros
Low starting price
Comfortable and quiet interior
Lots of standard tech
Decent power output
Cons
Lots of controls tied to infotainment system
Only 200 miles with standard battery
Lacks a frunk
Software issues
Related: How Long Will A Volkswagen ID.4 Last? (14 Important Facts)
What Do The Reviews Say?
"In terms of size, it's a little bit smaller than the brand's Tiguan SUV. But thanks to the inherent design efficiencies of an EV, the ID.4 actually has a similarly spacious interior as the Tiguan and other small SUVs."
"It's quick by SUV standards, needing only 7.7 seconds to sprint from 0 to 60 mph in our testing. Just know that other EVs are quicker still."
"This is a comfortable EV. Most notably, the climate control system does a great job of keeping the cabin at a consistent temperature even in the Eco setting. The seats are cushy but could use a little more thigh support for drivers with long legs."
"Wireless CarPlay and Android Auto smartphone integration is standard (you can still plug in if you prefer), and there are plenty of USB-C ports to go around. There's also a spot reserved for wireless phone charging."
"The ID.4 has a lot of high points. Features including gesture control, massaging seats, a full suite of advanced driving aids and rear-wheel-drive architecture are just a few of the enticing items."
2022 Volkswagen ID.4 | Edmunds
What's the Resale Value of a Volkswagen ID.4?
Here's a quick look at used car pricing on Edmunds at the time of writing. Prices quoted are for the Pro trim level:
| | | |
| --- | --- | --- |
| Year | Mileage | Price |
| 2022 | 1,621 | $41,998 |
| 2021 | 11,671 | $34,750 |