Released in early 2021, the ID.4 marks VW's first major foray into the North American EV market.
It is an all-electric compact crossover SUV available in either rear-wheel drive or all-wheel drive.
With its relatively affordable price tag (for an EV), Volkswagen advertises the ID.4 as a car "for the millions, not the millionaires."
In this article we'll assess its average lifespan.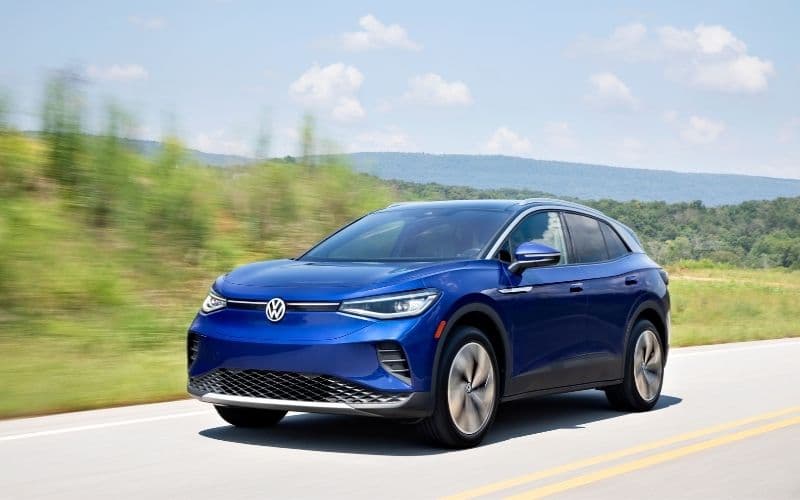 Here is the short answer to how long the Volkswagen ID.4 lasts:
The Volkswagen ID.4's decently sized 82 kWh battery is expected to last 300,000 — 400,000 miles before serious degradation sets in. Although the batteries can theoretically last over 20 years, a more realistic expectation would be 10 — 15 years since lithium-ion batteries naturally degrade with age.
How Many Miles Can You Expect from a Volkswagen ID.4?
The ID.4 uses the same platform as VW's ID.3 compact hatchback, which quickly became one of the best-selling EVs in Europe during its first few months.
After being on the road for almost 2 years, the ID.3 has not had any widespread or critical issues concerning its batteries or electric drivetrain.
This is a good indication that the ID.4 will also turn out to be a very solid and reliable vehicle since it shares a lot of major components with the ID.3.
A major factor that affects any EV's longevity is its battery design since it has a finite lifespan and will eventually go through significant degradation resulting in performance loss with regular use and over time.
The ID.4 battery comes with an 8-year/100,000-mile warranty which is more than enough considering most people's average annual mileage.
Volkswagen has also done a lot to ensure that the ID.4 will last just as long as any EV — even compared to more highly regarded and more expensive models.
Its 82 kWh battery is quite large for an EV in its price bracket. It's not the largest, but it's right near the top when compared to all the other EVs available today.
An all-electric vehicle with a small battery will not only have a lower range but also have less longevity.
It will go through more charge cycles to cover long distances than an EV with a larger battery.
As the number of charge cycles increases, the battery's capacity decreases until it reaches a point where range and vehicle performance are severely affected.
Aside from its capacity, here are some more notable features that Volkswagen has engineered into the ID.4's battery design:
Active liquid cooling to minimize battery degradation due to heat
Only 77 kWh or 93% of the 82 kWh battery is accessible to prevent overcharging
A sophisticated Battery Management System (BMS) with lots of protections and safeguards in place
Considering the ID.4's estimated range of around 250 miles per charge, we expect it to easily last 300,000 — 400,000 miles when subjected to normal driving conditions.
Theoretically, the batteries can exceed 400,000 miles. But by the time the car hits these higher mileages, the batteries are going to be closer to 10 years old and will have also suffered from degradation due to age.
With all this in mind, the ID.4 should be able to last 10 — 15 years before the batteries need to be replaced.
As far as the body and interior is concerned, Volkswagen is known for building high-quality vehicles with lots of refinement that can only be found in a German-engineered vehicle.
Most of the reliability issues that are typically attributed to VWs are caused by poor maintenance owing to the higher cost of parts and repairs — particularly for the engine and transmission.
But EVs like the ID.4 will require much less maintenance compared to a gas or diesel-powered vehicle because they have significantly less moving parts that are subjected to wear and tear caused by extreme heat and friction.
Here are some general tips to ensure the longevity of the ID.4:
Don't drain the battery completely
Only charge it to 100% for long trips
Avoid fast charging the vehicle unless completely necessary
Don't abuse the vehicle and drive smoothly
Don't skip its scheduled maintenance
Does the Volkswagen ID.4 Rust Easily?
It's too early to tell whether the Volkswagen ID.4 is prone to any rust or corrosion issues. But VW's are not particularly known for rusting prematurely as they apply lots of corrosion protection during manufacturing.
Some of the things VW does to ensure the longevity of its vehicles' body chassis include:
Seam and cavity sealing
Phosphate bath treatment
Quality paintwork
Using galvanized steel
Factory undercoating and additional protective sealant
Cosmetic rust issues are still likely to occur after 5 to 10 years especially if the vehicle is not taken care of properly.
If your ID.4 spends a lot of time driving on heavily salted roads during the winter or near the coast where salt air is prevalent, rust issues will be more prevalent but not to the point that the car will start falling apart in just a couple of years.
Tips to protect your VW ID.4 from rust:
Regularly wash and dry your car: This includes its underside (especially during the winter) to remove the salt, dirt and grime that causes rust. We recommend having a detail shop wash everything underneath at the end of each winter.
Repair paint damage and scratches: Exposed metal will oxidize. If it's beyond a DIY fix, speak to your local body repair shop.
Garage: Store your Tiguan in a garage to protect it from harsh weather and bird droppings.
Waxing: Wax your car twice a year. Not only will this give your Tiguan a nice shine, it also gives it a protective coating against rust.
Rustproofing: If you're planning on keeping your VW ID.4 for a very long time, you might want to consider a rustproofing treatment; popular choices are Krown and Rust Check.
Ceramic Coating: A popular choice for those who want to add an extra layer of protection to the paint job.
Just like any new VW, the ID.4 also comes with a 7-year/100,000-mile corrosion perforation warranty to address any excessive corrosion on the body panels that may occur.
Related: 9 Most Common Volkswagen ID.4 Problems (Explained)
What is High Mileage for a Volkswagen ID.4?
A VW ID.4 with roughly 100,000 miles is considered high mileage.
Even if it's only a couple of years old, at 100,000 miles, its battery warranty will have already expired or will be close to expiring.
Its charge capacity and range will also be affected at these higher mileages.
If you don't really drive long distances for your daily commute or to do your errands, a used high mileage ID.4 at a deep discount can be a good buy.
But even though EVs require less maintenance than a gas-powered vehicle, it still uses a lot of the same parts that will be subjected to wear and tear over such high mileages like the suspension dampers, brakes, wheel bearings, power steering and A/C.
As long as you factor in these small repairs along with the initial purchase price you should be able to get at least 100,000 more miles and several years out of the vehicle.
Of course, an ID.4 with more years and miles left in its battery will always be a much safer buy, so if you can stretch your budget for a lower mileage example, you'll have more peace of mind down the road.
When buying a used VW ID.4, always consider the following:
Maintenance history. Check that the car was properly serviced and the owner can provide evidence of this.
Get a second opinion. Take it to an independent auto repair shop or at least have it inspected by a mechanic you trust.
Check the CarFax. This doesn't guarantee anything but it will provide a clearer picture of wear-and-tear. Ensure it has minimal damage, if any, and has not been involved in a major accident.
Number of previous owners. As a general rule, less is better. More owners usually means more wear-and-tear. If one family owned it and drove the full mileage and serviced the car, then you can almost guarantee they took good care of it throughout their ownership.
How long you are planning on keeping the car. If you're planning on keeping the car for a long time, you should evaluate whether the short-term savings outweigh spending a bit extra on something more reliable.
Examine the interior. The condition of the interior tells the story of how well the car was maintained and cared for. Does the steering wheel, pedals, or shifter look suspiciously new? If so there's a good chance that the car was very heavily used, and those parts were just replaced before sale.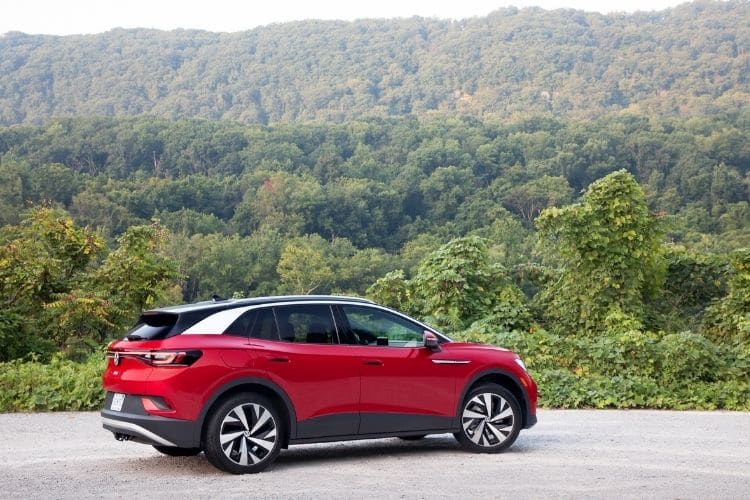 How Long Does the Volkswagen ID.4 Last Compared to its Rivals?
In this section, we'll compare the VW ID.4 to some of its rivals in the electric crossover segment.
Volkswagen ID.4 vs. Tesla Model Y
The Model Y is by far the most popular EV in the US — and has been since it was released in 2020.
It benefits from Tesla's extensive experience in the EV market and many of its most cutting-edge technologies.
The Model Y and ID.4 share similar-sized batteries but the Model Y's overall design is more efficient which allows it to deliver more range.
Given the Model Y's better range and efficiency, as well as the reported reliability of Tesla powertrains in older models, we expect it to last slightly longer than the ID.4 at 300,000 — 500,000 miles.
Kelley Blue Book's consumer rating index gave the VW ID.4 a perfect reliability rating of 5/5 while the Model Y got a much lower score 4.4/5.
Edmunds consumer reviews gave the ID.4 an overall score of 4.4/5 while the Model Y only got 3.9/5.
RepairPal gave the Volkswagen brand an overall reliability rating of 3.5/5 which is considered above average. The site does not have any ratings or data for Tesla.
Car and Driver ranked the ID.4 as the 4th best EV while the Model Y only placed 8th.
The ID.4 has a larger battery than the Model Y makes up for it by being more efficient.
The ID.4 has slightly less range at 260 miles versus the Model Y's 300 miles.
The ID.4 is significantly cheaper than the Model Y. It can also be equipped with AWD while still being much cheaper than the base model Tesla Model Y.
The Model Y does have more horsepower and better acceleration but the ID.4 is no slouch either and provides more than enough power for most people.
Both Kelley Blue Book and Edmunds also show that the ID.4 has much better reviews from actual owners than the Model Y.
This is not surprising since VW is also known for excellent build quality and refinement unlike Teslas which have always had a lot of teething problems especially when it comes to early model years.
The Model Y is definitely flashier but some would prefer the more elegant and subdued styling of the ID.4.
For many though, price will be the determining factor, and the ID.4 definitely wins out in that department.
You may also be interested in our article: How Long Do Tesla Model Y Last?
Volkswagen ID.4 vs. Mustang Mach-E
The Ford Mustang Mach-E definitely has a lot of fanfare surrounding it especially with its muscle car looks and branding.
The Mach-E is only slightly more expensive than the ID.4 and has a slight lead as far as sales numbers go.
With the Mach-E's much larger battery, it will likely have a slightly longer lifespan of around 300,000 — 400,000 miles compared to the ID.4.
Kelley Blue Book's consumer rating index gave the Mach-E a pretty decent reliability rating of 4.4/5 but it's still lower than the ID.4's perfect reliability rating of 5/5.
Edmunds consumer reviews gave both the ID.4 and Mach-E similar overall ratings 4.4/5.
RepairPal also gave Ford and VW similar reliability ratings of 3.5/5.
Car and Driver gave the Mach-E the top spot ranking it in 1st place among all other EVs while the ID.4 still got a very respectable 4th place.
The Mach-E has a larger battery than the ID.4 meaning it will go through less charge cycles to cover the same distance.
The max range of the Mach-E is higher at 300 miles which is slightly higher than the ID.4's 260 miles.
The Mach-E definitely looks sportier than the ID.4 and is also much faster off the line.
They both have minimalistic interiors, but the Mach-E has a much larger infotainment screen and more plush upholstery.
However, VW is known for its excellent build quality and refinement so it will likely hold up much better after 10 years of use.
The ID.4 also handles better and offers a more compliant ride than the Mach-E.
Since both crossovers are priced quite closely, it's really a matter of preference between the two.
Some may prefer the more mature looks and higher ground clearance of the ID.4 while the more aggressive styling and extra performance of the Mach-E will appeal to others.
Please also read our article: How Will a Ford Mustang Mach-E Last?
Volkswagen ID.4 vs. Hyundai Kona EV
The Hyundai Kona EV is a subcompact crossover so it's a little bit smaller than the ID.4.
The Kona EV is much more affordable than the ID.4 and delivers similar electric driving range.
The Hyundai Kona does come with a smaller battery than the ID.4, but overall, it should deliver almost the same 300,000 — 400,000-mile lifespan as the VW.
Kelley Blue Book's consumer rating index gave the Kona a very respectable reliability rating of 4.5/5 but it's still lower than the ID.4's perfect reliability rating of 5/5.
Edmunds consumer reviews gave Kona EV a much lower overall rating of 3.7/5 compared to the ID.4's 4.4/5.
RepairPal's overall reliability rating for Hyundai is much higher at 4/5 compared to VW's 3.5/5.
Car and Driver ranked the Hyundai Kona Electric in 3rd place among all other EVs while the ID.4 came in at a very close 4th place.
The Kona EV has a smaller 64 kWh battery compared to the ID.4's 82 kWh unit which means it will go through many more charge cycles to cover the same distance.
The Kona EV and ID.4 have similar range at 260 miles.
The Kona EV may be cheaper than the ID.4 but it's also much smaller and has less space. The VW also has a more refined and luxurious interior.
The Kona also lacks an AWD option which is a deal-breaker for a lot of people who need a reliable winter vehicle.
Consumer reviews for the Kona EV are much lower than the ID.4 which means that owners are much happier and have less complaints with the all-electric VW.
The Kona's low price will definitely win over a lot of people who simply want a basic and practical EV, but the VW will likely deliver a much better overall ownership and driving experience.
Comparison Chart
| | | | | |
| --- | --- | --- | --- | --- |
| | Volkswagen ID.4 | Tesla Model Y | Mustang Mach-E | Hyundai Kona EV |
| KBB Consumer Rating | 5/5 | 4.4/5 | 4.4/5 | 4.5/5 |
| Edmunds Consumer Rating | 4.4/5 | 3.9/5 | 4.4/5 | 3.7/5 |
| RepairPal Brand Reliability | 3.5/5 | NA | 3.5/5 | 4/5 |
| Car and Driver Ranking (2021) | 4th | 8th | 1st | 3rd |
| Battery Capacity (kWh) | 82 | 50 – 75 | 75.7 – 98.8 | 64 |
| Electric Range (miles) | 260 | 230 – 326 | 230 – 300 | 190 – 258 |
| Expected Lifespan (miles) | 300k – 400k | 300k – 500k | 300k – 500k | 300k – 400k |
Related: How Long Will a Kia EV6 Last?
Is the Volkswagen ID.4 Reliable?
Although Volkswagen doesn't have the best reliability rating, the all-electric ID.4 will likely be more reliable than its ICE (Internal Combustion Engine) stablemates.
VWs tend to have higher repair and maintenance costs compared to American, Japanese or Korean brands, but EVs won't require quite as much regular maintenance as gas or diesel-powered vehicle.
EVs like the ID.4 don't need to produce lots of tiny explosions per minute and generate tons of heat to provide power to the wheels.
Consequently, it won't need as much cooling or lubrication to keep things running smoothly.
Its drivetrain also has fewer moving parts which gives it inherently better long-term reliability.
Owner reviews and reports on different Internet forums have been very positive for the ID.4.
So far, we've only seen minor software issues and no widespread hardware problems or build quality issues have been reported.
The ID.4 has also been selling in large numbers since its release so any lingering issues and defects should have shown up by now considering the large sample size.
Here is some additional date that demonstrates the ID.4's overall reliability:
Kelley Blue Book's consumer rating index gave the VW ID.4 a perfect score of 5/5 which is quite rare especially for an early model year vehicle.
Edmunds consumer ratings also gave the ID.4 an impressive overall rating of 4.4/5.
Car and Driver gave the ID.4 a very respectable 4th place when comparing to all other EVs in the market.
VW Reliability Compared to Other Brands
Source: Consumer Reports
| | | |
| --- | --- | --- |
| Ranking | Brand | Score |
| 1 | Lexus | 76 |
| 2 | Mazda | 75 |
| 3 | Toyota | 71 |
| 4 | Infiniti | 69 |
| 5 | Buick | 66 |
| 6 | Honda | 66 |
| 7 | Subaru | 66 |
| 8 | Acura | 64 |
| 9 | Nissan | 63 |
| 10 | Mini | 60 |
| 11 | Hyundai | 56 |
| 12 | Chrysler | 54 |
| 13 | Porsche | 52 |
| 14 | Chevy | 48 |
| 15 | Audi | 47 |
| 16 | Cadillac | 47 |
| 17 | BMW | 45 |
| 18 | Ford | 44 |
| 19 | Kia | 43 |
| 20 | Volvo | 42 |
| 21 | Ram | 40 |
| 22 | GMC | 37 |
| 23 | Mercedes-Benz | 34 |
| 24 | Volkswagen | 31 |
| 25 | Genesis | 30 |
| 26 | Jeep | 26 |
| 27 | Tesla | 25 |
| 28 | Lincoln | 18 |
The Best and Worst Years for the Volkswagen ID.4
The VW ID.4 is still in its first model year so there aren't any best or worst model years for it yet.
The 2021 ID.4 has been selling quite well and has been getting stellar reviews so far from both professional reviewers and actual owners. So even the first model year of the ID.4 doesn't seem to be suffering from any major teething issues.
Even if any issues start appearing, these can all be easily addressed by the dealership as all ID.4's still have their original warranty.
But as the ID.4 gets more updates in the upcoming years, later model years will likely offer you more bang for your buck as more standard features and improvements are introduced.
At the time of writing:
The Volkswagen ID.4 has only had 1 issue reported so far on CarComplaints.com
There are only 16 complaints for the ID.4 on the NHTSA website
Keep in mind that as of October 2021, over 12,000 ID.4s have been sold in the U.S. so the number of complaints reported so far are quite insignificant.
What About Recalls for the ID.4?
The 2021 Volkswagen ID.4 has had 4 recalls in total since it was released in the U.S.
You can check if your ID.4 has been subjected to a recall by entering your VIN (Vehicle Identification Number) on the Ford recall site or on the NHTSA recall database.
It is important to note that recalls are manufacturing faults repaired at no charge to the consumer.
Here are all the recalls issued for the VW ID.4 so far:
Incorrect installation of some seat belt assemblies
Missing or incorrectly installed drive bushing
Misadjusted headlights
Volkswagen ID.4 Model Year List
VW began production of the ID.4 in 2020, but they were all sold as 2021 models. The AWD version began hitting showroom floors in the latter half of 2021.
First Generation: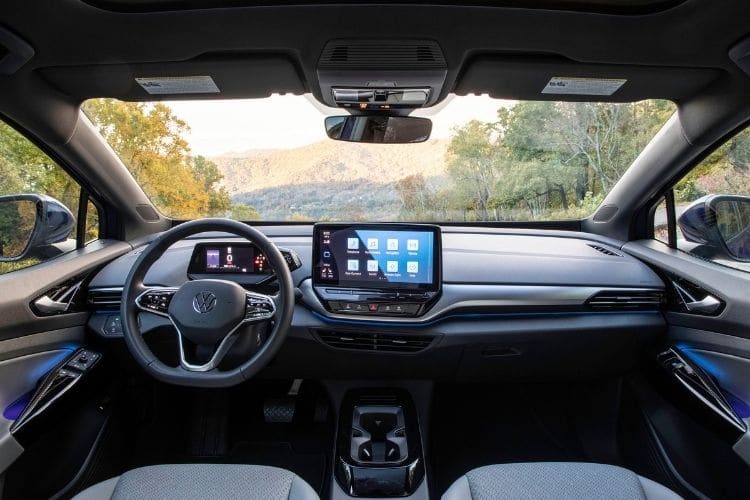 Is the VW ID.4 Expensive to Maintain?
The Volkswagen ID.4's maintenance costs will be similar to any other EV and will be very minimal.
All ID.4s come with free maintenance for the first 2 years or 20,000 miles (whichever comes first) courtesy of Volkswagen's Scheduled Carefree Maintenance program.
This is on top of the 4-year/50,000-mile bumper-to-bumper warranty.
After 20,000 miles, you'll only need to bring your ID.4 to the dealer every 10,000 miles for relatively minor checkups to ensure everything is in good working order.
You won't have to take it in for regular oil or fluid changes, or have to replace wear and tear items like belts and hoses.
You'll only need to change the brake fluid at the 3-year mark and the cabin filter every 40,000 miles.
Regular maintenance on most EVs usually means regular tire rotations.
You may also be interested in our article: How Long Will an Audi e-tron Last?
How Long Do the Brakes Last?
The ID.4 uses a lot of regenerative braking to slow down the vehicle so the brake pads don't wear out as quickly as on an ICE vehicle.
It's possible to get around 100,000 miles out of the ID.4's factory brake pads as long as the vehicle is driven normally.
How Long Do the Tires Last?
The VW ID.4's stock tires will have an average life of around 20,000 to 30,000 miles.
All EVs tend to be much heavier than a similarly sized ICE vehicle which leads to more tire wear.
The electric motors also deliver instantaneous torque even at lower speeds which makes the tires wear out faster.
However, tire wear is also dependent on various factors such as driving habits, climate, and road conditions.
Here are a couple of tips that will help you preserve the life of your tires:
Rotate tires every 5,000 miles to ensure even wear.
If you have to drive on rough or flooded roads, or go off-roading, your tires will take more of a beating.
Check your tire pressure every few weeks to make sure they're at the correct tire pressure.
Check your tires every so often for uneven wear and have it addressed quickly.
Check your wheel alignment every 6 months.
How Long Do the Transmissions Last?
The ID.4 doesn't use a traditional multi-geared transmission and the rotation of the wheels is controlled directly by the speed of the motor.
It uses what is essentially a single-speed transmission which will last much longer than a regular automatic or manual transmission since it doesn't have any gears that are constantly banging against each other.
How Long Will the ID.4's Electric Motors Last?
Given Volkswagen's engineering resources we expect the ID.4's electric motors to last at least 500,000 miles.
Aside from their extensive experience with electric motors in their hybrid vehicles, they've actually been experimenting with all-electric vehicles for over a decade with their e-Golf.
Independent EV engineers have also dismantled and closely examined the ID.4's electric motors and praised its design.
Barring any critical manufacturing defects, the ID.4's motors should easily last 15 to 20 years.
How Long Do the Spark Plugs Last?
The Volkswagen ID.4 doesn't use any spark plugs because it doesn't use an internal combustion engine.
How Long Do Volkswagen ID.4 Batteries Last?
The ID.4's battery should be able to easily last 300,000 — 400,000 miles as long as it's properly looked after.
It uses a relatively large 82 kWh battery so it will go through less charge cycles to cover long distances.
Fully discharging or depleting the battery from 100% of its capacity is considered as one charge cycle.
The ID.4's battery pack is much more sophisticated than the Lithium-ion batteries found in smartphones and laptop computers which are usually only good for 500 to 1,000 charge cycles.
Aside from being significantly larger than a typical smartphone battery, the ID.4 uses liquid cooling and sophisticated battery management systems to monitor and control the long-term health of the battery.
But despite all this extra engineering, all lithium-ion batteries will naturally degrade over time.
Even if you barely drive your ID.4, it will still lose much of its original capacity and deliver less range after 10 to 15 years.
Here are some tips that will help preserve the life of your ID.4's batteries:
Avoid using or storing the vehicle in extremely hot temperatures
Don't let the vehicle sit unused for long periods of time
When storing the ID.4, slow charge it to avoid battery degradation
Avoid regularly draining the battery to 0% or charging it to 100%
Charging up to 80% is recommended
Minimize the use of DC fast chargers at public charging stations
What is the Range of the Volkswagen ID.4?
All ID.4's sold in North America come with the larger 82 kWh battery that can deliver an estimated 260 miles for the RWD model and 249 miles for AWD variant.
How Long Does the Volkswagen ID.4 Take to Charge?
| | | |
| --- | --- | --- |
| Charger Type | Range per Hour of Charge | 0 to 100% Charge* |
| Mobile Charger 120V | 2 miles | 2 to 3 days |
| Level 2 Charger 240V | 20 to 30 miles | 7.5 to 11.5 hours |
*These are rough estimates since charging slows down significantly once the battery reaches 80% to prolong its life.
Using a DC fast charger:
You can add 50 to 60 miles of range every 10 minutes
VW claims you can charge from 5% to 80% in around 38 minutes
Owners have also reported being able to charge the ID.4 from 0% to 100% in just over an hour
What About Insurance Costs?
According to Finder, the average cost of full comprehensive coverage for a Volkswagen ID.4 is $2,280 per year or around $190 per month.
Insurance costs can vary from person to person, so be sure to shop around to find the best possible deal for your ID.4.
Related: How Long Will a Polestar 2 Last?
Tips to Prolong the Life of Your Volkswagen ID.4
Adopt smooth driving habits.
Use regenerative braking to extend range and battery life.
Charging every couple of days is better than charging every day to keep it topped up.
Keep up to date with factory-recommended maintenance.
Use quality parts and fluids.
Keep on top of repairs to prevent them from developing into larger problems.
Regularly wash your ID.4 to remove dirt and grime to protect the paint and undercarriage from rust.
Keep your VW ID.4 stored in a garage to help protect it from extreme heat.
Read the owner's manual to learn the location of important components, what your Volkswagen ID.4 needs and what quantity, and to understand the symbols and dashboard warning lights.
Resources
https://www.vw.com/en/models/id-4.html
http://ev-sales.blogspot.com/2021/02/global-top-20-december-2020.html
https://www.vw.com/en/electric-vehicles/electric-vehicles-articles/what-you-want-in-your-electric-warranty.html
https://www.volkswagen-newsroom.com/en/stories/corrosion-protection-at-volkswagen-twelve-years-in-fast-forward-mode-6278
https://www.vw.com/en/faq.html
https://www.caranddriver.com/features/g36278968/best-selling-evs-of-2021/
https://www.kbb.com/volkswagen/id4/
https://repairpal.com/reliability/volkswagen
https://www.caranddriver.com/volkswagen/id4
https://www.carcomplaints.com/Volkswagen/ID4/
https://www.vw.com/en/carefree-coverage.html
https://insideevs.com/news/512439/munro-examines-volkswagen-id4-motor/
https://insideevs.com/news/531867/volkswagen-id4-fast-charging-test/
https://www.finder.com/car-insurance/volkswagen-id4-insurance-rates