The Volkswagen Jetta is a compact sedan version of VW's popular Golf hatchback.
It's been sold since 1980 and is a very popular model that's known for its refinement, performance and affordability.
In this article, we'll take a look at common problems you'll find with VW Jettas...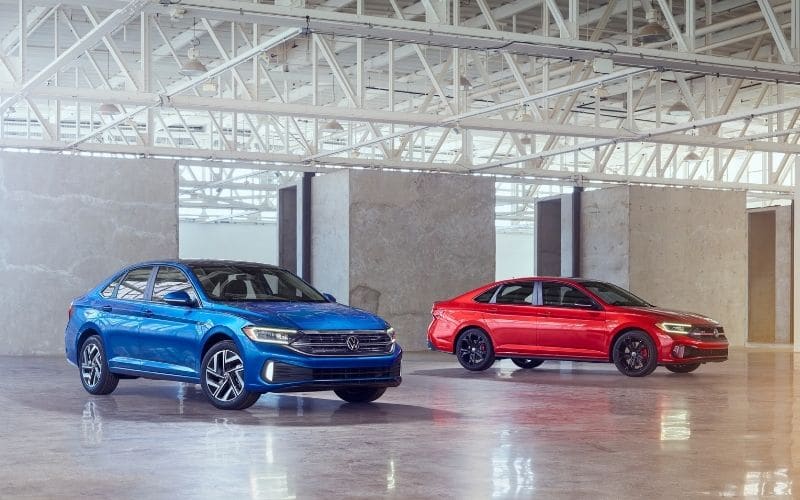 1. Airbag Light is On
One of the more common complaints with the Mk6 VW Jetta is the airbag light on the dash.
The airbag light indicates that there is an issue with the system. In this case, the issue is usually caused by a faulty clockspring behind the steering wheel.
The clockspring is responsible for maintaining an electrical connection between the steering wheel and the rest of the car even when the wheel is turned left or right.
When the clockspring's ribbon cables break or if dirt and debris interfere with the contact points, the car thinks that the driver airbag is no longer connected.
Symptoms of clockspring failures include:
Horn stops working
Steering wheel buttons such as cruise control and volume stop working
Airbag light on the dash
Steering wheel makes a clicking sound when turning.
Clockspring failures are fairly common in different VW models made from 2010 to 2018, but it has also been known to occur in older vehicles.
Here is how some Jetta owners described their issue:
"Every time I made a left turn it would make a loud cracking noise, the sharper the turn the louder the sound. The airbag light appeared, the systems on the steering wheel don't work anymore including the horn. I have called vw to see if they'll fix it, I said it's related to the recall. They said it will cost ~$150 just to do the evaluation."
Aside from clockspring failures, the airbag light will also turn on if the car detects that there are issues with one of the airbags, the sensors, or the airbag module.
Solution
Volkswagen issued a recall and offered a 15-year warranty extension for 2010 to 2014 models of the Jetta to replace defective clocksprings.
Other VW vehicles from 2010 to 2018 not specifically addressed by the unlimited mile warranty had their clockspring warranty extended to 10 years or 120,000 miles.
With the recall and extended warranty, Jetta owners can have their clockspring replaced several times over the lifetime of the vehicle free of charge.
However, some owners have complained that dealers lacked the necessary parts and they have to wait for months to get their cars fixed. In some states, the airbag light and loss of the horn causes owners to fail inspection and unable to properly register their vehicle.
For other Jetta models not included in the warranty extension, replacing the clockspring costs around $500 but can be made cheaper if you look for a used unit.
It's always a good idea to check the trouble codes first before replacing the clockspring to make sure that it is defective if you're going to have it done outside of the dealer.
2. Grinding Noises From Transmission
On Car Complaints, a website that collects car owner feedback, grinding noises from the transmission is very common in the 2019 VW Jetta, which is the first year of the Mk7 model.
This is the first year that the 8-speed transmission from Aisin, which is owned by Toyota, was used in the Jetta.
This transmission is also used in the latest generation of the Toyota RAV4. Many RAV5 owners complained of jerky acceleration when driving at low speeds. Different versions of this transmission has also been used in BMWs, Volvos and Land Rovers, just to name a few.
It's designed to provide better response and fuel economy, and combines some characteristics of a manual transmission, which could explain the noises and 'jerkiness' of the transmission.
Here is how some owners described the issue:
"Grinding/scraping noise coming from the transmission under light load when accelerating between 20-35 mph. Seem to be noticing it in a wider range of speeds the more it is driven."
"Grinding noise during acceleration, very noticeable in Normal and ECO modes."
Although there are many people complaining about the grinding noises, it doesn't seem to result in any transmission failures.
Solution
Volkswagen released a TSB (Technical Service Bulletin) to address the transmission complaints which states that the grinding noises is a normal characteristic of the transmission's torque converter.
Dealers are asked to compare the noises with other Jettas with the same transmission to determine if it needs to be repaired or replaced.
Some Jetta owners report that they were able to largely get rid of the transmission noises by replacing the transmission fluid. Others also report that driving in 'Sport' mode makes it less apparent.
Newer model years of the Mk7 Jetta seem to have less reports of transmission noises.
If you're worried about possible transmission failures, it's best to take your Jetta back to the dealer for a proper diagnosis.
3. Cam Follower Failure
The Mk5 Jetta's 2.0-liter turbocharged FSI engine has been known to suffer from cam follower failures.
These engines were used in the Jetta 2.0T and GLI trim levels from 2006 to 2008 and are all susceptible to potential failures if not regularly monitored.
The cam follower is connected to the camshaft and drives the mechanical high pressure fuel pump. Over time, the cam follower wears out and gets weaker which eventually sends metal shards through the engine when it breaks.
Symptoms of a worn or broken cam follower include:
Check engine light
Fuel pressure trouble codes
Lack of power
Excessive engine noise
Cam follower failures are common in other VW models that used the same engine such as the Golf and Passat.
Here is how one Jetta owner described their experience:
"My cam follower has a hole in it (have the part) and the high pressure fuel pump is worn down (have the part) because it has made contact with the cam lobe, which has been scarred (have the part). Replacement requires a new cam, high pressure fuel pump, and cam follower. "
Solution
To avoid catastrophic engine damage, it's a good idea to replace the cam follower every 30,000 to 40,000 miles.
The cam follower only costs a couple of dollars and replacing it only requires taking out the high pressure fuel pump, which any competent mechanic can do in an hour. This whole process is significantly cheaper than a more invasive engine repair if you leave it to break on its own.
Volkswagen did update the FSI engine's camshaft and cam follower to make them more durable, but the redesigned cam follower can still break.
VW and Audi enthusiasts who tune their engines for more performance usually inspect the cam lobes and replace the cam follower every 20,000 miles.
4. Timing Chain Failures
The fifth and sixth generation Jetta GLI's 2.0-liter turbocharged TSI engine has a history of timing chain tensioner failures which can lead to complete engine failure.
This failure typically affects the 2008 to 2010 Mk5 Jetta GLI and Wolfsburg edition, and the 2011 to early 2013 model years of the Mk6 Jetta GLI.
When the timing chain tensioner fails, the engine will no longer be properly timed and the valves will hit the pistons which results in major engine damage.
In a lot of cases, timing chain failures occur with no symptoms aside from the engine being completely dead, wherein it won't start at all or it will just suddenly shut off while driving.
Timing chain issues can occur when the car is still below 50,000 miles while some only occur well after 100,000 miles.
If the timing isn't completely off yet, you may experience the following symptoms:
Check engine light
Trouble codes related to timing
Engine rattle on the passenger side
Here is how some unhappy Jetta owners described their experience:
"Yesterday after stopping and restarting my car (2012 GLI), I had what was discovered (by the nearest VW dealership) to be a failure of the timing chain tensioner. This sent the cam out of alignment and I assumed grenaded the engine."
This problem also occurs in other VW and Audi models that use the same engine.
Solution
Volkswagen has updated the 2.0-liter TSI engine's timing chain tensioner several times, but it was finally able to fix the problem in 2013, although timing chain tensioner failures continue to be reported in newer model years.
To prevent timing chain failures, it's best to check if your car has the updated timing chain tensioner and replace it immediately if it's still using the old part.
When replacing the tensioner, most mechanics will also recommend changing out the timing chain and other related components so it can cost around $2,000 to do the job right. But this is much cheaper than replacing the engine or doing a full rebuild.
5. Vacuum Pump Leaks
The Mk5 and Mk6 Jetta's 2.5-liter 5-cylinder engine uses an external vacuum pump to pressurize the brake booster but it is prone to creating oil leaks.
The 2.5-liter engine was used in the 2008 to 2010 Mk5 Jetta and the 2011 to 2013 Mk6 Jetta.
The vacuum pump usually starts leaking due to defective O-ring seals and gaskets. If the problem is not addressed immediately, you'll slowly lose oil which could result in oil starvation.
If the pump is leaking bad enough, the car could also suddenly lose braking power.
Here is how some Jetta owners described the issue:
"The brake vacuum pump is leaking oil. As this component is related to brakes, it is considered a safety component. The leak was confirmed by the local VW dealer."
Solution
It's possible to simply replace the vacuum pump's O-ring and gasket without having to replace the pump itself, but replacing the pump ensures that it won't eventually fail.
Performing the repair is not as easy as it sounds because in automatic transmission cars, the transmission has to be disconnected to be able to get to the vacuum pump.
Some VW specialists can replace the vacuum pump without taking off the transmission which makes the entire repair less labor intensive and much cheaper to do..
There are also aftermarket kits that delete the vacuum pump altogether and reroute the vacuum lines to the intake manifold instead which ensures that that problem won't happen again.
A leaking vacuum pump is often mistaken as a leaking rear main seal. So it's best to have the car inspected by a VW specialist to make sure that it's just the vacuum pump that needs to be addressed.
6. Sagging Headliner
A common issue that's found in most Mk4 and Mk5 Jettas is that the headliner starts to shrink and separate from the ceiling over time.
It happens more often in the Mk4 Jetta, which is understandable considering its age, than the newer Mk5 which was sold from 2006 to 2010.
However this problem doesn't occur in lots of other vehicles that are around 20 years old, so it's likely a design issue or a problem with the adhesive used to glue the headliner to the ceiling.
Here is how one Jetta owner described the issue:
"My friend and I have the same model VW TDI (06). I was over at his house and checked the headliner in his 06 VW TDI and it was sagging just like mine."
Headliners that separate from the ceiling don't affect the drivability of the car, but it is pretty unsightly and annoying to deal with.
Solution
To make the headliner look like new again, you'll have to purchase a new headliner and have it professionally installed.
DIY solutions to fix the headliner sag are usually not going to look anywhere close to original. Lots of Jetta owners simply purchase some fabric and basically glue it onto the ceiling, but this can also be pretty labor intensive.
Related: 11 Best & Worst Volkswagen Jetta Years (With Facts & Stats)
7. Key Stuck in Ignition
One of the most common issues for the later Mk5 and all Mk6 Jettas on Car Problem Zoo, which is a website that tracks complaints logged with the NHTSA, is that the key can get stuck in the ignition which prevents the driver from turning off the engine and taking the key out.
This problem can occur in the 2008 to 2010 Mk5 Jetta and all model years of the Mk6 Jetta from 2011 to 2018, but is more common in the earlier models.
Here is how one Jetta owner described their experience:
"My '13 TDI is giving me trouble. The key gets stuck in the ignition while the car is running and it will not turn off. I finally got it out after about twenty minutes of messing with it."
Solution
To fix the 'stuck key' problem, you need to replace the worn-out steering column lock housing cylinder.
A lot of people have also been able to temporarily get the key unstuck by 'flicking' the key forward a couple of times as if you're trying to start the car, but not enough crank the starter motor.
While this 'flicking' motion frees up the stuck ignition cylinder and lets you use the car normally again, over time, the keyed lock cylinder can also get stuck.
Replacing this isn't as easy since it has to be done through the dealer and they'll need to order it using your VIN as an anti-theft measure. Sometimes, the dealer will also want to reprogram your immobilizer to complete the repair which drives the cost up.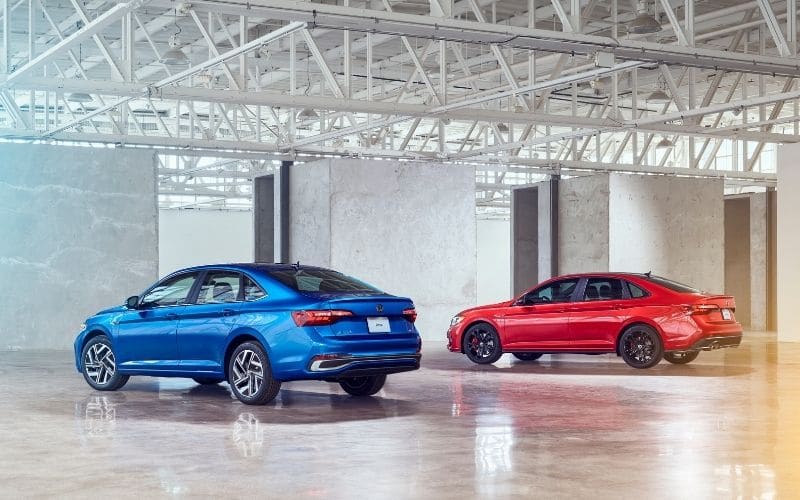 Volkswagen Jetta Model Years With the Most Problems
To get a better idea of which Volkswagen Jetta has the most problems the fairest way is to compare models based on the number of vehicles sold in relation to the number of reported problems.
We're using the Car Problem Zoo PPMY index which means problems reported per thousand vehicles per Year.
Based on this index, the most problematic years are:
2010 – 1.19 PPMY
2009 – 1.15 PPMY
2019 – 0.80 PPMY
And the least problematic years are:
2018 – 0.10 PPMY
2004 – 0.17 PPMY
2003, 2008 – 0.19 PPMY
Volkswagen Jetta
Model Year
Problems
Sales
Vehicle Age
PPMY Index
2022
1
–
–
–
2021
16
49,335
1
0.27
2020
35
69,195
2
0.25
2019
432
179,102
3
0.80
2018
13
31,634
4
0.10
2017
158
141,576
5
0.22
2016
180
120,555
6
0.25
2015
228
100,420
7
0.32
2014
474
132,003
8
0.45
2013
638
111,857
9
0.63
2012
645
121,605
10
0.53
2011
748
100,284
11
0.68
2010
1,006
70,202
12
1.19
2009
1,112
74,361
13
1.15
2008
233
87,159
14
0.19
2007
271
84,784
15
0.21
2006
752
85,370
16
0.55
2005
345
86,589
17
0.23
2004
283
93,307
18
0.17
2003
551
149,546
19
0.19
2002
876
145,727
20
0.30
2001
856
154,990
21
0.26
2000
626
140,498
22
0.20
Source: Car Problem Zoo
Volkswagen Jetta Pros and Cons
If you're considering a Volkswagen Jetta as your next car you might be wondering what its strengths and weaknesses are…
Pros
Great ride quality and refinement
Roomy interior
Still offers a manual transmission
GLI trim has decent power
Affordable
Above average reliability
Cons
Cheaper feeling interior in lower trim levels
Slightly higher upkeep
Handling is not as exciting as its top rivals
Related: Where Are Volkswagen Jettas Made? (Solved & Explained)
Volkswagen Jetta Reliability Compared to Similar Cars
Consumer Reports rankings detailed below is based on the model's last three years, the Volkswagen Jetta sits in the middle, with a score of 47/100.
| | |
| --- | --- |
| Make & Model | Consumer ReportsReliability Score |
| Subaru Impreza | 77 |
| Toyota Corolla | 75 |
| Honda Civic | 55 |
| Hyundai Elantra | 55 |
| Nissan Sentra | 54 |
| Volkswagen Jetta | 47 |
| Mazda3 | 46 |
| Nissan Kicks | 45 |
| Mini Cooper | 37 |
| Toyota Corolla Hatchback | 27 |
| Kia Soul | 23 |
| Kia Forte | 7 |
Source: Consumer Reports
Volkswagen Jetta Used Value
We've taken a look on Car Gurus to gauge the resale value of a Volkswagen Jetta, below are typical asking prices for each model year.
According to Car Edge, a Volkswagen Jetta will depreciate 17% after 5 years and have a 5 year resale value of $22,274.
Note: Used model prices will vary depending on trim level.
| | | |
| --- | --- | --- |
| Model Year | Mileage (miles) | Resale Price |
| 2022 | – | $23,284 |
| 2021 | 3,840 | $27,211 |
| 2020 | 17,550 | $23,995 |
| 2019 | 8,165 | $21,999 |
| 2018 | 38,506 | $20,780 |
| 2017 | 59,943 | $14,491 |
| 2016 | 66,918 | $15,000 |
| 2015 | 64,682 | $12,950 |
| 2014 | 128,059 | $9,995 |
| 2013 | 88,364 | $12,264 |
| 2012 | 70,047 | $13,824 |
| 2011 | 128,957 | $7,995 |
| 2010 | 140,860 | $6,900 |
Source: Car Gurus
Related: 11 Volkswagen Jetta Facts & Statistics You Should Know
What Do Owners Like and Dislike About the Volkswagen Jetta?
Based on owner feedback from the Kelley Blue Book site here are what real-life owners love and hate about the Volkswagen Jetta.
Likes
Great value
Fun to drive
Powerful engine
Fuel economy
Safe
Comfortable
Dislikes
No vent for rear
Pricey parts
Turbo delay
Owners Reviews
"Purchased in Nov 2018 (2019 model) as a second car. Now close to 32,000 miles. SEL version. Not a single issue or failure during our ownership. I am 6.2 and sit very comfortably…"
Source: Kelley Blue Book
"Good on gas, roomy, and vert slick looking vehicle. Got from a great dealership, at a good price. Plus when it's cold out, heated seats come in handy to keep you bottom warm"
Source: Kelley Blue Book
"I owned a 2017 Jetta S manual and recently purchased a 2022 Jetta Sport manual. The upgrades are significant in the '22. The seats are more comfortable and much more attractive. The 1.5L turbo has more punch, and the six speed manual is among the smoothest I've ever driven…"
Source: Edmunds
How Reliable Are Volkswagen Cars?
According to Consumer Reports, Volkswagen are ranked the 24th most reliable car manufacturer out of 28 brands, with a score of 31/100.
| | | |
| --- | --- | --- |
| 1 | Lexus | 76 |
| 2 | Mazda | 75 |
| 3 | Toyota | 71 |
| 4 | Infiniti | 69 |
| 5 | Buick | 66 |
| 6 | Honda | 66 |
| 7 | Subaru | 66 |
| 8 | Acura | 64 |
| 9 | Nissan | 63 |
| 10 | Mini | 60 |
| 11 | Hyundai | 56 |
| 12 | Chrysler | 54 |
| 13 | Porsche | 52 |
| 14 | Chevy | 48 |
| 15 | Audi | 47 |
| 16 | Cadillac | 47 |
| 17 | BMW | 45 |
| 18 | Ford | 44 |
| 19 | Kia | 43 |
| 20 | Volvo | 42 |
| 21 | Ram | 40 |
| 22 | GMC | 37 |
| 23 | Mercedes-Benz | 34 |
| 24 | Volkswagen | 31 |
| 25 | Genesis | 30 |
| 26 | Jeep | 26 |
| 27 | Tesla | 25 |
| 28 | Lincoln | 18 |
Source: Consumer Reports
Related: How Long Do Volkswagen Jettas Last? (12 Important Facts)
Sources
https://www.consumerreports.org/cars/volkswagen/jetta/
https://www.carcomplaints.com/Volkswagen/Jetta/
https://www.carproblemzoo.com/volkswagen/jetta/
https://www.kbb.com/volkswagen/jetta/
https://www.edmunds.com/volkswagen/jetta/
https://caredge.com/volkswagen/jetta/depreciation