The Passat is a midsize sedan that's been in production for half a century and is one of VW's most successful vehicles.
It's known for quality German engineering, good performance, roomy and refined interiors at an affordable price.
In this article, we'll take a look at common problems you'll find in modern VW Passats made in the last 20 years.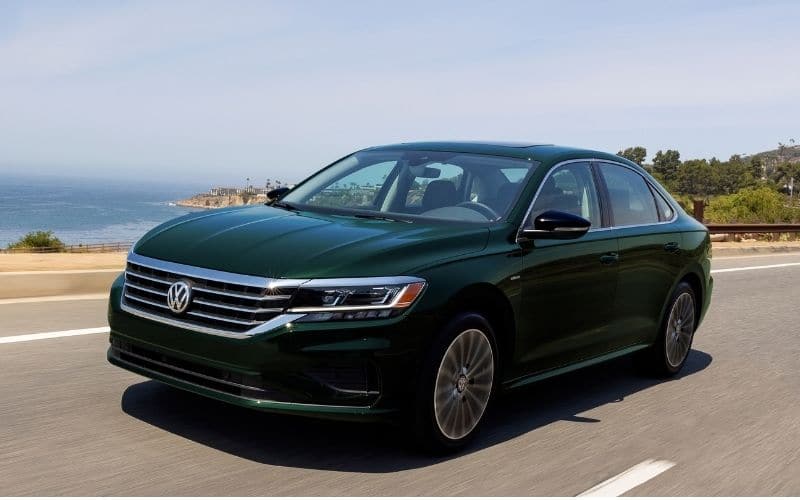 1. Air Bag Light is On
According to NHTSA data, the most common problem of the VW Passat has to do with its airbags. This typically occurs in the 2010 to 2018 models of the VW Passat with the 2013 model incurring the highest number of complaints.
Many Passat owners have experienced seeing the airbag light on their gauge cluster light up upon startup which indicates that there is an issue with the system.
The most common cause of the airbag light coming on is a defect in the steering wheel clockspring.
The clockspring is responsible for maintaining an electrical connection between the steering wheel and the rest of the car even when the wheel is turned left or right.
When the clockspring fails, a number of things can occur:
Horn stops working
Steering wheel buttons such as cruise control and volume stop working
Airbag light on the dash
Steering wheel makes a clicking sound when turning.
Problems with adaptive cruise control, the electronic stability control, and brake system
Here is how some Passat owners described their experience:
"The steering wheel is making a clicking noise and the airbag error light came on. The horn and steering wheel control buttons no longer work. My car was fixed in the last airbag recall but will now need a new clock spring. It hasn't been fixed yet but the airbags will not deploy if anything occurs."
Clockspring failures are also common in other VW models from the same era like the Golf, Jetta and Tiguan.
Some VW owners have even reported needing to replace their clockspring multiple times.
Solution
VW issued a recall for many of their 2010 to 2018 models to replace defective clocksprings.
The company also extended the warranty of the clockspring on affected 2010 to 2014 models to 15 years and an unlimited number of miles.
Other VW vehicles from 2010 to 2018 not specifically addressed by the unlimited mile warranty had their clockspring warranty extended to 10 years or 120,000 miles.
With the recall and extended warranty, Passat owners can have their clockspring replaced several times over the lifetime of the vehicle free of charge.
However, some owners have complained that dealers lacked the necessary parts and they have to wait for months to get their cars fixed. In some states, the airbag light and loss of the horn causes owners to fail inspection and unable to properly register their vehicle.
For other Passat models not included in the warranty extension, replacing the clockspring costs around $500 but can be made cheaper if you look for a used unit.
The airbag light will also turn on if the car detects that there are issues with one of the airbags, the sensors, or the airbag module. It's always a good idea to check the trouble codes first before replacing the clockspring to make sure that it is defective if you're going to have it done outside of the dealer.
2. Oil Sludge Buildup
On Car Complaints, a website that collects car owner feedback, the 2002 and 2003 model years of the Passat had the highest number of engine failures which was often caused by excessive oil sludge.
This oil sludge issue affected the fifth generation Passat's 1.8-liter turbocharged engine, which was used in lots of VW and Audi models. This engine was used in the Passat from 1997 to 2005.
Oil sludge forms when the engine oil becomes too old and mixes with contaminants like carbon and moisture. When oil sludge builds up inside the engine, it eventually blocks oil passages and causes oil starvation which wreaks havoc on the engine internals.
In the case of the fifth-gen Passat, also known as the B5 Passat, oil sludge is caused by a combination of:
Poor engine design choices
Infrequent oil changes
Low quality oil and fuel
Not letting the car reach proper operating temperatures
Symptoms of excessive oil buildup include:
Visible sludge under the oil cap and valve cover
Blue or white smoke from the exhaust on startup
Excessive oil consumption
Low oil pressure warning lights up
Rough idle
Lack of power
Ticking noises from the engine
Here are some stories from a few unhappy Passat owners:
"I bought my 2002 passat in 2009. I have had Warranty until 2012. I always got synthetic oil changes at factory recommended time/miles. My car broke down with low oil pressure, I got it towed to my mechanic to find out engine and turbo failure due to oil sludge."
"This is the 2nd time that the engine has needed to be replaced in my 2003 VW Passat. The first time was at 50,000 miles in 2005 due to the oil sludge issue and VW replaced the engine at no cost to me. In January, 2009, the engine failed again due to oil sludge."
Solution
In worst case scenarios, the damage caused by oil sludge will require a complete engine rebuild. Considering the age of the vehicle, most people will just look for a used engine to keep the car on the road for a couple more years.
Several Passat owners were able to address the oil sludge problem before catastrophic engine damage occurred by doing the following:
Dropping the pan and cleaning out the sludge
Replacing the oil pickup tube and screen
Flushing the sludge through frequent oil changes
Letting the car reach highway speeds and high RPMs often
Some VW owners also report that using a gentle additive like Auto-Rx was able to resolve their oil sludge issues without causing more problems.
Volkswagen did offer an 8-year/unlimited-mile extended warranty to deal with the oil sludge complaints in 2004.
3. Cam Follower Failures
Early sixth generation VW Passats, also known as B6 Passats, had many cam follower failures which often led to catastrophic engine damage.
This issue affects all VW 2.0-liter FSI engines which were used in the Passat from 2006 to late 2008. The newer 2.0-liter TSI engine used a roller-type cam follower which did not suffer from failures as much as the flat cam follower of the FSI engine.
The cam follower is connected to the intake cam and drives the secondary mechanical High-Pressure Fuel Pump (HPFP).
Over time, the cam follower wears out and gets weaker which eventually sends metal shards through the engine when it breaks.
Symptoms of a worn or broken cam follower include:
Check engine light
Fuel pressure trouble codes
Lack of power
Engine knocking
Excessive engine noise
Here are some reports from actual Passat owners:
"So my engine started to sound louder than usual. I was planning on taking the car on a trip so I had my local mechanic scan the engine while he was doing my trip check. They were swamped so he suggested I take the car to the dealer for the engine noise. The dealer found that" the camshaft follower was worn completely through and the camshaft damaged, the chain and pump were damaged."
Solution
To avoid catastrophic engine damage, it's a good idea to replace the cam follower every 30,000 to 40,000 miles.
The cam follower only costs a couple of dollars and replacing it only requires taking out the high-pressure fuel pump, which any competent mechanic can do in an hour. This whole process is significantly cheaper than a more invasive engine repair if you leave it to break on its own.
VW did update the FSI engine's camshaft and cam follower to make them more durable, but the redesigned cam follower can still break.
VW and Audi enthusiasts who tune their engines for more performance usually inspect the cam lobes and replace the cam follower every 20,000 miles.
4. Timing Chain Failures
The sixth and seventh generation VW Passat's 2.0-liter TSI engine has a history of timing chain failures due to a faulty chain tensioner.
This failure typically affects the 2008 to 2011 model years of the Passat and the Passat CC from 2009 to 2012.
When the timing chain tensioner fails, the engine will no longer be properly timed and the valves will hit the pistons which results in major engine damage.
In a lot of cases, timing chain failures occur with no symptoms aside from the engine being completely dead, wherein it won't start at all or it will just suddenly shut off while driving.
If the timing isn't completely off yet, you may experience the following symptoms:
Check engine light
Trouble codes related to timing
Engine rattle on the passenger side
Timing chain issues can occur when the car is still below 50,000 miles while some only occur well after 100,000 miles.
This problem also occurs in other Volkswagen and Audi models that use the same engine.
Solution
Volkswagen has updated the 2.0-liter TSI engine's timing chain tensioner several times, but it was finally able to fix the problem in 2013.
To prevent timing chain failures, it's best to check if your car has the updated timing chain tensioner and replace it immediately if it's still using the old part.
When replacing the tensioner, most mechanics will also recommend changing out the timing chain and other related components so it can cost around $2,000 to do the job right. But this is much cheaper than replacing the engine or doing a full rebuild.
5. Heater Core Issues
Heater problems are fairly common with the fifth generation Passat and the 2013 to 2014 models of the Passat TDI.
This usually happens when degraded coolant blocks up the heater core so hot coolant can't properly flow through it, which results in no hot air blowing through the vents.
In older Passats, a blocked heater core usually results in no heat at all. In the 2013 to 2014 Passat TDI, only the passenger side vents have no heat.
Here is how some Passat owners described their experience:
"My 03 V6 GLX Passat Wagon doesn't put heat out. Sometimes, it blows a little warm air when I first set it to manual "Hi" temp, but it quickly turns to lukewarm or cold depending on exterior temperature."
"Bought a 2013 Passat TDI. It just went out of warranty, 40,000 miles, not even three years old and passengers gets cold air with heater and/or defrost on."
Solution
It's possible to clear up the heater core blockage by performing a coolant flush, but it's much faster, and often more effective, to just replace the heater core with a new one.
Although the heater core is not too expensive, replacing is labor intensive since it requires pulling out the entire dash which adds to the total repair price.
To prevent the heater core from getting clogged, always use the recommended coolant. Some owners also flush the coolant regularly to make sure the heater core doesn't get clogged.
6. Sunroof Leaks
A common issue with the fifth and sixth generation Passats is water leaks caused by blocked sunroof drains.
Aside from letting water into the cabin and getting the carpet all wet, water leaks from the sunroof can also damage electronics modules and corrode the electrical wiring.
Here is how some Passat owners described the problem:
"The drain coming down from the sunroof apparently became clogged causing this vehicle to short out. Horn blowing, alarm system going off, etc. The waterproof black box, which is underneath the drivers seat, was full of water and the comfort control box was all burned."
"Upon driving the car after the storm, multiple warnings appeared. Car shuttered and would not shift gears. Eventually car shifted into drive. Took car to service station, which diagnosed that water had entered vehicle and pooled in passenger floorboard. Transmission module located beneath passenger floorboard flooded and failed."
Of course, sunroof water leaks can occur in any vehicle, but the fifth generation VW Passat, which was made from 1997 to 2005 seems to have more issues than normal.
Solution
Most sunroof water leaks are caused by clogged sunroof drain lines. When the drain lines get blocked off, the water starts to collect in places where it's not supposed to be and spill into the cabin.
To check for clogged sunroof drain lines, look for passage ways around the edge of the sunroof and vacuum out any debris you can find.
Check for blockages at the end of the drain lines which are usually under the hood and trunk area and clear those out as well.
If the drain lines are clear, the leaks could be coming from worn out gaskets and weather stripping around the sunroof, doors and windshield.
If you're still unable to figure out where the leaks are coming from, it's best to take your car to a VW specialist who is familiar with common causes of water leaks.
7. Steering Column Lock Problems
The sixth generation Passat and early models of the Passat CC had lots of owners complaining that they were unable to start their car or the car would suddenly stall, then an error on the dash indicating an issue with the steering lock would appear.
On newer models, the error appears as 'Steering column lock defective.'
This problem occurs because these generations of the Passat use switches and actuators to lock and unlock the steering wheel.
When the sensors malfunction and fail to release the steering column lock, or if it gets a signal that the steering column is locked, the car shuts down on its own.
Here is how some unhappy owners described their experience:
"This happened once to my '13. I took it into the dealer, but they couldn't find anything with it, plus nothing was stored in the computer (naturally, right?). I took the key out, move the steering wheel a bit, put the key back in, and it started right back up. It hasn't happened since."
"When parked or while driving the steering column locks up causing the car to lose the ability to steer or will automatically shut the car off while in traffic."
Several owners report that they only encounter the issue when the car is parked outside in hot weather.
It can also occur intermittently, while others experience a permanent steering lock failure.
Solution
To permanently fix the steering lock and 'no start' problem, only the steering lock actuator has to be replaced.
Some have also successfully fixed the actuator by opening up the assembly and cleaning out the microswitches and checking for other mechanical or electronic issues on the circuit board.
In a lot of cases, taking out the key and trying to restart the car a few more times while moving the steering wheel frees up the locking mechanism, which sends back the right signal to allow the car to start again.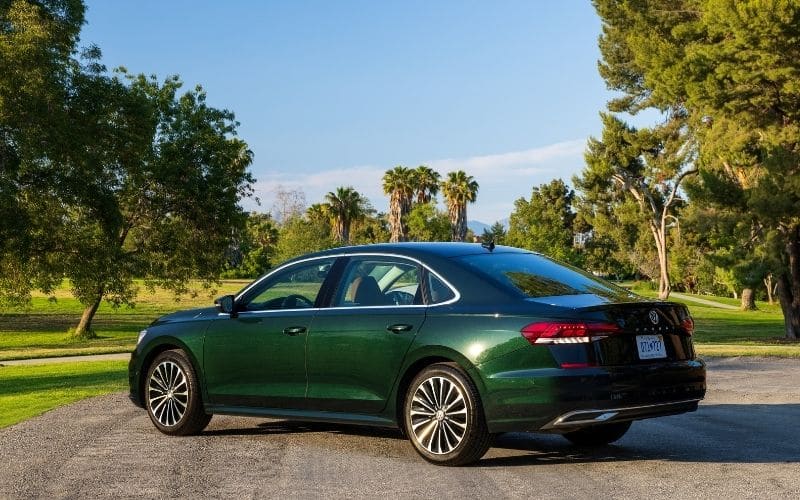 Related: 12 Best & Worst Volkswagen Passat Years (With Pictures)
Volkswagen Passat Model Years With the Most Problems
To get a better idea of which VW Passat has the most problems the fairest way is to compare models based on the number of vehicles sold in relation to the number of reported problems.
We're using the Car Problem Zoo PPMY index which means problems reported per thousand vehicles per Year.
Essentially the higher the PPMY the more problematic the vehicle.
Volkswagen Passat
Model Year
Problems
Sales
Vehicle Age
PPMY Index
2022
5
–
–
–
2021
6
17,078
1
0.35
2020
6
23,376
2
0.13
2019
16
14,016
3
0.38
2018
42
41,773
4
0.25
2017
116
76,549
5
0.30
2016
121
56,223
6
0.36
2015
300
74,444
7
0.58
2014
667
68,860
8
1.21
2013
869
88,846
9
1.09
2012
611
76,925
10
0.79
2011
22
13,006
11
0.15
2010
217
42,330
12
0.43
2009
209
31,237
13
0.51
2008
229
35,313
14
0.46
2007
349
39,646
15
0.59
2006
751
62,994
16
0.75
2005
171
34,941
17
0.29
2004
346
70,704
18
0.27
2003
807
105,137
19
0.40
2002
774
93,736
20
0.41
2001
555
82,907
21
0.32
2000
618
68,042
22
0.41
Source: Car Problem Zoo
Volkswagen Passat Pros and Cons
Pros
Great ride quality
Good refinement and build quality
Lots of room for passengers and cargo
Decent fuel economy
Competitively priced
Cons
Average tech and infotainment features
Handling is a bit dull
Slightly higher upkeep
Related: How Long Do Volkswagen Passats Last? (12 Important Facts)
Volkswagen Passat Reliability Compared to Similar Cars
Consumer Reports ranks the VW Passat middle-of-the-pack, with a score of 47/100.
| | |
| --- | --- |
| Make & Model | Consumer ReportsReliability Score |
| Hyundai Sonata | 77 |
| Honda Accord | 75 |
| Subaru Legacy | 73 |
| Toyota Camry | 70 |
| Audi A6 | 69 |
| Lexus ES | 68 |
| BMW 5 Series | 51 |
| Kia K5 | 49 |
| Volkswagen Passat | 47 |
| Nissan Altima | 46 |
| Mercedes-Benz E-Class | 33 |
| Genesis G80 | 30 |
| Volvo S90 | 29 |
| Chevrolet Malibu | 27 |
| Maserati Ghibli | 25 |
| Porsche Taycan | 24 |
Source: Consumer Reports
Owners Reviews
"Everything I have experienced with this car over the past year has been great. No issues, good gas mileage, and overall a solid sedan."
Source: Kelley Blue Book
"Great economic vehicle that blends ergonomics and luxury. This vehicle is sharp and clean. The contrasted color (tourmaline blue) is accentuated by a beautiful cream leather interior and a sunroof."
Source: Kelley Blue Book
"This 2022 is my third Passat. The Safety features which come standard make this car a great value. Has that solid German feel. Good range 400+ miles. The interior is superb. Nice job VW."
Source: Edmunds
How Reliable Are Volkswagen Cars?
According to a recent report from Consumer Reports, Volkswagen are ranked the 24th most reliable car manufacturer out of 28 brands, with a score of 31/100.
| | | |
| --- | --- | --- |
| Rank | Brand | Score |
| 1 | Lexus | 76 |
| 2 | Mazda | 75 |
| 3 | Toyota | 71 |
| 4 | Infiniti | 69 |
| 5 | Buick | 66 |
| 6 | Honda | 66 |
| 7 | Subaru | 66 |
| 8 | Acura | 64 |
| 9 | Nissan | 63 |
| 10 | Mini | 60 |
| 11 | Hyundai | 56 |
| 12 | Chrysler | 54 |
| 13 | Porsche | 52 |
| 14 | Chevy | 48 |
| 15 | Audi | 47 |
| 16 | Cadillac | 47 |
| 17 | BMW | 45 |
| 18 | Ford | 44 |
| 19 | Kia | 43 |
| 20 | Volvo | 42 |
| 21 | Ram | 40 |
| 22 | GMC | 37 |
| 23 | Mercedes-Benz | 34 |
| 24 | Volkswagen | 31 |
| 25 | Genesis | 30 |
| 26 | Jeep | 26 |
| 27 | Tesla | 25 |
| 28 | Lincoln | 18 |
Source: Consumer Reports
Sources
https://www.consumerreports.org/cars/volkswagen/passat/
https://www.carcomplaints.com/Volkswagen/Passat/
https://www.carproblemzoo.com/volkswagen/passat/
https://www.kbb.com/volkswagen/passat/
https://www.edmunds.com/volkswagen/passat/
https://caredge.com/volkswagen/passat/depreciation