Passats are the quintessential family sedan built with comfort, cargo space, and fuel efficiency in mind.
They were first sold in the U.S. in 1990 and were once one of VW's most successful cars however they were discontinued after the 2022 model year.
If you're interested in buying one as your next car you might be wondering about its average lifespan and dependability.
We'll cover that in this article, read on to find out…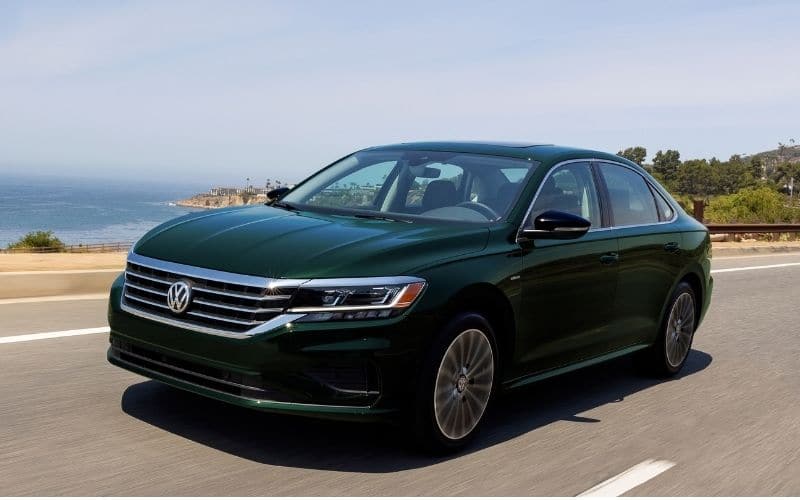 Here is the short answer to how long the Volkswagen Passat lasts:
The Volkswagen Passat is a reliable mid-size sedan that can last between 200,000 – 250,000 miles with regular maintenance and good driving habits. Based on an annual mileage of 15,000 miles, you can expect the Passat to provide 13 to 17 years of service before breaking down or requiring expensive repairs.
How Many Miles Can You Expect from a Volkswagen Passat?
The Passat has built up a strong reputation for reliability over the many years that it's been on the market.
On the Passat-dedicated forum Passat World, there are a number of reports from owners who have clocked just over 200,000 miles and many other reports from owners who are well on their way to hitting high numbers.
Its longevity becomes more evident when taking a look at some of the older models on Car Gurus where some are listed with almost 250,000 miles.
A realistic projection for the VW Passat's lifespan should fall within the range of 200,000 – 250,000 miles before major components will require replacing such as the engine or transmission. At this stage in the car's life, the cost of these repairs may outweigh the value of the car.
There's no exact mileage or time frame for how long a car will last, however we've based our figures on industry data to give you a better idea of what to expect.
The Passat received engine updates in 2013 and 2018 although it has used the same platform since 2006 – this tried and true formula which has been fine-tuned over the years has led to good durability and fewer problems.
This is one of the reasons why Passats are a popular choice in rental fleets – they can rack up thousands upon thousands of miles each year and keep on going.
As with any vehicle, the Passats lifespan will ultimately come down to a few key factors at ownership level and will be cut short if you avoid:
Using quality parts
Service appointments
Routine oil changes
Tire rotations
Driving smoothly
The VW Passat comes with a 4 year/50,000 mile basic and 4 year/50,000 miles powertrain warranty.
Do Volkswagen Passats Rust Easily?
The Volkswagen Passat does not have a reputation for excessive or premature rust issues. Volkswagen applies corrosion protection measures during manufacturing which ensures a high-quality product.
However, as long as car bodies continue to be made from sheet steel, and road surfaces have small stones and grit, it is not possible to prevent rust entirely. These stones damage the paint while driving, thereby creating points of attack for water and road salt.
VW's corrosion protection consists of 5 pillars:
Seal seams
Savity sealing
Paintwork structure
Galvanisation
Anti-chip coating and underseal.
If you live in a state where roads are heavily salted during the winter or near the coast where salt air is prevalent, you should take extra precautions to keep rust at bay – this mainly involves regular car washes.
For those living in drier states, rust will be much less of a concern however paint fading will be more common.
Tips to protect your VW Passat from rust:
Regularly wash and dry your car: This includes its underside (especially during the winter) to remove the salt, dirt and grime that causes rust. We recommend having a detail shop wash everything underneath at the end of each winter.
Repair paint damage and scratches: Exposed metal will oxidize. If it's beyond a DIY fix, speak to your local body repair shop.
Garage: Store your Passat in a garage to protect it from harsh weather and bird droppings.
Waxing: Wax your car twice a year. Not only will this give your Passat a nice shine, it also gives it a protective coating against rust.
Rustproofing: If you're planning on keeping your Passat for a very long time, you might want to consider a rustproofing treatment; popular choices are Krown and Rust Check.
Ceramic Coating: A popular choice for those who want to add an extra layer of protection to the paint job.
New VW's come with a noteworthy 7-year/100,000-mile corrosion warranty. Older VW's came with a 12-year corrosion warranty.
Related: 7 Most Common Volkswagen Passat Problems (Explained)
What is High Mileage for a Volkswagen Passat?
A Volkswagen Passat with 120,000 miles on the clock is considered high mileage. This can equate to a riskier purchase as most parts will have acquired some degree of wear and tear which can reduce the car's reliability and increase maintenance costs. However, you should not base any decision purely on mileage alone.
Buying a Passat with over 120,000 miles won't necessarily lead to a sour outcome.
A well-kept Passat with 120,000 miles might be a better option than one with 80,000 miles that had many owners and led a rough life or was previously a rental car.
If you're buying a used Passat consider the following:
Maintenance history. Check that the car was properly serviced and the owner can provide proof of this.
Get a second opinion. Take it to an independent auto repair shop or at have it inspected by a mechanic you trust.
Check for rust. Rust is a problem that will spread. Some dishonest salesmen cover up the rust with a bit of paint or some stickers. It's always a good idea to look under the car.
Check the CarFax. This doesn't guarantee anything but it will help provide a clearer picture of wear-and-tear. Ensure it has minimal damage if any. Review the information to make sure if something happened, it wasn't transmission related or mechanical.
Number of previous owners. As a general rule, less is better. More owners usually means more wear-and-tear. If one family owned it and drove the full mileage and serviced the car, then you can almost guarantee they took good care of it throughout their ownership.
How long you are planning on keeping the car. If you're planning on keeping the car for a long time, you should evaluate whether the short-term savings outweigh spending a bit extra on something more reliable.
Examine the interior. The condition of the interior tells the story of how well the car was maintained and cared for. Does the steering wheel, pedals, or shifter look suspiciously new? If so theres a good chance that the car was very heavily used, and those parts were just replaced before sale.
Inspect engine for obvious leaks and obvious damage. If the engine looks immaculately clean it means it was washed. The question is why? Most likely to hide oil leaks and similar nasty problems.
Check the car's VIN and get a full history report. Was it a taxi or rental car? Recalls? How many owners? Real mileage? Stolen? Any accidents? If you're buying a used VW, always check the VIN – you never know what the car has been through.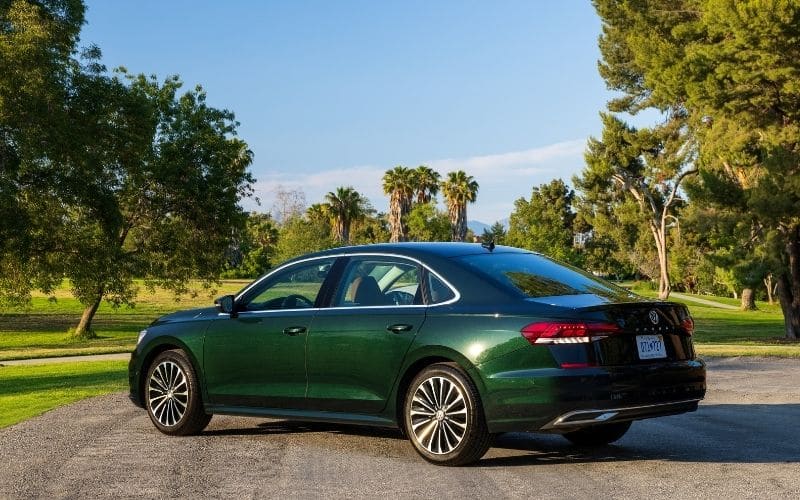 How Long Does the Volkswagen Passat Last Compared to its Rivals?
In this section, we take a look at other mid-size sedans you might consider instead of the Passat and see how they stack up in terms of reliability.
J.D Power Scores are given for the latest models.
Volkswagen Passat vs. Audi A4
The A4 is a luxury sedan that impresses with an upscale cabin and high-quality look.
The Audi A4 has the same expected lifespan of 200,000 – 250,000 miles which is the equivalent of 13 – 17 years.
RepairPal gave the Audi A4 a reliability rating of 3.5/5, slightly lower than the Passat's rating of 4/5.
The average annual repair cost for the Audi A4 is $925 which is higher than the Passat's yearly average of $639.
Kelley Blue Book's consumer rating index gave the Audi A4 a reliability rating of 4.7/5 vs. the Passat's score of 3.9/5.
J.D. Power gave the A4 a score of 74/100 for Quality and Reliability while the Passat got 83/100.
The Audi A4 is more expensive, more luxurious, and has more tech goodies than the Passat although this comes with a much higher MSRP and higher maintenance costs.
Both cars come from the same parent company Volkswagen AG.
Volkswagen Passat vs. Honda Accord
The Accord is one of the best-selling sedans in the U.S. thanks to its balanced performance, roomy cabin, effortless handling and unquestionable value.
A Honda Accord can last 250,000 – 300,000 miles or 17 – 20 years and is expected to last longer than a Passat.
RepairPal gave the Accord a slightly higher reliability rating of 4.5/5 compared to the Passat's rating of 4/5.
The average annual repair cost for the Honda Accord is only $400 which is a couple hundred dollars lower than the Passat's average of $639.
Kelley Blue Book's consumer rating index gave the Accord a reliability rating of 4.5/5 vs. the Passat's score of 3.9/5.
J.D. Power gave the Accord a score of 82/100 for Quality and Reliability which is similar to the Passat's score of 83/100.
The Accord definitely outshines the Passat when it comes to reliability and its base engine is significantly more efficient.
The Passat has the edge on safety features though with Blind Spot Monitoring as standard whereas its trim specific on the Accord.
Both cars have similar cargo volume with plenty of space for a family weekend away.
Volkswagen Passat vs. Subaru Legacy
The Subaru Legacy is a no-nonsense, affordable midsize sedan that comes with all-wheel drive as standard.
The Legacy can last 200,000 – 250,000 miles and last 13 – 17 years which is on par with the Passat.
RepairPal gave the Legacy the same score for reliability as the Passat of 4/5.
The average annual repair cost for the Subaru Legacy is only $563 which is slightly lower than the Passat's average of $639.
Kelley Blue Book's consumer rating index gave the Legacy a reliability rating of 5/5 vs. the Passat's score of 3.9/5.
J.D. Power gave the Legacy a score of 76/100 for Quality and Reliability whilst the Passat scored of 83/100.
The Legacy and Passat are strong midsize sedan contenders and are closely matched when it comes to reliability and longevity.
If you're looking for an all-wheel drive sedan the Legacy will be your first choice as newer Passats don't have VW's 4Motion AWD on any of its trim levels.
You may also be interested in our article: How Long Do Subaru Legacy Last
Comparison Chart
| | | | | |
| --- | --- | --- | --- | --- |
| | Volkswagen Passat | Audi A4 | Honda Accord | Subaru Legacy |
| Annual Repair Cost | $639 | $925 | $400 | $563 |
| Reliability Rating | 4/5 | 3.5/5 | 4.5/5 | 4/5 |
| KBB Consumer Rating | 3.9/5 | 4.7/5 | 4.5/5 | 5/5 |
| J.D. Power Rating | 83/100 | 74/100 | 82/100 | 76/100 |
| Lifespan (miles) | 200k – 250k | 200k – 250k | 250k – 300k | 200k – 250k |
Is the Volkswagen Passat Reliable?
The Volkswagen Passat is a reliable vehicle that shouldn't cause too many problems when properly maintained. Based on consumer feedback and car review website data, the Passat has above-average reliability. Generally speaking, newer models have received better reliability scores.
Throughout its generations, there haven't been very many reports of failures at low mileages or widespread build quality issues (with exception to the 2002 and 2003 models).
Most owners are happy with their Passats and keep them for many years even after the warranty has expired.
Here are some data points to further demonstrate the Volkswagen Passat's reliability:
RepairPal gave the Passat an above average reliability rating of 4/5 which is in line with other sedans in its category.
RepairPal gave the Volkswagen brand an overall reliability rating of 3.5/5.
Kelley Blue Book's consumer rating index gave the Passat a decent reliability rating of 3.9/5.
J.D. Power gave the 2020 Passat a very respectable Quality and Reliability rating of 83/100
Reliability Compared to Other Midsize Cars
| | |
| --- | --- |
| Model | Reliability |
| Honda Accord | 4.5 / 5.0 |
| Mitsubishi Galant | 4.5 / 5.0 |
| Toyota Camry | 4.0 / 5.0 |
| Toyota Prius V | 4.0 / 5.0 |
| Hyundai Sonata | 4.0 / 5.0 |
| Mazda6 | 4.0 / 5.0 |
| Chevrolet Malibu Limited | 4.0 / 5.0 |
| Kia Optima | 4.0 / 5.0 |
| Chevrolet Malibu | 4.0 / 5.0 |
| Toyota Prius | 4.0 / 5.0 |
| Nissan Altima | 4.0 / 5.0 |
| Chrysler 200 | 4.0 / 5.0 |
| Buick Regal | 4.0 / 5.0 |
| Honda Crosstour | 4.0 / 5.0 |
| Buick LaCrosse | 4.0 / 5.0 |
| Subaru Legacy | 4.0 / 5.0 |
| Volkswagen Passat | 4.0 / 5.0 |
| Ford Fusion | 4.0 / 5.0 |
| Dodge Challenger | 3.5 / 5.0 |
| Ford Mustang | 3.5 / 5.0 |
| Chevrolet Camaro | 3.5 / 5.0 |
| Honda Accord Crosstour | 3.5 / 5.0 |
| Chevrolet Corvette | 3.0 / 5.0 |
| Volkswagen CC | 2.5 / 5.0 |
| Avg. Midsize Car | 4.0 |
The Best and Worst Years for the Volkswagen Passat
The VW Passat has been around for a long time so we've done some digging to find out which models you should avoid and which ones are good buys.
Worst Model Year
Based on data from the Car Complaints website, the 2002 and 2003 Passats are the worst model years. These models received the highest number of complaints and are deemed the worst due to the severity of the issues faced and the costs of repairs.
2002-2003 were bad years for the Passat – where the vast majority of complaints were engine related.
Specifically, owners reported oil sludge which resulted in engine failure.
This occurred at around 85,000 miles and cost an average of $2,840 to fix, the most common solution to this problem was replacing the entire engine.
Best Model Year
The best model years for the Passat are from 2016 onwards. These most recent models have received the highest reliability scores and lowest number of complaints.
Our standout choices would be the 2016 model which received a 5/5 reliability verdict from Consumer Reports and also the 2022 model.
The 2022 model comes standard with lots of features that family sedan buyers will approve of, including:
Touchscreen infotainment with Apple CarPlay and Android Auto capability
17-inch wheels
Heated front seats
Adaptive cruise control
Automatic climate control
Lane-keeping assist
Rain-sensing windshield wipers.
Related: 12 Best & Worst Volkswagen Passat Years (With Pictures)
Model Year and Number of Complaints
Here is the total number of complaints on the CarComplaints database for every Volkswagen Passat going back to the year 2000:
| | |
| --- | --- |
| Model Year | No. of Complaints |
| 2022 | 0 |
| 2021 | 0 |
| 2020 | 1 |
| 2019 | 0 |
| 2018 | 1 |
| 2017 | 6 |
| 2016 | 20 |
| 2015 | 30 |
| 2014 | 30 |
| 2013 | 78 |
| 2012 | 58 |
| 2010 | 37 |
| 2009 | 21 |
| 2008 | 27 |
| 2007 | 28 |
| 2006 (Worst Year) | 104 |
| 2005 | 33 |
| 2004 | 56 |
| 2003 | 193 |
| 2002 | 112 |
| 2001 | 38 |
| 2000 | 39 |
What About Recalls for These Models?
The Volkswagen Passat has had a total of 96 recall campaigns since 2002.
You can check if your Volkswagen Passat has been subjected to a recall campaign by entering your VIN (Vehicle Identification Number) on Volkswagen's recall site or the NHTSA recall database.
It is important to note that recalls are manufacturing faults repaired at no charge to the consumer.
Here is the total number of recall campaigns for every model year of the Volkswagen Passat:
2022: 0
2021: 0
2020: 3
2019: 1
2018: 4
2017: 6
2016: 5
2015: 7
2014: 9
2013: 8
2012: 10
2010: 4
2009: 4
2008: 4
2007: 6
2006: 6
2005: 4
2004: 4
2003: 7
2002: 4
Volkswagen Passat Model Year List
Here are all the generations and model years of the Volkswagen Passat that were sold in the U.S.
The first generation VW Passat was rebadged as the Volkswagen Dasher while the second generation Passat was known as the Volkswagen Quantum.
Third Generation (B3 Passat):
1990 Volkswagen Passat
1991 Volkswagen Passat
1992 Volkswagen Passat
1993 Volkswagen Passat
Fourth Generation (B4 Passat):
1994 Volkswagen Passat
1995 Volkswagen Passat
1996 Volkswagen Passat
1997 Volkswagen Passat
Fifth Generation (B5 Passat)
1998 Volkswagen Passat
1999 Volkswagen Passat
2000 Volkswagen Passat
2001 Volkswagen Passat
2002 Volkswagen Passat
2003 Volkswagen Passat
2004 Volkswagen Passat
2005 Volkswagen Passat
Sixth Generation (B6 Passat)
2006 Volkswagen Passat
2007 Volkswagen Passat
2008 Volkswagen Passat
2009 Volkswagen Passat
2010 Volkswagen Passat
Seventh Generation (NMS or New Midsize Sedan Passat)
2012 Volkswagen Passat
2013 Volkswagen Passat
2014 Volkswagen Passat
2015 Volkswagen Passat
2016 Volkswagen Passat
2017 Volkswagen Passat
2018 Volkswagen Passat
2019 Volkswagen Passat
2020 Volkswagen Passat
2021 Volkswagen Passat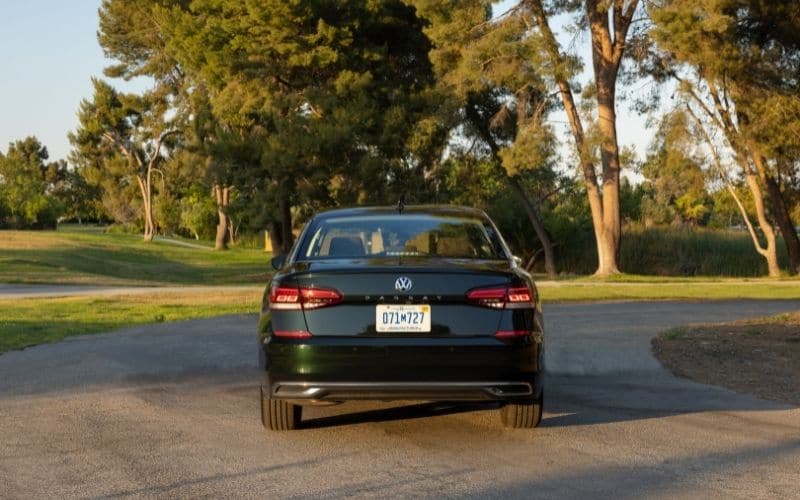 Are Volkswagen Passats Expensive to Maintain?
Throughout the years, the Volkswagen Passat has proven to be a very reliable vehicle which means maintenance will be very affordable.
You may have heard that VWs are more expensive to repair than their domestic competitors. While the parts may at times cost more due to them being imported, overall, the cost of maintaining a VW is relatively comparable to any other car.
According to RepairPal:
The VW Passat will cost an average of $639 per year in repair and maintenance. This is slightly higher than the average of $526 for other midsize sedans, but also slightly lower than the average for all vehicles in different segments which is estimated at $652.
According to CarEdge:
A VW Passat will run you roughly $5,659 in upkeep during its first 10 years. This is cheaper than the average maintenance and repair costs for all popular sedans by $1,180.
Model
Avg. Annual
Repair Cost
Frequency of
Unscheduled Repairs
(per year)
Probability of
Severe Repairs
Honda Accord
$400
0.3
9%
Mitsubishi Galant
$448
0.1
10%
Toyota Camry
$388
0.3
11%
Toyota Prius V
$437
0.5
9%
Hyundai Sonata
$458
0.3
11%
Mazda6
$481
0.4
9%
Chevrolet Malibu Limited
$448
0.2
12%
Kia Optima
$471
0.2
12%
Chevrolet Malibu
$532
0.3
11%
Toyota Prius
$408
0.5
11%
Nissan Altima
$483
0.3
12%
Chrysler 200
$549
0.3
12%
Buick Regal
$563
0.2
12%
Honda Crosstour
$520
0.7
9%
Buick LaCrosse
$569
0.3
12%
Subaru Legacy
$563
0.3
12%
Volkswagen Passat
$639
0.5
9%
Ford Fusion
$581
0.3
12%
Dodge Challenger
$650
0.2
14%
Ford Mustang
$709
0.2
14%
Chevrolet Camaro
$585
0.2
17%
Honda Accord Crosstour
$493
0.8
13%
Chevrolet Corvette
$737
0.3
22%
Volkswagen CC
$880
1.4
12%
Avg. Midsize Car
$526
0.3
12%
How Long Do the Brakes Last?
Volkswagen Passat brake pads will typically last between 30,000 – 70,000 miles. This depends greatly on your style of driving and the traffic conditions you normally drive in.
You can expect your brakes to wear out much faster if you frequently stop and accelerate in rush-hour traffic
Brake pad replacement, which includes parts and labor, can cost roughly $150 – $300 per axle.
Full and complete stops from a high speed are the #1 cause of premature brake pad wear.
A sporty driving style will lead to faster deterioration of brakes, a slow and steady style will help them last longer.
How Long Do the Tires Last?
The VW Passat's stock tires usually last around 40,000 to 50,000 miles or 3 to 5 years. However, they can wear out much sooner. This is dependent on various factors such as driving habits, climate, and road conditions.
Rotate tires every 5,000 miles to ensure even wear.
If you have to drive on rough or flooded roads, or go off-roading, your tires will take more of a beating.
Check your tire pressure every few weeks to make sure they're at the correct tire pressure.
Have a mechanic or tire shop check your wheel alignment every 6 months.
You may also be interested in our article: How Long Do Volkswagen Tiguan Last?
How Long Do Volkswagen Passat Engines Last?
The Volkswagen Passat engine is expected to last between 200,000 and 250,000 miles on average providing it is properly maintained.
The Passat uses a 174-hp turbocharged 2.0-liter four-cylinder mated to a six-speed automatic transmission.
2002 and 2003 models were known to have significant engine problems caused by oil sludge
How Long Do Volkswagen Passat Batteries Last?
The VW Passat's battery usually lasts between 3 – 5 years. A vehicle's battery life varies depending on many different factors such as climate, driving habits, and battery type, among many others.
Keep your battery tightly fastened: The vibrations of your car can loosen the connections, potentially resulting in short circuits and internal damage.
Limit short rides: Quick car rides prevent the battery from fully charging.
Storage: Keep your Volkswagen stored indoors to protect it from extreme changes in temperature.
Control Corrosion: Clean the terminals (toothbrush dipped in baking soda and water mixture) and keep them free from build-up.
How Long Do the Spark Plugs Last?
Volkswagen recommends changing the spark plugs on the Passat's VR6 engines every 6 years or 60,000 miles, whichever comes first. The 2.5-liter, 2.0-liter and 1.8-liter engines need new spark plugs every 4 years or every 40,000 miles.
Signs of a fouled spark plug include:
Reduced gas mileage
Lack of acceleration
Rough idling
Hard starts
Engine misfires
What About Insurance Costs?
The average cost of full comprehensive coverage for a Volkswagen Passat is $1,470 per year or around $123 per month.
In comparison, its rivals in the midsize sedan segment cost an average of $1,551 per year, which is $81 more expensive.
Insurance costs can vary from person to person; be sure to shop around to find the best possible deal for your VW Passat.
Tips to Prolong the Life of Your Volkswagen Passat
Adopt smooth driving habits: don't floor the gas pedal or slam on the brakes, as this will cause even more wear and tear.
Change your Passats oil regularly. This ensures the engine and all its components remain properly lubricated.
Only take your Passat for repair and maintenance at places that are certified to work on VWs. Dealership alternatives are often muc cheaper.
Keep up to date with factory-recommended maintenance.
Use quality parts and fluids.
Keep on top of repairs to prevent them from developing into larger problems.
Regularly wash your VW Passat to remove dirt and grime to protect the paint and undercarriage from rust developing.
Check your Passat's engine oil, coolant, brake, and transmission fluid levels and top them up when required.
Keep your Passat stored in a garage to help protect it from the elements.
Read the owner's manual to learn the location of important components, what your Passat needs and what quantity, and to understand the symbols and dashboard warning lights.
Combine errands so you're not driving your vehicle more than is required. Lots of short trips can be hard on your Passat since the engine won't be given enough time to properly warm up and get everything flowing properly.
Resources
https://newsroom.vw.com/vehicles/tbt-history-of-the-volkswagen-passat-in-the-u-s/
https://www.vw.com/en/faq.html
https://www.caranddriver.com/news/a28567261/2020-volkswagen-warranty-changes/
https://repairpal.com/reliability/volkswagen/passat
https://repairpal.com/reliability/audi/a4-quattro
https://repairpal.com/reliability/honda/accord
https://repairpal.com/reliability/subaru/legacy
https://www.kbb.com/volkswagen/passat/2020/
https://www.kbb.com/audi/a4/2020/
https://www.kbb.com/honda/accord/2020/
https://www.kbb.com/subaru/legacy/2020/
https://www.jdpower.com/cars/2019/volkswagen/passat
https://www.jdpower.com/cars/2019/audi/a4
https://www.jdpower.com/cars/2019/honda/accord
https://www.jdpower.com/cars/2019/subaru/legacy
https://www.carcomplaints.com/Volkswagen/Passat/
https://enginepatrol.com/how-long-buick-lacrosse-last/
https://www.vw.com/en/recalls.html
https://www.caranddriver.com/volkswagen/passat-2018
https://caredge.com/volkswagen/passat/maintenance
https://enginepatrol.com/how-long-volkswagen-jetta-last/
https://static.nhtsa.gov/odi/tsbs/2019/MC-10168646-0001.pdf
https://static.nhtsa.gov/odi/tsbs/2013/MC-10125860-9999.pdf
https://static.nhtsa.gov/odi/tsbs/2017/MC-10127865-9999.pdf
https://insuraviz.com/vehicles/volkswagen/volkswagen-passat-insurance/