The Volkswagen Tiguan is a compact SUV that was first introduced as a 2009 model year.
It is known for its great road manners, upscale interior and exterior design, and above-average cabin space.
In this article, we'll take a deep dive into the best and worst model years of the Volkswagen Tiguan.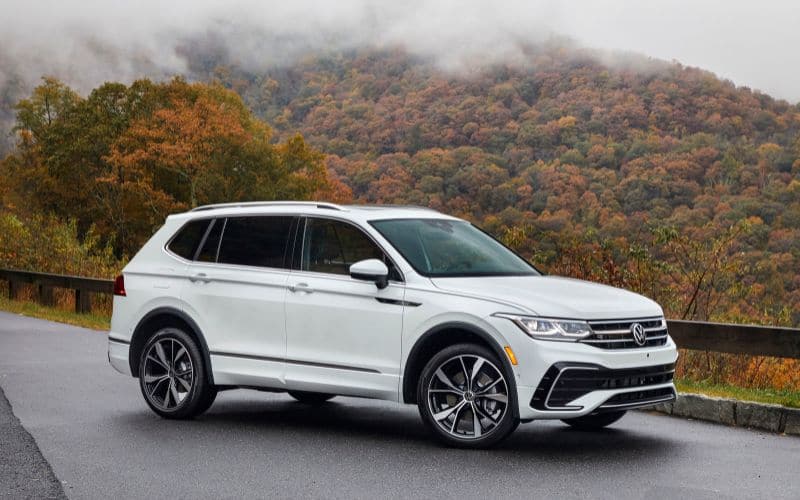 Here are the Best and Worst Years for Volkswagen Tiguan
Detailed below we've ranked the Volkswagen Tiguan Models.
Best Years for Volkswagen Tiguan:
2023
2021
2017
2015
Worst Years for Volkswagen Tiguan:
2018
2009
2011
2013
What Are The Best Years For The Volkswagen Tiguan?
2023 Volkswagen Tiguan
The 2023 Tiguan is the latest model year to date and has had a stellar track record in terms of owner feedback and professional reviews.
It has an upscale interior, ample cargo space, great suspension, and amazing handling.
It is held back slightly by slow acceleration due to a smaller engine but by the same token, it has become more fuel-efficient than some of its peers in the market. 
Edmunds gave this model a strong rating of 7.6/10 whilst the IIHS gave it a near-perfect safety rating of 9.8/10.
The driver assistance features are also worth noting.
Adaptive cruise control and lane-keeping assist are very responsive and easy to use.
An emergency assist feature was also integrated. This feature allows for the detection of an unresponsive driver and, upon triggering, would bring the Tiguan to a safe stop as soon as possible. 
The European design and driving manners also give this vehicle a unique set of qualities that make it stand out from its mostly American and Japanese competition.
New body color options and wheel designs were also made available to increase model variety.
2021 Volkswagen Tiguan
The 2021 Tiguan was able to secure a 9.5 out of 10 rating on CarandDriver.com for plenty of reasons, including agile handling, precision steering, optional third row seating and a fuel-efficient powertrain.
What we like about this model year is that it was never advertised to be the fastest, sportiest, or most technologically advanced of its class.
Instead, Volkswagen worked on ironing out the kinks by addressing issues of previous model years.
This model year featured new 17-inch wheel designs, the integration of adaptive cruise control for certain trim levels, and the addition of a power-adjustable front passenger's seat for the premium variants.  
Engine power was a common gripe expressed by newcomers, but the downsized engine still delivers horsepower ratings comparable to other competitors while being slightly more economical with fuel consumption.
The infotainment and instrument cluster interfaces are also noteworthy as they are intuitive and easy to understand and operate on-the-fly. 
2017 Volkswagen Tiguan
Relatively petite in size, both in terms of engine and overall vehicle dimensions, the 2017 Tiguan comes out the gate with confidence and style that is generally expected of a European vehicle.
It is equipped with a turbocharged engine, offers good handling dynamics, and, due to its smaller stature, is easier to maneuver around corners and tight spaces (which becomes pretty useful in traffic-congested locations or even in parking lots).
Its reflexes are sedan-like, but with its smaller size come a few drawbacks, such as smaller cargo space and passenger space. 
A great introduction into the lineup was the addition of a panoramic sunroof. It comes as a standard feature for the higher-end trim levels of the badge.
The Sport trim is also worthy of its designation as it brings with it a stiffer suspension system, 18-inch alloy wheels, body-colored rear bumper, and body-colored side sills.
For those looking to get the base-level trim, the good news is that the infotainment system for this variant has been significantly updated to be quicker and more responsive. 
Owners gave this model an overall score of 4.2 / 5.0 over at auto website Kelley Blue Book.
2015 Volkswagen Tiguan
Do not let the 2015 Tiguan's age fool you. While this model year may be the oldest on the list, it is definitely one of the greatest iterations to have ever been produced.
It offers a refined ride, great handling, good NVH (noise, vibration, and harshness), an upscale European-style interior, and a quick-to-the-draw turbocharged engine.
It is the final version of the first generation of Tiguan models (which began as a 2007 model year) before the second generation was introduced (2016 model year onwards).
This model checks all the boxes, and if you are looking to make an upgrade from your sedan or hatchback, then this would be a relatively easy transition.
Related: 8 Most Common Problems With Volkswagen Tiguan (Explained)
What Are The Worst Years For The Volkswagen Tiguan?
2018 Volkswagen Tiguan
According to statistics provided by CarProblemZoo.com, the 2018 Tiguan is the most problematic model year ever produced, obtaining a total of 352 reported problems (followed by the 2009 Tiguan with only 238 problems).
Problems cited by several owners included premature brake wear, transmission hesitation, vehicle stalling, and burning oil.
Of the problems listed above, the issues that gave the most severe complications were vehicle stalling and burning oil as reports have specified multiple instances of engine failure due to improper oil circulation or oil leaking, as well as abrupt vehicle shutdowns without warning or indication.
What owners usually experienced was the check engine warning indicator illuminating followed by engine stalling.
2009 Volkswagen Tiguan
As far as CarComplaints.com is concerned, the 2009 Tiguan is the model year that is complained about the most as it has a total of 102 registered owner complaints (followed by the 2010 Tiguan which had 96 registered owner complaints).
Timing chain problems, water pump defects, and plastic intake manifold issues were but a few of the most frequently reported issues of owners of this model year.
Similar to the 2018 model year (despite being 9 whole years apart from one another), the biggest pain point of owners was related to engine performance.
Reports indicated complete engine failure, sometimes without warning, which required complete engine replacement or, at the very least, significantly time-consuming repairs.
Most of the engine-related problems seemed to have stemmed from mechanical failure, which may be indicative of design flaws or assembly problems.
2011 Volkswagen Tiguan
The 2011 Tiguan was not as problem-stricken as its companions on this list but had quite an unusual series of problems reported by owners. 
The most surprising of these were incidents of heated seats catching on fire.
This problem meant that there were big problems with the electronics, particularly the modules and wirings.
The most likely explanation is faulty components, but the frequency of occurrences were alarmingly high, indicating that the problem most likely stemmed from a manufacturer error.
Another big issue worth mentioning was related to the timing chain.
According to owners, the timing chain of their vehicle would skip or lose alignment, leading to significant engine problems.  
What made it worse was that some of these cases occurred when the vehicle was in motion.
A class action lawsuit was filed but no recall campaigns were instituted as per the reports. 
2013 Volkswagen Tiguan
The 2013 Tiguan is the least problematic model year on this list but it possessed a safety-related issue that was very common among various other cars of this time period – airbag issues. 
Owners reported several issues, errors, and defects related to the airbag system, including failure to deploy during collisions or accidents, constant illumination of the airbag warning indicator, and even steering issues.
Recall campaigns were instituted and while these covered a lot of vehicles produced under this model year, repairs were reportedly slow as there were a lot of vehicles affected. 
Airbags aside, this model was also known to have its share of engine-related problems which were mostly due to a failed water pump.
Timing chain failure was also reported by a number of owners which meant they needed an engine replacement.
Related: How Long Do Volkswagen Tiguan Last? (Complete Guide)
What Problems Do Volkswagen Tiguan Have?
Engine Stalling
Owners of the 2016, 2017, 2018, and 2019 model years of the Tiguan have frequently reported issues with engine stalling, accompanied by the illumination of the Electronic Power Control (EPC) warning indicator.
The EPC indicator is primarily concerned with issues regarding the throttle system. This means that the stalling of the vehicle could have some relation to defects or issues with the throttle pedal, throttle body, traction control, or cruise control unit.
What made this problem even worse is how unexpected instances of engine stalling were for the owners.
According to numerous reports, the vehicle would seemingly drive along just fine and then suddenly go into limp mode which would eventually lead to engine stalling or shutdown.
In scenarios such as this, it is important for the owner or driver of the vehicle to pull the vehicle to the side of the road to prevent further inconveniences and reduce the likelihood of accidents or collisions.
Hesitation When Accelerating
Another severe concern that plagued owners of model years 2016 to 2019 was vehicle hesitation.
As the concept suggests, vehicle hesitation refers to an instance wherein the driver of the vehicle speeds up but the response is a sudden halt or reduction of speed, resulting in a rough jerking or stopping motion which is dangerous for both the driver and his passengers.
Reports have indicated that hesitation when accelerating was most noticeable from a full stop.
While it can be argued that the vehicle can still be driven, instances such as this would render the Tiguan a total safety hazard for motorists on the road, particularly in heavy-traffic situations where cars are closer to each other.
Timing Chain Failure
While timing chain failure may not be as significant or commonplace as the other two problems mentioned above, it is still worth highlighting as neglecting any form of repair or replacement of this component (when necessary) may lead to a series of more troublesome issues down the road.
Reports involving the 2009, 2010, 2011, 2012, and 2013 model years mentioned a faulty timing chain mechanism. 
Similar to how a bike would operate, the timing chain of a vehicle is in charge of synchronizing rotation across the crankshaft and camshaft of the vehicle, linking components together as the gears are being shifted throughout the drive.
If left unrepaired, timing chain damage can lead to severe engine damage, which, according to statistics, has led to repairs costing upwards of $7,000 which a typical owner may not be able to afford right away.
What Are The Best Alternatives to the Volkswagen Tiguan?
Mazda CX-5
The Mazda CX-5 offers the perfect combination of comfort, athleticism, and luxury that elevates its status from generic people-mover to premium transportation.
Highlights of this vehicle include agile handling, zippy acceleration, an upscale interior, and numerous standard safety features.
Unfortunately, it is held back by certain aspects that should be expected of a modern-day SUV, such as touchscreen capability for the infotainment system and ample cargo space at the back.
If you seek to have a more practical hauler that has the option to install a third row and offers a decent amount of luggage space, then the Tiguan is the better of the two.
If you prefer modern-day styling, various engine options (optional turbocharged engine), and slightly better acceleration, then the CX-5 may be the wiser option. 
Both models are similarly priced.
Hyundai Tucson
The Tucson is not considered to be one of the sharpest or most agile options in the compact SUV segment, but when it comes to comfort, reliability, and a slick appearance, this vehicle is bested by no other.
It comes with a spacious and premium interior, numerous standard safety features, precise handling, and above-average fuel economy.
A hybrid (or plug-in hybrid) option is also available for the more recent models of the Tucson, so if you are environmentally conscious, this might be worth considering.
In terms of safety, tests have determined that the Tiguan edges the Tucson as the former has secured a 5-star rating from NHTSA.
The Tucson has a bigger engine displacement (2.5-liter 4-cylinder engine vs. 2-liter 4-cylinder engine) but has roughly the same horsepower rating as the Tiguan (187 horsepower vs. 184 horsepower).
In comparing the latest model years of both vehicles, the Tucson comes in at a better starting price point (approx. $25,000 vs. approx. $26,500).
Subaru Forester
It might not be as fast or as powerful as its direct competitors nowadays, but the practicality, comfort, and style of the Forester are top-notch.
The interior is roomy and built with high-quality materials, the standard all-wheel-drive is as reliable as it has ever been, and fuel economy is better than most in its segment.
The CVT transmission is also a unique offering of this model, and is what primarily accounts for the Forester's smooth driving and seamless gear transitioning.
In comparison to the Tiguan, we suggest that the Forester may be a better choice for you if you need slightly better ground clearance and lower average ownership costs.
Related: VW Tiguan Tune-Up & Maintenance Costs (Complete Guide)
How Long Do Volkswagen Tiguan Last?
On average, a VW Tiguan should last in the region of 150,000 – 200,000 miles, which equates to 10 – 13 years based on driving 15,000 miles per year.
Of course, there are many factors that can influence this such as how well the car is maintained and the style of driving it is subjected to.
To prolong the life of your Tiguan, we advise frequent oil changes and staying up to date with routine servicing.
What are the Pros and Cons of Volkswagen Tiguan?
Pros
Well-designed chassis
Spacious interior for passengers
Lots of luggage space
Optional third row seating
Upscale interior design
Comfortable ride
Good noise control
Lots of driver assistance technology
Cons
Lacks power
Seating too firm
Slow acceleration
Unnecessary infotainment controls
References
https://cars.usnews.com/cars-trucks/volkswagen/tiguan
https://www.carcomplaints.com/Volkswagen/Tiguan/
https://www.carproblemzoo.com/volkswagen/tiguan/