The Tiguan is a compact crossover that was launched in North America for the 2009 model year.
It's set apart from many of its competitors with an available third-row and its refined driving experience.
The Tiguan is far from perfect however, and like any other vehicle, it has its share of problems.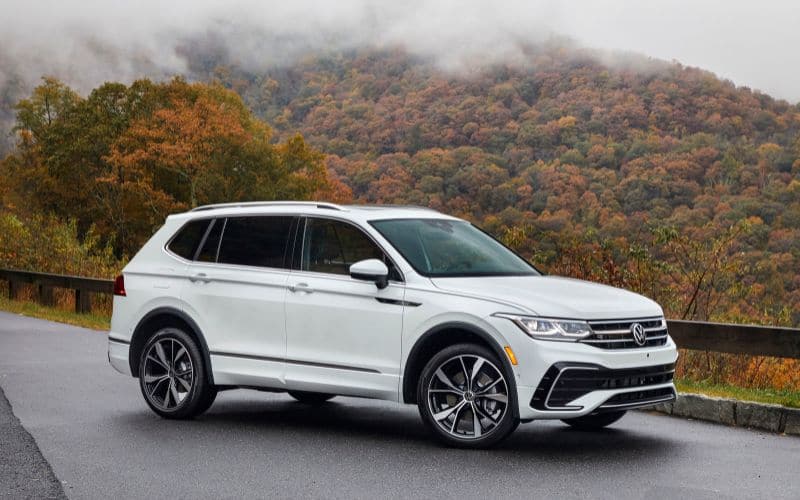 1. Engine Stalling
For the 2016 – 2019 Tiguan models, there are large numbers of complaints from owners who have experienced engine stalling followed by the Electronic Power Control (EPC) warning light coming on.
According to VW, the EPC light is an indicator pointing to issues with the throttle system. This could mean that the throttle pedal, throttle body, traction control, or cruise control unit need attention.
In most instances, owners report driving along – everything is fine – and then the engine stalls and the car goes into limp mode. They are then forced to pull over and restart the vehicle.
As you can imagine – this is incredibly dangerous as the driver is unable to control their speed.
Solution
This problem has been attributed to a faulty fuel injector wiring harness which you should be able to get replaced under warranty.
However, there has been an engine-related recall for the 2018 Tiguan and this can also lead to stalling issues.
The recall is due to the engine support bolts not being properly tightened, which can lead to an unexpected engine breakdown or sudden loss of power.
If you want to check to see if you have been affected by a recall, you can run a VIN check using VWs recall lookup tool on their website.
2. Hesitation When Accelerating
Another common issue for the 2016 – 2019 Tiguan models is hesitation when accelerating.
Owners have described it as 'severe' and 'erratic' making it extremely dangerous to drive on the highway as they can not gauge the rate at which the car will speed up.
Here's one complaint on file:
"Severe hesitation when trying to accelerate, most noticeable from a full or near stop. Pulling out quickly into moving traffic often results in moments of no acceleration at all. It can be frightening and potentially dangerous. A quick google search for "Tiguan hesitation" brings up many complaints about this issue."
Solution
The problem with this issue is that it doesn't show any diagnostic trouble codes.
Despite the large number of complaints, no solutions have been presented although engine hesitation is often caused by a fuel/air mixture that is too lean which can be caused by:
Failed Mass Airflow Sensor
Faulty Fuel Pump
Failed Throttle Position Sensor
Dirty/failing fuel injectors
3. Timing Chain Failure
Timing chain failure plagued Tiguan models from 2009 – 2013 and the issue was widespread across numerous VW and Audi models.
The timing chain is located in the engine – it synchronizes the rotation of the crankshaft and camshaft and is made of metal links like a chain. This enables it to grab on to the different gears and wheels.
The biggest problem with timing chain failure is that when it slips it can damage the engine beyond repair, often leaving owners with huge repair bills of around $7,000 – some were unable to afford this.
Solution
Timing chain failure often results in owners needing a new engine.
The VW timing chain saga is a complex one – far beyond the scope of this article, however it went to the courts and in June 2018 a settlement was agreed covering certain 2009 – 2013 Tiguan models.
You can look up your Tiguans VIN at https://timingchainlitigation.com/CheckVIN the webpage will indicate whether your vehicle is included in this settlement or not.
4. Failed Clockspring
From 2011 – 2019 there are a huge number of complaints on file pertaining to Tiguan airbag and horn issues, these are mostly due to a failed clock spring.
The clock spring provides the connection between the airbags and the wiring. If it is damaged or corroded, the spring sends a report of some sort to the airbag control module, which triggers the airbag light.
When the clockspring breaks it can disable the electronics in the steering such as the horn and airbags – both of which are critical safety features.
If you drive a Tiguan and your airbag warning light has come on and your horn has stopped working, there's a very good chance it's due to a failed clockspring.
It's worth noting also that clocksprings are supposed to last the entire life of the vehicle.
Solution
The fix here is simple, you will need a new clockspring – however numerous owners have reported that due to the high demand for clocksprings on VWs there is a shortage and waiting times have been unreasonable.
Clock spring failures aren't uncommon on VWs, and they've been dealing with this issue for quite some time and there are recalls, not just for Tiguans, but for numerous VW models – some reports suggest over 1.2 million vehicles have been affected.
If your Tiguan has been affected by this recall, the cost of repair will be covered by Volkswagen.
Due to the technical nature of airbags, it is imperative that you leave this fix to the experts – tampering with airbags and their related systems is unsafe and can void your warranty.
5. Burning Oil
According to Car Problem Zoo, a site that collects car owners' feedback, a common problem with Tiguan models, mainly from 2018, is that the engine continually needs oil adding.
Owners have been left confused and worried as they are burning through oil at an alarming rate.
Some owners describe how, just after having an oil change done, the oil light came on.
In most cases there are no signs of leaks or drips, so the owners proceed to add more engine oil.
And then after driving for a couple more weeks, the oil light comes back on and more oil is required.
Solution
Although VW dealers have reportedly been telling customers they consider it acceptable for their cars to burn through a quart of oil every 1,000 miles, this simply isn't good enough – this isn't normal, especially on a new car.
Although this problem seems to be a bit of a mystery this problem has been linked to bad cylinder seals.
Related: 8 Best & Worst Volkswagen Tiguan Years (With Facts & Stats)
6. Carbon Buildup
The most commonly reported complaint about the Tiguan on the car website Repair Pal, is carbon buildup, which causes decreased power and fuel economy.
This problem has been reported in model years 2009 – 2016.
The TSI direct engine injection engine used by the Tiguan is prone to carbon buildup.
In regular engines, the engine is cleaned by the gas flowing via the injectors and into the intake system, however, as the Tiguan uses direct injection, gasoline does not flow through common carbon buildup areas.
Common symptoms of carbon buildup include:
Power loss
Rough idling
Black smoke from exhaust
Hard starts.
Engine cylinder misfires.
Decreased acceleration/performance.
Here's one unhappy owners experience:
"2009 Tiguan was running very rough for a long time, dealer tries several different things to no avail but lots of money. Finally, they suggested decarbing the valves. Cost $1300 bucks but it ran better afterwards (for a while), but running rough again (less than 30,000 miles later). This time they say it's the timing chain. It's ALWAYS something with this car; JUST A LEMON."
Solution
The solution to carbon buildup is to remove the intake manifold and give the following a deep clean:
Intake manifold
Intake ports on the cylinder head
Intake valves.
7. Automatic Emergency Braking Problems
There have been numerous complaints from owners who have experienced their Tiguan applying the emergency brakes without driver input. In other instances, owners have stated the system did not apply the emergency brake when it should have.
This problem has been reported on model years 2018 and newer.
Here's what owners are up against:
"My wife was driving down a residential street, no cars in front or behind. The autonomous brakes activated and brought the car to full stop for no reason."
"The cars breaking assistance brings the car to a complete stop at any speed. It will brake when nothing is around, when backing out of driveway, driving down freeway, and pulling out onto the road."
On the popular forum VWvortex.com you'll find lots of owners who share similar experiences.
Solution
If you are experiencing this issue then you'll need to speak with your local Volkswagen dealer, the cause behind this phenomenon is a bit of a mystery although it could be caused by overly sensitive sensors.
8. Infotainment System Problems
There have been a number of complaints about the 2022 VW Tiguans infotainment system, owners have reported that the system fails to start or reboots at random.
Some owners say the infotainment can take up to 15 minutes before it finally decides to turn on, and one of the biggest problems with this is that it means the rear camera can't be used.
Backup cameras are a crucial safety feature and are required by law in all states in the U.S. on cars built from May 2018 onwards.
Solution
Volkswagen are aware of this issue and we suspect they will need to prepare a software update to fix this issue.
As this occurs on new models it will be covered under warranty – speak to your dealer and have them fix it for free.
Volkswagen Tiguan Model Years With the Most Problems
To get a better idea of which Volkswagen Tiguan has the most problems the fairest way is to compare models based on the number of vehicles sold in relation to the number of reported problems.
We're using Car Complaints PPMY index which means problems reported per thousand vehicles per Year.
For example, newer cars will have fewer complaints simply because they've been around for less time.
Based on this index, the most problematic years are:
2018 – 13.57 PPMY
2009 – 0.96 PPMY
2011 – 0.81 PPMY
And the least problematic years are:
2017 – 0.18 PPMY
2016 – 0.35 PPMY
2014 – 0.42 PPMY
Volkswagen Tiguan
Model Year
Problems
Sales
Vehicle Age
PPMY Index
2022
22
–
–
–
2021
17
–
1
–
2020
43
–
2
–
2019
114
–
3
–
2018
332
6,118
4
13.57
2017
47
50,932
5
0.18
2016
94
44,617
6
0.35
2015
80
22,533
7
0.51
2014
88
25,939
8
0.42
2013
176
33,324
9
0.59
2012
186
29,561
10
0.63
2011
226
25,304
11
0.81
2010
144
17,286
12
0.69
2009
236
18,937
13
0.96
Source: Car Problem Zoo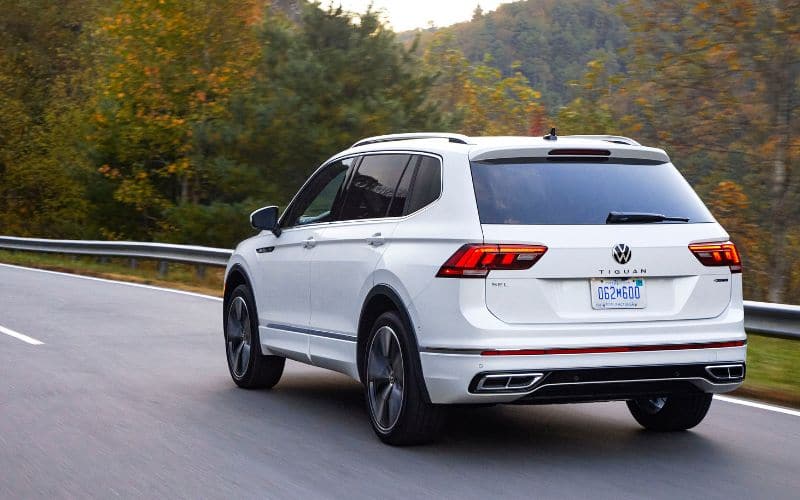 Volkswagen Tiguan Pros and Cons
If you're considering a Volkswagen Tiguan as your next car you might be wondering what its strengths and weaknesses are…
Pros
Agile handling
Roomy cabin
Excellent fuel economy
Available third row
Stylish appearence on newer models
Cons
Average acceleration – not as quick as some of its competitors
Seats not overly comfortable
Chintzy interiror trimmings
Related: How Long Do Volkswagen Tiguan Last? (Complete Guide)
Volkswagen Tiguan Reliability Compared to Similar Cars
Consumer Reports rankings detailed below is based on the model's newest three years, the Volkswagen Tiguan sits right at the bottom, with a poor score of 17/100.
Make & Model
Consumer Reports
Reliability Score
Buick Envision
90
Cadillac XT5
89
Ford Bronco Sport
88
Hyundai Tucson
87
Toyota RAV4 Prime
82
Honda CR-V
80
Mazda CX-5
80
Subaru Forester
80
Lexus NX
78
Ford Mustang Mach-E
71
Audi Q5
64
Mercedes-Benz GLC
63
Porsche Macan
61
Volvo XC60
61
Chevrolet Equinox
58
GMC Terrain
58
Infiniti QX50
49
Kia Soprtage
48
BMW X3
47
Hyundai Ioniq 5
45
Volkswagen Eclipse Cross
45
Toyota RAV4
44
Acura RDX
43
Mercedes-Benz GLB
34
Genesis GV70
30
Jeep Cherokee
30
Mitsubishi Outlander
30
Nissan Rogue
30
Jeep Compass
26
Ford Escape
25
Jaguar F-Pace
25
Land Rover Discovery Sport
25
Land Rover Range Rover Evoque
25
Land Rover Range Rover Velar
25
Volkswagen ID4
21
Lincoln Corsair
20
Alfa Romeo Stelvio
18
Tesla Model Y
18
Volkswagen Tiguan
17
Source: Consumer Reports
Volkswagen Tiguan Used Value
We've taken a look on Car Gurus to gauge the resale value of a Volkswagen Tiguan, below are typical asking prices for each model year.
According to Car Edge, a Volkswagen Tiguan will depreciate 28% after 5 years and have a 5 year resale value of $25,076.
Note: Used model prices will vary depending on trim level.
| | | |
| --- | --- | --- |
| Model Year | Mileage (miles) | Resale Price |
| 2022 | 4,308 | $37,990 |
| 2021 | 15,917 | $33,420 |
| 2020 | 14,761 | $31,787 |
| 2019 | 25,196 | $32,471 |
| 2018 | 55,574 | $23,099 |
| 2017 | 64,160 | $18,795 |
| 2016 | 82,760 | $12,888 |
| 2015 | 58,114 | $15,995 |
| 2014 | 104,000 | $9,990 |
| 2013 | 85,963 | $11,995 |
| 2012 | 90,691 | $9,500 |
| 2011 | 96,798 | $6,999 |
| 2010 | 125,390 | $6,500 |
Source: Car Gurus
Related: Volkswagen Tiguan In Snow & Winter Driving? (Explained)
What Do Owners Like and Dislike About the Volkswagen Tiguan?
Based on owner feedback from the Kelley Blue Book site here are what real-life owners love and hate about the Volkswagen Tiguan.
Likes
Spacious
Fuel economy
Comfortable
Great look
High-quality
Smooth ride
Fun to drive
Dislikes
Underpowered
No pouches behind seats
Slow acceleration
Rear accidence avoidance warning signal is weak
Confusing electronics
Owners Reviews
"Seats are like sitting on rocks. Rented this vehicle for trip and it's the most uncomfortable vehicle I've ever ridden in."
Source: Kelley Blue Book
"The car gets better than listed gas mileage by about 20%. The vehicle can hold 7 people as shown. The ride far exceeds what we expected. Not one issue has occurred and it has passed both yearly preventative maintenance schedules with no issues. It is quiet and handles great. The 4-cylinder engine is powerful enough for what we use it for."
Source: Kelley Blue Book
"Could use a little more power, but overall, enough for city and highway driving. Great gas mileage for an all wheel drive. Comfortable seats and the 3rd row comes in handy when needed."
Source: Kelley Blue Book
"I love how sleek and luxurious this car feels when I am driving it. Its smooth and quiet. Very much worth it!"
Source: Edmunds
How Reliable Are Volkswagen Cars?
According to a recent report from Consumer Reports, Volkswagen is ranked 24th out of 28 brands based on reliability, with a score of 31/100.
| | | |
| --- | --- | --- |
| Ranking | Brand | Score |
| 1 | Lexus | 76 |
| 2 | Mazda | 75 |
| 3 | Toyota | 71 |
| 4 | Infiniti | 69 |
| 5 | Buick | 66 |
| 6 | Honda | 66 |
| 7 | Subaru | 66 |
| 8 | Acura | 64 |
| 9 | Nissan | 63 |
| 10 | Mini | 60 |
| 11 | Hyundai | 56 |
| 12 | Chrysler | 54 |
| 13 | Porsche | 52 |
| 14 | Chevy | 48 |
| 15 | Audi | 47 |
| 16 | Cadillac | 47 |
| 17 | BMW | 45 |
| 18 | Ford | 44 |
| 19 | Kia | 43 |
| 20 | Volvo | 42 |
| 21 | Ram | 40 |
| 22 | GMC | 37 |
| 23 | Mercedes-Benz | 34 |
| 24 | Volkswagen | 31 |
| 25 | Genesis | 30 |
| 26 | Jeep | 26 |
| 27 | Tesla | 25 |
| 28 | Lincoln | 18 |
Source: Consumer Reports
Related: Volkswagen Tiguan Alarm Going Off? (7 Main Causes)
Sources
https://www.consumerreports.org/cars/volkswagen/tiguan/
https://www.carcomplaints.com/Volkswagen/Tiguan/
https://www.carproblemzoo.com/volkswagen/tiguan/
https://www.kbb.com/volkswagen/tiguan/
https://www.edmunds.com/volkswagen/tiguan/
https://caredge.com/volkswagen/tiguan/depreciation
https://www.cargurus.com/Cars/l-Used-Volkswagen-Tiguan-d1104