The Yamaha MT-03 is a beginner-friendly naked or standard motorcycle offering a fun and versatile riding experience.
That said, it also has some issues you should be aware of, whether you already own or are in the market for one.
This article explores the most common problems with the Yamaha MT-03.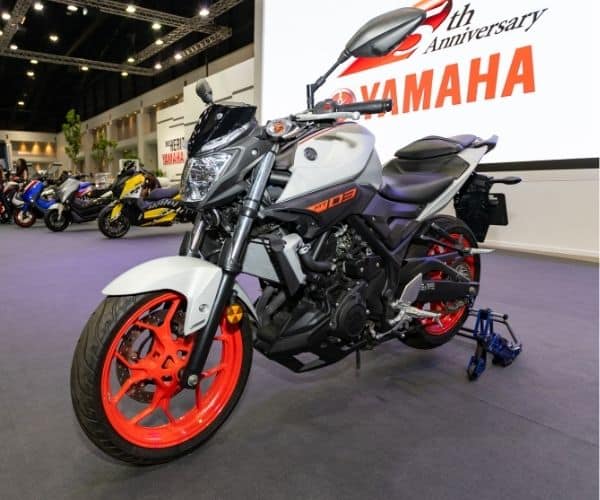 1. Starting Trouble in Cold Weather/ Hard Starts After Sitting
Some riders report that their MT-03 has trouble starting in cold weather or after sitting unused for weeks at a time. MT-03 owners claim the bike's compact battery is responsible, as it depletes quickly in cold weather.
"I refuse to believe that a battery or the alternator could've gone bad this fast on a brand-new motorcycle. I bought Yamaha MT03 last year, and last winter, it was parked for a few months. I did turn it on here and there but probably not enough. Now, the motorcycle won't start without a jump. When I connect the battery to the battery charger, the battery shows as full. When I try to turn on the motorcycle, I hear a clicking noise but nothing. Starts with a jump only. Any thoughts on what's happening here? It's only got less than 600 miles on it."
"I've got an MT03, and if it's left for more than a month, the battery is dead and unrecoverable; I've bought about four new ones as I keep forgetting to put it on the maintenance charger when I bring it home. I think the immobilizer drains it."
Yamaha stocked the MT-03 with an immobilizer system, which prevents ignition without the key.
The system requires battery power; even when the bike is off, it slowly but constantly drains battery charge.
Additionally, the MT-03's intelligent charging system sometimes fails to provide adequate current, leading to battery drainage.
Solution:
Use a multimeter to verify battery health, employ a trickle charger for prolonged periods of non-use, consider a superior or larger battery, and inspect the battery, charging system, and wiring for defects.
2. Engine Lacks Low-End Torque
Many Yamaha MT-03 riders point out its noticeable lack of low-end torque. Low-end torque refers to the engine's rotational force at low RPMs and impacts acceleration rates and performance when riding uphill, in stop-and-go traffic, etc.
"As with the chassis, the MT-03's parallel twin motor is taken straight from the YZF-R3. Best described as 'sufficient,' the 321cc twin has liquid cooling and makes a reasonable 41bhp with 21.8ftlb of torque. Fairly charming (if a little slow), it emits quite a pleasant exhaust note and has a smooth and linear power."
Or, as a Cycle World First Ride Review put it:
"The MT-03's engine loves to be revved; it's not a torque monster, but a short first and second gear get it off the line quick enough to surprise more than a few red light jockeys. Third and fourth gear is where the MT finds its groove on the back roads. Off-corner grunt is smooth and predictable but not prodigious. Momentum is your friend, and this littlest MT will teach a new rider how to maximize momentum if they want to run with the big(ger) boys."
While the MT-03 is by no means the most responsive bike in Yamahas stable, it is a beginner bike and is therefore tuned to be accessible and consistent rather than aggressive.
There are some ways to increase the low-end torque of your MT-03, but they may require some modifications or adjustments to your bike that can void your warranty and impact performance in other areas.
Solution:
Adjusting parameters like cam timing and fuel injection can enhance your MT-03's pick-up at low rpm. This might entail changing parts like camshafts or the exhaust system. Devices reducing the effective compression ratio at ultra-low RPMs can boost torque, possibly involving the addition of variable valve timing systems.
Finally, altering the exhaust can recirculate some exhaust gases or bypassing the muffler improves cylinder filling, enhancing torque.
While these solutions offer promise, they come with challenges, including increased costs and complexity to potential legality issues.
Note: Always consult an expert mechanic before implementing changes, ensuring that the bike's warranty, safety, and overall performance remain uncompromised.
3. Short Gearing
Yamaha MT03 owners often complain about the bike's gearing, particularly the sixth gear, which is an overdrive. Overdrive gears are intentionally efficient, designed to mitigate engine RPM and noise and to enhance fuel economy at high speeds.
That said, riders have to downshift into 5th gear to accelerate, as an overdrive 6th gear lacks torque and power.
Riders often complain that the MT-03's 6th gear feels lethargic or weak.
"6th gear is, in my experience, pretty lame. It feels like 5th gear plus just more of an overdrive gear than anything; I'm wondering about a different sprocket setup to liven up the top end a bit, it will be slower overall, but the top speed (170 kph is the highest I've managed) isn't really where the fun is on this bike, I'd rather it be a bit more punchy 100kph plus which is where the kick starts to die off than being able to get to 170 after sitting on the throttle for 10 seconds."
In short, while the MT-03 offers quick starts and strong mid-range performance, the sixth gear's overdrive nature has led to some rider dissatisfaction.
Solution:
Sprockets are the toothed cogs connecting the chain to the engine and rear wheel. Sprockets are vital in determining your bike's acceleration and top speed. Therefore, altering your MT-03's gear ratio can tailor the bike's response to specific riding styles.
The MT-03's stock sprocket setup is 14 teeth front and 43 teeth rear, equating to a 3.07 ratio.
Moving to a 15-teeth front and 41-teeth rear sprocket (a 2.73 ratio) could be beneficial for increasing cruising speeds and reducing engine disturbance. However, this results in a slight dip in acceleration.
Conversely, a 13-teeth front and 45-teeth rear setting (3.46 ratio) provides rapid acceleration and improved torque at low RPMs but increases noise and rattling at higher speeds.
Various sprocket size combinations can cater to diverse preferences; changes might void warranties, alter speedometer readings, and impact fuel efficiency.
Always seek expert advice before alterations, ensuring optimal bike performance and longevity.
4. Cosmetic Wear/Hard-to-Find Replacements for Synthetic Rubber and Plastic Parts
While its synthetic plastic and rubber parts offer more resistance and durability than natural rubber, they're not invulnerable to cosmetic damage.
MT-03 riders report that they often find scratches, cracks, or dents due to accidents, harsh environments, or mishandling. Searching for some of these replacement polypropylene parts can be challenging for the MT-03 model.
"Unfortunately had a crash in the last session of my track day last week. It could've been a lot worse, but I lucked out with no injury and was able to ride the bike off. Came with some cosmetic damage, though, to one of the two detachable pieces of bodywork. I can't seem to find anywhere that would replace it."
Solution:
Finding replacement parts might be difficult, but contacting the MT-03 community or specialized dealers can provide leads. Always prioritize genuine parts and proper installation to keep your bike looking and functioning correctly.
Furthermore, you're an apply some basic preventative measures to extend the life of these synthetic rubber and plastic parts, such as:
Shield the bike from extreme weather with covers or garaging.
Regularly clean and wax to fend off dirt.
Maintain tire pressure and alignment.
Follow the manufacturer's guidance on maintenance.
If significant cosmetic wear occurs, consider the following:
Purchasing genuine parts from Yamaha.
Seeking aftermarket parts or advice from MT-03 communities.
Consulting professional mechanics.
5. Lack of Leg Room
One common concern among taller MT-03 riders is the limited legroom on the bike.
The MT-03 comes with a seat height of 30.7 inches, which is somewhat low for a sporty naked bike.
While shorter riders appreciate the confidence of quickly reaching the ground, taller riders might find the bike's compact size uncomfortable.
"One thing I'd strongly recommend is taking the MT-03 for a ride, or at the very least sitting on one. I test-rode the MT-03. However, it just didn't fit me ergonomically, and my knees kept getting caught on the tank cutouts – I'm not talking about useful leverage while cornering, just annoying obstruction during everyday riding. I'm only 5 foot 8 (admittedly, with very long legs and arms for my height), so I can't imagine how taller riders than me would find it. I'd recommend riding a bike and seeing if you can live with the ergonomics."
"About back issues, I find my MT-03 to be less painful than the sport bike position leaning over. I also use 3/4″ bar risers to help my ride position keep me more upright. I have two bulging discs, L4/L5. So, I guess it just depends on each rider. With 42,000 km on my MT-03…the OEM seat was not comfortable for me. I picked up a used Saddleman seat on Ebay; problem solved. A five-hundred-mile day now is doable."
Solution:
Adjust your Yamaha MT-03's seat position by swapping the seat for a more supportive alternative. Installing aftermarket or extended-reach foot pegs and incorporating pre and post-ride leg stretches can also help taller riders stay comfortable on their MT-03.
"My OEM radiator developed leaks about one year after I purchased the MT-03. Yamaha Mexico would not warranty the defective radiator–although it was clearly a manufacturing defect–because I did not do the third required service maintenance at the dealership. Hopefully, your warranty experience in your country will be better. I bought an aftermarket radiator on eBay, and there is no comparison to quality. The OEM radiator is like Dollar Store aluminum foil quality."
6. Soft Suspension
Riders often complain about the Yamaha MT-03's suspension, as it's so soft that it bottoms out on rough roads. The stock suspension on the MT-03 is adjustable, leading owners to buy aftermarket suspension as a solution.
"Front suspension was too soft for my ride weight at 170 lbs., so I had a lot of nosedives and bottoming out. I tried emulators and did not like those too much after a few months, so I removed them. Then I replaced the front springs with 15% stiffer straight springs and bumped up the fork oil to 20 wt for more rebound control. Threw away the OEM rear shock and tried a YSS, which was much better, and then eventually installed a Hyperpro shock that was even better than the YSS. Both have rebound damping control adjustability."
7. Radiator Leaks
While not a widespread concern among MT-03 owners, it's worth mentioning that a handful of riders have reported radiator leaks forming. In some cases, riders said coolant leaks within the first 500 miles, noting poor warranty support from their local Yamaha dealership.
"My OEM radiator developed leaks about one year after I purchased the MT-03. Yamaha Mexico would not warranty the defective radiator, although it was clearly a manufacturing defect because I did not do the third required service maintenance at the dealership. Hopefully, your warranty experience in your country will be better. I bought an aftermarket radiator on eBay, and there is no comparison to quality. The OEM radiator is like Dollar Store aluminum foil quality."
8. Rear Reflector Safety Issues
Several MT-03 riders have noted issues with the rear reflector. Yamaha issued a recall concerning the 2020 MT-03's rear reflector, which didn't consistently reflect light adequately, posing visibility and safety issues.
This compromise in safety demands that MT-03 owners verify if their bike was affected, and if so, the Yamaha dealership will replace your reflector assembly free of charge.
What Are the Pros and Cons of the Yamaha MT-03?
Pros:
Sporty aesthetics.
Affordable price point.
Easy maneuverability.
Comfortable for shorter riders.
Reliable engine performance.
Cons:
Short gearing issues.
Lack of low-end torque.
Hard starts in cold/after sitting.
Radiator leak issues.
Limited legroom.
Rear reflector recall.
Soft suspension (on rough roads).
What Are Some Alternative Models?
| | | |
| --- | --- | --- |
| Make/Model | MSRP | MPG |
| BMW G 310 R | $4,945 | 71 |
| Honda CB300R | $4,949 | 71 |
| Kawasaki Z400 | $4,999 | 54 |
| KTM 390 Duke | $5,499 | 58 |
| Honda CBR300R | $4,799 | 78 |
| Kawasaki Ninja 400 | $4,999 | 56 |
| KTM RC 390 | $5,549 | 58 |
| Suzuki GSX250R | $4,899 | 76 |
What's the Resale Value of the Yamaha MT-03?
| | | |
| --- | --- | --- |
| Year | Mileage | Used Listing Price |
| 2020 | 2,000 mi | $5,000 |
| 2021 | 1,500 mi | $4,500 |
| 2020 | 3,000 mi | $4,800 |
| 2021 | 2,500 mi | $4,700 |
| 2020 | 4,000 mi | $4,600 |
| 2021 | 3,500 mi | $4,900 |
| 2020 | 5,000 mi | $4,400 |
What Do the Reviews Say?
– "The MT-03 is great fun in the twisties and has plenty of feel coming from the adjustable front end. Ergonomically, the MT-03 gets a 1.54-inch taller handlebar that sits 0.7 inches closer to the rider, while the seat height remains the same at 30.7 inches. But it's the shape of the tank that had a few people talking at the launch."
– "It took a few years for the MT-03 to come to American shores, but it was worth the wait. It has the same spunky performance and ease of use as the R3, but it's more comfy and less expensive."
– "The latest naked MT is the smallest in displacement, but that doesn't mean it's not a blast to ride. Yamaha has brought to market a full-featured small-bore that new riders will find usable and confidence-inspiring. And as skills grow, so will the capability and fun."
Source:
YAMAHA MT-03 (2016 – 2019) Review | MCN (motorcyclenews.com)
2021 Yamaha MT-03 Buyer's Guide: Specs, Photos, Price | Cycle World
2020 Yamaha MT-03 Review – Cycle News
Yamaha Mt 03 Motorcycles for Sale Near Me – Cycle Trader.
Yamaha MT-03 Motorcycles for Sale – Motorcycles on Autotrader.