The Audi A6 is a midsize luxury sedan that was first launched in the US for the 1995 model year.
It offers lots of premium content, an upscale interior and a silky smooth engine.
Like any vehicle, the A6 has its common problems which we'll cover in this article.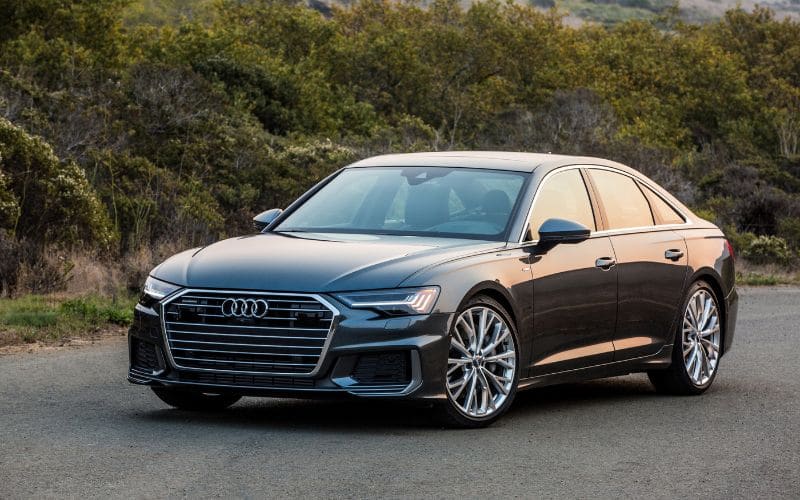 1. Airbag Problems
According to Car Problem Zoo, a site that collects owner feedback, the most commonly reported problem with the Audi A6 is due to its airbags.
Throughout its history, the A6 has had a number of issues with its airbags, many of these have been covered by recalls.
The oldest recall for airbags affected 30,587 A6 sedans, model years from 1998 – 2000.
These poorly engineered airbags were known to allow moisture in which could cause them to deploy without enough force or in some cases too much force, therefore not offering adequate protection to the occupants – the problem was addressed by replacing the inflator.
Although these were Takata airbags this recall was separate from the wider Takata recall that affected tens of millions due to exploding airbags.
More recently, Audi recalled 139,249 sedans, including A6 model years from 2012 to 2018, due to a faulty sensor that could prevent the car's front passenger airbag from deploying in a crash.
The problem is caused by wear and tear to a passenger occupant detection system (PODS), which as the name suggests – determines whether someone is sitting in the front passenger seat.
If the sensor has become damaged, the airbags may not deploy properly in the event of a crash.
The fix for this problem is to replace the faulty sensor and fit a protective cover for the new one.
Several owners have also complained that Audi has taken an unreasonable amount of time to fix the issue due to the unavailability of parts.
Solution
Whether you're in the market for a new A6 or you're the owner of one – always run the car's VIN using either Audi's recall lookup tool on their website or on the NHTSA website to see if the vehicle has been subject to a recall.
There have been a number of airbag recalls for the A6 so it's a good idea to check and see if you have been affected.
There are some online reports from owners who have crashed their A6s and the airbags did not deploy – we suspect a number of these will be due to unaddressed recalls.
Due to the technical nature of this problem you should leave this to the dealership to fix, messing around with your car's airbags will also void the warranty.
If your A6 has been recalled Audi will carry out the repairs free of charge.
2. Electrical System Malfunction
A common complaint you'll find from Audi A6 owners is that the instrument panel displays the warning 'Electrical System Malfunction', this is often accompanied by a red or yellow battery icon.
This problem has mostly been reported on newer models, from 2017 onwards.
Owners have been left stranded by this issue as the car can become inoperable and in most instances the car needs to be towed, some owners have even reported smoke coming from the hood.
The problem is usually caused by the failure of the DC to DC voltage converter that steps down 48 volts to 12 volts.
Here's what a few owners have had to say on the matter:
"The dealer identified the issue as an "internal failure" of the generator and 48v battery system, but had no explanation as to why it happened nor can they guarantee it will not happen again."
"The DC to DC converter that changes the 48 volt system to the 12 volt system failed resulting in a complete failure of the car. It could not be started. Absolutely nothing worked except for the headlights that were stuck ON."
Solution
A common fix for this issue is to swap out the 48V battery in the back and replace the generator (alternator with a mini battery) up front.
However, if you're not mechanically inclined you should leave this to the dealer to sort as there could be any number of reasons why you get an electrical malfunction.
Related: 29 Best & Worst Audi A6 Years (With Pictures & Stats)
3. Burning Oil
A commonly reported complaint from Audi A6 owners is that their car is consuming large amounts of oil. This complaint is common across 2012 – 2017 Audi models with 2.0L turbocharged engines and is often attributed to a piston defect.
On the popular Audi forum AudiWorld.com, you can find a number of threads on this hot topic and not just for the A6.
Here's what a couple of unhappy drivers had to say:
"In 2018, I bought a 2014 A6. Had the 64K mile check done. They said you're good to go. 6 months later I took it in for oil consumption – now, it's going thru 3/4 of a quart in less than 600 miles. Dealership says the manufacturer told them to basically rebuild the engine. Seven thousand dollars!! And they're saying its gonna be on me!!"
"Add oil warning light on. The car tells me to add 1 quart of oil every 200-300 miles. Car has a known excessive oil consumption issue because Audi made a bad batch of piston rings on engine code CAE and they refuse to admit it. Class action lawsuit was filed against them and was settled in sept 2014 and now it's time for a recall on this issue."
Excessive oil consumption occurs because the combustion chamber is not properly sealed off from the A6's turbo engine parts that need to stay lubricated.
Because of insufficient lubrication, fragments of the piston rings flow through the engines causing damage.
This can also lead to a sudden loss of engine power.
Solution
If your Audi is burning oil then you may need to replace the pistons rings and possibly even the pistons themselves and the connecting rod bearings.
Piston rings create a seal between the piston and cylinder wall, this prevents pressurized combustion gases from entering the oil sump. They also help regulate oil consumption by preventing excessive oil from going into the combustion chamber and burning.
You should take your Audi to your local dealer and they will perform a 2 part oil consumption test.
Keep in mind some Audis do burn a lot of oil, which is normal, although if it is excessive the oil consumption test will show this.
4. Audi A6 Vibrates or Shakes When Braking
A number of Audi A6 owners have reported that their car shakes or vibrates whilst braking.
This problem has been reported mostly on model years pre-2016 and it's another hot topic on Audi forums.
The vibrating usually occurs when braking from higher speeds and is most noticeable in the front brake pads.
Solution
Vibrating when braking is often attributed to warped rotors and worn-out tires, however on Audi's, this problem is often caused by pad material that have built up on the brake pads.
Essentially the pads leave deposits in and on the surface of the rotors when hot.
Extraordinarily heavy braking is said to cure it.
Some owners have used a 60-grit sanding pad and have been able to completely cure the problem, although for others the problem then comes back 6 months later.
Aftermarket pads seem to do this more than the OEM pads, but they ALL do it.
5. Digital Display Failure
The number one complaint of Audi A6 owners according to data from Repair Pal, is the failure of the digital display portion of the instrument panel.
This problem has been reported on 11 model years in total, but mostly from 1996 – 2006.
Here is what most customers reported:
The whole instrument panel had lines thru it and was very hard to see
The instrument panel works however the display lighting does not come on
Lines through display and faded parts
Solution
The only way to fix the failed digital display is to replace the entire instrument cluster.
Fortunately, this problem is not so much of an issue for models made post-2006.
Related: How Long Do Audi A6 Last? (12 Important Facts)
Audi A6 Model Years With the Most Problems
To get a better idea of which Audi A6 has the most problems the fairest way is to compare models based on the number of vehicles sold in relation to the number of reported problems.
We're using Car Complaints PPMY index which means problems reported per thousand vehicles per Year.
For example, newer cars will have fewer complaints simply because they've been around for less time.
Based on this index, the most problematic years are:
2020 – 0.67 PPMY
2019 – 0.51 PPMY
2012, 2005 – 0.43 PPMY
And the least problematic years are:
2018 – 0.09 PPMY
2021 – 0.11 PPMY
2004 – 0.12 PPMY
Audi A6
Model Year
Problems
Sales
Vehicle Age
PPMY Index
2021
1
9,276
1
0.11
2020
8
5,948
2
0.67
2019
29
18,509
3
0.52
2018
6
16,259
4
0.09
2017
12
16,973
5
0.14
2016
42
29,390
6
0.24
2015
21
14,787
7
0.20
2014
34
20,254
8
0.21
2013
68
21,059
9
0.36
2012
78
18,334
10
0.43
2011
19
7,250
11
0.24
2010
22
6,908
12
0.27
2009
22
4,283
13
0.40
2008
71
16,641
14
0.30
2007
61
11,640
15
0.35
2006
79
18,115
16
0.27
2005
113
15,456
17
0.43
2004
35
15,884
18
0.12
2003
72
18,548
19
0.20
2002
97
22,206
20
0.22
2001
115
33,896
21
0.16
2000
151
26,292
22
0.26
1999
224
–
23
–
1998
131
–
24
–
1997
21
–
25
–
1996
51
–
26
–
Source: Car Problem Zoo
Audi A6 Pros and Cons
If you're considering a Audi A6 as your next car you might be wondering what its strengths and weaknesses are…
Pros
Smooth engine performance
High-tech, upscale cabin
Premium fit and finish
Optional V6 with plenty of oompf
Delivers on luxury
Cons
Exterior styling not overly exciting
Small cubby space
Mediocre trunk space
Audi A6 Reliability Compared to Similar Cars
Consumer Reports rankings detailed below is based on the model's newest three years, the Audi A6 sits right at the top, with a relatively good score of 69/100.
Note: Consumer Reports may have given the Audi A6 the lowest ranking although other auto review sites have given much more favorable scores.
| | |
| --- | --- |
| Make & Model | Consumer ReportsReliability Score |
| Audi A6 | 69 |
| Lexus ES | 68 |
| BMW 5 Series | 51 |
| Mercedez-Benz E-Class | 33 |
| Genesis G80 | 30 |
| Volvo S90 | 29 |
| Maserati Ghibli | 25 |
Source: Consumer Reports
Audi A6 Used Value
We've taken a look on Car Gurus to gauge the resale value of a Audi A6, below are typical asking prices for each model year.
According to Car Edge, a Audi A6 will depreciate 46% after 5 years and have a 5 year resale value of $35,744.
Note: Used model prices will vary depending on trim level.
| | | |
| --- | --- | --- |
| Model Year | Mileage (miles) | Resale Price |
| 2022 | 1,538 | $55,806 |
| 2021 | 4,464 | $55,500 |
| 2020 | 13,288 | $46,692 |
| 2019 | 75,391 | $37,500 |
| 2018 | 41,000 | $25,000 |
| 2017 | 42,039 | $25,887 |
| 2016 | 81,476 | $24,041 |
| 2015 | 110,333 | $15,995 |
| 2014 | 106,000 | $15,995 |
| 2013 | 79,636 | $18,991 |
| 2012 | 120,000 | $10,000 |
| 2011 | 124,377 | $9,999 |
| 2010 | 134,529 | $8,980 |
Source: Car Gurus
What Do Owners Like and Dislike About the Audi A6?
Based on owner feedback from the Kelley Blue Book site here are what real-life owners love and hate about the Audi A6.
Likes
Value
Comfort
Quality
Acceleration
Good at long trips
Fun to drive
Dislikes
Electronics issues
Interior storage
Transmission noise
Handling
Value drops quickly
Owners Reviews
"I recently purchased an A6 V6. The car is very comfortable, drives smooth and has great handling. However, about 60% of the time there is a loud clunking noise that happens when I come to a stop…"
Source: Kelley Blue Book
"This is already my second A6, previous one was 2013. Overall, I like Audi more than MB and BMW, no matter in services, style, performance and reliability. For sedan, S8 and A6 are the best. Minor problem on electrical parts is unavoidable but dealer can fix it within a reasonable time."
Source: Kelley Blue Book
"… I found the transition in driving my 2015 to a 2022 A6 to be easy with a modest learning curve for all of the new technology. I am extremely pleased with my new A6 Premium Plus 55 (V6) with the Executive Package…"
Source: Edmunds
Related: 5 Most Common Problems of the Audi A4 (Explained)
How Reliable Are Audi Cars?
According to a recent report from Consumer Reports, Audi are ranked the 15th most reliable car manufacturer out of 28 brands, with a score of 47/100.
| | | |
| --- | --- | --- |
| Ranking | Brand | Score |
| 1 | Lexus | 76 |
| 2 | Mazda | 75 |
| 3 | Toyota | 71 |
| 4 | Infiniti | 69 |
| 5 | Buick | 66 |
| 6 | Honda | 66 |
| 7 | Subaru | 66 |
| 8 | Acura | 64 |
| 9 | Nissan | 63 |
| 10 | Mini | 60 |
| 11 | Hyundai | 56 |
| 12 | Chrysler | 54 |
| 13 | Porsche | 52 |
| 14 | Chevy | 48 |
| 15 | Audi | 47 |
| 16 | Cadillac | 47 |
| 17 | BMW | 45 |
| 18 | Ford | 44 |
| 19 | Kia | 43 |
| 20 | Volvo | 42 |
| 21 | Ram | 40 |
| 22 | GMC | 37 |
| 23 | Mercedes-Benz | 34 |
| 24 | Volkswagen | 31 |
| 25 | Genesis | 30 |
| 26 | Jeep | 26 |
| 27 | Tesla | 25 |
| 28 | Lincoln | 18 |
Source: Consumer Reports
Sources
https://www.consumerreports.org/cars/audi/a6/
https://www.carcomplaints.com/Audi/A6/
https://www.carproblemzoo.com/audi/a6/
https://www.edmunds.com/audi/a6/
https://caredge.com/audi/a6/depreciation