The Audi A6 is a luxury sports sedan that made its debut for the 1994 model year.
It boasts a powerful engine, a nicely appointed interior and a tech-heavy features list.
In this article we'll take a closer look at the average lifespan of the A6.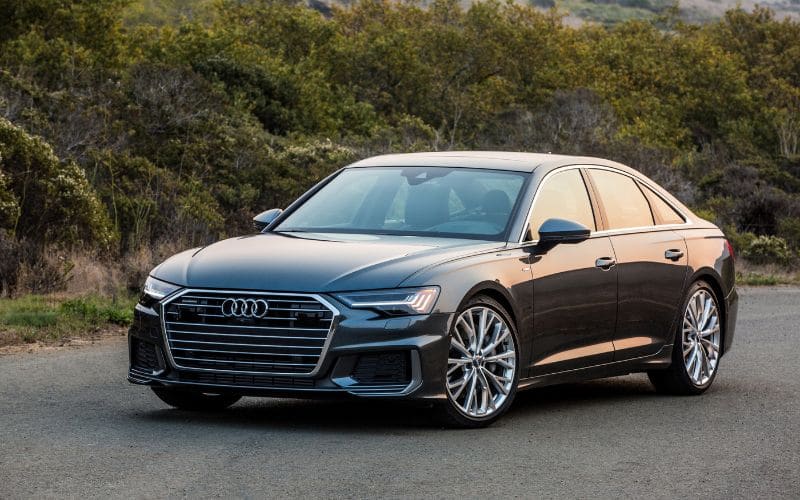 Here is the short answer to how long the Audi A6 lasts:
The Audi A6 is can last 200,000 miles on average when properly maintained, some may last over 250,000 miles although these are the outliers. Based on driving 15,000 miles per year, you can expect 13 years of reliable service before requiring expensive repairs or breaking down.
How Many Miles Can You Expect from an Audi A6?
German automaker Volkswagen is the parent company of Audi, and although neither manufacturer is lorded for their reliability, it's fair to say their cars are built to last.
Audi placed 15th out of 28 car brands for reliability from a recent Consumer Reports survey, VW placed 24th.
There's lots of evidence indicating that an A6 can last 200,000 miles and on used car websites you'll even find a few hovering around the 250,000-mile mark.
After clocking so many miles dependability tends to drop off and should one of the major parts fail, like the engine or transmission, the repair costs would likely be more than the car is worth.
As with any luxury European car, outside of warranty repair costs (including parts and labor) can be very expensive.
The lifespan of your A6 will mostly depend on how well you look after it, your style of driving and to some extent luck.
Of course, these car are engineered for speed and performance, but driving around like James Bond in a high-speed persuit will accelerate wear and tear and will shorten the lifespan of the vehicle.
The life expectancy of your Audi A6 will be cut short if you avoid:
Using quality parts
Service appointments
Routine oil changes
Regular car washes
Tire rotations
Driving smoothly
Audi offers a 4-year / 50,000 mile basic warranty and a 4-year / 50,000-mile powertrain warranty.
What Problems Do Audi A6 Have?
The A6 is a great all-rounder but like any car, it's not perfect.
Airbag Recalls
The Audi A6 has had a number of issues with its airbags over the years, and there have been a number of high-profile recalls including the infamous Takata recall, which affected millions of vehicles.
The most recent airbag recall affected A6s from 2012 – 2018, this was due to a faulty sensor that meant the passenger's airbag may not deploy.
You should always run a VIN check on your vehicle on the NHTSA website to see if you have been affected by a recall.
Storage Space
Auto website Car and Driver has criticized the A6 for having stingy amounts of cubby storage space.
Burning Oil
Audi's with high oil consumption is a common complaint from owners – its not just for the A6.
In some instances, there's nothing wrong with the vehicle, and Audi has gone on record saying that high oil consumption is normal.
Although in many cases, faulty piston rings are to blame.
To confirm whether or not your oil consumption is excessive, Audi has a 2 part oil consumption test.
Related: 5 Most Common Problems With Audi A6 (Explained)
What is High Mileage for a Audi A6?
An Audi A6 with over 100,000 miles is considered high mileage. At this stage in the car's life it will have acquired some degree of wear and tear on parts and components and will be more prone to repairs; outside of warranty repair costs can be expensive.
Purchasing an Audi A6 that has big numbers on the odometer isn't necessarily a bad investment, it really depends on how well it's been looked after.
A well-looked-after A6 with high mileage is a better than choce than one with a fraction of the mileage that's been badly abused.
If you're buying a second-hand Audi A6, consider the following:
Take it for a test drive. Ask the owner to leave the car cold, this way you'll see how easily it starts. When driving keep an ear out for strange noises like tapping, knocking or clicking.
Maintenance history. The owner should be able to provide documented evidence that the car has been serviced at Audi's required intervals.
Check for rust. Rust is a problem that will spread, always check under the car too.
Number of previous owners. As a general rule, less is better – more owners usually equate to more wear-and-tear.
Examine the interior. The condition of the interior will give some big clues as to how the owners looked after their A6.
How Long Does the Audi A6 Last Compared to Similar Luxury Cars?
In this section, we'll look at some of the Audi A6's closest competitors and see how they stack up in terms of durability and repair costs.
Audi A6 vs. Mercedes-Benz E-Class
The Mercedes-Benz E-Class is an elegant sedan with good performance and lots of tech features.
The Mercedes-Benz E-Class can last 200,000-250,000 miles or 13-17 years, slightly longer than what is expected of the Audi A6.
Audi A6
Mercedes-Benz E-Class
RepairPal Reliability Rating
3.5/5.0
3.5/5.0
RepairPal Reliability Ranking
8th / 30
Luxury Fullsize Cars
12th / 30
Luxury Fullsize Cars
Average Annual Repair Cost
$913
$788
Kelley Blue Book Reliability Score
4.6/5.0
4.2/5.0
JD Power Quality & Reliability Score
69/100
78/100
The A6 is sportier than the E-Class but it's not as high-class or high-tech.
If your looking for a sports sedan then the A6 is the better choice although the E-Class has more comfort and elegance.
Related: How Long Do Mercedes-Benz E350 Last?
Audi A6 vs. BMW 5 Series
The 5 Series is an executive car from rival German brand BMW.
The BMW 5 Series can last 200,000 – 250,000 miles or 13 – 17 years, slightly longer than what is expected of the Audi A6.
Audi A6
BMW 5 Series
RepairPal Reliability Rating
3.5/5.0
3.0/5.0
RepairPal Reliability Ranking
8th / 30
Luxury Fullsize Cars
13th / 30
Luxury Fullsize Cars
Average Annual Repair Cost
$913
$825
Kelley Blue Book Reliability Score
4.6/5.0
4.6/5.0
JD Power Quality & Reliability Score
69/100
80/100
These cars are fairly evenly matched across the board and choosing between the two will come down to personal preference.
The 5 Series has lots of engine choices although it's criticized for not being particularly engaging to drive and for having a bland interior.
The A6 isn't particularly breathtaking to drive either but is praised for its nicely-trimmed interior.
Audi A6 vs. Lexus ES 350
The ES 350 features a four-cylinder engine and delivers luxury, comfort and quietness.
The Lexus ES 350 can last 250,000 – 300,000 miles or 17 – 20 years, greater than what is expected of the Audi A6.
Audi A6
Lexus ES 350
RepairPal Reliability Rating
3.5/5.0
4.0/5.0
RepairPal Reliability Ranking
8th / 30
Luxury Fullsize Cars
4th / 30
Luxury Fullsize Cars
Average Annual Repair Cost
$913
$468
Kelley Blue Book Reliability Score
4.6/5.0
4.0/5.0
JD Power Quality & Reliability Score
69/100
81/100
Lexus is the luxury division of Toyota, so it should come as no surprise these cars can go the distance.
Choosing between the two will largely be dependent on your budget as the Lexus is significantly cheaper – it's not especially exciting but it does tick the box of being a plush-riding luxury sedan.
Comparison Chart
| | | | | |
| --- | --- | --- | --- | --- |
| | Audi A6 | Mercedes-Benz E-Class | BMW 5 Series | Lexus ES 350 |
| Annual Repair Cost | $913 | $788 | $825 | $468 |
| Reliability Rating | 3.5/5.0 | 3.5/5.0 | 3.0/5.0 | 4.0/5.0 |
| KBB Consumer Rating | 4.6/5.0 | 4.2/5.0 | 4.6/5.0 | 4.0/5.0 |
| J.D. Power Rating | 69/100 | 78/100 | 80/100 | 81/100 |
| Lifespan (miles) | 200k | 200k-250k | 200k-250k | 250k-300k |
Is the Audi A6 Reliable?
The Audi A6 has received mixed ratings for reliability over the years – sometimes below average, from 2016 onwards however the A6 has received much higher scores for reliability. Owner feedback is generally positive regarding reliability although repair costs are not cheap.
When people think of the most dependable car makers it's often the Japanese brands that spring to mind, although in recent times German automaker Audi has risen up through the rankings and bolstered the reliability ratings on a number of their models including the A6.
According to data from Consumer Reports, since 2016 the A6 has scored an average of 4/5 for reliability, prior to 2016 reliability scores ranged from 2/5 to 3/5.
The reliability scores in earlier years were badly affected by airbag recalls, tech glitches and oil consumption problems, although Audi has managed to resolve many of these issues.
Here's what a few owners on Audi forums had to say about the reliability of their A6:
"There have not been many problem areas with the A6. Part of the reason is that not many have more than 100,000 miles. There are a few common areas that I read about. Usually things like squeaking brakes and phone connectivity issues in the older (2012) models."
"My A6 has been the most reliable car in my ownership history, but it only has 50k miles on it. To compare it to a Mercedes wouldn't be fair, but I'm not discounting these cars might be $999 to fix…"
"My 2012 2.0T has been solid. 65k miles on it now and it still looks and drives like new. Actually, I recently put on Michelin Premier A/S tires and they ride so smooth and quiet that it's better than new with the original ContiProContacts. My engine doesn't consume any oil even with a 10k interval, and I'm learning and getting the tools to do some of the maintenance myself to keep costs down."
The Audi A6 has received the following reliability scores:
Repair Pal gives the A6 a respectable score of 3/5 which ranks it 8th out of 30 luxury midsize cars
JD Power gave the A6 an average reliability score of 69/100
The Kelley Blue Book gave the A6 a reliability score of 4.4/5.0
Reliability Compared to Other Luxury Cars
Reliability
Ranking
Model
Reliability
1
Acura RL
4.0 / 5.0
2
Lincoln Town Car
4.0 / 5.0
3
Lexus GS350
4.0 / 5.0
4
Volvo S80
4.0 / 5.0
5
Infiniti M37
3.5 / 5.0
6
Infiniti M35
3.5 / 5.0
7
Hyundai Genesis
3.5 / 5.0
8
Audi A6
3.5 / 5.0
9
Lexus LX570
3.5 / 5.0
10
Lexus LS460
3.5 / 5.0
11
Cadillac XTS
3.5 / 5.0
12
Mercedes-Benz E350
3.5 / 5.0
13
BMW 528i
3.5 / 5.0
14
Cadillac DTS
3.0 / 5.0
15
Mercedes-Benz CLS550
2.5 / 5.0
16
Mercedes-Benz E550
2.5 / 5.0
17
Audi A6 Quattro
2.5 / 5.0
18
BMW 535i
2.5 / 5.0
19
Jaguar XJ
2.5 / 5.0
20
BMW 528i xDrive
2.5 / 5.0
21
Hyundai Equus
2.0 / 5.0
22
Mercedes-Benz SL550
2.0 / 5.0
23
BMW 535i xDrive
2.0 / 5.0
24
BMW 650i
2.0 / 5.0
25
Mercedes-Benz S550
2.0 / 5.0
26
BMW 750Li
2.0 / 5.0
27
Audi A7 Quattro
2.0 / 5.0
28
Audi A8 Quattro
1.5 / 5.0
29
BMW 550i
1.5 / 5.0
30
Porsche Panamera
0.5 / 5.0
Avg. Lux. Fullsize Car
2.5
The Best and Worst Years for the Audi A6
We've done some digging to find out the best and the worst A6 model years.
Worst Model Year
The worst model years for the Audi A6 are 1999, 2005, and 2012 based on data from car owner feedback sites.
The engine on the 2012 Audi A6 model was problematic – specifically, it had leaky fuel rails caused by failed fuel injectors, there were recalls to address this issue.
2005 was a bad year for the Audi A6 with many owners complaining about airbag recall problems, here's one owner's experience:
"Takata recall – I have contacted Audi twice, they have told me they had to order the part and once they receive the part they would call me to set an appointment to repair the airbag. I have been waiting about 6 months (maybe longer). I have not heard back from them."
The 1999 A6 was plagued by electrical problems that in several instances caused the car to catch fire – there are numerous reports from owners who described seeing smoke coming through the vents followed by flames.
The cause of the fire was unknown to many despite Audi carrying out investigations however one owner reported that the fire department was able to trace the source of the fire using a heat sensing tool, to the fusebox behind the headlight switch.
Best Model Year
The best Audi A6 models are from 2016 onwards, these have received the best scores for reliability, the fewest overall complaints and they benefit from the most up-to-date technology and features.
Generally speaking, most cars get better as they progress through the model years as they are fine-tuned and problems are ironed out, so it shouldn't come as too much of a surprise that the latest A6 models are the best.
The newer models also have a revamped design and there is also the availability of the latest driver assistance features such as remote parking.
It detects suitable parking spaces and can maneuver the car into and out of a parallel or bay parking space at the push of a button.
Newer models will also have the latest MMI infotainment system which is continually upgraded.
Related: 29 Best & Worst Audi A6 Years (With Pictures & Stats)
What About Recalls for These Models?
The Audi A6 has had a total of 78 recall campaigns since 1996.
You can check if your Audi A6 has been subjected to a recall campaign by entering your VIN (Vehicle Identification Number) on Audi's recall site or the NHTSA recall database.
It is important to note that recalls are manufacturing faults repaired at no charge for the consumer.
Here is the total number of recall campaigns for every model year of the Audi A6:
2021 Audi A6: 6
2020 Audi A6: 6
2019 Audi A6: 3
2018 Audi A6: 2
2017 Audi A6: 3
2016 Audi A6: 3
2015 Audi A6: 4
2014 Audi A6: 4
2013 Audi A6: 6
2012 Audi A6: 8
2011 Audi A6: 3
2010 Audi A6: 3
2009 Audi A6: 4
2008 Audi A6: 3
2007 Audi A6: 3
2006 Audi A6: 4
2005 Audi A6: 3
2004 Audi A6: 1
2003 Audi A6: 2
2002 Audi A6: 0
2001 Audi A6: 2
2000 Audi A6: 3
1999 Audi A6: 1
1998 Audi A6: 1
1997 Audi A6: 0
1996 Audi A6: 0
Audi A6 Model Year List
First Generation (1994-1997)
1994 Audi A6
1995 Audi A6
1996 Audi A6
1997 Audi A6
Second Generation (1998-2004)
1998 Audi A6
1999 Audi A6
2000 Audi A6
2001 Audi A6
2002 Audi A6
2003 Audi A6
2004 Audi A6
Third Generation (2005-2011)
2005 Audi A6
2006 Audi A6
2007 Audi A6
2008 Audi A6
2009 Audi A6
2010 Audi A6
2011 Audi A6
Fourth Generation (2012-2018)
2012 Audi A6
2013 Audi A6
2014 Audi A6
2015 Audi A6
2016 Audi A6
2017 Audi A6
2018 Audi A6
Fifth Generation (2019-Present)
2019 Audi A6
2020 Audi A6
2021 Audi A6
2022 Audi A6
2023 Audi A6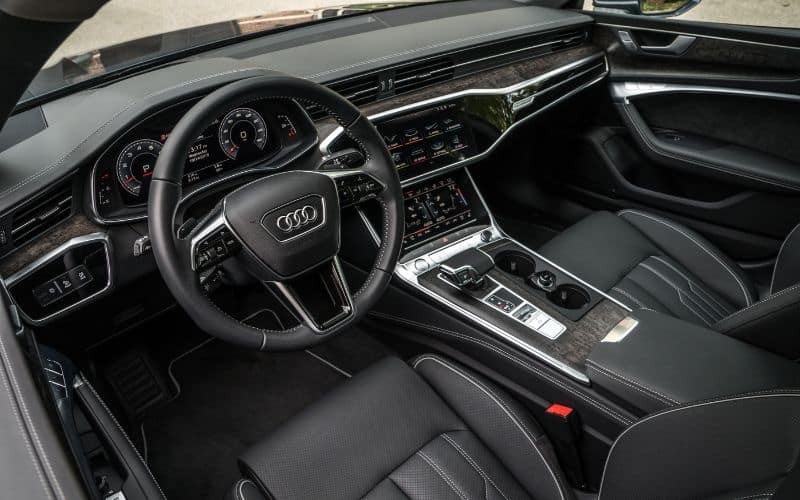 Are Audi A6 Expensive to Maintain?
According to Repair Pal an Audi A6 will cost an average of $913 per year in repairs and maintenance. This is just below the average of $976 for luxury full-size cars and greater than the average for all vehicles across different segments, which is estimated at $652.
As a luxury German brand, you can expect an Audi to be more expensive to maintain than the average car, although costs will be on a similar level to Mercedes and BMWs.
Model
Avg. Annual
Repair Cost
Frequency of
Unscheduled Repairs
(per year)
Probability of
Severe Repairs
Acura RL
$539
0.4
10%
Lincoln Town Car
$635
0.2
12%
Lexus GS350
$592
0.6
9%
Volvo S80
$705
0.5
9%
Infiniti M37
$628
0.6
9%
Infiniti M35
$605
0.6
11%
Hyundai Genesis
$565
0.6
14%
Audi A6
$913
0.3
12%
Lexus LX570
$832
0.8
9%
Lexus LS460
$767
0.6
13%
Cadillac XTS
$875
0.4
13%
Mercedes-Benz E350
$788
0.6
13%
BMW 528i
$825
0.9
12%
Cadillac DTS
$757
0.4
18%
Mercedes-Benz CLS550
$985
0.8
15%
Mercedes-Benz E550
$1,059
0.7
14%
Audi A6 Quattro
$1,056
1.1
12%
BMW 535i
$977
1.0
16%
Jaguar XJ
$1,232
0.5
16%
BMW 528i xDrive
$984
1.4
13%
Hyundai Equus
$976
1.0
20%
Mercedes-Benz SL550
$1,055
0.9
20%
BMW 535i xDrive
$1,123
1.4
16%
BMW 650i
$1,012
1.1
23%
Mercedes-Benz S550
$1,249
1.0
20%
BMW 750Li
$1,027
1.1
23%
Audi A7 Quattro
$1,251
1.6
14%
Audi A8 Quattro
$1,298
1.1
20%
BMW 550i
$1,046
1.1
25%
Porsche Panamera
$1,252
2.2
25%
Avg. Lux. Fullsize Car
$976
0.8
14%
How Long Do the Brakes Last?
Audi A6 brake pads will typically last between 30,000 and 60,000 miles. This can vary and really depends on how you drive, if you live in a city or rural location and how bad the traffic conditions are.
You can expect your brakes to wear out sooner if you frequently stop and accelerate in rush-hour traffic
Full and complete stops from a high speed are the #1 cause of premature brake pad wear.
A sporty driving style will lead to faster deterioration of brakes. A slow and steady style will help them last longer.
How Long Do the Tires Last?
The Audi A6's stock tires usually last between 40,000 to 50,000 miles or roughly 3 years. This really depends on factors, such as driving habits, climate, and road conditions.
Rotate tires every 5,000 miles to ensure even wear.
Check your tire pressure every few weeks to make sure they're at the correct tire pressure.
Have a mechanic or tire shop check your wheel alignment every 6 months.
How Long Do Audi A6 Engines Last?
A well-kept Audi A6 engine should last at least 200,000 miles, although they can last much longer.
How Long Do Audi A6 Batteries Last?
The Audi A6 12V battery should last between 3 – 5 years. A car's battery life varies depending on different factors such as climate, driving habits, and battery type, among many others.
Keep your battery tightly fastened: The vibrations of your car can loosen the connections, potentially resulting in short circuits and internal damage.
Limit short rides: Quick car rides prevent the battery from fully charging.
Storage: Keep your Audi A6 stored indoors to protect it from extreme temperature changes.
Control Corrosion: Clean the terminals (toothbrush dipped in baking soda and water mixture) and keep them free from build-up.
How Long Do the Spark Plugs Last?
Audi A6 spark plugs should typically last 100,000 miles, although these will be inspected when you take your car for a tune-up, and if needed replaced.
Signs of a fouled spark plug include:
Reduced gas mileage
Lack of acceleration
Rough idling
Hard starts
Engine misfires
What About Insurance Costs?
The average cost of full comprehensive coverage for an Audi A6 is $2,000 per year or around $167 per month.
Insurance costs can vary from person to person; be sure to shop around to find the best potential deal for your Audi A6.
Tips to Prolong the Life of Your Audi A6
Try to drive conservatively, this will help reduce wear and tear on major parts and components
Wash your A6 regularly especially during the winter (including the underside of the car) – this will help keep rust at bay.
Wax your car a couple of times a year minimum, this will help protect the paintwork.
If you encounter any problems, have them addressed asap before they get any worse.
Check for recalls and TSBs and have them addressed.
Keep your A6 stored in a garage to protect it from the elements and bird droppings
Familiarize yourself with the owners manual and the warning symbols on the dash
Keep up to date with the routine maintenance outlined in the owner's manual
Sources
https://repairpal.com/reliability/audi/a6
https://www.jdpower.com/cars/2021/audi/a6
https://www.consumerreports.org/cars/audi/a6/
https://www.carcomplaints.com/Audi/A6/
https://www.carproblemzoo.com/audi/a6/
https://www.cars.com/research/audi-a6/recalls/
https://repairpal.com/estimator/audi/a6/brake-pad-replacement-cost