The Audi Q3 is a luxury compact SUV that was introduced as a 2015 model year.
It has a quiet interior, balanced handling, and lots of standard tech.
In this article, we'll be thoroughly examining all of the best and worst model years of the Q3.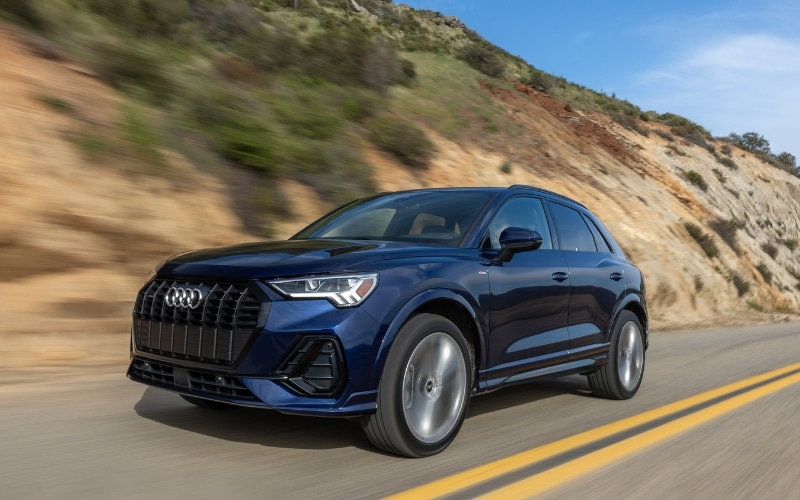 Here's The Short Answer To What The Best And Worst Years For The Audi Q3 Are:
The best Audi Q3 model years are 2024, 2023, 2021, and 2017. The worst model years of this model are 2020, 2022, 2018, 2016, 2015, and 2019. This is based on auto industry reviews, NHTSA statistics, reported problems, and consumer feedback.
What Are The Best Years For The Audi Q3?
2024 Audi Q3
The 2024 Q3 is slated to receive a full redesign, according to reputable auto websites.
To keep up with competitors, a hybrid variant may be added as a special variant.
With all the anticipated changes and upgrades circulating online, this model would most likely mark the third generation of the Q3 models.
2023 Audi Q3
The 2023 Q3 is the final second-gen model year ever produced. It is packed with tech, offers a smooth and comfortable ride and has an upscale cabin with premium materials.
There are 4 trim levels available: Premium, Premium S Line, Premium Plus, and Premium Plus S Line. Base pricing ranges from around $38,000 to $44,000.
The most popular trim is the top-spec Premium Plus S Line. It comes with a starting price of $43,695.
New for this model year are standard full LED headlights, new 19-inch and 20-inch wheel designs, and an optional wireless phone charger.
All trims come with a turbocharged 4-cylinder engine but there are 2 engine options to pick from: 40 TFSI (184 horsepower) and the 45 TFSI (228 horsepower).
Both engine options are available across the lineup. 
Out of all categories, this model secured the highest rating in the technology department, thanks to seamless Apple CarPlay compatibility, an intuitive navigation system, and a three-dimensional view of the map (which is uncommon even for luxury SUVs). 
Edmunds: 4.2 / 5.0
Kelley Blue Book: 3.6 / 5.0
J.D. Power: 78 / 100
2023 Q3, Edmunds Review:
"This is my second Audi Q3, the first being a 2015. I've had many different luxury vehicles, but this car I'm keeping forever. Love the look, comfort, but most importantly the smooth ride, visibility and safe feeling I get whenever I'm driving it. The trunk holds a lot for a small SUV, the car fits in any parking space imaginable and the highway pick up while entering an 'on' ramp with trucks coming is second to none."
2021 Audi Q3
The 2021 Q3 comes with modern amenities, a high-quality interior, and comfortable ride quality.
For this model, certain optional features were made standard for certain trims, such as power-adjustable front seats and a lane departure warning system for the entry-level Premium trim.
Speaking of trims, there are 2 to choose from: Premium and Premium Plus.
Both are equipped with a 2-liter turbocharged 4-cylinder engine (228 horsepower) that is mated to an 8-speed automatic transmission on an all-wheel-drive.
In our opinion, the higher-end Premium Plus trim provides better value for money as it comes with convenient features, including the following:
Front and rear parking sensors
Power-folding mirrors
Keyless entry
Auto-dimming rear view mirror
Satellite radio
Based on numerous reviews by owners, the following are this model's best aspects: appearance, value, comfort, technology, spaciousness, seating, driving experience, and safety.
Our favorite safety features are the Audi Pre Sense Front, Audi Side Assist, and Top View Camera.
This vehicle also received a perfect 5-star overall safety rating from the NHTSA.
Edmunds: 4.2 / 5.0
Kelley Blue Book: 3.6 / 5.0
J.D. Power: 77 / 100
2021 Q3, Edmunds Review:
"Overall I love this car. My favorite features in my 2021 Premium Plus include, 360 degree camera, Upgraded sport seats, kick to open trunk, wireless phone charger, wireless Apple Car Play, integrated infotainment screen, and keyless entry and locking. I test drove the Q3, Q5, X1, X3, C300, Macan, and the Evoque. The Audi Q3 was my favorite and having the lower base price, I was able to add many upgrades that I would not have been able to afford on the other brands…"
2021 Audi Q3
2017 Audi Q3
The 2017 Q3 is the only first-gen model to make it to this list and deservedly so.
It rides comfortably on rough roads, produces minimal noise at highway speeds, and is made of high-quality materials inside and out.
Auto critics have praised this model for its excellent cargo capacity that beats some competitors.
This model came in several trim levels: Premium, Premium Quattro, Premium Plus, Premium Plus Quattro, Prestige, and Prestige Quattro.
The Quattro variant of Audi models means that the trim utilizes Audi's patented all-wheel-drive technology (offers more traction, stability, and handling than a standard all-wheel-drive).
On average, the EPA estimates a fuel efficiency of 23 MPG for combined city and highway driving, which is respectable for a small luxury SUV. 
According to owners, these are the best aspects of this model: appearance, handling, steering, interior, value, minimal road noise, fuel efficiency, acceleration, and safety.
Edmunds: 4.2 / 5.0
Kelley Blue Book: 4.9 / 5.0
J.D. Power: 79 / 100
2017 Q3, Edmunds Review:
"I've been a long-time Audi owner (A6, TT, A4) so it seemed pretty straight-forward to try out the Audi line when we were ready to replace our SUV. I had been eagerly awaiting the US release of the Q3 after researching it from afar. Before buying, I drove the Q7 and Q5 for comparison. Both beautiful cars, but we were looking for something compact. I give the Q3 5-stars in every category but acceleration, control logic, and road noise…"
Consumer Scores For Best Audi Q3 Years
Model Year
Edmunds
Consumer Rating
Kelley Blue Book
Consumer Rating
J.D. Power
Consumer Rating
2024 Audi Q3
NA
NA
NA
2023 Audi Q3
4.2 / 5.0
3.6 / 5.0
78 / 100
2021 Audi Q3
4.2 / 5.0
3.6 / 5.0
77 / 100
2017 Audi Q3
4.2 / 5.0
4.9 / 5.0
79 / 100
Related: How Long Do Audi Q3 Last? (12 Important Facts)
What Are The Worst Years For The Audi Q3?
2020, 2019, and 2018 Audi Q3
The 2020 Q3 is statistically the most problematic model year ever produced.
The 2019 and 2018 model years share similar problems with the 2020 model (albeit with fewer reported problems and complaints).
Vehicle stalling was reported as the worst and one of the most common problems. Owners reported that stalling occured whether or not the vehicle was in motion.
Below are owner reports from CarProblemZoo.com:
"My daughter was driving with her brother and a friend and stopped at an intersection on a red signal. The car stopped and would not start. Definitely the safety of the passengers and the people behind were put at risk because of a stalled car due to engine failure at a busy intersection."
"The contact stated that on numerous occasions, the check engine warning light was intermittently illuminated. The contact then stated that while driving at undisclosed speed, the vehicle hesitated and stalled."
Problems with the auto start/stop due to software issues were also widely reported.
"The start-stop feature needs to be deactivated otherwise the wheel locks up once stopped and vehicle does not move forward once foot releases off brake"
"I purchased my 2020 Q3 on Dec 31 2019. Within 2 weeks my car stopped at the signal light with a malfunction of auto stop/start issue and would not move forward."
Sunroof leakage was also common and is a result of a design flaw.
The 2020 Q3 had a total of 8 complaints according to CarComplaints.com and 92 problems based on CarProblemZoo.com data.
The 2019 Q3 had a total of 2 complaints according to CarComplaints.com and 13 problems based on CarProblemZoo.com data.
The 2018 Q3 had a total of 2 complaints according to CarComplaints.com and 24 problems based on CarProblemZoo.com data.
Common problems:
Sunroof leaking
Stalls unexpectedly
Steering wheel locking
Compressor failure
Broken water pump
2022 Audi Q3
A commonly reported issue experienced by 2022 Q3 owners is a malfunctioning MMI (multimedia infotainment) system with a mind of its own.
This has caused various issues as the MMI system is in charge of several safety and driver assistance features.
The reports below from CarProblemZoo.com explain the problem (and associated issues) in detail:
"The Audi MMI infotainment software will control itself. For example, with my cellphone as the main Audio device, the software will randomly switch to bluetooth, radio, or xm. The gps will stop navigating which is the biggest concern when it does happen. It is an instant distraction that is hard to ignore. Especially when navigation is needed. Also, the garage door 'button' does not work sometimes which is not enjoyable during the snowy seasons where I have to actually get out and walk across slippery ground to close my garage…"
"The infotainment system is damaged resulting in the display screen being blacked out. All of the safety features including rear view camera, parking assistance, hands-free phone, and all other vehicle settings are not available. There are multiple warning notifications on the dashboard indicating a malfunction in the interior lighting, lane change, and parking systems. Even before the screen went out the rear camera would malfunction when the vehicle is in reverse. The sensor would cause the vehicle to abruptly brake even though there was no obstruction behind…"
Reportedly, Audi is aware of this issue and is set to initiate a recall campaign.
The 2022 Q3 had a total of 3 complaints according to CarComplaints.com and 27 problems based on CarProblemZoo.com data.
Common problems:
Car randomly shuts off
MMI issues
Loud brake squealing at low speeds
2016 Audi Q3
The 2016 Q3 received a number of complaints due to electrical issues, many of which were related to the lights.
Here is what owners had to say:
"My rear lights are not working properly. I had a malfunction warning and for the right rear light. Which is making all the lights not functioning. It almost had me rear ended.."
"Occasional shortage in turn signal and break lights."
"Light, brake, seat light, system light, tire pressure light, steering light – everything is malfunctioning including the battery light"
The 2016 Q3 had a total of 2 complaints according to CarComplaints.com and 20 problems based on CarProblemZoo.com data.
Common problems:
Broken windshield
electrical issues
Excessive oil consumption
2016 Audi Q3
2015 Audi Q3
Owners of the 2015 Q3 suffered from timing chain issues, which can lead to engine misfires, stalling, or even total engine failure.
While a recall in 2019 was initiated for this specific issue, the 2015 model year was not part of the vehicles covered (2008 to 2014 models only).
This was brought to light by one owner of this model. He had this to say:
" … My 2015 has about 51,000 miles and should not be having this issue according to several mechanics and my Audi representative could not provide me any information other than that my VIN didn't fall in the class action even if I was having the same problem. I believe my model year should at least be reviewed if the problem was common just a year before."
The 2015 Q3 had a total of 7 complaints according to CarComplaints.com and 15 problems based on CarProblemZoo.com data.
Common problems:
Cracked cylinder head
Timing chain failed
Air conditioning issues
Related: 9 Luxury Midsize SUVs With The Most Cargo Space (With Pics)
What Years Have The Most Complaints?
Model Year
Complaints
(CarComplaints.com)
Problems
(CarProblemZoo.com)
Recalls
(NHTSA.gov)
2024 Audi Q3
–
–
–
2023 Audi Q3
–
–
–
2022 Audi Q3
3
27
5
2021 Audi Q3
2
12
2
2020 Audi Q3
8
92
2
2019 Audi Q3
2
13
3
2018 Audi Q3
2
24
1
2017 Audi Q3
0
4
3
2016 Audi Q3
2
20
3
2015 Audi Q3
7
15
2
What Problems Do Audi Q3s Have?
Broken windshield
Cracked cylinder head
Compressor failure
Sunroof leaking
Stalls unexpectedly
Steering wheel locking
Timing chain failed
Air conditioning issues
What Are The Best Alternatives To The Audi Q3?
| | | | |
| --- | --- | --- | --- |
| Make & Model | Score | MSRP | Fuel Economy (MPG) |
| BMW X1 | 8.9 | $38,600 | City: 25 /Highway: 34 |
| Volvo XC40 | 8.1 | $36,350 – $46,500 | City: 23 – 24 /Highway: 30 – 32 |
| BMW X2 | 8.0 | $36,600 – $38,600 | City: 24 / Highway: 31 – 32 |
| Audi Q3 | 7.9 | $36,800 – $39,200 | City: 21 – 23 /Highway: 28 – 30 |
| Mercedes-Benz GLA-Class | 7.6 | $37,500 – $56,650 | City: 20 – 24 /Highway: 25 – 34 |
| Cadillac XT4 | 7.4 | $36,295 – $43,295 | City: 22 – 23 /Highway: 29 – 30 |
| Jaguar E-Pace | 7.2 | $48,000 | City: 20 /Highway: 26 |
| Land Rover Range Rover Evoque | 7.2 | $45,000 – $55,300 | City: 20 – 21 /Highway: 26 – 27 |
Source: cars.usnews.com, edmunds.com
Related: 5 Most Common Problems With Audi Q7 (Explained)
References
https://www.caranddriver.com/audi/q3
https://cars.usnews.com/cars-trucks/audi/q3
https://www.edmunds.com/audi/q3/
https://www.jdpower.com/cars/2023/audi/q3
https://www.carcomplaints.com/Audi/Q3/
https://www.carproblemzoo.com/audi/q3/
https://www.cars.com/research/audi-q3/recalls/