The Audi Q8 is a midsize two-row luxury SUV and is the flagship model of the German automaker.
It began as a 2019 model year in the U.S. and is known for its high-quality interior, slick driving dynamics and high-performance engine.
In this article, we'll delve into the best and worst model years of the Q8.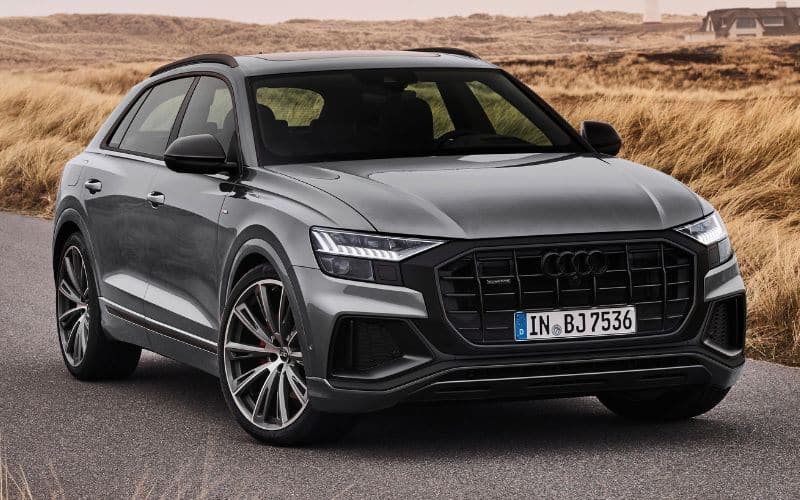 Here's The Short Answer To What The Best And Worst Years For The Audi Q8 Are:
The best Audi Q8 model years are 2023, 2022, and 2021. The worst model year of the Q8 is 2019. This is based on auto industry reviews, NHTSA statistics, reported problems, and consumer feedback.
What Are The Best Years For The Audi Q8?
2023 Audi Q8
The 2023 Q8 is an excellent performer on the road and is packed with numerous luxury and technology features.
It is the most expensive non-electric SUV in the manufacturer's current lineup and is often compared to the larger, three-row Q7.
It comes in 3 trim levels: Premium, Premium Plus, and Prestige. Pricing ranges from approximately $73,000 to $84,000.
Across the lineup, the Q8 is fitted with a turbocharged 3-liter V6 engine, aided by a 48-volt hybrid assist system, producing around 335 hp.
For those looking to get the entry-level Premium trim, an optional Convenience Package can be purchased which includes additional driver assistance features, including lane departure warning and blindspot monitor with rear cross-traffic alert.
The midrange Premium Plus has all the offerings of the Premium and the optional Convenience Package, plus a 17-speaker Bang & Olufsen sound system and upgraded interior ambient lighting, among other features.
The Premium Plus trim can be paired with the optional Executive Package which provides owners with heated rear seats, power rear side window sunshades, manual tailgate sunshade, and dual-pane side window glass.
The Prestige model has all the benefits and tech of the previously mentioned trims (and their corresponding optional packages), and a host of luxury features such as adaptive air suspension with comfort tuning and an electromechanical progressive steering system.
For those seeking to get the best version of this model, the Luxury Package for the Prestige trim adds massaging front seats wrapped in upgraded leather, additional leather trim on upper door panels, and a simulated suede headliner.
There are also a few miscellaneous packages: the Towing Package, the Black Optic Package, and the S Line Package.
Edmunds: 4.2 / 5.0
Kelley Blue Book: 4.1 / 5.0
JD Power: 75 / 100
2023 Q8, Edmunds review:
"After months of research I purchased the Q8 with Premium Trim. The Q8 has exceeded my expectations as a sporty and luxurious SUV. As a tall man (6'6"), I feel right at home in the Q8 and driving it is a lot of fun! This SUV has all kinds of power and smoothness. The Technology in the vehicle is a lot but it becomes fairly intuitive after a few days. Super quiet on the inside! One note for better or worse, the Q8 is bigger than you think – closer to the Q7 than the Q5…"
2022 Audi Q8
The 2022 Q8 comes with pleasing performance and plenty of technology to justify its steep price tag.
The model boasts high-quality cabin materials, comfortable front and rear seating, and multiple standard and optional safety features.
Of the 3 trim levels (Premium, Premium Plus, Prestige), we recommend the midrange Premium Plus variant to get the best value for money.
It has all the necessary comfort features and top-notch safety systems, along with an amazing sound system.
The sporty S Line Package also gives this trim level a more unique feel to help owners stand out from the crowd.
All trims are all-wheel-drive and powered by a 3-liter V6 mild hybrid engine paired with an 8-speed shiftable automatic transmission.
For the adventurous types, the Q8 is a great option for towing as it can haul up to 7,700 pounds (when equipped with the optional Towing Package) which is good enough to bring along a standard trailer.
The model boasts several noteworthy safety features, including Audi Pre Sense, Traffic Jam Assist, and Audi Emergency Assist.
Edmunds: 4.2 / 5.0
Kelley Blue Book: 4.1 / 5.0
JD Power: 75 / 100
2022 Q8, Edmunds review:
"We have had the Q8 for three months, and have enjoyed every minute using it. We have put around three thousand miles, and reliablity, as it should be has been flawless. It is great in the snow. We drive it to our ski house each weekend, and it is like driving a snow cat compared with our previous vehicle, the dreadful 2016 Ford Explorer which was like a toboggan. The matrix-led headlights are as though the sun is on the front of the car when the superb auto high beams are active. They are definitely a worthy upgrade. The Q8 also has a cavernous rear seat where tall people can easily stretch out."
2021 Audi Q8
The 2021 Q8 is the third iteration of the German automaker's flagship SUV.
It comes well-equipped with numerous safety features, has an extremely comfortable ride, and is built with high-quality luxury materials for its interior.
New to this model year is the blindspot monitoring with rear cross-traffic alert system which utilizes sensors on the sides of the vehicle to quickly detect vehicles that are positioned in blindspot areas of the driver.
Fuel economy estimates are respectable (but not amazing). EPA places highway driving at 23 MPG, city driving at 18 MPG, and combined driving at 20 MPG.
The midrange Premium Plus trim is a great option to get if you are looking to maximize your value for money.
Aside from standard safety and entertainment features, this trim provides owners with a wireless phone charging pad, a 360-degree parking camera, a 17-speaker audio system, and various optional features that are not available to the entry-level variant.
The model's cargo capacity (all seats upright) is approximately 30.5 cubic feet which is an average figure for the luxury segment.
It follows standard Audi warranty terms, with a 4-year/50,000-mile basic coverage, 4-year/50,000-mile drivetrain coverage, 12-year/unlimited-mileage rust coverage, and 4-year/unlimited-mileage roadside assistance coverage.
Edmunds: 4.2 / 5.0
Kelley Blue Book: 4.1 / 5.0
JD Power: 74 / 100
2021 Q8, Edmunds review:
"Overall, we are really happy with our Q8. Regardless of published reviews, this car is very quick. Its a quiet ride, the technology is really strong. It gets constant looks or people asking us what model the car is. Its a definite 4 or 4.5 stars rating for us…"
Consumer Scores For Best Audi Q8 Years
Model Year
Edmunds
Consumer Rating
Kelley Blue Book
Consumer Rating
JD Power
Consumer Rating
2023 Audi Q8
4.2 / 5.0
4.1 / 5.0
75 / 100
2022 Audi Q8
4.2 / 5.0
4.1 / 5.0
75 / 100
2021 Audi Q8
4.2 / 5.0
4.1 / 5.0
74 / 100
Related: How Long Do Audi Q8 Last? (Solved & Explained)
What Are The Worst Years For The Audi Q8?
2019 Audi Q8
The 2019 Audi Q8 was the debut model year and it got off to a bumpy start.
It experienced a high number of teething issues and has also received more complaints than any other Q8 model by some margin.
It is common for first-year models to be very problematic.
Many of the complaints are related to the powertrain, starter and alternator with owners reporting that the car would shut off whilst driving and the car would lag when accelerating, which put them in great danger when pulling out onto a busy road.
These problems have been linked to the auto-start-stop system which is designed to shut off the engine when the car comes to a stop and idles for a few seconds in order to save fuel.
Here is one owner's complaint:
"WHEN YOU TO COME TO A STOP WITH AUTO S/S ENABLED (E.G. SLOW DOWN) TO LESS THAN 6MPH, THEN ACCELERATE AGAIN, THERE IS A CONSIDERABLE LAG FOR THE VEHICLE TO START ACCELERATING AGAIN (ABOUT 1-2 SECONDS). THIS IS ESPECIALLY DANGEROUS WHEN MAKING LEFT TURNS WHEN THERE IS CROSS TRAFFIC AS THE VEHICLE OFTEN DRIFTS INTO THE INTERSECTION AND YOU CAN'T QUICKLY ACCELERATE AWAY. HAVE HAD MANY CLOSE CALLS AND THE ISSUE IS EASILY REPLICABLE ON ANY 2019 Q8."
The 2019 Q8 has a total of 67 complaints on the NHTSA website, 3 recalls and 106 technical service bulletins (TSB).
Common problems:
Does not accelerate from low speed
Engine starts to shut off when decelerating
Start-stop feature not working properly
Related: 5 Most Common Problems With Audi Q7 (Explained)
What Years Have The Most Complaints?
Model Year
NHTSA
Complaints
Recalls
Technical Service Bulletins

2023 Audi Q8
0
0
4
2022 Audi Q8
0
2
16
2021 Audi Q8
8
5
32
2020 Audi Q8
10
2
46
2019 Audi Q8
67
3
106
What Problems Do Audi Q8 Have?
Leaking sunroof
Does not accelerate from low speed
Engine starts to shut off when decelerating
Pre Sense malfunction
Infotainment system cannot activate Sirius
Coolant temperature too high
Start-stop feature not working properly
What Are The Best Alternatives To The Audi Q8?
| | | | |
| --- | --- | --- | --- |
| Make & Model | Score | MSRP | Fuel Economy (MPG) |
| Mercedes-Benz GLE-Class | 8.6 | $56,150 – $80,900 | City: 16 – 20 /Highway: 21 – 27 |
| BMW X5 | 8.5 | $61,600 – $108,900 | City: NA /Highway: NA |
| Porsche Cayenne | 8.5 | $72,200 – $188,700 | City: 14 – 19 /Highway: 19 – 23 |
| Genesis GV80 | 8.4 | $55,800 – $70,850 | City: 18 – 20 /Highway: 23 – 24 |
| Lincoln Aviator | 8.4 | $53,340 – $89,280 | City: 17 – 18 /Highway: 24 – 26 |
| Lincoln Nautilus | 8.4 | $44,825 – $67,245 | City: 19 – 21 /Highway: 25 – 26 |
| Audi Q7 | 8.3 | $57,500 – $88,500 | City: 15 – 20 /Highway: 21 – 25 |
| Land Rover Range Rover Sport | 8.3 | $83,000 – $121,500 | City: 16 – 19 /Highway: 21 – 26 |
| Volvo XC90 | 8.2 | $56,000 – $79,900 | City: 20 – 22 /Highway: 26 – 28 |
| Audi Q8 | 8.1 | $72,800 – $125,800 | City: 13 – 18 /Highway: 20 – 23 |
| Land Rover Range Rover Velar | 8.0 | $60,300 – $79,200 | City: 19 – 20 /Highway: 25 – 26 |
| Land Rover Discovery | 7.9 | $58,400 – $77,800 | City: 19 /Highway: 22 – 25 |
Source: cars.usnews.com, edmunds.com
Related: How Long Do Audi Q5 Last? (11 Important Facts)
References
https://www.caranddriver.com/audi/q8
https://cars.usnews.com/cars-trucks/audi/q8
https://www.edmunds.com/audi/q8/
https://www.jdpower.com/cars/2021/audi/q8
https://www.carcomplaints.com/Audi/Q8/