Spending many hours on the road won't be as tiresome if you have a comfortable vehicle equipped with creature comforts and modern driver aids.
Hybrid SUVs are ideal for road trips because they have more room than a regular car and get much better gas mileage than traditional SUVs, so you won't need to stop as often to fill up with gas.
Plug-in hybrids are also a great alternative for EVs because you won't have to worry about charging stations on long drives, but still get to save on gas on shorter trips.
In this article, we'll look at some hybrid SUVs and examine what features make them great for long distance driving.
1. Lexus RX 350h
The new RX 350h is one of the best hybrid SUVs for long distance driving because it combines outstanding driving comfort, cutting edge tech, and great fuel economy.
Estimated fuel economy is 34 mpg on the highway which is much better than the older hybrid model's 28 mpg. This allows you to get up to 580 miles of highway driving on a single tank of gas.
Comfort, ride quality and noise isolation are also some of the Lexus RX's best qualities, making it an excellent daily driver and road trip vehicle.
Heated and ventilated front seats are standard starting with the Premium trim level if you want to remain comfortable after spending many hours on the road.
It's also loaded with a long list of advanced driver aids that include radar cruise control and traffic sign recognition. A new feature called Driver Monitor Alert helps keep you focused even after long stints on the road.
2. Toyota Venza
The Toyota Venza uses the same chassis and engine as the bestselling RAV4 Hybrid, but is more comfortable, quieter and drives smoother overall. It's also cheaper than the Lexus NX hybrid.
Its fuel economy is virtually the same as the RAV4 Hybrid at around 37 mpg on the highway, and you can get up to 536 highway miles on a single tank of gas.
Heated and ventilated seats are standard on the range topping Venza LImited. Ventilated seats are not only useful in hot weather, but also keep the sweat off your back on long drives.
All models come standard with radar cruise control, lane departure alert and traffic sign assist, along with many other driver aids and safety features that make it easier to drive.
Another fancy feature of the Venza is its StarGaze panoramic moonroof which can be changed from frosted to clear at the push of a button.
3. Kia Niro Hybrid and Plug-in Hybrid
If your priority is highway fuel economy, then there's no better choice than the Kia Niro Hybrid and Plug-in Hybrid.
The Niro is a subcompact crossover, so it's much smaller and lighter than other SUVs which translates to better fuel economy.
The Niro Hybrid gets 54 mpg on the highway and can go up to 600 miles on a single tank of gas, which is pretty impressive.
The Niro Plug-in Hybrid is also one of the few PHEVs that still gets amazing fuel economy at 46 mpg combined after you've used up all of its electric range.
PHEVs don't have the same fuel economy as a regular hybrid because their larger batteries add weight. It still functions as a hybrid once the EV range is used up, but like all hybrids, the battery doesn't get charged as much when you're driving at constant speeds on the highway.
Despite the Niro's more affordable price, it comes with a long list of driver aids like blind spot detection, lane assist, and a driver attention monitor to keep you safe and alert on long trips.
Kia's Highway Driving Assist is also available on every trim level except the base model. This is an advanced driving assistance system that combines radar cruise control, lane centering,and GPS data to make highway driving more effortless.
Ventilated seats are also available on the SX and SX Touring trim levels.
Related: Best Hybrid SUVs for Mountain Driving (With Pictures)
4. Toyota Highlander Hybrid
The Highlander Hybrid is the bestselling three-row SUV in the US because it's not only versatile, but also very reliable.
The hybrid model of the fourth generation Highlander now comes with a 4-cylinder engine instead of a V6, allowing it to get up to 35 mpg on the highway and up to 600 miles per tank of gas.
It can seat up to 8 passengers, but if you go with the XLE or higher trim level, you'll get more comfortable captain's chairs for the second row.
You can fold the second and third-row seats flat if you need more cargo space, and you can even sleep in the back if you're on a long multi-day trip.
Heated and ventilated front seats are also available starting with the Limited trim level. The lower models still have heated seats as standard.
All Highlander Hybrids also come standard with Toyota Safety Sense which includes lane assist, road sign assist, and radar cruise control.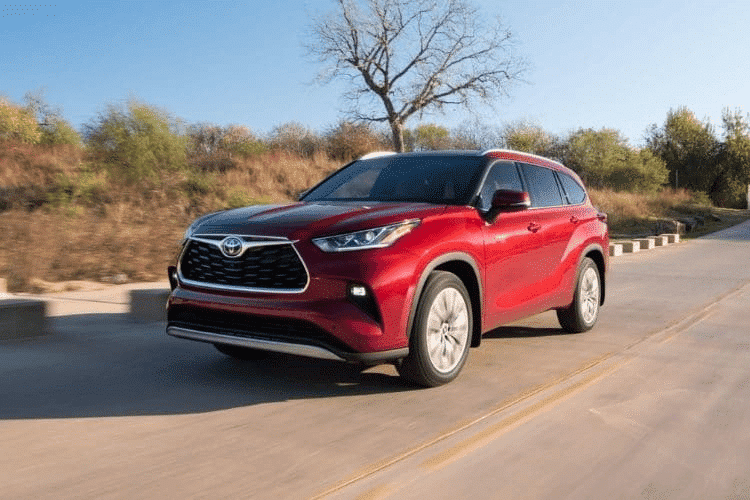 5. Ford Explorer Hybrid
The Explorer Hybrid can't beat other three-row SUVs like the Toyota Highlander and Kia Sorento at gas mileage, but it has some features that make it ideal for long distance driving.
On the highway, the rear-wheel drive Explorer Hybrid only gets around 28 mpg, which is only slightly better than the non-hybrid models and much worse than its rivals.
However, the Explorer Hybrid can tow more than twice as much at 5,000 lbs and has a lot more space inside, which makes it more like a traditional truck than a big crossover.
Second-row captain chairs and ventilated seats are also standard on all trim levels of the Ford Explorer Hybrid.
On the Platinum model, you can get the massage seats option which minimizes stiffness and tiredness if you do a lot of long-haul driving.
Hybrid models of the Ford Explorer also come with Co-Pilot Assist as standard, which gives you adaptive cruise control, lane centering, road sign recognition, and driver monitoring.
6. Kia Sportage Hybrid
The base Kia Sportage Hybrid gets better gas mileage than the Hyundai Tucson Hybrid, which uses the same platform and engine.
Unlike other hybrids, the front-wheel drive Sportage Hybrid gets slightly better gas mileage on the highway at 44 mpg. City driving gives slightly lower fuel economy at 42 mpg.
The all-wheel drive model drops fuel economy a bit to 38 mpg for both highway and city driving, similar to what you can achieve on the Tucson Hybrid which only comes with all-wheel drive.
You can get ventilated seats with the SX Prestige model which has all-wheel drive as standard, so you'll have to settle for slightly lower gas mileage in exchange for this creature comfort.
The front-wheel drive LX model does have driver attention warning and lane assist, but blind spot monitoring and Highway Driving Assist is only available on the higher trim levels.  
Related: 10 Best Hybrid SUVs for Camping (With Pictures)
7. Honda CR-V Hybrid
The CR-V Hybrid is much smoother, quieter and comfortable to drive than its main rival, the Toyota RAV4 Hybrid.
The extra refinement makes the CR-V Hybrid easier to live with on daily commutes and on long road trips.
Since it's based on the same chassis as the Civic, it's also going to be more engaging to drive if you spend a lot of time on winding roads.
If you need to haul a lot of stuff, it actually has slightly more cargo capacity behind the rear seats than larger midsize SUVs like the BMW X5. The same is true if you fold the seats flat.
Highway fuel economy is on the low side compared to other compact hybrid SUVs. The front-wheel drive models only get an estimated 36 mpg on the highway while the all-wheel drive CR-V Hybrid gets 34 mpg.
It sips fuel around town and in stop-and-go traffic though, with both front and all-wheel drive configurations getting at least 40 mpg.
Features wise, it's not loaded with cutting edge tech or fancy options. But it does come standard with all the important stuff like lane assist, blind spot monitoring, traffic sign recognition and adaptive cruise control.
Although it doesn't particularly stand out on paper, Honda managed to create a package that's more than the sum of its parts with the CR-V Hybrid, and you'll have to try it out for yourself to discover how good it really is.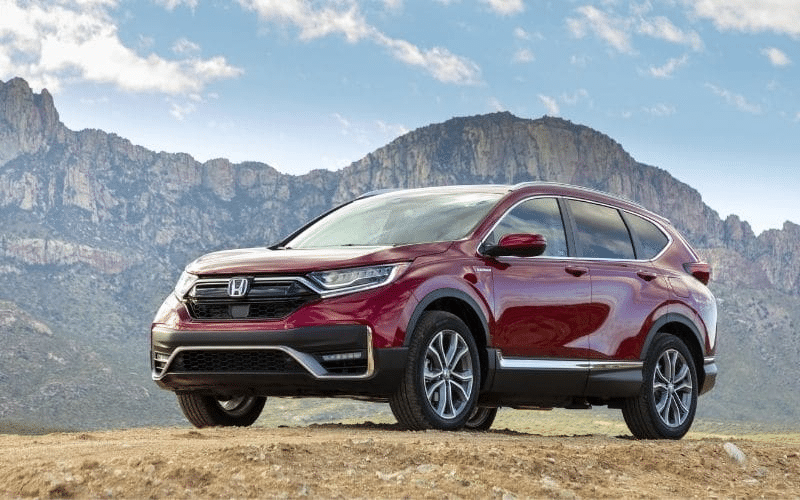 8. BMW X5 Plug-in Hybrid
Like other German luxury vehicles in its class, the X5 was designed to eat up highway miles on the Autobahn in the most comfortable way possible.
The new xDrive50e plug-in hybrid model has more power on tap with up to 483 hp on tap — almost 100 hp more than the old model — so it's never going to be boring to drive.
Once you've used up the 39 miles of electric-only range, you can expect around mid to low 20 mpg from the gas engine on the highway as it won't have many chances to go into regen mode.
It also strikes a nice balance between comfort, ride quality and driving dynamics. The equivalent Mercedes-Benz GLE might be more opulent and luxurious inside, but it also tends to be floaty.
Unlike the GLE the BMW X5 xDrive50e and the older xDrive45e also come with air suspension as standard. This not only improves ride quality, but also keeps the vehicle composed and level at all times.
The BMW X5 PHEV can also be customized with ventilated and massage seats in the front and heated seats in the back.
The optional Driving Assistance Pro Package also adds lots of camera and radar-based driver aids. It also comes with BMW's Highway Assistant which lets you enjoy hands-free driving on the open road and while stuck in traffic.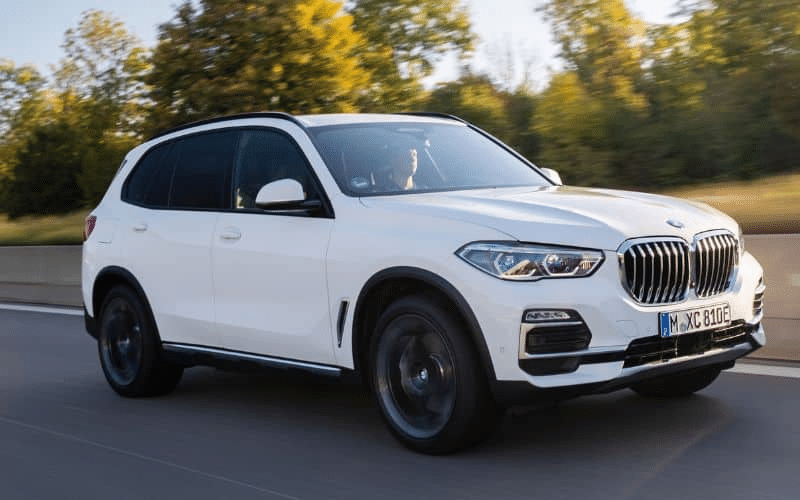 9. Volvo XC90 Recharge
The Volvo XC90 Recharge is one of the few European luxury SUVs with a third-row.
It's very stylish inside and out, but also very comfortable to drive for long distances. Being a Volvo, you'll be hard pressed to find a better vehicle when it comes to safety.
The XC90 Recharge, previously known as the T8 model, is also very fast with up to 455 hp on tap.
Once you've used up the 32 miles of EV range, combined fuel economy gets to around 25 mpg.
Standard on all models is Volvo's Pilot Assist which automatically follows the vehicle in front while keeping a safe distance on the highway or in stop-and-go traffic.
For added passenger comfort, you can get it with the optional second-row bench seats.
If you want the optional massage seats and air suspension, you'll have to pick the Ultimate trim level, which comes with ventilated seats and a head-up display as standard.
10. Audi Q5 55 Plug-in Hybrid
The Audi Q5 PHEV is a compact luxury crossover that offers lots of refinement and space while being very easy to drive in all conditions.
The Q5 55 plug-in hybrid model is the most powerful in the lineup with around 362 hp combined and even beats out the performance oriented SQ5.
It has roughly 23 miles of EV range and the turbocharged 4-cylinder gets around 27 mpg on the highway.
One of its standout features is its Quattro all-wheel drive which gives you better grip and handling on slippery roads, but also performs very well off-road, so you can take it pretty much anywhere.
With the top of the line Q5 55 Prestige model, you get ventilated seats, active lane assist and a head-up display as standard. The optional air suspension is also only available with this trim level.
Standard driving assists include blind spot monitoring, adaptive cruise control and frontal collision mitigation. The Prestige model also adds traffic sign recognition and automatic parking.