A vehicle that's going to spend a lot of time driving in the mountains should have decent power for the steep sections, good handling for the twisty bits, and all wheel drive to give you better grip in bad weather.
However, since many hybrids prioritize fuel economy over engine performance, some may have trouble taking on really steep climbs once the battery runs out of juice.
In this article, we'll take a look at some hybrid SUVs that will do great in the mountains and at high altitudes.
1. Audi Q5 Plug-in Hybrid
Audi Q5 plug-in hybrid, specifically the Q5 55 TFSI e Quatro, should be on top of your list if you want a comfortable, great handling and refined hybrid SUV that does extremely well in the mountains.
The Q5 compact crossover features lots of tech and performance that one would expect from a luxury crossover.
The base price for a new Q5 55 of around $50,000 is not outrageous for a PHEV, especially considering its in the luxury category.
The Audi Q5's Quattro all-wheel drive system delivers amazingly poised handling on twisty roads, and can easily tackle rough terrain and slippery slopes.
In Off-Road mode, it locks the center differential so that power is sent to the rear wheels at all times. Ground clearance is also pretty decent at 8.2 inches so you'll have no issues with deeper snow and uneven trails.
Under the hood of the Audi Q5 PHEV is a 261 hp turbocharged engine which has no problem taking on high altitude climbs on its own. The electric motor gives it an extra 141 hp for a total of 362 hp and 369 pound-feet of torque.
Turbocharged engines are also more efficient at higher altitudes and don't lose as much performance as naturally aspirated engines.
The Q5's towing capacity is also pretty good for an SUV hybrid at 2,000 lbs.
2. BMW X5 Plug-in Hybrid
BMW X5 plug-in hybrids are very comfortable to ride around in and can be quite fun to drive when going through twisty mountain roads, especially for its size.
Larger SUVs tend to have more body roll due to their weight and tall ride height. However, the X5 is one of the better driving SUVs in its class, thanks to BMW's suspension and chassis tuning.
The plug-in hybrid version of the X5 also comes standard with self-leveling air suspension which lowers the ride height at higher speed and keeps the vehicle composed at all times without sacrificing comfort.
In normal mode, you get 8.4 inches of ground clearance, but can be raised around 1.5 inches more if you want to take it off road.
The X5 xDrive50e plug-in hybrid is new for the 2024 model year and replaces the xDrive45e. It's more powerful than ever before and can go even farther in electric-only mode at 39 miles.
Under the X5 PHEV's hood lies BMW's highly regarded B58 engine which is a 3.0-liter turbocharged inline-6 that's capable of producing around 300 hp on its own.
Coupled with the xDrive50e's more powerful electric motor, you have a total of 483 hp and 516 lb-ft of torque on tap which is more than enough to take on very steep inclines.
3. Jeep Grand Cherokee 4xe
The Grand Cherokee 4xe is a luxurious and comfortable midsize plug-in hybrid SUV that won't leave you stranded in really rough terrain.
Although the Jeep Wrangler 4xe is one of the best hybrid SUVs you can get for extreme off-roading, it's not going to handle as well as the Grand Cherokee 4xe on twisty mountain roads with its front and rear independent suspension.
The Grand Cherokee 4xe also uses the same turbocharged 2.0-liter engine found in the Wrangler 4xe. Total power output for both vehicles is also the same at 375 hp and 470 lb-ft of torque, so you'll have no problem taking on mountainous roads.
All Grand Cherokee 4xe's have true 4-wheel drive and a two-speed transfer case which lets you switch to 4-Lo and slowly crawl over off-road obstacles.
The Trailhawk, Summit and Summit Reserve models of the 4xe also come with the Quadra Lift suspension system which can lift the truck's ride height to over 11 inches.
Related: 10 Best Hybrid SUVs for Camping (With Pictures)
4. Acura MDX Hybrid
The Acura MDX Hybrid was only available for the 2017 to 2020 model years, but it's quite powerful and is one of the most fun to drive SUV hybrids, especially on twisty mountain roads.
It's equipped with Acura's SH-AWD (Super Handling All-Wheel Drive) which helps with grip in slippery situations and improves its cornering ability.
The standard adaptive damper system also automatically adjusts the suspension for comfort or sharper handling depending on the driving conditions.
The MDX Hybrid's 3.0-liter naturally aspirated V6 engine produces a respectable 257 hp on its own, but each rear wheel also has its own electric motor for a total output of 321 hp and 289 lb-ft of torque.
Acceleration is also surprisingly quick and 0 to 60 mph goes by in less than 6 seconds, making it faster than the non-hybrid MDX from the same generation. This is definitely helped by the faster shifting 7-speed dual-clutch transmission.
Although it's geared for performance, the MDX Hybrid also has third-row seats that can be easily folded flat, along with the second-row seats, for more cargo space.
The only downside is the lower 7.3-inch ground clearance, so it's best to stick to light trails. But it still sits higher than other sports sedans and is significantly more versatile.
5. Ford Explorer Hybrid
The Ford Explorer is one of the most popular three-row midsize SUVs on the road.
The hybrid version of the Explorer debuted for the 2021 model year and comes with a 3.3-liter V6 and an electric motor that produces a combined output of 318 hp and 322 lb-ft of torque.
Its acceleration is not going to win it any awards as it takes 7.7 seconds from 0 to 60, but it's faster than rivals like the Toyota Highlander Hybrid and Kia Sorento Hybrid.
Its performance is sufficient for cruising up and down mountain roads, and it can even tow up to 5,000 lbs.
It's also rear-wheel drive based, which makes it more lively in the corners to its main competitors. But if you want better traction on slippery roads and steep roads, you'll want to add the optional all-wheel drive.
If you want to effortlessly barrel up steep mountain passes, you can always go with the non-hybrid models equipped with a twin-turbo 3.0-liter V6 which is capable of producing 400 hp and 415 lb-ft of torque.
6. Toyota Grand Highlander Hybrid MAX
The Toyota Grand Highlander Hybrid, which debuted as a 2024 model, is bigger and more luxurious than the regular Highlander.
The Grand Highlander Hybrid MAX models pair a more powerful 2.4-liter turbocharged engine with two electric motors that's capable of producing a combined output of 362 hp and 339 lb-ft of torque.
It also has a towing capacity of 5,000 lbs, which means you can load it up with heavier cargo and navigate mountainous areas with confidence.
The lower trim levels of the Grand Highlander come with the same naturally aspirated 2.5-liter engine as the regular Highlander Hybrid, which has a combined output of 247 hp and 175 lb-ft of torque.
Although lots of people drive the smaller Highlander Hybrid through the mountains daily with no issues, the Grand Highlander's Hybrid MAX powertrain will let you do so without having to worry about struggling up steep slopes.
However, if your main concern is fuel economy and practicality, the regular Highlander Hybrid is a much better choice.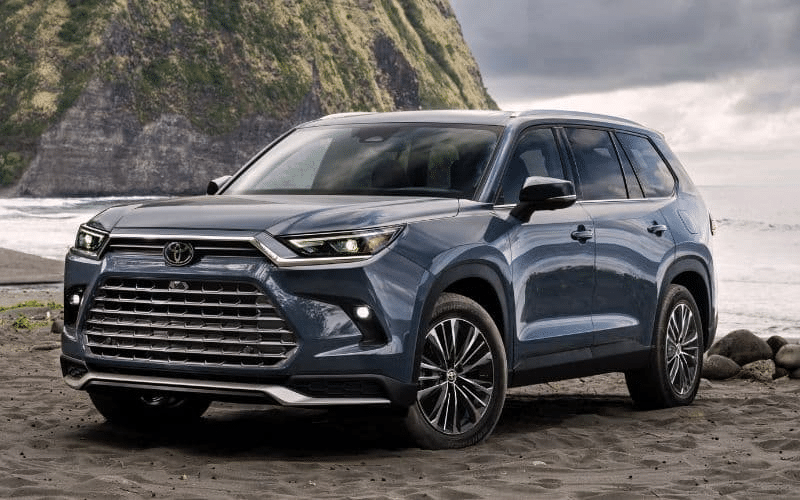 Related: 10 Most Fun to Drive Hybrid SUVs (With Pictures)
7. Toyota RAV4 Hybrid and RAV4 Prime
The Toyota RAV4 has been the best selling SUV in the U.S. for the past few years.
Its hybrid models are also very sought after because people are attracted to their reliability, practicality and versatility.
The RAV4 Hybrid is actually more powerful than the non-hybrid version and gets better fuel economy at around 40 mpg.
Combined output for the hybrid powertrain is rated at 219 hp and 206 lb-ft of torque, which is perfectly adequate for the smaller and lighter RAV4 when it comes to mountain driving.
If you want more power, there's the RAV4 Prime plug-in hybrid which has a total output of 302 hp and can go from 0 to 60 in 5.7 seconds. Its EV range is also quite impressive at around 42 miles.
You can also take the RAV4 Hybrid and RAV4 Prime on trails and forest roads as both come standard with all-wheel drive on all trim levels.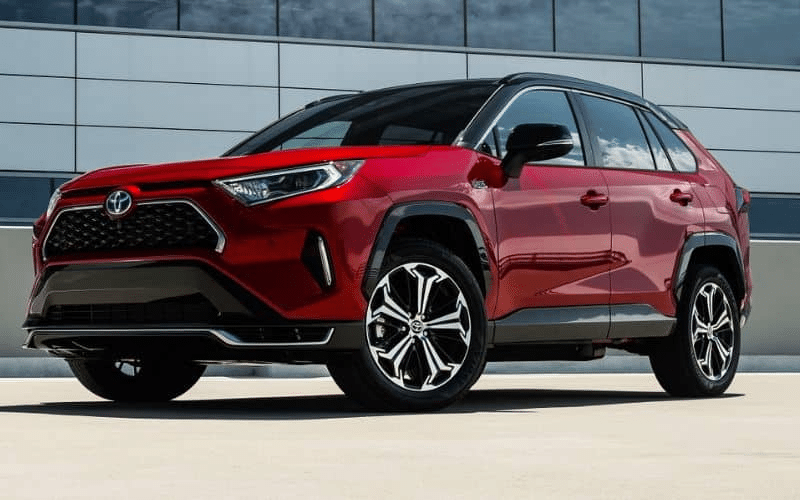 8. Kia Sportage Hybrid
The Kia Sportage Hybrid and Plug-in Hybrid start at a lower price compared to the RAV4 hybrids, and you don't have to wait in line to get one.
The Sportage Hybrid is powered by a 1.6-liter turbocharged engine that's paired with an electric motor for a total of 226 hp and 258 lb-ft of torque. The plug-in hybrid version ups the power to 261 hp and 258 lb-ft of torque.
Even though it has a smaller engine, the turbocharger ensures that you won't lose much power at higher altitudes.
All-wheel drive is standard on all trim levels, except for the base model. Kia's all-wheel drive system has a center locking differential which ensures that power is distributed equally to the front and rear wheels to give you better traction on off-road trails.
Inside the Sportage, you get lots of fancy tech and features like a huge widescreen display on the dash.
It's also quite spacious inside with up to 74.1 cubic feet of cargo space with the rear seats folded down, making it ideal for camping trips.
However, there's no room for a spare tire and only comes with a repair kit. This could be an issue if you blow up a tire in the mountains where there's no roadside assistance available.
9. Honda CR-V Hybrid
The Honda CR-V is an extremely popular SUV that's known for its reliability, ease of maintenance and build quality.
The first CR-V Hybrid only came out in 2020, and was quickly replaced by the 2023 model year with the bolder looking sixth generation model.
The current generation CR-V Hybrid has slightly less power than the older model at 204 hp, but has more torque at 247 lb-ft. This is important when going uphill, since the higher torque will help you climb up steep slopes much easier at lower speeds.
The CR-V Hybrid is actually slightly more powerful than the non-hybrid version which is equipped with a 1.5-liter turbo engine.
All-wheel drive only comes standard in the most expensive Sport Touring model, but is available as an option on the lower trim levels.
The CR-V also uses the same platform as the Civic, and is known for being quieter, more comfortable, and better handling than the RAV4.
However, like the Kia Sportage Hybrid, the CR-V Hybrid also doesn't come with a spare tire which could be an issue if you have a flat that a repair kit can't fix.
10. Mazda CX-90 PHEV
The CX-90 is Mazda's replacement for its flagship CX-9 three-row SUV. It's also Mazda's first hybrid vehicle in the US.
The CX-90 PHEV has a combined output of 323 hp and 369 lb-ft of torque from its 2.5-liter 4-cylinder engine and electric motor. The non-hybrid version's turbo engine only has a slight advantage at 340 hp and the same amount of torque.
Acceleration is pretty quick and takes only 6.6 seconds to get from 0 to 60 mph.
Like all modern Mazdas, the CX-90 is very luxurious inside and has great handling for an SUV of its size. Along with its healthy hybrid powertrain, you'll have no problem weaving through mountain roads with confidence.
All-wheel drive also comes standard in all trim levels of the CX-90 which not only gives it great handling, but also better traction in slippery terrain. It's rear-wheel biased so it's going to feel more sporty in the curves.
It's got 8 inches of ground clearance, but it's also got a longer wheelbase compared to many of its rivals, so it's more likely to get high centered on uneven roads and really deep snow.
Related: 10 Best Hybrid SUVs for Long Distance Driving (Explained)