The BMW F850GS is a popular adventure bike, a motorcycle built for riding on and off road.
While the F850GS has received praise for its performance, handling, comfortable riding position, and special features, it also has a few common problems, some of which can be prevented with some prior knowledge.
This article lists the most common problems with the BMW F850GS Adventure Motorcycle and what to do if you're experiencing these issues.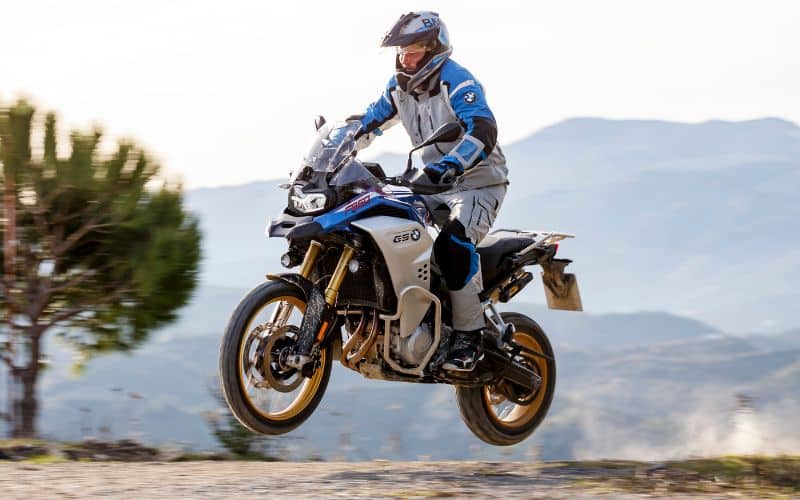 1. Faulty Oil Pump
One of the common problems with the BMW F850GS models was a faulty oil supply system due to the oil pumps' tendency to break.
Once broken, the faulty oil pump causes a loss of oil pressure, risking engine overheating, increased friction between motor parts, and, if left unchecked, the overheating engine could lead to total engine failure.
According to some of the real-life F850GS riders in the forums, this issue is best resolved by replacing the oil pump with a new one with a different gear drive design.
Here are three examples of riders reporting symptoms of a faulty oil pump on a BMW F850GS motorcycle:
One rider reported he had a low oil pressure warning light while riding his F850GS. He checked the oil level, and it was fine, but he noticed some oil leaking from the engine. He took the bike to the dealer, and they found out that the oil pump had broken and caused a loss of oil pressure, resulting in an oil leak.
Another rider reported that they heard a loud clunking noise from their F850GS while accelerating. They pulled over and saw oil dripping from the engine, towed the bike to the dealership, and found out that the oil pump needed to be replaced.
A third rider reported hearing a strange whining noise from their BMW F850GS while riding. They also noticed the engine temperature was higher than usual, so they took their F850GS to the BMW service technicians. They found out that the oil pump had worn out and caused a reduction in oil pressure and engine cooling, leading to overheating.
BMW is aware of this issue, as riders report, so we suggest you go to your local BMW dealership and find out which fuel pumps they recommend as a replacement.
Since the brand issued a recall, there have been limited reports of fuel pump failures on the F850.
Still, we advise you to check your oil level and pressure regularly and to follow the recommended oil change intervals outlined in your owner's manual to prevent oil supply mishaps before they cause problems.
If you notice any signs of oil leakage, low oil pressure, or strange engine sounds, you should contact your nearest BMW service center for an oil service and inspection asap.
2. Ineffective Windscreen
Some BMW F850GS riders complain about the ineffective windscreen on their adventure bikes. According to multiple riders in the forums, some of the most common complaints about the stock windshield on the F850GS GS are:
The windscreen is too small and does not provide enough wind protection, especially in harsh weather or at high speeds.
The windscreen is adjustable, but only in two positions, but neither setting makes much difference in the windshield's effectiveness.
The windscreen causes buffeting, turbulence, and excessive wind noise in the rider's helmet.
It's important to note that these complaints are opinions and don't reflect the experience of every rider or every F850GS model.
Some riders may find the windscreen adequate or preferable for their riding style and personal preference.
Still, for those who are dissatisfied with the BMW F850's stock windshield, here are some possible solutions:
Replacing the stock windscreen with a larger or more adjustable aftermarket shield, such as the BMW Touring Windscreen.
Adding a windshield spoiler or deflector to the stock windscreen to increase its height or angle.
Adjusting the riding position or helmet to reduce wind intrusion and noise.
Changing to a lower seat or a quieter helmet.
These solutions may not work for every rider or every F850GS model, and they may have their drawbacks, such as affecting the aesthetics and aerodynamics of the bike.
Therefore, we suggest you do some research and talk to your local BMW Motorrad technicians to choose the solution that suits your needs.
3. Jerky or Delayed Throttle Response
The BMW F850GS's transmission is shaft driven, meaning that it uses a shaft and a bevel gear to transfer power from the engine to the rear wheel instead of a chain or a belt.
The BMW shaft drive has some advantages, such as lower maintenance, better durability, and smoother operation. That said, it also has some weaknesses, such as heavier weight and higher cost.
Some riders also complain about the F850's shaft drive backlash, which is the play or slack in the drivetrain that causes a jerky throttle response when changing direction or speed.
"[My BMW F850] had its first two services, and I'm starting to question the throttle response.
It idles and revs just fine, but when you twist the throttle from idle, there's a very noticeable jerk in power; this is especially noticeable if you are riding along and allow the throttle to return to the stop before twisting on again.
I've taken to simply not allowing the throttle to ever return to the stop, but there's been a few times when I've done it accidentally with a passenger, and it almost always results in clashing helmets."
"Yeah, it's the backlash in the shaft drive. Yes, shaft drive requires less maintenance. But belt driven is the best, IMO. Just pull the clutch in all the time when decelerating and feather it more on the way out of first."
"Some, like my '08, are also mapped very lean, causing light throttle surge issues.
The lean surge is made more pronounced with it being a shaft bike.
I installed a Cobra Fi2000 fuel processor, and it took all the lean surge out without hurting fuel economy. Well worth the $$."
4. Rear Brake Pedal Hard to Reach
More than a few BMW F850GS Adventure bike riders complain that the rear brake pedal is too low for comfortable shifting and convenient reach.
Some riders report having to twist their foot forward or bend their ankle awkwardly to reach the brake pedal.
"I'm 6'2″ and I find the rear brake pedal of my BMW F850GS Adventure really low. Ever since I bought it, I've used the stock foldable riser that comes with the pedal, but it's not enough when I'm standing. I really have to turn my foot forward in order to brake, which is a no-no."
"I am 6'3" and installed lower pegs which helped my legs, and now the shifter and brake are at the right level. Kind of a backasswards way of doing it."
Other riders we've heard from agree with these claims but note that the problem only affects them when standing on the pegs.
Still, riders are most commonly on the pegs during off-road rides on bumpy or rocky terrain, and the hard-to-reach brake lever affects their braking control and confidence and causes discomfort or fatigue.
To add insult to discontentment, more riders say that the stock riser that comes with the pedal isn't functional enough to raise their rear-brake pedal to a suitable level.
Some riders suggested installing lower pegs or a brake pedal extender to fix this issue.
Lower pegs would lower the position of the rider's feet and make it easier to access the brake pedal.
A brake pedal extender would increase the surface area and height of the pedal, making it more visible and accessible.
These aftermarket accessories can be purchased online or from BMW dealerships, where technicians can offer opinions on what option fits your year model most efficiently.
Related: 7 Most Common BMW R1200 GS Problems (Explained)
5. Loose Steering Head Bearings; Front End Wobble
Some riders report that they had a loose steering head that caused a clunking noise and wobbling, especially when going over bumps or rough roads.
Riders say they have to adjust the steering head screw and tighten the pinch bolts to prevent their front end from making intrusive vibrations and moving around while riding.
The BMW F850GS motorcycle has sufficient steering and stability for many riders. Still, some riders encounter minor issues with the steering head adjustments or the luggage configurations, which can cause unwanted movement.
"2019 BMW F850GS – Loose steering head needs to be adjusted as I was hearing and feeling a "clunk" when going over anything rough in the road – speed bumps, potholes, maintenance hole covers, etc. Finally diagnosed that the steering head screw was loose and had not been adjusted by the dealer per the run-in check/procedure."
"I have experienced a wobble at 80mph with a top case and passenger. It was windy that day, and I think it was just the wind pushing on the top case. I removed the top case, and it went away. I have not experienced it since then."
That said, we weren't able to find widespread problems with the BMW F850GS motorcycle's loose steering head bearings, causing front-end speed wobble at high speeds, so we assume it's the result of a lack of steering-head bearing inspection.
The F850GS stocks a 21-inch front wheel and a 17-inch rear wheel, which are supposed to provide stability and agility on paved and unpaved terrains.
This adventure bike also comes standard with a steering damper, engineered and installed to prevent unwanted steering movements and vibrations.
6. Cooling System Leaks
More than a few BMW F850GS owners have reported cooling system leaks which, when left unresolved, can cause overheating and engine damage.
Cooling system leaks can occur in multiple places, such as the radiator, the water pump, the thermostat, or the hoses.
The causes of the leaks vary, but some common culprits are corrosion, wear and tear, improper storage, poor coolant maintenance, faulty seals, or improper installation.
"I noticed a small coolant leak on my F850GS after a long ride. It was dripping from the water pump area. I checked the hoses and clamps, and they seemed fine. I took it to the dealer, and they said it was a faulty water pump seal. They replaced it under warranty, and the leak stopped."
"My F850GS radiator started leaking after 19 months/ 13,000+ km. It was so small that it left no marks on the garage floor. There were tracks on the left fairing that I mistook to be ride dirt. The "burn" stain at the rad front was hidden behind the plastic guard."
To prevent cooling system leaks, riders should check the coolant level regularly, use distilled water and the recommended coolant type, inspect the hoses and clamps for cracks or looseness, and replace any damaged or worn coolant system parts as soon as possible.
7. Rattling and Vibrating Exhaust Noises
A number of BMW F850GS owners have reported issues with rattling or vibrating exhaust noises, especially at low RPMs or when idling.
The noises can be, at best, annoying and, at worst, a dangerous distraction.
Furthermore, rattling or vibrating exhaust sounds often indicate a more severe problem with the exhaust system or the engine. That said, it's typically a minor issue, such as the one described below by a real-life BMW F850GS owner:
"I noticed a rattling noise coming from the exhaust when I started the bike. It sounded like something was loose inside the muffler. I checked the exhaust clamp, and it was loose. I tightened it, and the noise went away."
As mentioned above, one possible cause of the exhaust rattle on a BMW F850GS is a loose or damaged exhaust clamp, which can be fixed by tightening or replacing it. Another likely cause is a faulty exhaust valve, which a BMW-literate mechanic can easily adjust or replace.
BMW F850 GS Pros & Cons
Here are some of the pros and cons of the BMW F850GS Adventure Bike:
Pros:
Unique and efficient engine.
Solid off-road handling, providing the steering head bearings are well-kept.
Comfortable and practical riding position.
Impressive stock specs and optional add-ons.
More durable wheels, better wheel load distribution, improved ground clearance, and lower seat height than the previous BMW adventure models.
Cons:
Rear brake pedal hard to reach
Faulty oil pump.
Ineffective windscreen.
Heavier than the previous models.
Factory packages and equipment options make the base price significantly more expensive.
Jerky Low-End Throttle Response (low-rpm mapping lags the engine performance).
What are Some Alternatives to the BMW F850GS?
| | | |
| --- | --- | --- |
| Make/Model | MSRP | MPG |
| Honda Africa Twin | $14,399 | 49.7 |
| KTM 890 Adventure | $13,099 | 46.3 |
| Triumph Tiger 900 GT | $12,500 | 55.4 |
| Yamaha Tenere 700 | $9,999 | 51.5 |
| Suzuki V-Strom 650 XT | $9,299 | 54.1 |
What's the Resale Value of a BMW F850GS?
| | | |
| --- | --- | --- |
| Year | Mileage | Price |
| 2019 | 24,891 mi | $11,999 |
| 2019 | 6,830 mi | $12,999 |
| 2021 | 5,062 mi | $12,999 |
| 2020 | 2,890 mi | $11,997 |
| 2019 | 14,831 mi | $14,599 |
Sources:
BMW recalls batch of new F850GS models with … | Visordown
BMW F850GS (2018-on) Review | Owner & Expert Ratings | MCN (motorcyclenews.com)