The BMW R1200 GS is an iconic dual sport motorcycle designed for on and off-road cross-country adventures.
In 2012, Cycle Gear praised the 1200GS as the most successful motorcycle of the past 25 years and some say it single-handedly created the Adventure Touring moto-market
Despite the accolades, the R1200 GS isn't perfect, in this article we'll take a look at its most common problems…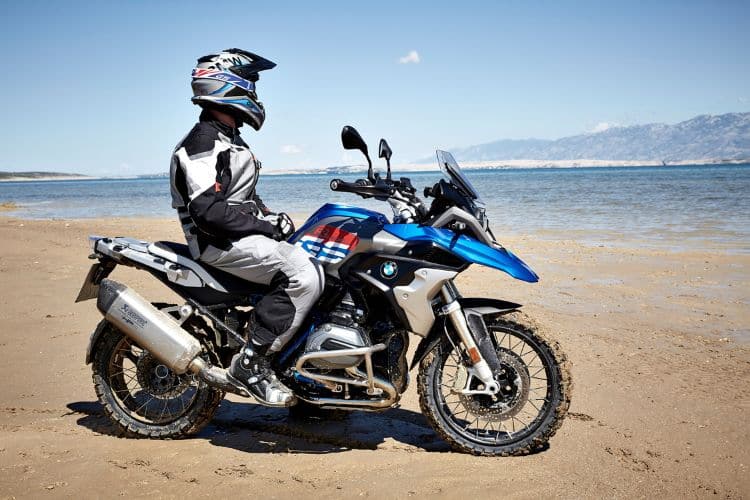 1. BMW R1200 GS Fork Cap Breaks Off From Fork Tube
The most concerning problem on our list was so severe that BMW issued a global recall to solve the problem.
While the actual cause of this issue is still unclear, it affected the R1200 GS and the R1200 GS Adventure models alike.
One of the most dangerous and common issues with the BMW R1200 GS is the fork cap's tendency to split off from the fork tube, most commonly on models subjected to off-road stress.
This is incredibly dangerous, especially if it happens while riding.
And since the bike is marketed for off-road touring, its forks were thought to be engineered for the fork stress such riding comes with.
BMW's official recall notice claimed that all R1200 GS models manufactured between November 2013 and June 2017 were to be recalled, revealing just how severe and widespread the issue was.
That said, not all recalled bikes were indeed affected. The protocol was to inspect and determine:
If the Fork Tube is indeed separated from the fork cap and
If the size of the gap poses a threat to the rider, that warrants a replacement, as a slight enough separation is apparently a non-issue.
BMW will upgrade and replace the fork components if they find an issue, free of charge.
This information is especially relevant to owners who bought their 2013-2017 year model R1200 GS on the used market and are unsure of whether or not it's been inspected and fitted with the appropriate upgrades.
2. BMW R1200 GS Kill Switch Stops Working
More than a few BMW R1200 GS owners have claimed that their kill switch stopped working, and numerous owners have taken to the forums to complain about the overall quality of the bike's kill switch, saying that it feels like it might break at the next flick of the switch.
The frequent complaints about the shoddy quality of some of the earlier year model switches lead to further outrage among riders whose switches have indeed failed.
BMW dealerships refer to them as "Engine Cut Off Switches," a noteworthy piece of info for owners of a bike model that uses a small and fragile red tab versus the rugged red switches used on less expensive motorcycles.
While complaints of the switch's quality are plentiful, there haven't been enough situations where the switch actually broke to warrant an official recall.
Furthermore, BMW claims that the switch only breaks when pushed aggressively, citing rider input as the fault and sometimes refusing to cover the replacement cost.
In other cases, particularly on the early year models, the engine cut-off switches on R1200s were known to develop corrosion on the inner contacts, causing the switch to fail altogether – a problem that couldn't be blamed on rider input.
We suggest inquiring with your BMW mechanic about upgrading to a more rugged kill switch that won't corrode or snap off as easily.  
Related: 13 Common BMW R1200 GS Problems (Solutions Guide)
3. Water Pump Weeps Coolant
This is a less common complaint, though it's concerning to enough R1200GS owners to warrant coverage.
More than a few owners have reported their water pumps sweating or even weeping coolant on liquid-cooled BMW GS models.
It's worth noting the distinction of coolant weeping from the pump versus a coolant leak; we're not saying that the water pump is leaking, only that it's allowing a nominal amount of coolant to sweat or weep from the radiator.
Understandably, GS riders have higher expectations of a BMW bike that's priced and marketed as a luxury touring machine.
While slight weeping isn't considered a major issue, we suggest taking it in for an ungraded water pump if the weeping gets severe enough to leave drops of coolant on the floor.
4. Bike Won't Start; Kickstand Switch Failure
In February of 2014, nearly 5,000 2013 year model BMW R1200 GS motorcycles were recalled due to bikes that weren't starting.
In severe cases, the issue could cause unexpected shutdowns while riding, which puts the rider at an obvious risk of collision, injury, damage, or even worse.
BMW issued the recall after multiple incidents reported led to the discovery of an issue with the bike's kickstand safety switch.
A kickstand safety switch is a sensor that cuts off the starter circuit while the kickstand switch is extended. This prevents the bike from staring while the kickstand is down and kills the engine if the kickstand is extended while the bike is in gear.
As BMW reports, they discovered the problem was with water entering the side stand switch and causing failures resulting in the bike's ECU reading the sides and being extended even when it wasn't.
It seems a bad batch of sensors went out that wasn't as waterproof as they're engineered to be.
In response, BMW will replace the faulty kickstand safety switch on any 2013 R1200 GS they discover to be faulty.
Related: 4 Most Common BMW S1000 XR Problems (Explained)
5. Gearbox Problems
This is a controversial topic, as some riders have come to accept the clunky shifting and gearbox performance of the R1200 GS as typical. In contrast, one online source claims they've worked to upgrade the design of the components they deem responsible for gearbox problems.
Some of the gearbox issues reported on the 1200 GS include:
Missed gears while shifting
Clunky shifting or mechanical resistance while shifting
Difficulty finding neutral
Obnoxious industrial metal noises while shifting
Here's how real-life R1200 GS riders explain it:
"From Day 1, I experienced difficulty finding neutral on the bike. When the bike is at complete rest, it typically takes cycling between gears 1 and 2 several times before settling on neutral. I would often have to blip the throttle a little while applying slight pressure on the gear lever to get it to slip into Neutral."
"When clutched in, the gear lever sometimes refused to shift – seemingly "stuck." The feeling's exactly like trying to shift down in gear one or trying to shift up in gear 6. Only with a slight blip of the throttle would the gear lever move into the intended gear."
"At 55,000km on the odometer, my clutch started exhibiting signs of slippage. I'm very conscious of using only JASO MA / MA2 spec engine oil – so it couldn't be the oil causing the clutch to slip. With the engine turned off and bike on the main stand, put in 1st gear, a clutch lever pulled fully in – there is still a tremendous amount of resistance at the rear wheel; Almost as if the clutch wouldn't completely disengage the gearbox from the wheel."
So, we dug further into the situation and found the Haynes online repair guide, which had this to say:
"Poor clutch disengagement and clunky gear changes in GS models up to engine No. 122EN36130280 may be caused by a clutch component that has since been upgraded – refer to your BMW dealer for details. Similar symptoms in all models may be caused by too much oil, incorrect oil, or oil additives. "
It turns out that the upgraded part mentioned is a clutch push rod, as a batch of clutch pushrods were discovered to be shorter than the spec required for the clutch to disengage completely, as designed.
6. Leaks Oil From Final Drive
On some of the older BMW R1200 GS models, riders frequently reported oil leaks from their final drives.
Some claimed the issue was with the O-ring seal drying out and wearing out early.
Meanwhile, BMW technicians have admitted that the final drive was redesigned in 2010, so it was no longer rubber sealed, and they found the upgrade significantly less susceptible to leaking.
Still, a final drive replacement can cost riders over $2,000, making this an infuriating fact for owners of pre-2010 R1200 GS year models.
7. Fuel Pump Leaking Fuel
BMW recalled nearly 21,000 2011-2014 year model motorcycles, including all iterations of the 1200GS, due to a fuel pump leaking fuel.
The issue was thought to be caused by a support ring that was creating excess clearance.
Over time, the clearance would lead to a crack in the fuel pump, allowing fuel to leak through.
If your 1200 GS leaks fuel while you're riding, the ignition sequence can cause a fire.
BMW has since designed an upgraded version of the fuel pump support ring their technicians will install on any affected model at no cost.
Related: 6 Most Common BMW F850GS Problems (Explained)
Pros and Cons
Pros
Comfortable
Unique and reliable box engine design
Tour ready with handbags and various amenities.
Handles great on and off-road
Ergonomic design
Unique style
Luxurious build
Cool factor and high-class status
Fun to ride
Cons
Expensive
High maintenance costs
Specialty designs means special tools and technicians required for service maintenance, repairs, and upgrades.
Inconsistent dealership support
What Do the Reviews Say?
"It's a fantastic engine, and the power curve is useful throughout the range. I'm not interested in revving the nuts of engines. Otherwise, I'd have bought something else.
One gripe I do have, though, is my bike sounds very tappety.
Not what I expected on this engine at 4000 miles… A small amount of corrosion on the main stand after just 4000 miles..not good for a bike costing this much. As another reviewer has said, the switchgear seems very cheap."
Source: https://www.motorcyclenews.com
"Comfortable and easy to ride but vibration through bars that should have been sorted years ago. I quite like the boxer engine, [but] corrosion shouldn't happen on a bike that costs this much…Service costs are extortionate, and dealership [support is] poor."
Source: https://www.motorcyclenews.com
"When I went to look at this bike, I fully intended to buy the base model and thought all the extras were just gimmicky toys. The demonstrators are obviously all fully spec.
Within the first ten minutes of riding, I'd used about half of them and realized I wanted them all.
My favorite things are hill hold, the electronic suspension that gives an unbelievably smooth ride, and a really exceptional TFT screen.
The quick shifter can be a bit clunky on the up change and gets smoother with more throttle, downshifts are lovely with an auto blip on the throttle.
As an aside, I have a SENA intercom in my helmet, it will only connect to one none SENA device at a time, so if you want instructions from navigator 6 (sat nav), you cannot connect your helmet to your bike, which automatically connects to your phone, so no phone calls or music.
Even though the sat nav is connected to the bike and operated by controls on the bike, it is a separate Bluetooth connection.
It is possible to connect the phone to sat nav, but you have to go into menus on the bike and sat nav separately which is a five-minute faff about you could do without; first world problems."
Source: https://www.motorcyclenews.com
What's the Resale Value of a BMW R1200 GS?
| | | |
| --- | --- | --- |
| Year | Mileage | Price |
| 2010 | 5,500 | $12,950 |
| 2017 | 4,900 | $17,450 |
| 2012 | 16,243 | $15,000 |
| 2016 | 38,600 | $14,500 |
| 2015 | 48,565 | $12,999 |
What are Some Alternatives to the BMW R1200 GS?
| | | | |
| --- | --- | --- | --- |
| Make/Model | MSRP | Weight | Avg. Fuel Economy |
| BMW R1200 GS | $19,145 | 505 lbs. | 49 MPG |
| Honda Africa Twin | $14,399 | 505 lbs. | 48 MPG |
| Ducati Multistrada V4 | $19,995 | 474 lbs. | 38 MPG |
| Suzuki V-Strom 1050XT | $16,999 | 544 lbs. | 45 MPG |
| Harley-Davidson Pan America 1250 | $17,319 | 550 lbs. | 44 MPG |
Related: Are BMW Motorcycles Worth the Money? (Reviewed)
Sources:
BMW R1200GS (2017-2018) Review | Speed, Specs & Prices | MCN
Sources: https://www.motorcyclenews.com/bike-reviews/bmw/r1200gs/2017/#ownersReviews
R 1200 Gs Adventure For Sale – Cycle Trader