The BMW K 1600 GT is a luxury touring motorcycle that offers a smooth and powerful ride boasting a six-cylinder engine, electronic suspension, and an advanced audio system.
However, like any vehicle, the BMW K 1600 GT may develop some problems that can affect performance reliability, and safety.
In this article, we will discuss some of the most common problems that BMW K 1600 GT owners have reported, providing possible solutions or tips on how to prevent or fix these problems.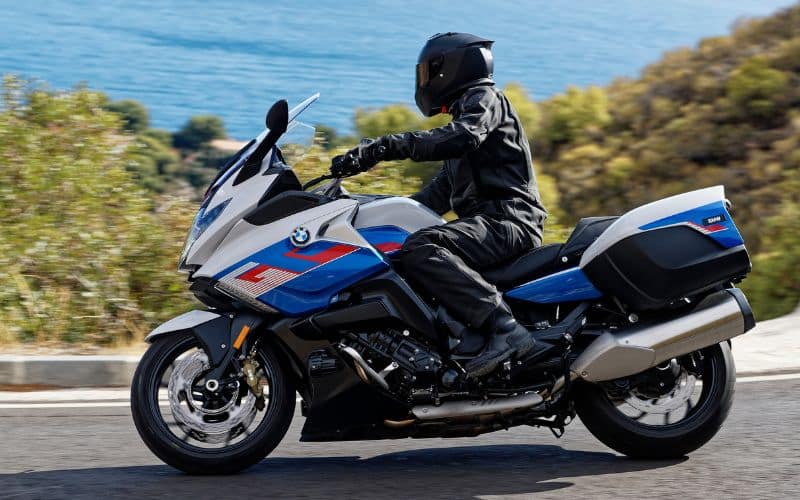 1. Faulty Water Pump
Some BMW K 1600 GT owners have reported that their water pumps have developed leaks or failed completely, causing coolant loss and engine overheating. This can be a severe problem that affects the performance and safety of the bike, leading to total failure if left unchecked.
The water pump is a vital component of the BMW K 1600 GT's cooling system, which prevents the engine from overheating and damaging its internal components.
The symptoms of a faulty water pump include:
Coolant dripping or spraying from the bottom of the engine.
Low coolant level in the reservoir.
Engine temperature warning light or gauge indicating overheating.
Reduced power or engine stalling.
One owner shared his experience on K1600forum.com:
"My 2016 water pump started weeping early this summer; it now has 37,000 miles. I kept an eye on it, and now it will dribble pretty much after a long day of Interstate speeds. I took the bike in this morning for a valve gap inspection and new spark plugs and had things set up with them to install a new water pump."
The solution for a faulty water pump is to replace it with a new one. BMW has issued a service bulletin for this issue and will cover the replacement under warranty if the bike is still within the warranty period.
However, some owners have reported that their replacement pumps have also failed after their warranty expired. Therefore, it's advisable to check the water pump regularly for any signs of leakage or damage.
To prevent the water pump from failing, some tips are:
Use only BMW-approved coolant and follow the recommended maintenance schedule for changing the coolant.
Avoid riding in extremely hot or cold conditions or for prolonged periods at high speeds.
Check the coolant level and the condition of the hoses and clamps before every ride.
2. Handlebar Switches Prone to Failure
Another common problem that some BMW K 1600 GT owners have faced is the failure of the handlebar switchers, which are prone to malfunction due to water ingress, corrosion, or wear and tear.
The handlebar switches control various functions such as the turn signals, horn, cruise control, audio system, and start button.
Faulty handlebar switches can be a frustrating and inconvenient problem that affects the usability and safety of the bike.
The symptoms of a faulty handlebar switch include:
The switch does not respond to the press or flick of the button or lever.
The switch responds intermittently or randomly.
The switch causes the bike to stall or not start.
Two owners shared their experience on a forum:
"I was scheduling a spring service on my 2013 GTL, and the dealership told me that my handlebar switches are under a recall and need to be replaced. I spoke to another dealer, and they never said a word about the recall. Has anyone heard about this issue with the printed circuit boards failing?"
"I would be real concerned about a "dealer" that doesn't know about the recall or problems with the handlebar switches. There have been a few threads about them, but the bottom line is that most have failed, and the redesign seems to have fixed the problem with both sides. Definitely get them replaced."
If your BMW K 1600 GT has a malfunctioning handlebar switch, the remedy is to replace it with a new one. BMW has acknowledged this issue and initiated a recall. They will replace the faulty switch under warranty if the bike's warranty period is still active.
However, please be aware that some bike owners have experienced subsequent failures with their replacement switches. Therefore, it's recommended to regularly inspect the controls for any indicators of damage or corrosion.
Here are some proactive steps you can take to help prevent switch failures:
Apply dielectric grease or silicone spray on the switches to shield them from moisture and corrosion.
Try to limit riding in extremely wet or dusty conditions or for extended durations at high speeds.
Before each ride, ensure the switches' wiring and connections are in good condition.
3. Rear Brake Pads Wear Out Fast
The rear brake pads of the BMW K 1600 GT are known to wear out faster than the front brake pads due to the bike's integrated braking system (IBS).
Furthermore, the K 1600 GT's linked braking system (LBS) applies both front and rear brakes when either the front brake lever or the rear brake pedal is pressed, increasing the pad's rate of acceleration.
Rapidly wearing brake pads can be a costly and annoying problem that affects the braking performance and safety of the bike.
The symptoms of worn-out rear brake pads include:
Reduced braking power or responsiveness.
Squeaking or grinding noise when braking.
Brake pad warning light or gauge indicating low pad thickness.
One owner shared his experience on a forum: "My OEM rear pads were worn down at 6000 miles, and no, I didn't ride the rear brakes. Front pads showed no wear at all. After a conversation with dealer service, they admitted there had been issues with rear brake wear on the 1600s. I paid the labor for installation, and BMW bought the pads."
The solution for worn-out rear brake pads is to replace them with new ones. BMW recommends using only original BMW brake pads, which are specially designed for the bike's braking system. However, some owners have opted for aftermarket brake pads, such as EBC or Galfer, which may offer better performance, durability, or price.
However, using aftermarket brake pads may void the warranty or affect the ABS function of the bike, so it is advisable to consult a professional mechanic or dealer before making any changes.
To prevent the rear brake pads from wearing out fast, some tips are:
Use only the front brake lever for standard braking and use the rear brake pedal only for emergency braking or low-speed maneuvering.
Avoid riding in extremely wet or dusty conditions or for prolonged periods at high speeds.
Check the brake pad thickness and the condition of the rotors and calipers before every ride.
4. Dated Bluetooth Audio System
The BMW K 1600 GT's Bluetooth audio system is designed to provide a seamless wireless experience for the rider and passenger. It enables music listening, phone calls, navigation, and communication between riders. However, some owners have reported that this system needs to be updated, lacks reliability, and needs to interface better with numerous contemporary devices and accessories.
Signs that the Bluetooth audio system is outdated include:
Difficulty pairing or connecting with the intended device or accessory.
Connection loss or dropping off with the paired device or accessory.
Subpar sound quality or signal interference.
Inability to support certain features or functions of the paired device or accessory.
"The only thing that annoys me about this bike… the antiquated (2.0) and proprietary Bluetooth… So, I do not use their audio which is a shame being that the Sirius is free for a year, but it sounds like CRAP if you do not use the overpriced BMW communication system. They cannot pair the 2nd helmet unless it is their own communication system… HEY BMW. Bluetooth is a 'standard,' and you still managed to make it proprietary!!"
To avoid having an obsolete Bluetooth audio system, consider the following tips:
Use only devices and accessories compatible with the Bluetooth audio system.
Refrain from using multiple devices or accessories simultaneously with the Bluetooth audio system.
Regularly check for and install firmware updates or patches for the Bluetooth audio system and the paired devices or accessories.
5. Faulty Quick Shifter
The BMW K 1600 GT's quick shifter, a feature enabling gear changes without clutch usage or throttle release, has been reported faulty by some owners, resulting in delayed or missed shifts.
"I find myself with the problem that my quick shifter seems to start to 'falter' more and more. It began with an occasional 'late' shift, but now it started to have problems substantially more often. Only when I Rev up really high it still seems to work normally, but at any other rpm range, it seems to shift with delay. When it happens, the rpm goes up a little before it shifts."
Solutions include resetting, recalibrating, or replacing the shifter.
6. Electronic Computer Unit Crashes
Owners also report problems with the BMW K 1600 GT electronic computer unit (ECU), which manages engine functions. Issues with the ECU freezing can lead to the bike stalling or failing to start.
BMW issued a recall for particular 2019 and 2020 models due to potential suspension failure that could affect the ECU.
Owners of these models should check with their dealers.
For older models not covered under warranty, an expensive ECU update or replacement might be required.
Take preventive measures like using BMW-approved fuel, adhering to recommended maintenance schedules, avoiding extreme weather or high-speed rides, and checking for dashboard error codes or warning lights before every ride.
7. Front Shock Lock-Up Failure
The BMW K 1600 GT's front shock, an electronically adjustable suspension (ESA), has reportedly seized for some owners, causing a rigid, unresponsive ride. Symptoms include a failure to adjust to road conditions or selected modes and a stiff ride feel.
"I didn't have time to put more than a few hundred km on it since the last dealer intervention – the font shock replacement.
My bike has seen dealers in the UK and Romania. BMW national HQs have said, "This is not normal," and some BMW dealers have said, "Well, this is an expensive, somewhat exotic, low-volume production bike; what did you expect?" Given these mixed messages and the wave of BMW recalls, it's hard for me to make sense of it all.
I have no idea what to expect next, and I'm afraid I won't afford to keep my gorgeous 6-cylinder bike with this kind of reliability issue."
The solution typically involves replacing the faulty shock.
BMW has issued a recall for some 2019 and 2020 models, but replacement could be costly for older models not under warranty.
Some owners resort to aftermarket shocks, which may void the warranty or impact the bike's front-fork functionality.
To avoid shock lock-ups:
only use BMW-approved oil.
follow maintenance schedules.
avoid extreme riding conditions.
regularly check for shock absorber leakage or damage.
What Are the Pros and Cons of the BMW K 1600 GT?
Pros:
Powerful and smooth six-cylinder engine
Comfortable and adjustable ergonomics
Advanced and customizable electronics
Generous and versatile luggage capacity
Excellent handling and stability
Superb braking and suspension systems
Cons:
Front Shock Lock-Up Failure
Faulty Water Pump
Handlebar Switchers Prone to Failure
Rear Brake Pads Wear Out Fast
Dated Bluetooth Audio System
Faulty Quick Shifter
Electronic Computer Unit Crashes
What's the Resale Value of the BMW K 1600 GT?
| | | |
| --- | --- | --- |
| Year | Mileage | Used Listing Price |
| 2018 | 13,967 mi | $17,499 |
| 2017 | 6,601 mi | $19,995 |
| 2016 | 8,938 mi | $16,999 |
| 2015 | 20,745 mi | $12,491 |
| 2014 | 996 mi | $19,995 |
| 2013 | 30,177 mi | $8,995 |
| 2012 | 19,962 mi | $9,984 |
What Are Some Alternative Models?
| | | |
| --- | --- | --- |
| Make/Model | MSRP | MPG |
| Honda Gold Wing Tour | $28,300 | 42 |
| Yamaha FJR1300ES | $17,999 | 36 |
| Kawasaki Concours 14 ABS | $15,799 | 39 |
| Suzuki GSX-S1000 GT | $13,499 | 44 |
| BMW R 1250 RT | $18,645 | 50 |
Related: How Long Do BMW K1600 Last? (9 Important Facts)
What Do the Reviews Say?
"The BMW K1600GT is pure luxury. There's no smoother, more refined way to tour on two wheels. Honda's Gold Wing had previously ruled this category, but it doesn't have the versatility or handling of the K1600. When the six-cylinder BMW was launched in 2010, it set a new performance benchmark and left every other big tourer in its considerable wake."
"There is no smoother or arguably safer way to travel than the K1600GT. It consumes miles and is now more comfortable than ever. If you tick all the accessory boxes, it becomes the limousine of the bike world – but at a price."
"BMW's K 1600 GT bridges the gap between the straight-up bagger K 1600 B and the K 1600 GTL tour bike that all saw a host of improvements ahead of MY2022. A revised powerplant brings more torque than before, along with new electronics to help it meet its EU-5 emissions rating. Adaptive lighting moves from the options list over to the standard equipment package along with a new multi-function TFT instrument interface and new optional gear from which to choose."
"Around behind the glass, a new 10.25-inch color TFT display bundles all of the instrumentation along with the ride-control electronics and a Tire Pressure Monitor. The BMW Motorrad Connected App adds connectivity and navigation to the bundle of goodies, and if you want to be sure you have enough tuneage for everyone around you, you can spring for the optional Sound-Enhanced Audio System version 2.0.
At seven gallons, the fuel tank is quite voluminous and should provide some peace of mind if you ever find yourself in a fuel desert with long stretches between stops. Seat height is adjustable from 31.9 inches tall or cranked up to 32.7 inches off the deck to suit, and the rest of the rider's triangle is set to provide a relaxed, upright riding posture for long-distance comfort."
Sources:
BMW K1600GT Motorcycles for Sale – Motorcycles on Autotrader.
BMW K1600GT Bikes for Sale – Motorcycle News.
BMW K 1600 Gt Motorcycles for Sale Near Me – Cycle Trader.