The K1600 series are a line of touring motorcycles by BMW's Motorrad division.
The line includes the K1600GT, K1600B, K1600GTL and K1600 Grand America.
While the GT is stylized more as a sport-tourer, the K1600B is a bagger designed for the North American moto-market, and the GTL is a luxury tourer a la the Honda Goldwing.
The Grand America is a high-performance touring bike for two.
In this article we'll dissect the K1600's average lifespan.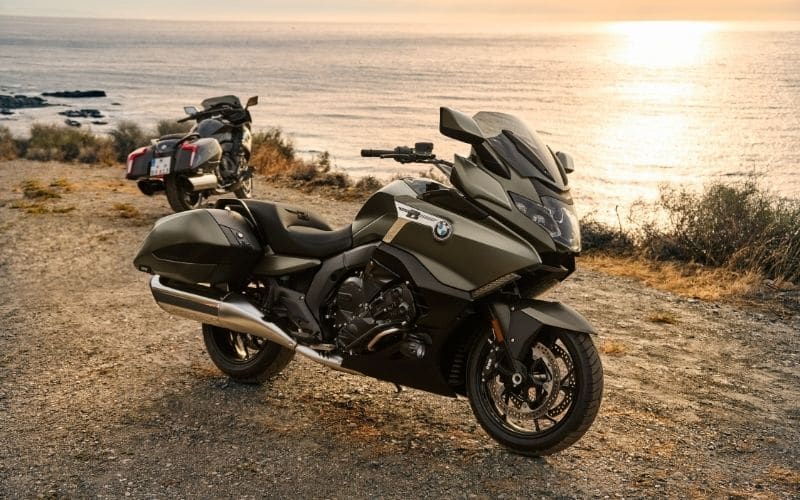 Here is the short answer to how long BMW K1600s last:
The BMW K1600 can last more than 100,000 miles. BMW Motorrad designed the K1600 tour line to last for the long haul. Based on an annual mileage of 5,000 miles, if well maintained and serviced regularly, a K1600 could last over 20 years.
How Many Miles Can a BMW K1600 Last?
The K1600 has only been around since 2012 so there's not a huge amount of data, but we are confident these machines should last for a very long time, and even 150,000 miles is not an unrealistic expectation.
However, if the owner fails to maintain and service it according to the manual, it won't make it this far.
Also, keep in mind your riding style will have a huge impact on how long your K1600 lasts, smooth controlled acceleration and not constantly pushing it to its limits will help ensure major components receive less wear and tear.
We heard from a few real-life K1600 owners in the forums, and this was what they had to say:
"I've only got 45,000+ miles on mine, hoping for over 100,000 before I trade in for another."
"44k miles in 2 yrs. There are no real problems except engine corrosion and rusty fitting due to rain and salt spray."
"Mine just turned over 45k miles and should be around 50k miles by EOY. No problems other than those listed and all fixed under warranty"
"I traded mine in at 45k after two years and lost around 60%. Had plenty of issues but none causing breakdown. The one thing I would look out for is front suspension bushes. I complained around 36K that "something didn't feel quite right" They discovered that the front suspension bushes had corroded and all needed replacing. It may just be a UK issue due to the salt on the roads in the winter, but if corrosion is showing on the engine, then there's a chance that the bushes could also be affected. Also, like many others here, I had to have the L/H switchgear replaced. The main issues were the gearbox which BMW changed twice. Not through failure but due to the legendary 'clunk'."
Mine turned 98,000 miles yesterday. 2012 GTL
The K1600 has only been on the road since 2012, so there aren't too many examples of crazy-high miles. But we're not done yet; for any skeptics, pay close attention to these last two examples.
"[My K1600 and] I have shared 100,000 miles together in five years since we bonded in 2015. I thought we would share this goal much earlier this year, but a pandemic threw a spanner is in the works, so I have done little riding since returning from Colordado in March. A few other family considerations also put dampers on my riding. But the fall weather in Texas has been wonderful, so I have done two rides in the last week, which total more than 1,000 miles. Today was a 700-mile ride out from Houston to do a couple of the 3 Sisters in the Hill Country west of Kerrville. Coming home, [my K1600] passed 100,000 miles!"
"I think you might be fine with racking up 100,000 miles. I am now at 129,600 miles on a 2012 GTL with no engine, final drive, transmission problems. I have had the typical issues: water pump, switches, front wheel bearing, and one coil. The bike feels better than when it was new. Oil consumption is about 1/2qt./6000 mile. Tires have been the most significant expense over time."
There you have it, folks; the K1600 is more than capable of hitting a hundred k.
How Reliable Are BMW K1600s?
BMW K1600s are reliable, providing they are stored correctly, ridden responsibly, and maintained per the service schedule outlined in the owner's manual. Complaints about the model's reliability are often attributed to the high maintenance cost than with the K1600's integrity itself.
The K1600 will require no more or less maintenance and attention than any competitor motorcycle, the mantra goes: "pre- maintenance work instead of repair work".
When you get the bike serviced always check the coolant level when you get home and add if required, this will prevent overheating issues – some BMW dealers have been known to not check their work.
K1600 enthusiasts will also strongly encourage you to change the front bearings at least every 40,000 miles to keep things running smoothly.
BMW designed the K1600 series to run for the long haul, and since its inception, it's gone through more than a few annual upgrades that have only served to extend the amount of time a K1600 spends on the road versus in the shop.
A 2015 Consumer Reports study revealed that BMW had the lowest rate of customer satisfaction among motorcycle owners, although the results should be taken with a pinch of salt.
The study's results had more to do with the cost of ownership than with the BMWs reliability.
All BMW Motorcycles are considered luxury vehicles due to their high-quality parts and materials.
Because the cost of replacement parts and labor is so high, some BMW riders are reluctant to have their bike maintained.
Failure to maintain a BMW motorcycle following the schedule in the owner's manual will make the bike less reliable.
Our advice – look into the servicing costs of a BMW motorcycle in the section below and make sure it's within your price range.
What is Considered High Mileage for a BMW K1600?
On the used market a BMW K1600 is considered high-mileage after 45,000 miles, this is based on the fact that it's a touring motorcycle. Mileage consideration is a less accurate tool to assess the longevity or reliability of a K1600 than service history and how the bike was looked after.
A well-maintained K1600 with 60,000 miles on it will outlast a poorly kept model with 5,000 if its low miles are the result of neglect.
The blue book value maker of 45,000 has little to do with the working order of the bike.
The fact is that the K1600 is known to far outlive that figure, over 100k miles in some cases, thanks to its solid build quality.
All models in the BMW K1600 series are built with high-quality parts and are considered luxury motorcycles.
High-Quality metals and alloys can withstand more mileage than other tours on the market, despite the universal 45k high-mile consideration.
BMW also manufactures a limited number of K1600s each year, primarily from their home plant in Berlin, Germany to keep their quality controlled.
In many cases the exclusivity and attention to detail behind the Motorrad K1600 series extends their lifespan well past the blue book estimation and closer to the 100k mark.
You may also be interested in our article: How Long Do Honda Gold Wings Last?
What Are the Best Model Years to Buy and Avoid?
Best Years: 2022
Due TO BMW's commitment to quality engineering and annual improvements, the latest K1600 is simply the greatest. There are three general K1600 packages available for 2022, but our choice for the best model is the one they call Option 719.
2022 K1600's equips a Premium Package including, but not limited to:
Keyless Ride
Central Locking System
Gear Shift Assist Pro
Anti-Theft Alarm
Audio System 2.0
LED fog lights
Engine protection bar
A few of our favorite 2022 K1600 Option 719 features are:
Mineral White metallic finishing, with pinstriping
Frame, engine, seat, and front calipers are blacked-out
Tank center cover and front part of the front fender in Mineral White Metallic
Night Black Matt Radiator Cowl
Slipstream deflector trim all Chromed out
Optional Option 719 seat with diamond top-stitching in saddle brown and cloud print
Optional Option 719 classic forged rims
Runner Up: 2017-2020
The 2017-2020 generation used a unique powerplant of a motor—a 72 mm bore and 67.5 mm stroke adds up to a total displacement of 1,649 ccs with a scorching 12.2-to-1 compression ratio.
Dual Overhead Cams time this K1600 rendition's 24-valve head with a shim-and-bucket adjustment system.
Induction control falls to the 52 mm throttle bodies.
ECU input is based on rider input through the ride-by-wire control, level of traction control intervention, and riding-mode settings.
New engine maps bring it all together.
This generation stocked multiple layers of electronic features that are accessible and customizable to the rider by push-button controls.
The 2017-2022 K1600 motor passed the dyno test with flying colors—160 horsepower at 7,750 rpm yanked by 129 pound-feet of torque that peaks at 5,250 RPM.
Power flows through a wet clutch on a six-speed equipped with helical gears that crank with a silent but deadly fashion in a swopping effort to maintain the luxury appeal of the touring series.
Worst Years: 2012
While there are myriad 2012 K1600 owners who would happily repurchase the first-year model, more than a few riders we encountered expressed some disappointment about the 2012 models for their "clunky" transmissions.
To be clear, we're not implying that the 2012 transmission was unreliable or problematic in any way, simply that owners found it to make loud clunks during operation.
While some riders find the 2012s had more play when transitioning on and off the throttle with rapid twists, the owner of a 2016 K1600 had this to say:
"I had a 2012 produced in 2011 and a 2012 produced in 2012. A buddy has a 2012 produced in 2012. I currently ride a 2016. I find no difference. [That said,] some pretty credible folks on this forum had earlier models which they traded for newer models, and they found the new transmissions are quieter and have better action."
I wouldn't miss a good deal on a 2012 BMW K1600 just because of a clunking transmission sound, but that's me – it's certainly a matter of taste.
Some in the luxury market consider the quiet operation a critical component of a "luxury" tour bike.
A 2013 or newer could have a smoother transmission with less play (the K1600 gearbox was even more dialed in by 2014, to be honest).
While not many first-year owners found the transmission to be acceptable, the design and operation certainly got better in time.
The early models sell for less, and the gearbox noise doesn't indicate a reliability problem.
Overall, the K1600 has been a solid choice since day 1; The older the model, the lower the price.
BMW K1600 Maintenance Costs
The maintenance cost of a BMW K1600 is expensive compared to other brands. Maintenance through BMW dealers and mechanics can cost as much as $700 a visit.
Routine maintenance cost on a BMW K1600:
600 miles – $200.
6,000 miles – $250.
12,000 miles – $350.
18,000 miles – $750.00.
Maintenance costs per riding season: $1,550-$1,746 depending on region, dealership, fluid conditions, etc.
You may also be interested in our article: Are BMW Motorcycles Worth the Money?
4 Tips to Make Sure Your BMW K1600 Lasts Long
1) Service your K1600 according to the service schedule outlined in the owner's manual
Maintenance is the most important aspect for longevity.
We suggest taking it to BMW for servicing.
2) Ride your K1600 regularly
Riding it regularly keeps its fluids pumping and helps keep various components in good working order.
Always prep your luxury tourer for long stints of inactive storage.
3) Store your K1600 away from corrosive elements.
Indoors is best, away from airborne chemicals. If you store your Beamer bike outside, use a rugged tarp to keep out destructive weather.
4) Keep it clean
The build-up of dirt and grime can accelerate the rate at which parts break down.
Don't leave it longer than 2 months to give your bike a good wash.
How Much Does a BMW K1600 Cost and What Are Some Alternative Options?
| | |
| --- | --- |
| Make and Model | Base Price |
| BMW K 1600 B | $22,545 |
| BMW K 1600 GT | $23,895 |
| BMW K 1600 GTL | $26,895 |
| BMW K 1600 Grand America | $27,745 |
| BMW R 1250 RT | $18,645 |
| Honda Goldwing | $23,900 |
| BMW R 1200 RT | $18,395 |
| Yamaha FJR1300 | $16,399 |
| Harley-Davidson Road Glide | $21,699 |
| Indian Challenger | $21,999 |