The BMW S1000 XR is an adventure-sport bike that combines sports bike performance, adventure personality and dual-sport practicality.
The S1000 XR stocks a monstrous 166 bhp engine, semi-active suspension, and a refined electronics package.
But no bike is perfect—this article explores the most common problems reported by owners and reviewers alike regarding the BMW S 1000 XR.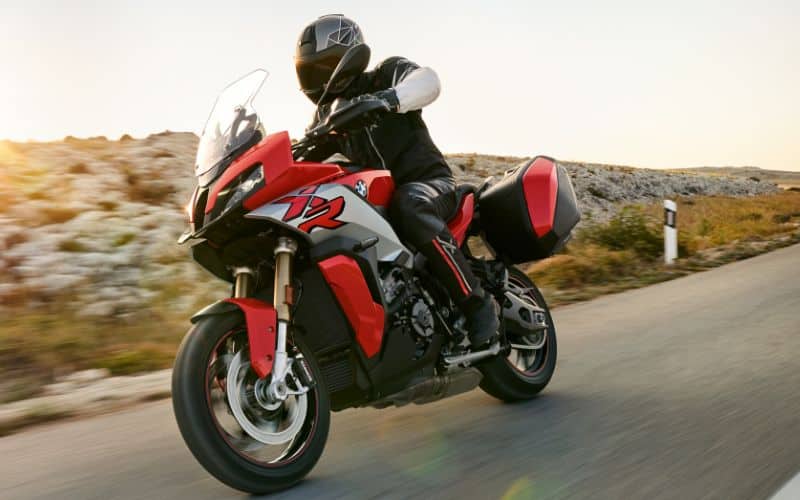 1. Excessive Engine, Seat, and Handlebar Vibrations
The most common problem BMW S 1000 XR riders have experienced is excessive vibrations, mainly through the seat and handlebars.
While the BMW S1000 XR's disorienting vibrations don't directly cause performance issues, S1000XR owners frequently report numbness and discomfort, especially on long rides. This can be distracting for a rider on a long adventure trip, enough to cause fatigue, deplete endurance and jeopardize the rider's safety.
But don't take our word for it; here are three examples from the mouths of real-life BMW S1000XR owners:."
"The vibrations through the bars from the revs at freeway speeds get pretty unbearable pretty quickly…."
"[the distracting vibration] gets noticeable after 250+ motorway miles"
"I own an XR; I love it! The vibrations do slow down over time. I have 5K on the bike and don't feel them at all anymore. I did have the dealer replace the factor handle mounts with the recall-suggested mounts. You have to request the recall mounts; they're not the ones they typically throw out there."
The 1000XR's vibration issues are caused by the high-revving character of the inline-four engine, which produces a lot of torque and power but also generates some unwanted harmonics transmitted to the handlebars and footpegs.
The vibration issues can be fixed by using aftermarket bar risers or dampers, which can reduce the amount of vibration the rider feels.
Some riders may also find that adjusting their grip or wearing gloves can help.
The 2017 model of the BMW S1000 XR introduced a "vibration-free handlebar" with a redesigned upper fork bridge in a claimed attempt to reduce the vibration issues significantly —some riders still reported some vibration through the seat and footpegs.
The 2020 model of the BMW S1000 XR features a new engine and frame from the latest S1000RR, which was also an initiative for improving vibration issues – some riders still reported some vibration through the hand grips and footpegs at highway speed.
We're not aware of any official recalls or dealership solutions for the vibration issues from BMW, as they are considered normal for this type of engine and bike.
Some dealers may offer to check or replace the handlebars or other parts of the rider complaining about excessive vibration.
This problem affects some S1000 XR models more than others and can be fixed by using aftermarket bar risers or dampers.
2. Warped Front Brake Discs
Another issue reported by BMW S 1000 XR riders is warped front brake discs.
Brake discs are warped from excessive heat, friction, or stress on the disc, which can deform its shape and affect its stopping power and braking feel.
This problem can occur due to heavy braking, aggressive riding, poor-quality discs, improper installation, or environmental hazards.
Some BMW riders blame the fact that the S 1000 XR has such a sporty nature and high engine power, claiming that the disc just doesn't hold up to the force required.
"My [BMW S1000XR] had new front discs under warranty as I bought it Approved Used from a dealer, and they were warped on delivery."
"I had warped front discs on my 2017 XR. BMW replaced them under warranty."
"I had a warped front disc on my 2018 XR. It was replaced under warranty, but it took a long time to get the part."
Still, most S1000 XR riders report that their disc brakes hold up as long as they ride correctly.
Warped front brake discs trigger pulsing, squeaking, or shuddering sensations while you brake, reducing the rider's confidence, focus, and control.
Damaged discs also increase the braking distance and wear out the brake pads faster.
Aggressive riders who like to push their BMW S1000 sometimes replace the disc with a higher quality aftermarket disc set made for racing.
Warped front brake discs should be covered by warranty if detected early and reported to the dealer immediately. Some dealers may refuse to replace the disc if they diagnose it as the result of improper or aggressive riding, qualifying it as ordinary wear and tear, as they are considered rare and isolated cases.
3. Cam Chain Tensioner Noise
One of the more common complaints BMW S1000 XR owners note is an abrasive and distracting rattling noise coming from their cam chain tensioner.
The cam chain tensioner noise is caused by the wear or slack of the cam chain or damage to the tensioner itself, which can produce a rattling or clattering noise, sometimes sounding like it's coming from the engine, especially at startup/low revs.
"The cam chain tensioner is noisy, which has only just developed. I took it back, and the mechanic can't hear an issue with it."
"I have a 2019 XR, and I noticed a rattling noise from the engine at around 6000 miles. I took it to the dealer, and they said it was the cam chain tensioner and replaced it under warranty."
"My 2020 XR has a loud cam chain tensioner noise. It sounds like a diesel engine. The dealer said it is normal and nothing to worry about."
While eventual wear is typical on all chain systems, some S1000XRs incur worn cam chains and tensioners because of poor maintenance or faulty parts.
The cam chain tensioner noise can cause distraction and annoyance for some riders, who often think that something is wrong with the engine.
If the chain or tensioner is severely damaged or broken, it hurts the engine's performance and timing.
There have been no official recalls or dealership solutions for a cam chain tensioner noise problem from BMW, as they are considered normal for the BMW S1000XR.
That said, some dealers may offer to check or replace the chain or tensioner if the rider complains about excessive noise.
Furthermore, the 2017 BMW S1000 XR stocked a longer screw plug for the cam chain tensioner, which is claimed to reduce the startup rattle and cam chain noise, even though BMW has deemed it typical.
Unfortunately, some riders still report noise from the chain or tensioner after the 2017 update.
Related: 7 Most Common BMW R1200 GS Problems (Explained)
4. Software System Malfunction; Wheelie Control Failure
More than a few BMW S1000 XR riders experienced a software malfunction that turned off the wheelie control without indication on the dash display.
Wheelie control is a software enhancement used to prevent the 1000XR from exerting enough torque to lift the front end off of the ground, automatically applying the rear brake to counteract the force.
BMW has built in an optional disengagement mode that disables the Wheelie Control software.
Unfortunately, a software update on some 2020-2023 S1000 XR models caused the Wheelie Control to turn itself off without indicating that it was off to the rider.
If the rider attempts to accelerate their throttle hard, expecting their wheelie control software to prevent a wheelie only to find the software has been disabled, the bike could lift without warning, causing a collision.
"I got a recall notice from BMW about a software update for the wheelie control. They said it could turn off without warning and cause an accident. I took it to the dealer, and they fixed it for free."
"I had a software malfunction on my 2020 XR. The wheelie control turned off by itself, and I almost looped it on a wheelie. Luckily, I managed to save it. I contacted BMW, and they said there is a recall for this issue, and I should take it to the dealer as soon as possible."
"I checked my VIN on the BMW website, and it said my 2020 XR is affected. I booked an appointment with the dealer to get it sorted out."
The wheelie control malfunction is easily fixed by a free software update from the dealer that restores the correct setting.
BMW issued a safety recall for the affected bikes on February 3, 2023, with plans to notify the owners on March 28, 2023, advising them to inspect and adjust their wheelie control settings and bring their bikes to the dealer for free inspection and software updates.
What are the Pros and Cons of the BMW S 1000 XR?
Here are some of the pros and cons of the BMW S1000 XR, based on our experience and the experiences of other real-life riders. That said, the list doesn't reflect every rider's experience or preference–find out if you like the bike by taking it for a test ride.
Pros:
Extremely powerful; a high-revving engine that delivers 165 bhp and 84 lb-ft of torque.
Predictable power and consistent torque delivery with a strong mid-range and a staggering top-end.
Effective braking system; Brembo calipers and BMW's ABS Pro
6-speed gearbox with quick shifter and auto assist features.
Advanced display with phone connectivity and TFT screen.
Industry-leading nimble handling at low speeds and in corners.
Impressive specification for the base model with semi-active suspension, riding modes, traction control, wheelie control, cruise control, and more special tech features.
Cons:
Lacks comfortable seat cushioning and comfort for long rides
Engine vibration rider can feel through the seat and handlebars at certain revs.
Not ideal for off-road riding or rough terrain.
Not as luxurious or refined as some of its rivals.
Aggressively sporty nature can cause fatigue on long rides.
Related: 7 Most Common BMW R nineT Problems (Explained)
What Do the Reviews Say?
"The second-generation 2020 BMW S1000XR didn't need to reinvent the wheel. Launched five years earlier, the original bike (2015-2019) quickly came to define the adventure-sport class, packaging a retuned S1000RR superbike engine and frame with long-ish travel suspension, adventure bike usability, plus decent weather protection and comfort. What's not to like about a practical distance-ready 160bhp jacked-up sports bike? But while the recipe for the 2020-on model is similar, the XR is almost entirely new. The inline-four 999cc engine is the latest powerhouse from the most recent S1000RR."
"It's not a proper adventure bike… Only a swivel-eyed headcase would consider taking the BMW on anything rougher than a recently raked gravel drive, and though comfort and sophistication are better than the early version, it doesn't have the luxury of more touring-biased rivals like the sumptuous Kawasaki Versys 1000, remarkable Ducati Multistrada V4 S or its sibling rival, the ubiquitous R1250GS. The S1000XR's aggressively sporty nature can become a little tiresome on day-long rides, too."
SOURCE: BMW S1000XR (2020 – on) Review | MCN (motorcyclenews.com)
"Another gripe is that there isn't a manual mode for the suspension. When compared to Ohlins or Showa semi-active systems, we're often given a manual option that will let riders dial in settings as they see fit, which could have given me a happy medium between Road and Dynamic.
Of course, it's important to remember that the spring rates are designed to compensate for luggage and passengers (which we didn't have), and the uncomfortable seat is playing a role in my feelings toward the suspension."
SOURCE: 2020 BMW S 1000 XR | Tour Test Review | Rider Magazine
What's the Resale Value of a BMW S 1000 XR?
| | | |
| --- | --- | --- |
| Year | Mileage | Price |
| 2016 | 18,030 | $9,998 |
| 2018 | 7,864 | $12,980 |
| 2019 | 2,860 | $13,495 |
| 2019 | 4,280 | $13,995 |
| 2020 | 2,058 | $16,499 |
| 2021 | 8,768 | $19,999 |
| 2023 | New | $21,915 |
SOURCE: BMW S1000XR Motorcycles on Autotrader, Cycle Trader
What Are Some Alternatives to the BMW S 1000 XR?
| | | |
| --- | --- | --- |
| Make/Model | MSRP | Average MPG |
| BMW S1000 XR | $20,915 | 44 |
| Ducati Multistrada V4 S | $24,095 | 40 |
| Kawasaki Versys 1000 SE LT+ | $18,199 | 40 |
| Triumph Tiger 1200 Alpine Edition | $18,500 | 39 |
| Yamaha Tracer 9 GT | $14,899 | 44 |
| Honda Africa Twin Adventure Sports ES DCT | $17,999 | 43 |
Sources:
2020 BMW S 1000 XR | Tour Test Review | Rider Magazine
BMW S1000XR (2015 – 2019) Review | MCN (motorcyclenews.com)
BMW S1000XR (2020 – on) Review | MCN (motorcyclenews.com)
2020 BMW For Sale – BMW Motorcycles Near Me – Cycle Trader
BMW S1000XR Motorcycles for Sale – Motorcycles on Autotrader