The BMW X1, which made its U.S. debut in 2013, is the smallest and most affordable crossover in BMW's lineup.
Although it's an entry-level model, the X1 still exudes BMW's signature refinement, style, and performance, while delivering unparalleled driving dynamics.
In this article, we'll take a look at some of the common issues and problems BMW X1 owners have faced.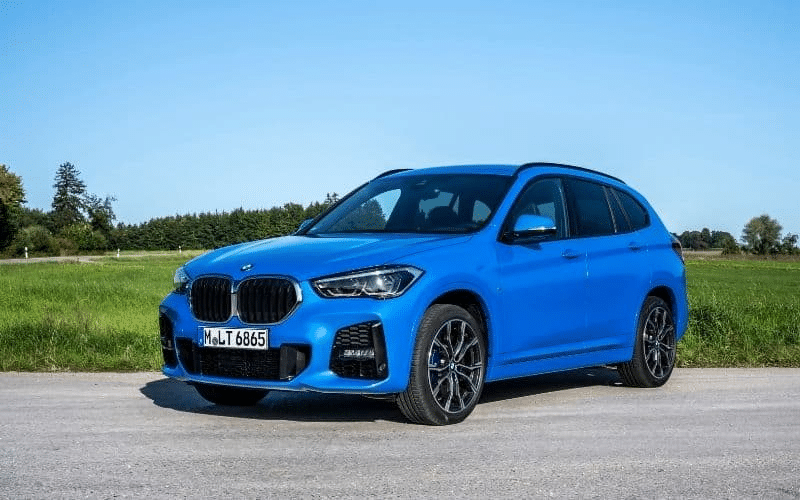 1. Timing Chain Issues
The first-generation X1 xDrive28i and sDrive28i models were equipped with the N20 turbocharged 4-cylinder engine.
This engine is used in many other BMW models but is known to have premature timing chain failures, typically caused by the plastic chain guide wearing out and breaking into pieces.
There have been cases where debris fell into the oil pan and caused severe engine damage. A loose timing chain will also cause the combustion process to go out of sync and allow the valves to hit the pistons.
Common symptoms timing chain issues include:
Death rattle sound
Makes more noise when revving
Misfires
Check engine light
Won't start
The timing chain tensioner in the N20 engine was updated in 2015 for the 2016 model year. Newer cars should be less prone to timing chain issues. However, in older cars with higher mileage, it is advisable to preemptively replace the chain and guides, if they have not already been replaced, to prevent future engine problems.
Additionally, it is crucial to maintain the engine's oil by changing it every 5,000 miles and checking the timing chain for any play periodically. Doing so can prevent premature timing chain failures.
2. Plastic Cooling Parts
The BMW X1 is known to have issues with the cooling system's plastic components, particularly the water pump, thermostat housing, and radiator.
The plastic used in these components can become brittle over time, leading to cracks, leaks, and overheating problems.
The most common failure is the electric water pump which can suddenly give out without warning and cause overheating problems.
Other common failures include:
Thermostat
Pipes and hoses
Radiator
Expansion tank
Reservoir
Here's how one X1 owner described their experience on BimmerPost.com:
"Got a 2013 X35i a couple of months ago. It's been leaking coolant. So far radiator, main hoses, coolant reservoir tank and trans. cooler hoses have been replaced. The thing is that the leak is not obvious at first and after about a half hour of driving the coolant leaks out, loosing about half of the systems capacity very quickly."
"The car has right around 50k miles. Looks like a water pump and thermostat replacement will be done anyways. That should stop the leaks for another 50k miles."
Although replacing the thermostat, water pump, and cooling system pipes is generally considered a part of routine vehicle maintenance, it is common for older BMWs to experience these issues more frequently and at an earlier stage than other vehicles.
3. Oil Leaks
Older BMWs have a tendency to develop lots of oil leaks over time as seals and gaskets eventually wear out.
Some engines, such as the N20 and N55 engines used in the first generation BMW X1 (E84 model), are more prone to common oil leaks.
These include leaks from:
Valve cover
Valve cover gasket
Oil filter housing
Front and rear main seal
Some of these only need to be addressed once you go past 100,000 miles, but others like the valve cover gasket and oil filter housing gasket are more prone to failure at much lower miles.
Here is how one X1 owner described their issue:
"I have an X1 2014 with 87k miles. Lately (2 days ) when the temperature dropped from 60F to 40F, smoke started coming out from the front. The engine smells like burnt oil when it is on (from the passenger side)."
The newer B48 and B58 engines have less reports of oil leaks, but leaks from the oil filter housing and PCV system are already starting to appear more frequently.
If you notice a rapid decrease in oil levels after short drives, inspect the engine bay and underneath the car for signs of oil leaks. Any local mechanic should be able to replace any worn-out gaskets or seals fairly easily, but an independent BMW tech or specialist would be worth the extra cost as they're more familiar with the process.
If you don't see any leaks, check the oil levels and make sure it's at least three quarters full. The BMW X1 doesn't have a dipstick under the hood, though. You'll need to use the digital oil level meter in the car's service menu.
If it's low on oil, top it up with more oil and take it to the mechanic. Make sure you're using the right oil as specified by BMW.
4. Engine Mount Failures
The second generation BMW X1 (F48 model), which debuted in 2016, is prone to early engine mount failures.
These typically need replacing at around 100,000 miles, but some X1s have had them go out at less than 20,000 miles.
It's usually the upper engine mounts that fail first, but the bottom ones can also fail over time.
Signs of worn mounts include:
Oil leaks
Clunking and popping noises from front
Excessive vibrations
Engine shaking too much
Here's a few owners described their experience on BimmerPost.com:
"Last year, I had to change right-side engine mounts (top and bottom), and BMW charged me around $400. At that time, my X1 only had 18,000 miles!"
"Last month my 2018 with 38K km need new right engine mount after I brought in to the dealer due to the steering wheel shake on the freeway. They found cracked rubber on the mount."
Worn engine mounts don't really cause any other damage but they might increase wear and tear on some components with the extra vibrations.
You can find upper engine mounts for the BMW X1 for around $200 and have a mechanic install them to save on costs. While most X1 owners have this done during the warranty period, it's common to need to replace them again after it has expired.
Related: How Long Does the BMW X1 Last? (Solved and Explained)
5. Rough Idle
Early second generation BMW X1s have had issues with rough idling and stalling after putting it in gear.
It's more common in the 2016 to 2018 model years.
Here's how a few owners described their issues:
"Our 17 X1 is having a rough idle issue on a cold start. When you start the car up, everything is normal, but if you put it in drive or reverse, the RPMs bounce around and the engine sputters and shakes."
"Been having this same issue off and on with my wife's 2017. Most days starts and idles fine… but every other week or so, start, rough idle, will stall if you try to put it in gear and move. Will try and sit and wait but this stinks of a bad sensor."
BMW addressed this issue in a Technical Service Bulletin (TSB) released in late 2017. The TSB recommends updating the ECU software, which has reportedly completely fixed the problem according to many reports.
A common workaround to this issue is to simply let the car idle and warm up for a bit longer before taking off.
6. Premature Brake Wear
Many first and second generation BMW X1 owners have complained about the excessive brake pad wear in both the front and rear.
Needing new brakes every 20,000 miles or every 1 to 2 years seems pretty common. This may seem excessive to some people who are accustomed to changing their brake pads at 30,000 to 50,000 miles or every 3 to 5 years.
The excessive brake wear could be caused by BMW's DSC (Dynamic Stability Control) applying the brakes more often to improve stability and handling.
The BMW X1 could also be using different brake pad compounds to improve overall performance and brake feel.
Here's how one owner described their experience:
"I have 24,312 miles on the odo and got a notice that rear brake pads need to be changed. Upon visual inspection, it's confirmed. I consider it "premature", but it seems to be not an uncommon issue with the F48 X1."
If you want to have longer brake pad intervals, try an aftermarket set that's designed for longevity and durability. You may not get the same braking performance, but it will make the car perfectly serviceable without overextending your budget.
Performing the brake pad change needs to be done at a BMW or euro specialist because they have to disengage the electronic parking brake first using their computers. This makes it inherently more expensive than a regular old DIY brake job.
7. Faulty Control Arms
A number of second-generation BMW X1 owners have reported experiencing problems with the front suspension making clunking noises when driving over bumps.
Here's how a few owners described the issue:
"I'm having an issue going over speed bumps. Whenever I go over a speed bump I hear a loud double clunk noise coming from the front passenger side near the suspension area."

"I'm also experiencing a crunching sound over speed bumps with a decent amount of speed in my 2017 X1. It's at the dealer now being looked at."
This issue should only affect the 2016 and 2017 models of the xDrive28i and sDrive28i. BMW issued a TSB in 2016 recommending to replace both front wishbones with an upgraded part to get rid of the noise.
If you're experiencing this in a newer model year, try taking it to the dealer to see if your car still needs the updated control arms.
8. Transmission Error
Several second generation BMW X1 owners have had issues randomly getting a transmission error message when parking the car.
This is also a common issue in the MINI Countryman, which uses the same platform, engines and transmission as the X1.
Here's how one owner described their experience:
"I had the same issue with the 2016 X1. Brought it in to the dealer and they said it had to do with the shifter. Replaced the existing shifter with a new one and problem went away. Thank god it was still under warranty."
"Same issue here as well. I went to the dealer and they are charging me for $2065 for a gear selector replacement (the whole thing). I ended up gave up and I think imma leave it as it is for now, since it doesn't really affect the drivability."
"2016 X1, 43k miles. Message: Transmission: Secure vehicle with parking brake when stopped. Consult service center."
Although it's true that the message is caused by a faulty gear selector, you don't have to replace the whole thing to fix the problem.
The error is actually caused by the shift interlock solenoid not properly engaging due to a small spring in the gear selector assembly. Simply replace this spring or stretch it back into place and everything will start working properly again.
Most BMW specialists will be familiar with this issue, but you can also find videos online showing you how to fix it on your own if you want to go the DIY route.
BMW X1 Pros & Cons
Pros
Small size is good for city driving
Premium interior
Good handling
Quick acceleration
Roomy for its size
All-wheel drive
Cons
Not as luxurious or refined as more expensive BMWs
Ride quality on rougher roads
Slow infotainment
What Do The Reviews Say?
"Around turns, the X1 provides huge amounts of grip and stays balanced and controllable. The M Sport package's summer tires and adaptive suspension are definite advantages here. Sport mode considerably firms up the steering feel, making the driving experience even better on tight roads."
"At city speeds, the X1 is a mixed bag. We like the light-effort steering and smooth-stopping brakes. The steering and small size make it easy to park, too. But getting away from a stoplight is sometimes a challenge due to the horrid engine stop-start system. It turns off the engine at strange times, and the engine restart is rough and shoves the car forward."
"As an entry-level crossover from a luxury brand, the BMW X1 doesn't feel like it's missing out on much. Overall space is plentiful for the class, mainly due to this car's boxy proportions. Considering the crossovers that it competes against, the BMW X1 has generous space in both rows with no shortage of either legroom or headroom."
"Our loaded-up test X1 lacked the optional adaptive cruise control system, and we'd expect it to be standard on a luxury SUV. Not having that is a major issue. Blind-spot warning works well at least, as does the lane departure warning system."
"The X1 can end up being pretty expensive, especially with a lot of options added. It is by no means a screaming value, but its size and fantastic build quality make it a worthwhile proposition. Everything in the interior feels sturdy, and there is a refreshing lack of cheap plastics — at least where it counts. BMW's warranty is par for the course among most luxury automakers. Three years of included maintenance is better than average, making the somewhat steep price an easier pill to swallow."
What's the Resale Value of a BMW X1?
Here's a quick look at used car pricing on Edmunds at the time of writing.
| | | |
| --- | --- | --- |
| Year | Mileage | Price |
| 2022 | 10,801 | $37,990 |
| 2021 | 20,135 | $32,988 |
| 2020 | 37,614 | $29,864 |
| 2019 | 48,497 | $26,500 |
| 2018 | 62,591 | $23,990 |
| 2017 | 74,264 | $22,987 |
| 2016 | 86,773 | $18,500 |
| 2015 | 94,789 | $14,999 |
| 2014 | 104,447 | $12,495 |
| 2013 | 117,964 | $10,891 |