The BMW X6 is a luxury midsize SUV that was introduced as a 2008 model year.
It is known for its sleek coupe-like styling, impressive performance, and near-perfect powertrain options.
In this article, we'll dive into its best and worst years…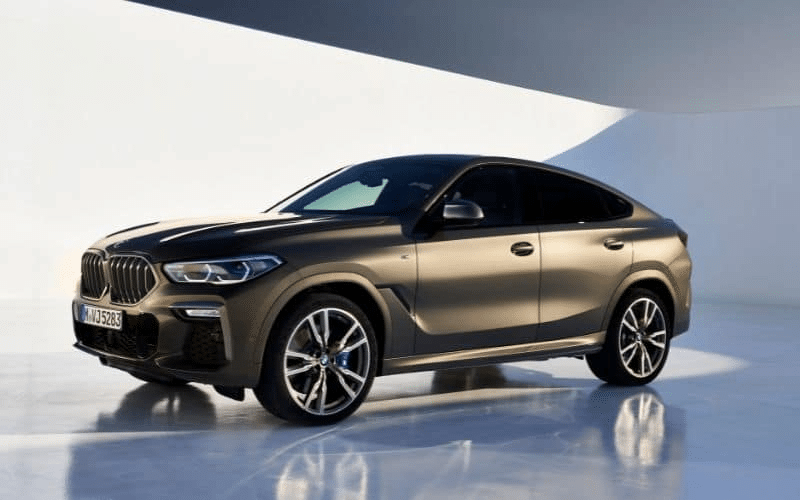 Here's The Short Answer To What The Best And Worst Years For The BMW X6 Are:
The best BMW X6 model years are 2023, 2022, 2021, 2020, 2019, 2017, and 2016. The worst model years of the X6 are 2011, 2012, 2013, 2009, and 2010. This is based on auto industry reviews, NHTSA statistics, reported problems, and consumer feedback.
What Are The Best Years For The BMW X6?
2023 & 2022 BMW X6
The 2023 and 2022 X6 models are top picks, both models are identical offering strong acceleration, a comfortable and quiet ride, and a high-quality interior. They are part of the third X6 generation introduced for 2020 and have received impeccable reviews.
For 2022 the sDrive40i trim was removed from the lineup, leaving just the xDrive40i and M50i trims.
The xDrive40i is priced at approximately $72,000 and is powered by a 3-liter mild hybrid engine (335 horsepower).
The M50i, on the other hand, is priced at around $90,100 and comes equipped with a bigger 4.4-liter V8 engine (523 horsepower).
The 40i is rated at 21 mpg in the city and 25 on the highway whilst the beefier twin-turbo V-8 X6 M50i is rated at 16 mpg city and 22 highway.
2023 & 2023 BMW X3:
Edmunds: 5.0 / 5.0
Kelley Blue Book: 5.0 / 5.0
JD Power: 83 / 100
Car & Driver: 9/10
2023 X6, Edmunds review:
"There's not a single thing I dislike on this SUV or wish to change. It's luxury, it ride smooth, it's fast, & feels safe, all at the same time. The features are second to none. The heads up display is a game changer when it comes to your driving experience. The display screen it's big & visible, & not to mention touch screen. I could go on for days about everything I love when it comes to this car."
2021 BMW X6
The 2021 X6 is another great choice, it has scored excellent reviews and has received minimal complaints according to NHTSA data.
It may be less practical than its competitors, but its fastback coupe-like profile is guaranteed to turn heads.
It comes with a state-of-the-art 12.3-inch touchscreen infotainment system laden with features including Apple CarPlay and Android Auto.
There are 3 available trims, sDrive40i, xDrive40i, and M50i.
The most popular trim is the midrange xDrive40i – it is essentially an sDrive40i but with all-wheel-drive instead of rear-wheel-drive.
Noteworthy safety features include Active Blind Spot Detection, Frontal Collision Warning, and Active Cruise Control with Stop and Go.
Edmunds: 5.0 / 5.0
Kelley Blue Book: 5.0 / 5.0
JD Power: 82 / 100
Car & Driver: 9/10
2021 X6, Edmunds review:
"Love the ride, firm but comfortable. Double personality, and never out of power. Fuel economy is not as bad for an 8 cylinder: up to 24 mpg of highway drive. Love it!"
2020 BMW X6
The 2020 X6 marks the beginning of the third generation of this luxury midsize SUV. This meant it was completely redesigned boasting improved power & performance and state-of-the-art safety, infotainment & convenience tech.
Along with its major redesign, it sports advanced features, powerful engines, and impressive driving dynamics.
There are 3 trims to choose from: sDrive40i, xDrive40i, and the M50i.
Depending on your requirements, the two-wheel-drive sDrive40i or the all-wheel-drive xDrive40i will make excellent daily drivers.
Edmunds: 5.0 / 5.0
Kelley Blue Book: 5.0 / 5.0
JD Power: 86 / 100
2020 X6, Edmunds review:
"I always thought the X6 design is unique, sporty and more aggressive (compared to the traditional boxy SUVs like the X5). I have another midsize SUV to do the task of carrying big boxes and occasional small furniture when helping out friends and relatives move. This X6, however, is for my daily commute and I must say it is absolutely FUN to drive. The 335 hp makes my drive from home to work (and vice versa) exciting … Thanks to its design, it catches a lot of attention from people on the road and on the sidewalks … The trunk cargo space is decent for my family. Without folding the second row seats, we were able to fit 2 large luggage and 3 carry-on rollies for a long weekend getaway. 21/26 mpg is also a plus (my older 2016 GLE only gives me 18/23). I'm a happy camper!"
2019 BMW X6
The 2019 X6 is the final iteration of the second generation of X6 models, which was first introduced in 2015.
Its engines offer zippy acceleration, the cabin provides a quiet ride, and the quality of the interior is top-notch.
New to this particular model year are more standard driver assistance features and Apple CarPlay.
EPA estimates are 20 MPG for combined driving, 24 MPG for highway driving, and 18 MPG for city driving.
Notable safety features are Speed Limit Information, Active Blind Spot Detection, and Active Driving Assistant. 
Edmunds: 4.7 / 5.0
Kelley Blue Book: 4.9 / 5.0
JD Power: NA
Car & Driver: 7/10
2019 X6, Edmunds review:
"After owning and driving this car for almost one year here is my take on it. First let me say that I was sold on this car before the salesman pulled over to let me drive it purely based on how comfortable the upgraded seats were and how powerful it felt on the road. Quiet, powerful, and a very smooth acceleration…"
2017 BMW X6
The 2017 X6 is another great choice when shopping for a unique looking SUV.
It boasts stellar owner reviews, powerful turbocharged six- and eight-cylinder engines, and a top-quality interior.
New to this model is an updated iDrive system with touchscreen technology and a wireless cellphone charging station for the Premium and Executive option packages.
Owners praised this model for its wealth of standard features.
Edmunds: 4.6 / 5.0
Kelley Blue Book: 4.9 / 5.0
JD Power: 83 / 100
Car & Driver: 7/10
2017 X6, Edmunds review:
"Have owned 3 X5's, a 5 series and a 3 series over the years and have always wanted an X6. When I saw the new design I had to have one. Ordered the dark olive directly from South Carolina. Only took 3 weeks to get it after ordered. Love everything about it! Now, if you have kids and you need more space for traveling etc. then this isn't for you. I drive the car primarily and my wife and I have already taken trips. It's the perfect fun vehicle for a middle aged empty nester like me."
2016 BMW X6
The 2016 X6 is the second installment of the second generation, this model is a safer choice than its predecessor which had a number of teething issues.
New to this particular model year are equipment changes, specifically the integration of a now-standard Bluetooth package with text messaging capability, an extra microphone, and simultaneous phone book synchronization for a secondary device.
It is very engaging to drive but may be slightly lacking in the practicality department.
Owners reviews have highlighted the following positive aspects of this SUV: interior, comfort, driving experience, and fuel efficiency.
According to EPA, owners can expect 21 MPG for combined driving, 25 MPG for highway driving, and 18 MPG for city driving.
Edmunds: 4.5 / 5.0
Kelley Blue Book: 4.9 / 5.0
JD Power: 81 / 100
Car & Driver: NA
2016 X6, Edmunds review:
"If you want an SUV by one, if you want a sports car buy one. If you are stuck somewhere in between and want the best of both worlds, the X6 M sport is the SAV for you! The genesis of the crossover revolution, all others are imitations."
Consumer Scores For Best BMW X6 Years
Model Year
Edmunds
Consumer Rating
Kelley Blue Book
Consumer Rating
JD Power
Consumer Rating
Car & Driver
Rating
2023 BMW X6
5.0 / 5.0
5.0 / 5.0
83 / 100
9 / 10
2022 BMW X6
5.0 / 5.0
5.0 / 5.0
83 / 100
9 / 10
2021 BMW X6
5.0 / 5.0
5.0 / 5.0
82 / 100
9 / 10
2020 BMW X6
5.0 / 5.0
5.0 / 5.0
86 / 100
9 / 10
2019 BMW X6
4.7 / 5.0
4.9 / 5.0
NA
7 / 10
2017 BMW X6
4.6 / 5.0
4.9 / 5.0
83 / 100
7 / 10
2016 BMW X6
4.5 / 5.0
4.9 / 5.0
81 / 100
NA
Related: How Long Do BMW X6 Last? (Solved & Explained)
What Are The Worst Years For The BMW X6?
2011 BMW X6
The 2011 X6, according to NHTSA data and other online sources, is the most problematic model year ever produced.
Numerous owners have reported loss of engine power, vehicle stalling, and illumination of the check engine indicator.
One owner even talked about how his car started to produce smoke, as narrated below:
"After idling on a car wash for at least 5 minutes, the car started to smoke. I have talked to 3 more owners of my series and they are going through the same problem. This is a BMW defect and now I am using excessive oil too."
You may encounter difficulties with having this issue repaired. A handful of owners have criticized the servicing of their vehicles by authorized service centers.
One owner claimed that his vehicle had to stay with the service center for approximately 42 days, which is an unreasonable amount of time to wait for the repairs to be done.
Here is the owner's full report on what had happened to his unit:
"My vehicle cut off on me on the freeway in the middle lane and traffic. My engine started to smoke. I was afraid for myself and the children. I have always taken my car into the BMW of Bloomfield dealership for services and maintenance. I have never missed one appointment. For the last 5 to 6 months. My vehicle stayed in their dealership. The longest was approximately 42 days and once I received my car my engine started smoking so I gave them back my vehicle. I asked them if they found out what caused my engine to smoke like this? they couldn't give me a straightforward answer. On numerous occasions while picking up my vehicle they always left something unplugged causing my interior lights to go crazy because of the wires being not properly fixed. This has happened at least 3 times in six months…"
The 2011 X6 had a total of 46 problems according to CarProblemZoo.com and 3 complaints at CarComplaints.com.
Common problems:
Engine overheating
TPMS light on
Excessive oil consumption
Heavy white smoke from exhaust
2012 BMW X6
The 2012 X6 is a close second in terms of total problems reported. Like the previously discussed 2011 model year, this vehicle suffered from a variety of engine-related problems. 
These problems included fuel pump failure, vehicle stalling, and reduced power.
A few owners also shared issues about their fuel injectors.
One owner shared his near-death experience below:
"I was recently on a highway driving and my car suddenly came to a halt, shaking and vibrating while other cars were behind me. I almost lost my life in an accident with a trailer truck who quickly maneuvered from behind me. I drove the car to a BMW dealership and I was told that the fuel injectors created that problem. The car has less than 90k miles on it and BMW is refusing to accept the fact that this is a safety issue which could have ended my life. I am requesting at this point for BMW to open a campaign for these fuel injectors or the government issue a recall on them. I need all of my BMW X6 fuel injectors replaced by BMW…"
The 2012 X6 had a total of 44 problems according to CarProblemZoo.com.
Common problems:
Airbag failed to deploy
Electrical system issues
Engine failure
2013 BMW X6
The 2013 X6 was widely affected by the Takata airbag recall, which meant the airbags were susceptible to exploding.
This problem was so widespread that it affected millions of units that were produced in the late 2000s and early 2010s.
Owners experienced major delays in servicing due to limited availability of airbag parts and components.
Here is one report that outlined the matter:
" … The contact owns a 2013 BMW X6. The contact received notification of NHTSA campaign number: 16v071000 (air bags); however, the parts to do the repair were unavailable. The contact stated that the manufacturer exceeded a reasonable amount of time for the recall repair. BMW Monrovia … was contacted and confirmed that the parts were not available for the recall remedy. The manufacturer was made aware of the issue and was not able to confirm when the parts were to become available…"
The 2013 X6 had a total of 34 problems according to CarProblemZoo.com.
Common problems:
Airbag failed to deploy
Engine caught fire
Steering issues
2009 BMW X6
The 2009 X6 was plagued with various engine-related defects.
Owners have reported uncontrollable shaking, sudden deceleration, and significantly reduced engine power that seemed to occur at random.
One harrowing experience involving a tank explosion was shared by one owner, as indicated below:
"Was going to lunch approx. 3-4 miles from my home as I pulled into the parking lot, the computer gave a panic warning to immediately turn off the engine as it was overheating and can cause damage. I turned off the motor and was confused as that was the only warning and it appeared that nothing was wrong. I got out of the car and opened the hood. As I was doing so the expansion tank exploded and the hot water shot past me and just caught my right shoulder. Needless to say if this caught me dead on I would have been burned badly. I called the dealer and was told that there was no recall on my vehicle. The dealer also told me to call another dealer as they may have better information. I had the expansion tank replaced and they replaced the coolant. There seems to be an air pocket in the engine and the coolant needs to be topped off after running the engine…"
The 2009 X6 had a total of 25 problems according to CarProblemZoo.com.
Common problems:
Airbag problems
Engine power loss
Vehicle stalled
2010 BMW X6
Of all the model years on this list, the 2010 X6 is statistically the least problematic model.
Regardless, there were significant issues that affected a lot of owners of this midsize SUV.
Owners reported excessive oil consumption, accompanied by a foul burning oil odor inside the vehicle.
Other reports specified water pump issues, which leads to engine overheating (that can damage other critical systems of the vehicle).
One owner had firsthand experience with water pump failure but was unable to qualify for a related recall campaign:
"I started my stationary vehicle in my driveway and I saw white smoke coming from under the hood. After further inspection, I saw a small fire on the connector to the auxiliary water pump. Using water I put out the fire. I took out the pump and harness and took pictures. I contacted BMW North America, who requested me to take the vehicle to the BMW dealership, who confirmed that it was the water pump that failed. There already is an active recall for a water pump for my vehicle, but as my vehicle has two water pumps, according to BMW, it is not for this water pump. However the failure happened just as described in the other water pump recall."
The 2010 X6 had a total of 18 problems according to CarProblemZoo.com and 1 complaint at CarComplaints.com.
Common problems:
Drive shaft broke
Airbag problems
Excessive oil consumption
What Years Have The Most Complaints?
Model Year
Complaints
(CarComplaints.com)
Problems
(CarProblemZoo.com)
Recalls
(NHTSA.gov)
2023 BMW X6
NA
NA
0
2022 BMW X6
NA
2
1
2021 BMW X6
NA
3
7
2020 BMW X6
0
NA
8
2019 BMW X6
0
2
4
2018 BMW X6
2
7
4
2017 BMW X6
1
2
2
2016 BMW X6
0
6
1
2015 BMW X6
0
8
1
2014 BMW X6
0
10
4
2013 BMW X6
0
34
6
2012 BMW X6
0
44
7
2011 BMW X6
3
46
12
2010 BMW X6
1
18
12
2009 BMW X6
0
25
10
2008 BMW X6
0
4
8
What Problems Do BMW X6s Have?
Noisy seat
Drive shaft broke
Engine overheating
TPMS light on
Excessive oil consumption
Heavy white smoke from exhaust
Airbags did not deploy
Rubbing noise from engine compartment
What Are The Best Alternatives To The BMW X6?
| | | | |
| --- | --- | --- | --- |
| Make & Model | Score | MSRP | Fuel Economy (MPG) |
| Volvo XC90 | 8.2 | $56,000 – $79,900 | City: 20 – 22 / Highway: 26 – 28 |
| Audi Q8 | 8.1 | $72,800 – $125,800 | City: 13 – 18 /Highway: 20 – 23 |
| Land Rover Range Rover velar | 8.0 | $60,300 – $79,200 | City: 19 – 20 /Highway: 25 – 26 |
| Land Rover Discovery | 7.9 | $58,400 – $77,800 | City: 19 /Highway: 22 – 25 |
| Acura MDX | 7.8 | $49,550 – $73,200 | City: 17 – 19 /Highway: 21 – 26 |
| Infiniti QX60 | 7.8 | $49,200 – $65,500 | City: 20 – 21 /Highway: 25 – 26 |
| BMW X6 | 7.7 | $70,100 – $113,700 | City: 13 – 21 /Highway: 18 – 25 |
| Lexus RX 350 | 7.7 | $47,400 – $57,00 | City: 21 – 22 /Highway: 28 – 29 |
| Land Rover Defender | 7.6 | $53,500 – $118,400 | City: 14 – 18 / Highway: 19 – 23 |
| Cadillac XT5 | 7.5 | $44,195 – $57,095 | City: 18 – 22 /Highway: 23 – 29 |
| Cadillac XT6 | 7.4 | $48,595 – $60,095 | City: 18 – 21 /Highway: 25 – 27 |
| Maserati Levante | 7.0 | $87,600 – $161,400 | City: 13 – 16 /Highway: 20 – 22 |
Source: cars.usnews.com, edmunds.com
Related: 23 Best & Worst BMW X5 Years (With Facts & Stats)
References
https://www.caranddriver.com/bmw/x6
https://cars.usnews.com/cars-trucks/bmw/x6
https://www.edmunds.com/bmw/x6/
https://www.jdpower.com/cars/2023/bmw/x6
https://www.carcomplaints.com/BMW/X6/
https://www.carproblemzoo.com/bmw/x6/