BMW launched their niche-busting X6 in 2008 as part of their Sports Activity Coupe lineup.
Characterized by its fastback roofline and chiseled profile, the X6 is guaranteed to turn heads.
If you're considering one as your next vehicle you might be wondering about its average lifespan.
We'll cover that in this article, read on to find out…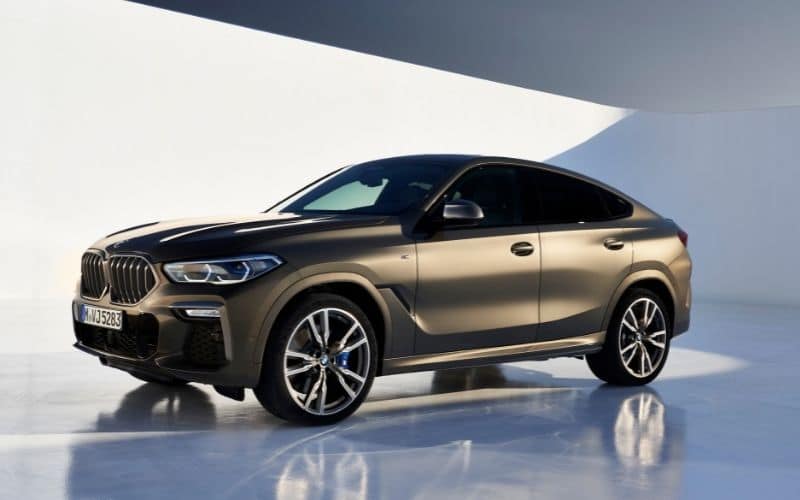 Here is the short answer to how long BMW X6 last:
The BMW X6 can last between 150,000 to 200,000 miles on average with proper care, conservative driving habits and thorough maintenance. Based on an annual mileage of 15,000 miles per year, this equates to 10 to 13 years of service before it will require major repairs or break down.
How Many Miles Can You Expect from a BMW X6?
The X6 is a well-built SAV that is expected to last for many years thanks to its solid German engineering.
During our investigations, we encountered multiple reports from X6 owners who have clocked over 150k miles however finding an X6 with over 200,000 miles is quite rare.
Once the odometer has surpassed the 150,000-mile threshold, big-ticket components are much more likely to encounter problems and costs for major repairs and parts can become uneconomical.
Based on industry data and customer feedback we think a fair expectation for the average lifespan of an X6 will fall in the 150k – 200k mile region, although this is dependent on meticulous maintenance.
BMW enthusiasts will tell you that maintenance on these cars cannot be overlooked and failing to keep up with the service schedule will lead to a shorter lifespan and reduced reliability.
How you drive your X6 will play a big part in how long it continues to drive.
Sure, they're typically designed to be driven sportingly, but overworking the engine or being too aggressive with the brake and gas pedals can be hard on any vehicle.
The life expectancy of your BMW will be cut short if you avoid:
Service appointments
Routine oil changes
Tire rotations
Using quality parts
Driving smoothly
Every new BMX X6 comes with a 4-year/50,000-mile basic warranty and a 4-year/50,000-mile powertrain warranty.
Do BMW X6s Rust Easily?
The BMW X6 is not expected to rust easily due to the use of high-quality materials, anti-corrosion coatings and the under-body of the car being galvanized and sealed. This is dependent on keeping the car clean and free from salt buildup, dirt and snow.
BMW is confident enough in their rust protection to provide a 12-year anti-corrosion warranty.
The Warranty does not cover corrosion caused by neglect, accident damage, stone chips or other external influences.
Across owner forums, we were unable to find any serious rust complaints relating to the X6.
We did find a few minor complaints about rusting wheel hubs although your service advisor at your BMW dealership should be able to get these painted for you at no extra cost.
Rust is much more of an issue in humid climates, places where roads are aggressively salted during the winter and coastal regions due to salt in the air.
If you live in a high-risk area, we recommend taking extra precautions, however additional rust-proofing on a new X6 is generally not advised due to the high standard of rust-proofing that takes place during the manufacturing process.
Most BMW enthusiasts will tell you to save your money.

Tips to keep your X6 rust-free:
Clean: Regularly wash your car (and its underside) especially during the winter to remove the salt, dirt and grime that causes rust. We recommend having a detail shop wash everything underneath at the end of each winter.
Repair paint damage and scratches: Exposed metal will oxidize, if it's beyond a DIY fix speak to your local body repair shop.
Storage: Park your X6 in a garage to keep it dry and protected from the harsh weather, sunlight (fades paint) and bird droppings.
Waxing: Wax your car twice a year. Not only will this make your X6 look amazing, it also gives a protective coating against rust.
What is High Mileage for a BMW X6?
A BMW X6 with 100,000 miles on the clock is considered high mileage. This would make for a riskier purchase due to a higher chance of electronic and mechanical faults occurring in the not-too-distant future and a generally less reliable vehicle with higher maintenance costs.
A full, thorough assessment of the vehicle should be undertaken and any decision should not be based on mileage alone.

Buying a used X6 with over 100k miles will not necessarily mean a sour outcome.
A well-maintained X6 with 100,000 miles on the odometer might be a better purchase than one with 60,000 miles that had lots of owners, led a rough life or was a prior rental car.
If you're looking to buy a used BMW we recommend looking for one in a state that has moderate temperatures and sees little to no snow – these will generally be in better condition.
Full-service history is essential regardless of where the car has been driven, and you'll find a lot of people on owner forums who swear by their rule that they'll never buy a BMW out of warranty.
Owners will often trade their BMWs in when the vehicle's warranty expires.

Some important considerations to make:
Maintenance history. Check that the car was properly serviced and the owner can provide proof of this.
Get a second opinion: Take it to an independent auto repair shop or have it inspected by a mechanic you trust.
Check the CarFax. This doesn't guarantee anything but can help give a clearer picture of wear and tear. Make sure it has minimal damage, if any. Analyze the information to make sure if something did happen, it wasn't transmission related or mechanical.
Number of previous owners. As a general rule, less is better. More owners usually means more wear and tear. If one family owned it and drove the full 100k miles and had the car regularly serviced, then you can almost guarantee they took good care of it throughout ownership.
How long you are planning on keeping the car. If you're planning on keeping the car for a long time, you should evaluate whether the short-term savings outweigh spending a bit extra into something more reliable.
How Long Do BMW X6 Last Compared to Similar Car Models?
In this section we'll compare the X6 to some of its closest rivals.
BMW X6 vs. Audi Q8
The Q8 was launched in 2018 and is the top-end SUV in the German automaker's lineup. It is valued for its capable handling, elegant interior finishes, and innovative technology.
The Audi Q8 can last between 150,000 – 200,000 miles or 10 – 13 years, which is on par with the projected lifespan of the X6.
Consumer Reports has given the Q8 an average of 1 / 5 for reliability vs. 3 / 5 for the X6.
According to RepairPal, Audi has an annual average repair and maintenance cost of $987 vs. $986 for BMW models.
J.D Power scores the Q8 a 79 / 100 for quality and reliability while the X6 outscores that with 90 / 100.
These SUVs are matched in terms of expected lifespan however the Q8 has a roomier interior, bigger trunk, and more premium finishes although the X6 is better to drive.
Buyers will choose either of these models based on their styling preferences and brand affiliation, but the Q8 feels more premium and is more practical due to the additional space.
You may also be interested in our article: How Long Do Audi Q8 Last?
BMW X6 vs. Mercedes-Benz GLE
Introduced in 2015, the GLE is a traditional mid-size luxury SUV with class-leading comfort and technology features.
A Mercedes-Benz GLE can last between 200,000 – 250,000 miles or 13 – 17 years of service, slightly longer than the BMW's projection of 150,000 – 200,000 miles.
Consumer Reports has given the GLE an average of 3 / 5 for reliability vs. 3 / 5 for the X6.
According to RepairPal, the GLE has an annual average repair and maintenance cost of $908 vs. $1,206 for the X6.
J.D Power scores the GLE 69 / 100 for quality and reliability while the X6 outscores that with 90 / 100.
The X6 is sportier to drive while the GLE offers more interior room and comfort.
You may also be interested in our article: How Long Do Mercedes GLE Last?
BMW X6 vs. Acura MDX
Launched in 2001, the MDX is a three-row mid-size luxury SUV that offers responsive handling and a sweet sounding V6.
The Acura MDX can last between 250,000 – 300,000 miles or 16 – 20 years, which is longer than the X6's 150,000 – 200,000 miles or 10 – 13 years.
Consumer Reports has given the Acura MDX an average of 3 / 5 for reliability vs. 3 / 5 for the X6.
According to RepairPal, the MDX has an annual average repair and maintenance cost of $571 vs. $1,206 for the X6.
J.D Power scores the MDX 80 / 100 for quality and reliability while the X6 outscores that with 90 / 100.
Buyers will opt for the MDX for its practicality, reliability, and low maintenance cost. However, the X6 offers brand prestige and sportier driving dynamics.
You may also be interested in our article: How Long Do Acura MDX Last?
Is the BMW X6 Reliable?
Based on industry data and customer feedback our research concludes that the BMW X6 is a reasonably dependable SUV. It has received stellar reports from some sources and mediocre reports from others – based on this and what we know about BMW's we think its reliability should be satisfactory, especially the newer models.
BMWs are generally reasonably reliable provided they are regularly maintained.
The X6 has received the following reliability reviews:
Consumer Reports gives the BMW X6 a predicted reliability score of 3 / 5.
JD Power rated the X6 with a quality and reliability rating of 90 / 100.
The Kelley Blue Book consumer rating index gives the X6 a reliability rating of 4.8 out of 5.
RepairPal scored the X6 a below average reliability rating of 2.0 out of 5.0 and ranked in 16th out of 19 full-size luxury SUVs.
In 2018, a reliability study was conducted by J.D. Power on over 500,000 vehicles to determine which vehicles on the market could accrue the most mileage, without it resulting in costly repairs.
To many people's surprise, BMW ranked in 8th position out of 29 brands, coming out on top over luxury automakers like Mercedes-Benz, Porsche, Acura, and Lincoln.
For many BMW buyers, reliability isn't their main criteria. Instead, the performance and sleek styling are – and on these fronts the X6 delivers.
Reliability Compared to Other Luxury SUVs
| | |
| --- | --- |
| Model | Reliability |
| Infiniti QX80 | 3.5 / 5.0 |
| Infiniti QX60 | 3.5 / 5.0 |
| Lincoln MKS | 3.0 / 5.0 |
| Infiniti JX35 | 3.0 / 5.0 |
| Lincoln Navigator | 2.5 / 5.0 |
| Cadillac Escalade | 2.5 / 5.0 |
| Lincoln MKT | 2.5 / 5.0 |
| Audi Q7 | 2.5 / 5.0 |
| Cadillac Escalade EXT | 2.5 / 5.0 |
| Land Rover Range Rover Sport | 2.5 / 5.0 |
| Mercedez-Benz R350 | 2.5 / 5.0 |
| Infiniti QX56 | 2.5 / 5.0 |
| BMW X5 | 2.0 / 5.0 |
| Cadillac Escalade ESV | 2.0 / 5.0 |
| Land Rover Range Rover | 2.0 / 5.0 |
| BMW X6 | 2.0 / 5.0 |
| Mercedes-Benz GL450 | 1.5 / 5.0 |
| Mercedes-Benz GL350 | 1.0 / 5.0 |
| Mercedes-Benz GL550 | 1.0 / 5.0 |
| Avg. Luxury Fullsize SUV | 2.5 |
The Best and Worst Years for BMW X6
Like any vehicle on our roads today, the X6 has had its good and bad years…
Worst Model Year
Based on data from Car Complaints and Car Problem Zoo the worst model years for the BMW X6 are from 2009 – 2013.
Whilst there is somewhat limited data on Car Complaints, on Car Problem Zoo there are clearly more reported problems across these model years.
The most commonly reported problems for these models (by some margin) were engine and engine cooling related.
Car Complaints also notes that one of the worst problems for the BMW X6 is an overheating engine on the 2011 model.
Best Model Year
The best model years for the BMW X6 are from 2019 onward. These models benefit from all the hard learned lessons from the older model years and this is reflected in the increased reliability, lower number of complaints and fewer reported problems.
Our top pick would be the 2021 X6 which features an updated design and has an excellent reliability review from J.D Power of 90/100.
Related: 12 Best & Worst BMW X6 Years (With Facts & Stats)
Model Year and Number of Complaints
Here is the total number of complaints and problems reported for every BMW X6 model year from the CarComplaints and Car Problem Zoo databases.
Model Year
Car Complaints
Number of Complaints
Car Problem Zoo
No. of Problems
2021
0
2
2020
0
6
2019
0
2
2018
1
4
2017
0
8
2016
0
9
2015
0
34
2014
0
41
2013
0
40
2012
0
17
2011
2
25
2010
1
4
2009
0
1
2008
0
1
What About Recalls for These Models?
The BMW X6 has a total of 89 recalls across all model years.

A recall is issued when a manufacturer or the NHTSA determines that a vehicle, equipment, car seat, or tire creates an unreasonable safety risk, manufacturers are required to repair recalls for free.

You can check if your X6 has been subject to a recall campaign by entering your Vehicle Identification Number (VIN) into the BMW recall tool on their website.

Here are the total number of recall campaigns per year for the BMW X6:
2021: 6
2020: 8
2019: 4
2018: 4
2017: 2
2016: 1
2015: 1
2014: 4
2013: 6
2012: 10
2011: 13
2010: 10
2009: 11
2008: 9
BMW X6 Model Year List
Here are all the model years for BMW's X6:
First Generation (E71):
2008 BMW X6
2009 BMW X6
2010 BMW X6
2011 BMW X6
2012 BMW X6
2013 BMW X6
2014 BMW X6
Second Generation (F16):
2015 BMW X6
2016 BMW X6
2017 BMW X6
2018 BMW X6
2019 BMW X6
Second Generation (G06):
2019 BMW X6
2020 BMW X6
2021 BMW X6
Are BMW X6 Expensive to Maintain?
According to RepairPal, the BMW X6 has an average annual repair cost of $1,206, while the average for mid-size SUVs is $652.

BMWs are regarded as being expensive in terms of ownership costs because of their specialty parts and technology.
Model
Avg. Annual Repair Cost
Frequency of
Unscheduled Repairs (per year)
Probability of Severe
Repairs
Infiniti QX80
$718
0.7
8%
Infiniti QX60
$639
0.9
10%
Lincoln MKS
$886
0.6
15%
Infiniti JX35
$837
1.2
11%
Lincoln Navigator
$1,089
0.4
18%
Cadillac Escalade
$1,007
0.3
20%
Lincoln MKT
$996
0.6
19%
Audi Q7
$1,185
0.9
13%
Cadillac Escalade EXT
$940
0.6
21%
Land Rover Range Rover Sport
$1,179
0.7
16%
Mercedez-Benz R350
$1,153
0.6
18%
Infiniti QX56
$807
0.8
24%
BMW X5
$1,166
0.8
17%
Cadillac Escalade ESV
$1,127
0.5
22%
Land Rover Range Rover
$1,258
0.6
19%
BMW X6
$1,206
1.0
21%
Mercedes-Benz GL450
$1,293
1.2
20%
Mercedes-Benz GL350
$1,308
1.3
22%
Mercedes-Benz GL550
$1,295
1.5
23%
Avg. Luxury Fullsize SUV
$1,127
0.7
19%
Related: How Long Do BMW X7 Last?
How Long Do the Brakes Last?
The brake pads on a BMW X6 are expected to last between 30,000 to 70,000 miles or 2 to 5 years, depending on driving habits. While it's impossible to give an exact number, the 40,000-mile range is the general mileage to keep in mind when planning for vehicle maintenance.
If you drive in a lot of stop-and-go traffic, you can expect your brakes to wear out faster.
Using smooth, controlled braking will help your brakes last longer.
Brake pad replacement, which includes parts and labor, can cost anywhere between $150 – $300 per axle.
Full and complete stops from a high speed are the #1 cause of premature brake pad wear.
How Long Do the Tires Last?
The stock tires on a BMW X6 can last up to 50,000 – 60,000 miles before requiring replacement, this will see owners changing tires every 3 to 5 years. They can wear out much sooner however, and this will depend largely on your driving style.
Fast and sporty driving will reduce the lifespan of your tires.
Strong acceleration and braking – plus fast cornering speeds – increases tire wear significantly.
Having your tires rotated every 5,000 miles will help ensure even wear.
Check your tire pressures every few weeks to make sure they're at the correct tire pressure.
Inspect your tires if you notice a change in handling, noise, or vibration.
How Long Do the Transmissions Last?
BMW X6 transmissions can last on average between 150,000 – 200,000 miles. With proper care and maintenance these mileages may be exceeded.

The first generation of the BMW X6 (from 2008 to 2014) was equipped with 6-, 7-, and 8-speed automatic transmission paired to different engines in the model's range.

The second and third generations, produced from 2015, are solely equipped with an 8-speed automatic transmission.
The third generation X6's (from 2019) 8-speed is supplied by ZF.
How Long Do BMW X6 Batteries Last?
Batteries in BMW's X6 can usually last on average between 3-5 years. This can vary, depending on factors such as climate, driving habits, the type of battery, and more.

Four tips below to help prolong your X6 battery:
Keep your battery tightly fastened: The vibrations of your car can loosen the connections, potentially resulting in short circuits and internal damage.
Limit short rides: Quick car rides prevent the battery from fully charging. The Stop/Start system is also known to hinder the recharging of X6 batteries. To help maintain battery power, drive your X6 frequently and for extended periods.
Storage: Keep your X6 stored indoors away from extreme changes in temperature.
Control Corrosion: Clean the terminals (toothbrush dipped in baking soda and water mixture) and keep them free from build-up.
X6 batteries are located in the trunk section of the car.
How Long Do the Spark Plugs Last?
BMW X6 spark plugs will require changing every 60,000 miles.

They are usually inspected and, if needed, replaced when you go for routine maintenance.
What About Insurance Cost?
The BMW X6 has an average cost of $1,936 for full comprehensive insurance coverage per year, or $161 on a monthly basis. In comparison, an average midsize luxury SUVs cost $1,709 a year to insure.
Insurance costs can vary from person to person; be sure to shop around to find the best potential deal.
Please also read our article: Are BMW Cars Worth the Money?
Tips to Prolong the Life of Your BMW X6
Adopt smooth driving habits.
Keep up to date with factory-recommended maintenance.
Use quality parts and fluids.
Keep on top of repairs to prevent them from developing into larger problems.
Regularly wash your X6 to remove dirt and grime to protect the paint and undercarriage from rust developing.
Check your Enclave's engine oil, coolant, brake, and transmission fluid levels and top them up when required.
Keep your X6 in a garage to help protect it from the elements.
Look after the cars interior, this will help keep its resale value up.
Read the owner's manual to learn the location of important components, what your Buick needs and what quantity, and to understand the symbols and dashboard warning lights.
Do not tow more than the vehicles maximum rated towing capacity – depending on engine type this can range from 6000 – 7500 lbs.
Resources
https://www.bmwofcincinnatinorth.com/bmw-x6-maintenance-schedule.htm
https://www.carcomplaints.com/BMW/X6/
https://www.carcomplaints.com/BMW/X5/
https://www.wardsauto.com/10-best-interiors/2020-wards-10-best-interiors-winner-bmw-x6-m
https://www.whatcar.com/news/car-of-the-year-awards-2021-coupe-suv-of-the-year/n22454
https://www.consumerreports.org/cars/bmw/x6/
https://www.kbb.com/bmw/x6/2021/
https://www.kbb.com/bmw/x6/2019/
https://www.jdpower.com/cars/2021/bmw/x6
https://www.jdpower.com/cars/2021/audi/q8
https://www.consumerreports.org/cars/audi/q8/
https://www.jdpower.com/cars/2021/mercedes-benz/gle
https://www.kbb.com/mercedes-benz/gle/
https://repairpal.com/mercedes-benz/gle/
https://www.jdpower.com/cars/2020/acura/mdx
https://www.bmwofescondido.com/2020-bmw-x6-towing-capacity/
https://www.kbb.com/acura/mdx/
https://repairpal.com/reliability/acura/mdx
https://www.consumerreports.org/cars/acura/mdx/2022/overview