In today's market, sports cars come in a wide variety of drivetrains – some more eco-friendly than others.
Powered by a gas engine and an electric motor, hybrid sports cars offer the perfect balance of fuel efficiency and performance.
In this article, we've compiled a list of some of the most affordable ones you can buy.
#1: Honda CR-Z
The Honda CR-Z is the only hybrid sports car with a 6-speed manual transmission.
It is powered by a gutsy 1.5-liter hybrid powertrain generating 130 horsepower. What's more, a Plus Sport boost button untaps a few more electrically-assisted horsepower for up to 10 seconds – just like in Formula 1 race cars.
Where the CR-Z shines is with its excellent chassis, responsive steering, stick shift, and sports suspension setup for a go-kart-like driving experience.
Sadly, the CR-Z was discontinued in North America at the end of the 2016 model year. Back then, retail pricing started at $21,170, making it a cheap hybrid sports car.
A lightly used 2016 example can be bought for less than $13,000 on the used car market. Do cheap hybrid sports cars get any better priced than this?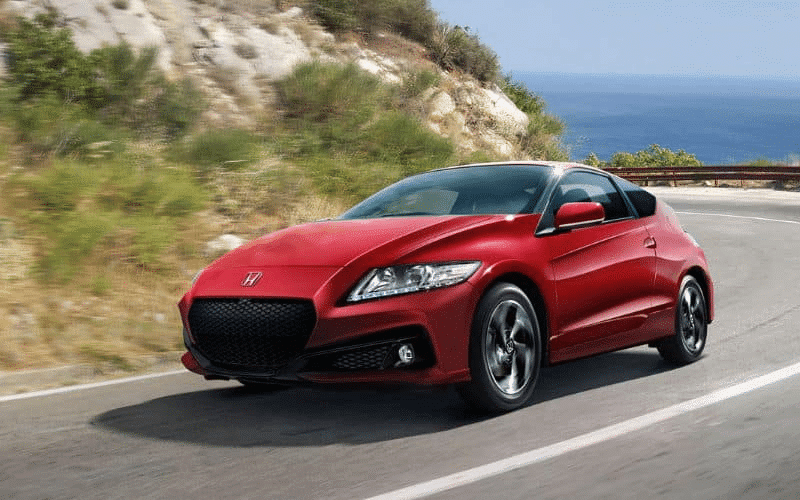 #2: Toyota Corolla Hybrid SE
The Toyota Corolla Hybrid SE might seem to be a mundane mile-muncher at first glance, but take a closer look, and you'll see it is an impressive vehicle.
With a sticker price starting from $29,945, this hybrid sedan packs 138 horsepower under its hood thanks to its 1.8-liter gasoline engine and electric motor.
The Toyota Corolla Hybrid SE is equipped with a sport-tuned suspension and beefier, grippier 18-inch wheels and tires.
Opt for the SE AWD version for more traction and stability through all seasons – and bigger smiles, too.
Still, it can achieve an incredible EPA-rated 48 mpg combined fuel consumption figure!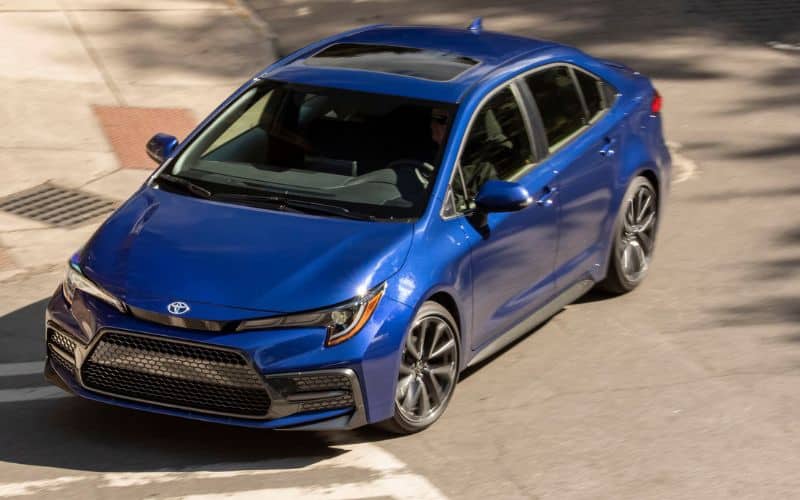 Related: How Long Do Toyota Corolla Hybrids Last? (12 Important Facts)
#3: Toyota Camry Hybrid XSE
Do you need more space than a Corolla? With responsive handling? Sportier but fuel-efficient, too?
You can't go wrong with the Toyota Camry Hybrid XSE, right? A 2.5-liter 4-cylinder gasoline engine and 2 electric motors drive the front axle. The driver has 208 horsepower under their right foot.
With a wider and longer chassis than the Corolla, you'd think the Camry Hybrid XSE's fuel economy performance would suffer. The geniuses at Toyota worked magic: it has an EPA-rated 52 mpg combined figure.
Of course, it is also a step up in luxury and comfort. And, according to auto journalists' reviews, it offers a composed and predictable handling car – just the things that inspire confidence in an affordable hybrid sports car for $35,190.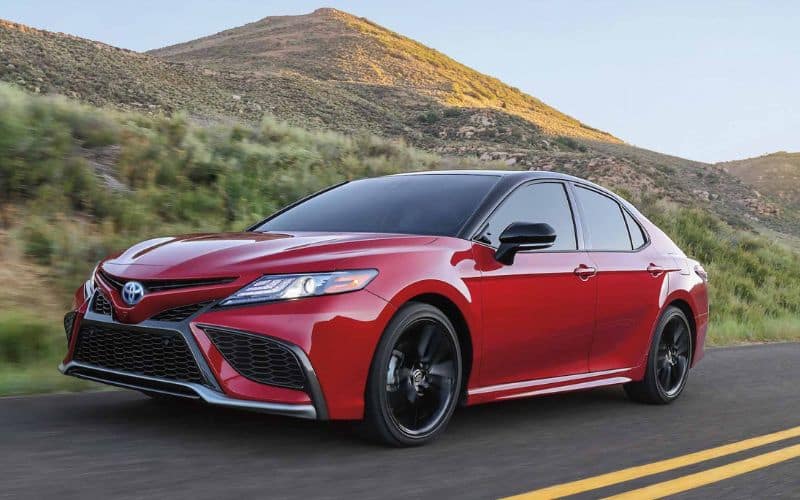 Related: How Long Do Toyota Camry Hybrids Last? (12 Important Facts)
#4: Honda Accord Sport-L Hybrid
Sharp lines give the Honda Accord Sport-L Hybrid an attractive stance from any angle. Those in the know also appreciate the car's 'sleeper' performance…
It packs a 2.0-liter engine and electric motor that develops 204 horsepower. Coupled with highly praised road manners, precise steering, and well-sorted suspension, the Accord Sport-L Hybrid is a driver's car.
Did you know it can also sprint from a standstill to 60 mph in just 6.6 seconds? Let Dad take the long way home!
It can also sip fuel: it scored an EPA-rated 44 mpg combined fuel figure. At $35,270? That's a bargain.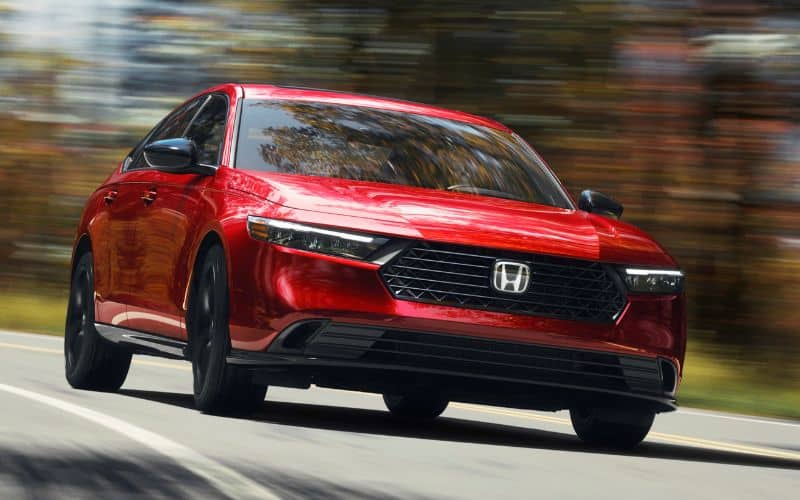 #5: Kia Optima Plug-In Hybrid
The Kia Optima Plug-In Hybrid provides 28 miles of EV range. Once the battery's discharged, the 2.0-liter 4-cylinder gasoline engine comes to life. Range anxiety? Not here!
This affordable Korean hybrid sporty car clocks up a commendable 40 mpg combined fuel consumption figure.
But it isn't a bland sedan. It is highly acclaimed by motoring writers and car enthusiasts for its agile handling and sporty driving dynamics.
It might only have 202 horses under the hood, but the Kia Optima Plug-In Hybrid seems to do the most with them in this class. Understated? You bet!
Sadly, the Kia Optima Plug-In Hybrid was discontinued at the end of the 2022 model year. It was offered with a retail price of $37,015. On the used car market, you'll be able to find a mint condition example for $22,000!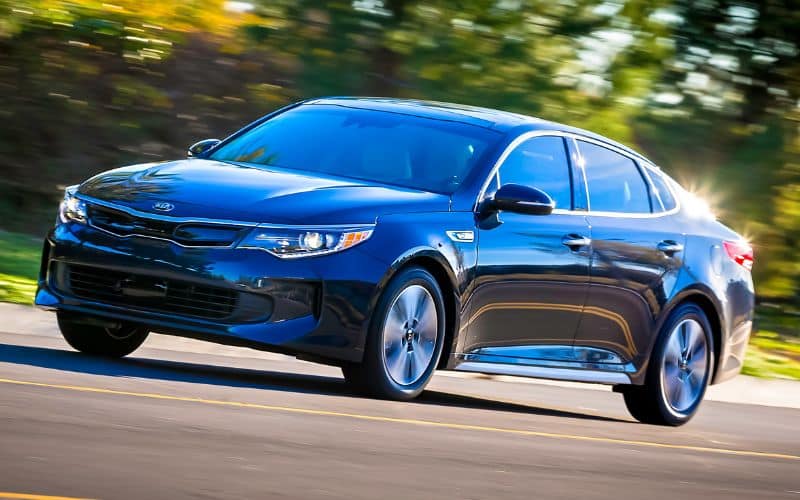 #6: Toyota Avalon Hybrid
The Toyota Avalon sat at the top of Toyota's sedan line-up in North America until the end of 2022 when it was discontinued.
It offered a lot more car at only $38,945 – a little over $3,000 more than the Toyota Camry – with with slightly beefier horsepower output. The Camry's 208 hp has been uprated to 215 hp in the Avalon.
Here, the 2.5-liter gasoline engine is paired with 2 electric motors to feed the front wheels all that power to put to the road.
However, it returns the same respectable EPA rating of 44 mpg combined fuel consumption.
Look at the pre-owned market: you'll find lightly used models for $25,000. That's hard to beat for a cheap hybrid sports car.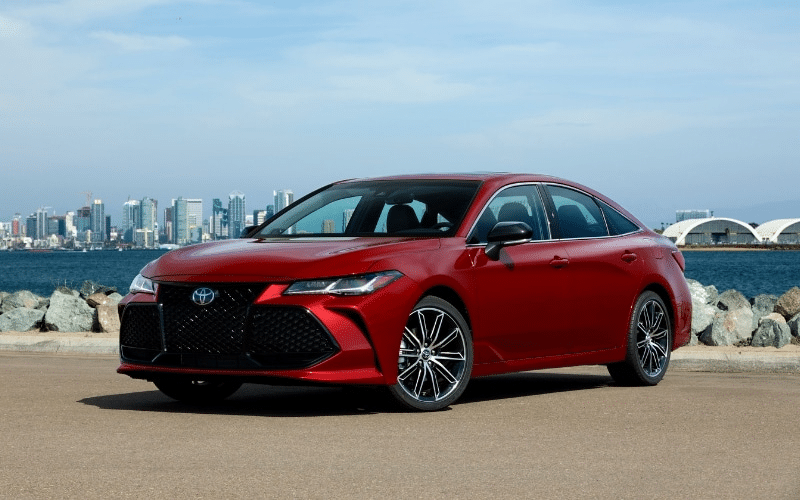 #7: Toyota Crown
The striking Toyota Crown is a daring model from this Japanese automaker. It straddles the line between sedan and SUV, sporty and fuel-efficient, and gasoline and electric power.
The Crown replaces the Toyota Avalon as Toyota's flagship sedan model in its North American line-up.
Released in 2023, the Crown is offered with two hybrid powertrain versions. The top-spec Platinum model is the sportiest, delivering 340 horsepower from its 2.4-liter 4-cylinder engine and electric motor on the rear axle.
It can sprint from a standstill to 60 mph in 5.1 seconds. The flip side of hybrid power is not only the added oomph but also reduced fuel consumption: it scores an EPA-rated 32 mpg combined figure.
The Crown's sportiness is dialed up with the standard fitment of adaptive dampers, transforming the car from a docile grocery-getter to a mountain pass mile muncher.
What's the price? The Crown's starting price is $41,045, which is admittedly not considered "cheap" – but it offers a lot of car for that money. You'll be hard-pressed to find a more affordable hybrid sports car that can handle daily commuting and weekend road trips.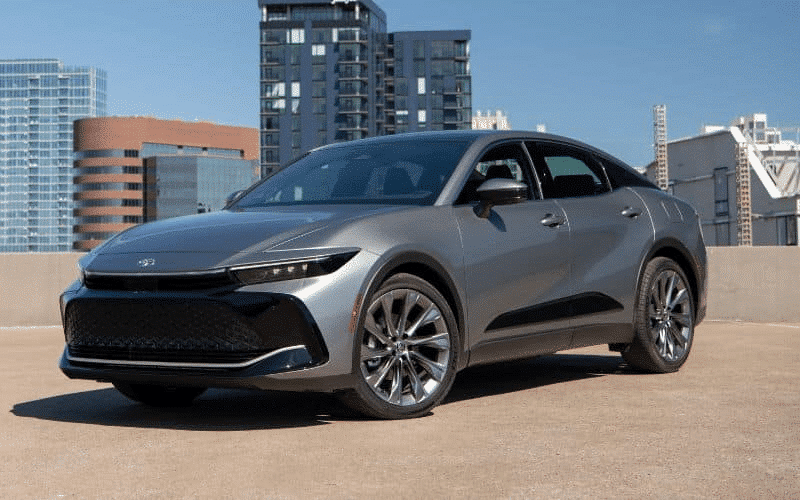 Related: 9 Hybrid Cars With the Most Ground Clearance (With Pics)
#8: Lexus ES 300h F Sport Design
Quality, style, and luxury define Lexus. The ES 300h F Sport Design combines that high level of refinement with sporting dynamics and excellent fuel efficiency.
The F Sport Design package offers the right blend of performance and comfort for driving enthusiasts.
It is equipped with a 2.5-liter cylinder engine with electric power for 215 horsepower that propels the car from zero – 60 mph in 8.3 seconds.
When driven more sedately, it achieves an EPA-rated 44 mpg combined fuel figure.
The Lexus ES 300h F Sport Design has a starting price of $48,975 – a bargain for a sports executive sedan.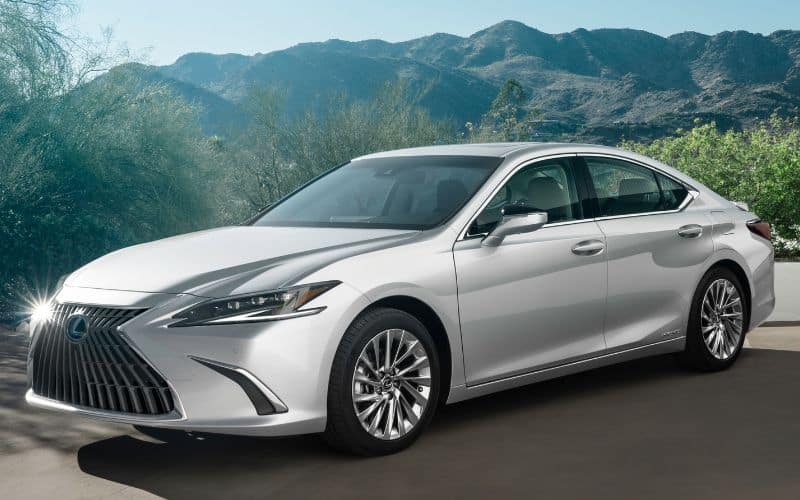 #9: BMW 330e PHEV
Under that svelte sheet metal of the BMW 330e PHEV is a plug-in hybrid powertrain combining a 2.0-liter 4-cylinder engine with an electric unit that produces 288 horsepower.
Activate the Xtraboost function, and the electric motor sends an extra shot of power to the rear wheels. That's what Max Verstappen does in his F1 car, too.
That's not all: it can drive 23 miles on EV power and achieve an EPA-rated 28 mpg combined figure.
This responsive powertrain is mated to a slick 8-speed automatic transmission and an excellent rear-wheel drive layout (but xDrive AWD is available). The highly lauded chassis and handling dynamics of the 3-Series are accentuated by the 330e's hybrid setup.
The sticker price of $45,895 buys you all the car you'll ever likely need.
For those on a budget, you'll find a lot of bang for your buck on the pre-owned market. A 5-year-old model can be had for $21,000.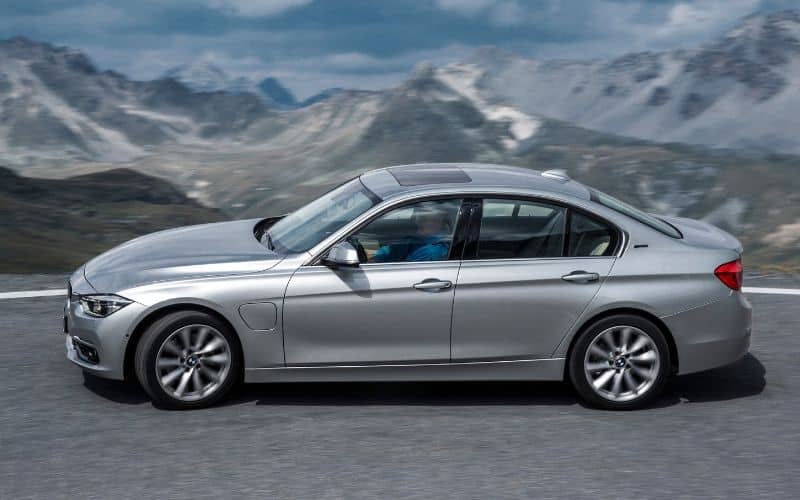 #10: Volvo V60 Polestar Engineered Hybrid
A wolf in sheep's clothing? That is the Volvo V60 Recharge Polestar Engineered T8 eAWD.
Polestar is Volvo's performance department. This V60 family station wagon frightens supercars.
Under the sleek bonnet is a 2.0-liter turbocharged 4-cylinder paired with an electric motor that combines to deliver 455 horsepower. That can propel the car from zero to 60 mph in just 4.1 seconds. It can also coast silently on electric-only power for 40 miles.
It isn't all about straight-line performance. The Volvo's handling is enhanced by a manually adjustable suspension to maintain composure on any road and at any speed.
That performance doesn't translate into dreadful fuel consumption, either. It scores EPA-rated 31 mpg fuel economy.
All this Scandinavian speed (and fuel-sipping) comes at $72,345. You can snag a relative bargain on the used car market: they're priced around $50,000 for a 2 to 3-year-old example.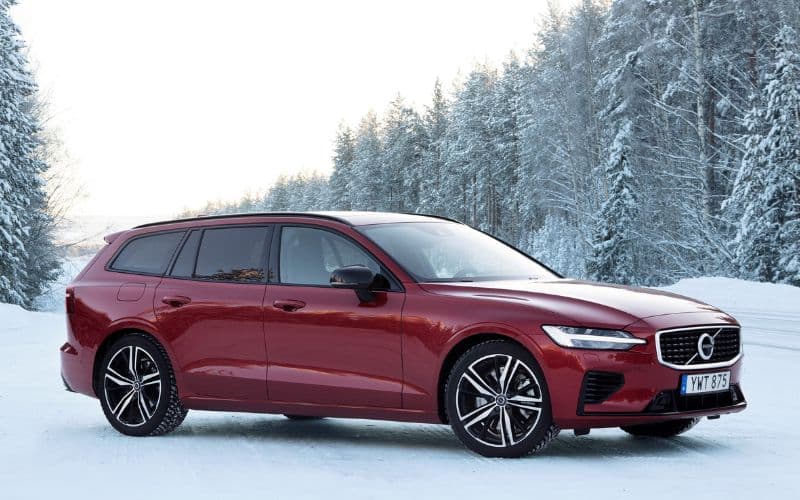 #11: BMW i8
When the BMW i8 was released in 2014, the automotive world gasped at this high-performance plug-in hybrid sportscar.
Sports cars are meant to embody pure driving pleasure. BMW's i8 doesn't disappoint. It can cross the country in luxury and comfort – while clocking up huge distances between fuel stops.
It sprints from a standstill to 60 mph in 4.1 seconds, can drive 22 miles on EV power, and has a 35 MPGe fuel consumption rating.
Yes, it had an eye-watering sticker price of $148,495 (and the most expensive on this list by a long margin). But, you can find well-maintained examples from $55,000. That buys you one of the most memorable sports cars – let alone hybrid-powered ones – on the planet.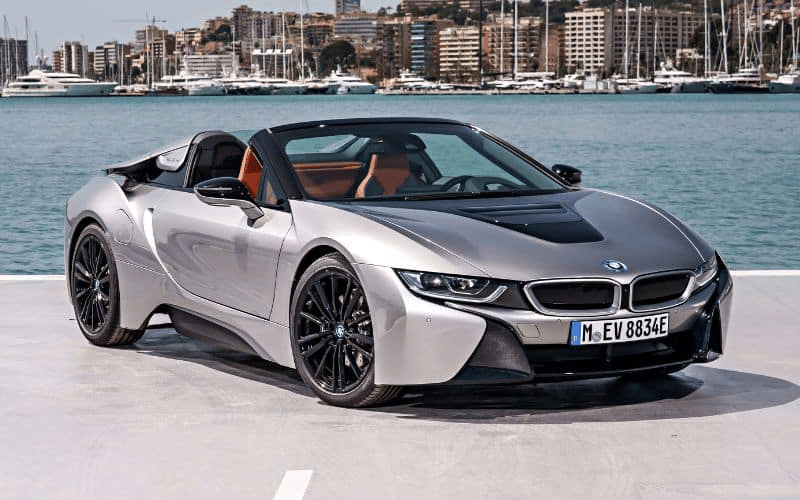 Related: 10 Cheap Convertibles with Good Gas Mileage (With Pictures)