Convertibles are all about carefree motoring pleasures. Cruising with the wind in your hair, the sun on your skin, and a fantastic vehicle beneath you makes for a dreamy driving experience.
You'd be mistaken for thinking that convertible motoring can be heavy on the wallet, especially when it comes to fuel consumption. After all, they're mostly sporty, right? Not so, you'll be pleased to learn.
The North American market is rife with cheap convertibles with good gas mileage. With these cars on our list, you'll be able to drive along the coastal highways with a lower carbon footprint and save on visits to the pumps.
#1: BMW i8 Roadster: 76 mpg
When you mix cutting-edge technology, a passion for driving, and environmental responsibility, the end result is the BMW i8 Roadster.
But what's a BMW i8 Roadster doing on a list of cheap convertibles with good gas mileage? While it was $163,440 when new, you can pick up a 2014 and 2015 model for just over $69,000 today on used car marketplaces.
That's not cheap, but it is the same price as a new Ford Mustang Convertible optioned with a Performance pack and a few other nice bits.
The BMW i8 Roadster hybrid convertible doesn't merely turn heads with its futuristic design but also impresses with a remarkable EPA-rated 76 mpg combined fuel economy figure.
Under the skin, it combines a turbocharged three-cylinder, 1.5-liter gasoline engine with an electric motor, delivering exhilarating performance. Yet, it achieves 76 mpg!
The ability to drive in purely electric mode for short distances allows for emission-free urban cruising, further amplifying its 'green' credentials. It's a beacon of how far we've come in sustainable motoring.
#2: Mini Cooper Convertible: 31 mpg
The Mini Cooper Convertible is a supermini hatchback that delivers big on retro British charm and style.
Under the hood is a 1.5-litre three-cylinder gasoline engine generating 134 horsepower. It achieves a commendable 31 mpg combined EPA rating, especially considering its spirited driving experience.
Fun, functional, and fuel-efficient: the Mini Cooper Convertible is comfortable cruising along highways, darting between alleys in cities, and, of course, is home turning heads with its top down on sunny days.
The $33,395 list price makes it a quirky, quintessential cheap convertible with good gas mileage.
#3: Mazda MX-5 Miata: 30 mpg
Iconic, engaging, and ever-relevant: the Mazda MX-5 Miata embodies unadulterated driving joy.
Under its hood is a 2.0-liter four-cylinder gasoline engine pushing out a lively 181 horsepower. The real magic, however, is how this roadster manages to strike the balance between exhilaration and efficiency.
With a solid 30 mpg combined EPA rating, it solidifies its reputation as a performance-focused convertible that respects your wallet and the environment. The Mazda MX-5 Miata delivers an experience that's as delightful as it is efficient.
With a starting price tag of $29,215, the Mazda MX-5 Miata challenges the very definition of value. It's an affordable convertible that doesn't compromise on performance or fuel economy.
#4: Fiat 124 Spider: 30 mpg
The Fiat 124 Spider brings Italian flair to our list of affordable convertibles with fuel-efficient performance.
Elegance, allure, and unmistakable Italian flavor exude from the shapely lines of this convertible that shares its underpinnings with the Mazda MX-5 Miata.
Unlike the Miata, the 124 Spider is powered by a 1.4-liter turbocharged gasoline engine that churns out a spirited 160 horsepower.
But it's not just about raw power. The Fiat 124 Spider effortlessly cruises at a commendable 30 mpg combined EPA rating.
This figure underscores its prowess as a convertible that can dazzle both on winding country roads and at the gas pumps. That's exhilarating driving blended with Italian efficiency.
Priced at a tempting $26,995 when new, the Fiat 124 Spider redefines what it means to offer value in the convertible segment. It's a wallet-friendly convertible with a green heart.
Related: 7 Convertibles With 5 Seats (With Pictures)
#5: Volkswagen New Beetle Convertible: 29 mpg
The Volkswagen New Beetle Convertible — retro chic at its finest, wouldn't you agree?
For $29,890 back when it was new, you can buy one from $18,000 or so today. You're not just buying a car, but a slice of history modernized for today's roads.
It gracefully achieves a 29 mpg combined EPA rating, too. The perfect cheap convertible with good gas mileage? Take one for a test drive an you can decide for yourself.
#6: BMW Z4: 28 mpg
Isn't the BMW Z4 a head-turner? That German design chief deserves a round of applause for this one.
This sheer open-air motoring pleasure comes with a price tag of $54,995, which provides a lot of bang for your bucks in today's inflationary vehicle market.
Engine options vary, but the base version is a punchy 2.0-liter turbocharged unit that delivers 255 horsepower. This performance allows the BMW Z4 to achieve an impressive 28 mpg combined EPA rating.
Luxury meets German efficiency in this car, ensuring that each drive is as economical as it is exhilarating.
#7: BMW 4-Series Convertible: 28 mpg
The BMW 4-Series Convertible is both a style icon and an engineering delight. Despite its larger proportions to the BMW Z4 – and a similar engine power output – it achieves a praiseworthy 28 mpg combined EPA rating.
Starting north of $59,000 for the latest year models might be out of the realm of consciousness for many buyers, but looking to the pre-owned market, you can find examples from a tempting $14,000.
Power, poise, and priced less? The BMW 4-Series Convertible makes for a fantastic and fuel-efficient drop-top experience.
#8: Fiat 500c: 26 mpg
The Fiat 500c is a petite package bursting with Italian character. Can you even glance at one without a smile?
From a starting price of just $19,035 when new, and a steal at around $4,000 on the used market, this little Italian convertible promises big savings both at the dealership and the gas station.
It is powered by a 1.4-liter engine that sips fuel, yielding a modest 26 mpg combined EPA rating.
With the Fiat 500c, affordability meets retro charm on four wheels. It celebrates life's simple joys without the hefty price tag.
#9: Chevrolet Camaro Convertible: 26 mpg
American muscle meets open-air freedom in the Chevrolet Camaro Convertible. This classic reimagined for the modern age doesn't just bring its bold aesthetics to the party.
In previous model years, the Camaro had a 2.0-liter turbocharged engine that sipped fuel: 26 mpg combined EPA rating. Those models can be found for $16,000 on the used market today.
In the Chevrolet Camaro Convertible, it's all about the thrill of the drive, with a side order of decent fuel economy. Welcome to the best of both worlds.
#10: Audi TT Roadster: 25 mpg
The Audi TT Roadster is undoubtedly an elegant convertible. With an EPA-rated 25 mpg combined fuel economy figure, it is impressively fuel-efficient, too.
New, these German convertibles started from $54,945. However, you can have all that craftsmanship, open-air driving fun, and punchy performance from $40,000 on the used market.
Regardless of the model year, the TT Roadster promises an invigorating open-air journey, exuding class and efficiency with every mile.
If you search for a second-generation TT Roadster, you'll find 2013 models from $12,000. Now that's a cheap convertible with good gas mileage!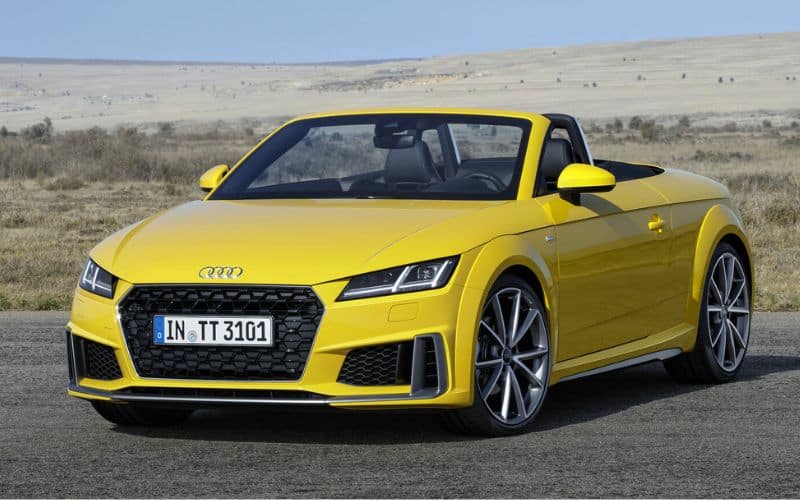 Related: 23 Best & Worst Audi TT Years (Pictures & Stats)
#11: BMW 2-Series Convertible: 24 mpg
The BMW 2-Series Convertible's dynamic lines and sporty stance make it seem fast even when parked.
The 2021 BMW 230i, priced from $42,845 new, houses a potent engine that punches out 248 horsepower. Yet, it manages to deliver a creditable 24 mpg combined EPA rating.
This spec 2-Series is an even sweeter deal for those eyeing the pre-owned market. Models can be found for as low as $14,000, making it much lighter on your bank balance at the dealer lot and the gas station.
Related: 9 Convertibles With The Best Ground Clearance (Sorted By Size)
#12: Land Rover Range Rover Evoque Convertible: 24 mpg
Rugged capability with open-air luxury: the Land Rover Range Rover Evoque Convertible redefines the convertible domain. Its very existence speaks volumes about the audacity of Land Rover.
Priced at $53,095 when new, this unique convertible is driven by a powerful 2.0-liter engine, yet, surprisingly, attains a 24 mpg combined EPA rating.
What's more surprising is that 2017 models are available from a competitive $40,000 on the used market.
Off-road prowess and drop-top sophistication: you'll have adventures in the city and the wilderness.
#13: Volvo C70: 22 mpg
Timeless elegance and unmistakable Swedish design defined the Volvo C70 as a convertible that effortlessly combines luxury with practicality.
It also cruises along coastal highways effortlessly, for under the bonnet is a 2.5-liter turbocharged gasoline engine that produces 227 horsepower – but sips fuel at an EPA-rated 22 mpg combined figure.
Shopping for a 2013 model, you'll find these starting at $10,000.
Scrolling further back, these can be had for just $6,000. The Volvo C70 proves that luxury needn't break the bank or see you stopping at every gas pump along the beachfront.
Related: 7 Cheap Convertibles with Manual Transmission (+Pictures)