The Chevrolet Camaro is an iconic muscle car that was first introduced in 1966.
Like its predecessors, newer generations of the Camaro combine sexy designs with awesome-sounding engines, but they also now have class-leading handling.
In this article, we'll take a look at some of the common issues of the last few generations of the Camaro...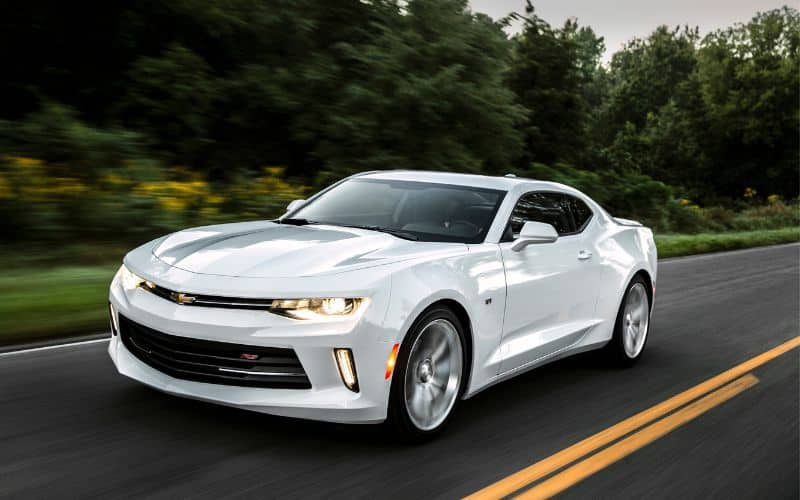 1. Timing Chain Wear
On Car Complaints, a website that tracks owner feedback, the most concerning issue of the Camaro is the fifth-gen V6 engine's excessive timing chain wear.
This issue only affects the 2010 to 2011 model years of the Camaro which were equipped with the LLT V6, also known as the 2LT engine. 2012 and newer models switched to the more reliable LFX V6 engine.
The timing chain in the 2LT V6 engines can get stretched out as early as 50,000 miles.
These engines were used in lots of other GM vehicles like the Cadillac CTS and Chevy Traverse which also suffered from similar issues.
Signs of a worn timing chain include:
Intermittent check engine light
Engine rattle or ticking noise
P0008 trouble code
Reduced power
Rough idle
In some cases, the timing chain can suddenly break without warning and cause massive engine failure.
Here is how some unhappy Camaro owners described their issue:
"When my timing chain went bad it put metal through the motor so my car with 76,000 miles has to have a new motor."
"Lost power and engine sounded loud. This happened a lot before the light even came on. It came on for 1 day and went off again."
Solution
A new timing chain kit costs around $500 but installing it is a pretty big job that typically costs $2,000.
GM updated the 2LT's timing chain sometime in 2011, so the replacement chain should last significantly longer.
If you're already seeing a check engine light and are getting a P0008 fault code, it's best to replace the chain before it causes more damage to the engine.
To minimize timing chain wear, you need to frequently check the oil levels so that the engine never runs low on oil.
Getting oil changes every 3,000 to 5,000 miles before the oil light comes on also ensures that the chain is properly lubricated at all times.
2. Transmission Shudder
The 8-speed automatic transmission of the sixth-generation Camaro has widely known issues with rough shifting or shuddering.
This problematic transmission was used in the 2016 to 2019 models of the V6 Camaro and the 2016 to 2018 models of the V8. Newer cars have a 10-speed transmission. The 8-speed is still used in the 4-cylinder models.
Hard shifts from 1st to 2nd
Vibrations during light acceleration
Slipping or hesitation
Lots of owners complained of transmission problems even when their vehicles were brand new.
And there are still many people who are just now beginning to experience transmission issues after their cars have been trouble-free for several years.
Here is one owner's experience:
"I can be on a flat surface and put my car in reverse and the whole car jerks. Also, when driving, it shifts hard and jerks from 1st to 2nd. Sometimes the transmission slips or takes a second to recognize that I'm giving it gas."
Solution
The sixth-gen Camaro's transmission issues are caused by the type of transmission fluid that GM initially used.
Dealers were able to fix the shuddering after draining and refilling the transmission three times, which made sure that the old fluid was completely flushed out of the system.
Ever since GM switched to Mobil 1's DEXRON fluid, reports of shuddering have decreased.
There have also been lots of instances where the old transmission fluid damaged the torque converter, so a lot of Camaro owners had to get theirs replaced to finally get rid of the shudder.
3. Radio Stopped Working
Newer fifth-gen Camaros have had numerous complaints of radio failures that are often accompanied by a number of electrical problems.
Only the 2013 to 2015 model years of the Camaro have widespread radio issues.
Owners affected by this problem report the following symptoms:
Radio turns on and off
Popping sound from speakers
Climate control not working
No turn signal sounds
Warning lights on dash
Here is how two owners described their problems:
"I got a 2015 Chevy Camaro and the radio keeps randomly shutting off on me when I'm driving or sometimes it'll just shut off when I park my car but the engine is still on."
"The radio stopped working. Soon after the heat/air blowing was kicking on and off. Even when blowing you cannot control the temperature. Then the gauges started blinking and have not come back on for a while. You cannot hear your turn signals or see anything on the control screen."
Solution
Camaro owners who have had these strange electrical issues were only able to fix it by replacing the radio.
A new OEM radio costs around $800 but used units can be found online for $150.
You'll also need to have the new radio reprogrammed by the dealer so that it will work with your car which usually costs another $100.
Many people have also replaced the original radio with aftermarket units that have more modern features.
4. Key Stuck in Ignition
A common issue with the fifth-gen Camaro is that the key can get stuck in the ignition switch.
This problem only happens in the 2014 to 2015 models equipped with automatic transmissions.
In 2014, GM updated the fifth gen Camaro's ignition switch and reverted back to using regular keys after several incidents of people bumping their knees against the key fob and accidentally turning off the engine. Despite GM's effort to correct the original issue, they inadvertently created a new problem.
Here is one owner's description of the situation:
"My key randomly gets stuck in the ignition after I shut the car off. The only thing that seems to help is moving the shifter a little bit back and forth while it's in the "P" position."
Solution
The most common workaround is to press the shifter button and move the shifter a little bit while trying to wiggle out the key. This is not an ideal solution for a lot of people because it can take a lot of time and messing around just to get the key out.
The problem is actually caused by a defective electronic switch inside the shifter assembly that triggers the ignition lock when the shifter button is pressed.
The best way to fix the issue is to replace the entire shifter assembly which costs around $700 for parts and labor at the dealer.
Several people have opted to simply disconnect the ignition cylinder lock altogether.
After removing the steering column's plastic covers, you can disconnect the lock solenoid's electrical connector on the bottom right or remove the black pin from the lever that locks and unlocks the ignition cylinder and permanently unlock the lever.
However, this also allows you to remove the key while the engine is turned on.
5. Rear Differential Noise
Sixth gen Camaros equipped with a limited-slip differential (LSD) have a tendency to make a groaning or moaning noise when turning at low speeds.
Although LSDs tend to make more noise than regular differentials, owners who have this issue report that it gets louder over time which often indicates that there's a mechanical issue.
The rear end noise is more common in the 2016 to 2017 model years and usually only occurs after the car has been parked for several hours in colder weather.
Here is how one Camaro owner described the issue:
"Noticed a moaning noise from the rear end not long after purchase. It continued to get worse. It only occurred the first couple of turns after a cold start."
Solution
GM released a TSB (Technical Service Bulletin) that recommends draining and refilling the rear axle fluid to get rid of the noise.
It can often take two or three fluid flushes before the groaning completely goes away.
If a drain and fill doesn't resolve the issue, the differential needs to be checked more thoroughly.
Some report that their dealers found metal bits inside the differential and had to get it completely replaced.
6. Dashboard Bubbles and Cracks
Bubbles forming on the center of the dash in between the radio and AC vents is a fairly common issue with the fifth-generation Camaro.
The bubbling only occurs in the 2012 to 2015 model years of the fifth gen because older models didn't have a leather insert in the center of the dash.
Early model years of the fifth gen and most years of the fourth gen Camaro, however, do tend to suffer from cracked dashboards.
The dash starts to form a noticeable bubble as the glue that holds down the leather breaks down over time.
Cracks on the dash, on the other hand, occur due to heat and UV exposure which makes the plastic and upholstery more brittle over time.
Here is how one owner described their experience with the dash bubbles:
"Mine has the problem since I drove it off the lot. I may get it replaced when they figure out a better solution for it."
Solution
Replacing the middle section of the dash doesn't require taking out the whole dashboard as it's just an add-on piece.
However, even new replacement pieces can start to form bubbles in less than a year. Fortunately, the bubbles don't seem to get any worse even after several years.
Replacing cracked dashboards in older Camaros is a much bigger job that requires a lot of disassembly. If you can't find a suitable replacement dash, you can have your old dash redone at an upholstery shop or just simply use a removable dash cover that's designed for the Camaro.
7. Difficult to See Out Of
If you're a new driver or aren't overly confident behind the wheel, one of the Camaro's problems is that it can be quite hard to see out of and thus visibility isn't great.
Experts at Consumer Reports have rated it as one of the worst vehicles for outward visibility.
The compromised outward visibility makes driving a little tricker and a bit more dangerous due to the blind spots.
Solution
There's not much you can do about this unfortunately, however we would suggest keeping your side mirrors and windshield squeaky clean and making sure that the back window is not obstructed in order to maximize visibility.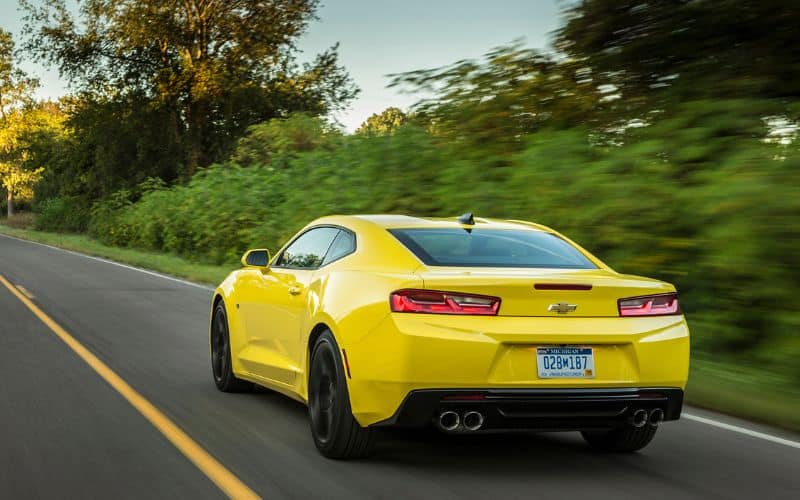 Chevrolet Camaro Model Years With the Most Problems
To get a better idea of which Chevrolet Camaro has the most problems the fairest way is to compare models based on the number of vehicles sold in relation to the number of reported problems.
We're using Car Complaints PPMY index which means problems reported per thousand vehicles per Year.
For example, newer cars will have fewer complaints simply because they've been around for less time.
Based on this index, the most problematic years are:
2016 – 0.50 PPMY
2017 – 0.45 PPMY
2010 – 0.25 PPMY
And the least problematic years are:
2000 – 0.08 PPMY
2001, 2002 – 0.09 PPMY
2020 – 0.11 PPMY
Chevy Camaro
Model Year
Problems
Sales
Vehicle Age
PPMY Index
2022
1
–
–
–
2021
4
25,210
1
0.16
2020
7
31,395
2
0.11
2019
20
42,326
3
0.16
2018
51
56,839
4
0.22
2017
166
73,713
5
0.45
2016
147
48,669
6
0.50
2015
250
98,006
7
0.36
2014
258
89,358
8
0.36
2013
223
85,584
9
0.29
2012
137
80,707
10
0.17
2011
238
97,519
11
0.22
2010
358
117,978
12
0.25
2002
70
40,384
20
0.09
2001
54
28,278
21
0.09
2000
76
43,991
22
0.08
1999
97
–
23
–
1998
174
–
24
–
1997
69
–
25
–
1996
117
–
26
–
Source: Car Problem Zoo
Chevrolet Camaro Pros and Cons
If you're considering a Chevrolet Camaro as your next car you might be wondering what its strengths and weaknesses are…
Pros
Lots of horsepower for the money
Great sounding engines
Surprisingly agile handling
Aggressive styling
Good reliability
Cons
Poor visibility
Small back seat and trunk
Interior quality
Related: Chevrolet Camaro in Snow & Winter Driving (Solved & Explained)
Chevrolet Camaro Reliability Compared to Similar Cars
| | |
| --- | --- |
| Model | Reliability |
| Honda Accord | 4.5 / 5.0 |
| Toyota Camry | 4.0 / 5.0 |
| Hyundai Sonata | 4.0 / 5.0 |
| Mazda6 | 4.0 / 5.0 |
| Kia Optima | 4.0 / 5.0 |
| Chevrolet Malibu | 4.0 / 5.0 |
| Toyota Prius | 4.0 / 5.0 |
| Nissan Altima | 4.0 / 5.0 |
| Buick LaCrosse | 4.0 / 5.0 |
| Subaru Legacy | 4.0 / 5.0 |
| Volkswagen Passat | 4.0 / 5.0 |
| Ford Fusion | 4.0 / 5.0 |
| Dodge Challenger | 3.5 / 5.0 |
| Ford Mustang | 3.5 / 5.0 |
| Chevrolet Camaro | 3.5 / 5.0 |
| Chevrolet Corvette | 3.0 / 5.0 |
| Avg. Midsize Car | 4.0 |
Source: Repair Pal
Chevrolet Camaro Used Value
We've taken a look on Car Gurus to gauge the resale value of a Chevrolet Camaro, below are typical asking prices for each model year.
According to Car Edge, a Chevrolet Camaro will depreciate 17% after 5 years and have a 5 year resale value of $40,253.
Note: Used model prices will vary depending on trim level.
| | | |
| --- | --- | --- |
| Model Year | Mileage (miles) | Resale Price |
| 2022 | 895 | $74,995 |
| 2021 | 10,684 | $33,877 |
| 2020 | 48,403 | $24,999 |
| 2019 | 57,555 | $25,795 |
| 2018 | 63,399 | $21,388 |
| 2017 | 43,141 | $24,633 |
| 2016 | 25,817 | $34,450 |
| 2015 | 72,409 | $19,148 |
Source: Car Gurus
What Do Owners Like and Dislike About the Chevrolet Camaro?
Based on owner feedback from the Kelley Blue Book site here are what real-life owners love and hate about the Chevrolet Camaro.
Likes
Fun to drive
Speedy
Great manual transmission
Vintage muscle car design
Dislikes
Having to hold down the convertible top switch
Electronic parking brake issues
Poor visibility
Small backseat
Owners Reviews
"Got this Camaro back in August, when I saw one driving down the road one day so, I went to the Chevrolet Dealership. After 10 minutes of test-driving it, I have to say it was love at first site! Paid top dollar and now in December it has 5,129 Miles and I've had no issues whatsoever! Drives like none other and powerful like none other."
Source: Kelley Blue Book
"Great car with lots of extras. So much pick up for turbo 4 cylinder. Fun to drive and the 35 mpg is worth bragging about. I don't see the blind spots everyone talks about. Easy to navigate, fun to drive"
Source: Edmunds
"Nothing to dislike! Bought the Comaro SS convertible, and couldn't be happier…"
Source: Edmunds
How Reliable Are Chevrolet Cars?
According to a recent report from Consumer Reports, Chevrolet are ranked the 14th most reliable car manufacturer out of 28 brands, with a score of 48/100.
| | | |
| --- | --- | --- |
| Rank | Brand | Score |
| 1 | Lexus | 76 |
| 2 | Mazda | 75 |
| 3 | Toyota | 71 |
| 4 | Infiniti | 69 |
| 5 | Buick | 66 |
| 6 | Honda | 66 |
| 7 | Subaru | 66 |
| 8 | Acura | 64 |
| 9 | Nissan | 63 |
| 10 | Mini | 60 |
| 11 | Hyundai | 56 |
| 12 | Chrysler | 54 |
| 13 | Porsche | 52 |
| 14 | Chevrolet | 48 |
| 15 | Audi | 47 |
| 16 | Cadillac | 47 |
| 17 | BMW | 45 |
| 18 | Ford | 44 |
| 19 | Kia | 43 |
| 20 | Volvo | 42 |
| 21 | Ram | 40 |
| 22 | GMC | 37 |
| 23 | Mercedes-Benz | 34 |
| 24 | Volkswagen | 31 |
| 25 | Genesis | 30 |
| 26 | Jeep | 26 |
| 27 | Tesla | 25 |
| 28 | Lincoln | 18 |
Source: Consumer Reports
Related: Chevrolet Camaro Alarm Going Off? (11 Most Common Causes)
Sources
https://www.consumerreports.org/cars/chevrolet/camaro/
https://www.carcomplaints.com/Chevrolet/Camaro/
https://www.carproblemzoo.com/chevrolet/camaro/
https://www.kbb.com/chevrolet/camaro/
https://www.edmunds.com/chevrolet/camaro/
https://caredge.com/chevrolet/camaro/depreciation