For some, shifting up and down through the manual gearbox is part of the charm of motorcycle riding.
For others, it's enough to be out in the elements, feeling the breeze on your face while leaning.
If your prerogative is relaxing into the cruise without worrying about changing gears, you've come to the right place.
This article lists cruisers with automatic transmissions.
1. Honda Rebel 1100 DCT
The Honda Rebel 1100 DCT is the most traditionally styled American cruiser on the short list of cruisers with automatic transmissions, despite its Japanese origin.
The DCT version of the Rebel still boasts the classic Rebel style modeled after the American cruiser scene made popular internationally by Harley-Davidson.
The DCT edition adds an automatically shifting Dual Clutch Transmission to the mix without sacrificing the lightweight chassis, easy handling, and comfortable cruiser aesthetic the Rebel has always been known for.
Various user modes allow riders to set their ride modes to automatically shift and change their specs to suit the current riding conditions.
Ride settings include Rain Mode, Sport Mode, and Standard Mode.
The Honda Rebel 1100 DCT (Dual Clutch Transmission) also allows riders to shift manually, using hand triggers instead of the traditional hand-clutch foot-shifting typical on most cruisers.
The DCT edition of the 1100 cc Rebel features the Unicam engine, with torque control, engine braking, power input, and shift points as programmable options for the bike's automatic Dual Clutch Transmission.
Here are the transmission and engine specs as listed on Honda's official website:
Transmission: Six-speed Automatic DCT
Final Drive: #525 O-ring-sealed chain; 16T/42T
Engine Type: 1083cc liquid-cooled 22.5° parallel-twin four-stroke
Bore And Stroke: 92.0mm x 81.5mm
Induction: PGM-FI electronic fuel injection; 46mm throttle body; throttle by wire
Valve Train: SOHC; 4 valves per cylinder
Compression Ratio: 10.1:1
Rake: 28°
Trail: 4.3 inches
Wheelbase: 59.8 inches
Seat Height: 27.5 inches
Curb Weight: 509 pounds (Includes all standard equipment, required fluids, and a full tank of fuel)
Fuel Capacity: 3.6 gallons, including 1.1-gallon reserve.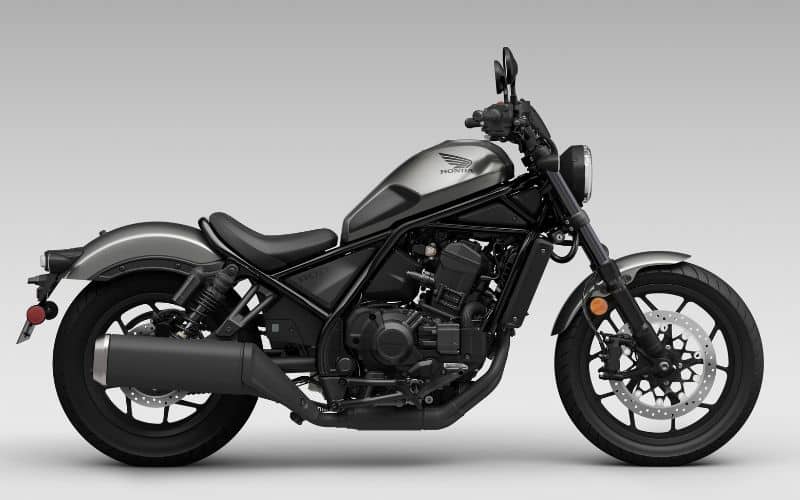 2. BMW C 650 GT
Although not the most powerful cruiser on the list, the BMW C 650 GT is a comfortable all-arounder with a V4 parallel twin engine, a lightweight stainless steel exhaust system, and a fully automatic transmission.
The C650 GT offers efficient and nimble enough handling for easy commuting but also has enough storage and fuel capacity to make it decent for long-distance cruising.
While some attempt to classify this comfort-focused commuter as a scooter, the C650 includes an inverted fork as part of its front suspension package and is capable of almost 112 MPH, putting it in league with most mid-sized cruisers.
Engine Type: V4 Parallel Twin, four-stroke
Fuel System: Fuel Injected
Engine Displacement Capacity: 647cc/39.5ci
Gearbox: Automatic Transmission
Transmission Type: Chain Drive
Clutch Type: Centrifugal
Driveline: Oil Bathed Chain Drive
Bore x Stroke: 79mm x 66mm.
Compression Ratio: 11.6:1
Valves per Cylinder: 4
Camshaft Valvetrain Configuration: Double Overhead Cams/Twin Cam DOHC
Maximum horsepower Output: 60 @ 7550 RPMs
Maximum Torque: 47 foot-pounds
Cooling System: Liquid Cooled
Lubrication System: Dry Sump
Related: 10 Cruiser Motorcycles With a Radio (Perfect for Touring)
3. Honda NM4 Vultus DCT
The NM(New Motorcycle)4 Vultus is a futurist-Esq cruiser designed by Honda to look like something out of a science fiction anime. Along with Honda's automatic Dual Clutch Transmission (DCT), the Vultus features a combined braking system that integrates two ABS channels that assist the rider with electronic braking enhancements.
Here are the Honda NM4 Vultus's Specs:
Engine size:745cc
Engine type: liquid-cooled, four-valve, SOHC parallel twin, DCT automatic gearbox
Frame type: Steel spine
Fuel capacity:11.6 liters
Seat height:650mm
Bike weight:245kg
Front Suspension:43mm telescopic fork, no adjustment.
Rear Suspension: Monoshock single shock, no adjustment.
Front brake:320mm wavy disc with two-piston caliper
Rear brake:240mm wavy disc with single-piston caliper
Front tire size:120/70 x 18
Rear tire size:200/50 x 17
4. Brutus V9
The Brutus V9 is an electric cruiser that resembles the big twin baggers American-made by brands like Indian and Harley-Davidson. The V9 has an electric engine with an integrated automatic transmission on a beefy frame, a batwing fairing, and an oversized, chrome-spoked front wheel.
General Brutus V9 Specs as charted on Brutus Motorcycle's official website:
Moto r: AC35
Weight: 784lbs or 886lbs
Length: 100.5"
Width: 36.5"
Rake: 27.2°
Wheelbase: 65"
Seat Height: 26.2"
Battery Pack:

18.8kWh or 33.7kWh
Charge Time – Dependent on charging and battery options

Power:

Top Speed:115mph (Gearing Restricted)

Horsepft-lbs8 (Motor)

Torque:92ft-lbs. (Motor)

Wheels:

Front:21" x 3.5"

Front Suspension: 58mm Inverted Fork

Rear Suspension: Dual Shocks
Brakes:

Front: Single or Twin 32mm 4 Piston Fixed / 11.5" Rotor

Rear: Single 32mm 4 Piston Fixed / 11.5" Rotor

Lighting: Full HID and LED Lighting
5. Zero FXE
The Zero FXE is an electric battery-powered naked commuter with no clutch or gearbox. Therefore no shifting is required. It's perfect for cruising city streets.
Its battery pack offers riders 1000 miles of in-town riding or 60 miles of highway riding at an average speed of 55 MPH. While the FZE is small, nimble, and ideal for commuting rather than long-distance riding, its versatile ride mode makes it an excellent bike for cruising.
Engine:

Peak torque: 78 ft-lb (106 Nm)

Peak power: 46 hp (34 kW) @ 4,300 rpm

Top speed (max): 85 mph (137 km/h)

Type: Z-Force® 75-5 passively air-cooled, high efficiency, radial flux, interior permanent magnet, brushless motor

Controller: High efficiency, 550 amp, 3-phase brushless controller with regenerative deceleration

Transmission: Clutchless direct drive

Final Drive: 90T / 18T, Poly Chain® HTD® Carbon™ belt

Power system:

Power pack: Z-Force® Li-Ion intelligent integrated

Charger type:650 W, integrated

Charge time (standard): 9.7 hours (100% charged) / 9.2 hours (95% charged)
6. Harley-Davidson LiveWire One
LiveWire is Harley-Davidson's venture into the electric motorcycle scene. While the LiveWire One sits between a naked café racer and a street commuter, its electric motor puts out 84 foot-pounds of torque and 100 horsepower. Its automatic transmission makes it perfect for relaxed cruising on windy country roads or slick city streets.
MOTOR: REVELATION®
Power System & Charging:

HIGH-VOLTAGE BATTERY: 15.4 KWH RECHARGEABLE ENERGY STORAGE SYSTEM (RESS)

LEVEL 1 COMPATIBLE: 13 MILES FOR EACH HOUR OF CHARGINGLEVEL 2 COMPATIBLE: SAME RATE AS LEVEL 1

DC FAST CHARGE (DCFC): 0-80% IN 40 MINUTES. 0-100% IN 60 MINUTES.

ELECTRIC MOTOR TORQUE:84 FT-LB
HORSEPOWER:100 HP / 75 KW
LEAN ANGLE:45°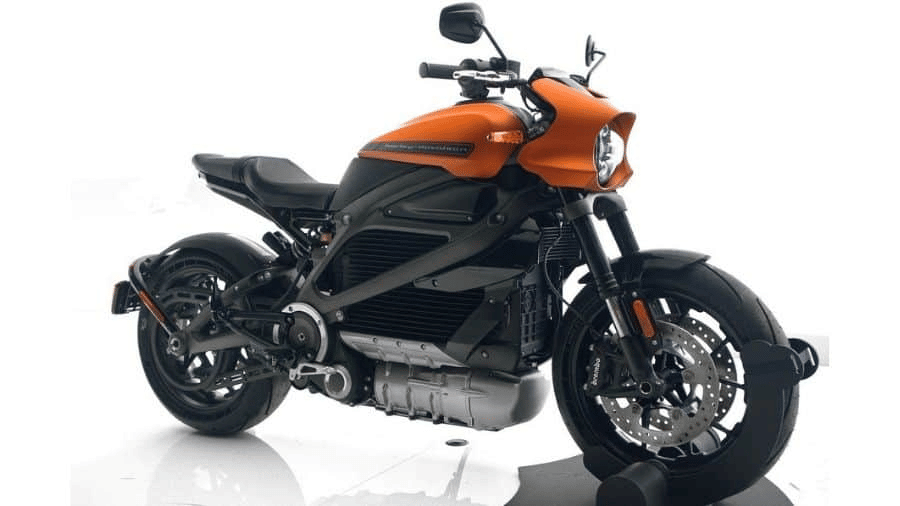 7. Honda Navi
The Honda Navi is a minibike cruiser with a unique V-Matic automatic transmission. And while the Navi's small, 109cc motor doesn't produce much power, this is a true mini cruiser requiring its rider to master the basics of riding to get the most out of the machine, making it an ideal learning bike.
ENGINE:

Type: 109.2cc fan-cooled four-stroke 80º single cylinder w/ friction-reducing technology

Valve Train: OHC; two-valve

Bore x Stroke: 55.0 mm x 55.6 mm.

Induction: Carburetor w/ 16 mm bore

Ignition: Full-transistorized

Starter: Electric (w/ kickstart backup)

Driveline: Belt final drive

Transmission: V-Matic CVT

Clutch: Automatic centrifugal dry
SUSPENSION:

Front

: 26.8 mm telescopic inverted fork; 3.9 in. travel

Rear: Single shock mounted on the left side; 2.8 in. travel

BRAKES:

Front

: Single mechanical 130 mm drum, w/ parking brake

Rear: Single mechanical 130 mm drum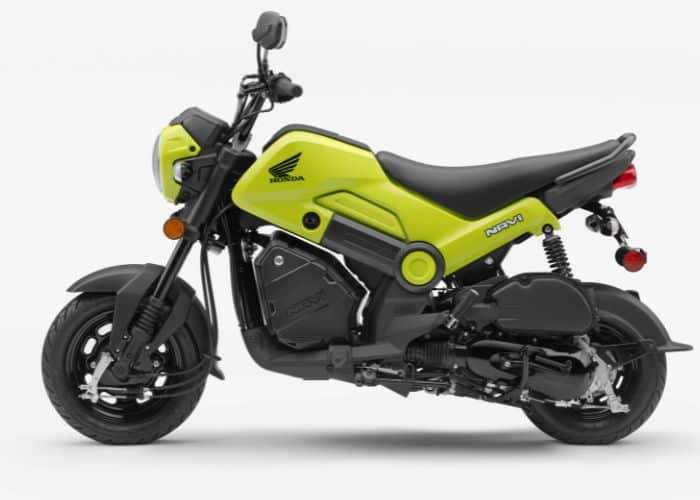 Related: 8 Cruiser Motorcycles With the Best MPG (With Pics)
8. MV Agusta Turismo Veloce Lusso/RC
The Turismo Veloce is a highly refined Italian cruiser/sport-touring motorcycle from MV Agusta. The Lusso and RC trim packages both include an SCS semi-automatic transmission. This bike is designed for cruising for miles, focusing on ergonomics and comfort.
Engine Type: Three cylinders, four stroke, 12 valve.
Timing system: D.O.H.C" with mechanical chain tensioner and DLC tappet
Total displacement: 798 cm3 (48.7 cu. in.)
Compression ratio: 12.3:1
Starting: Electric
Bore x stroke: 79 mm x 54.3 mm (3.1 in. x 2.1 in.)
Max. Power – rpm (At the crankshaft): 81 kW (110 hp) at 10.150 rpm.
Max. torque – rpm.: 80 Nm (8.16 kgm) at 7.100 rpm
Cooling system: Cooling with separated liquid and oil radiators
Electronic quick shift: MV EAS 3.0 (Electronically Assisted Shift Up & Down)
Clutch: Hydraulic, wet, multi-disc with slipper clutch
Transmission: Cassette style; six-speed, constant mesh
Primary drive: 22/41
Maximum speed: 230 km/h (143 mph)
Acceleration 0-100 km/h: 3.75 s
Acceleration 0-200 km/h: 13.80 s
Environmental Standard: Euro 5
Combined fuel consumption: 5.5 l/100 km
CO2 Emissions: 128 g/km
9. Honda CTX700 DCT
The Honda CTX700 DCT is a cross between an urban cruiser and a sport touring bike with ample, locking hard case storage capacity making it suitable for long-distance cruising and overnight trips.
The CTX700DCT stocks a high-torque, low-revving engine, multiple ride modes, and an automatic six-speed Dual Clutch Transmission that either shifts for you or lets you shift with easy-access hand paddles instead of a hand clutch foot-shifter combination.
ENGINE:

Type: 670cc liquid-cooled parallel-twin

Valve Train: SOHC; four valves per cylinder

Bore x Stroke: 73.0mm x 80.0mm

Compression Ratio: 10.7:1

Induction: PGM-FI; 36mm throttle body

Ignition: Digital transistorized w/ electronic advance

Transmission: Automatic DCT six-speed

Clutch: (2) multi-plate wet

SUSPENSION:

Front: 41mm telescopic fork; 4.2 in. travel

Rear: Pro-Link® single shock; 4.3 in. travel

BRAKES:

Front: Single 320mm disc w/ two-piston caliper; ABS

Rear: Single 240mm disc w/ single-piston caliper; ABS
10. Indian eFTR JR/Mini
The Indian eFTR is an entry-level mini-track bike perfect for introducing kids to track riding, naked riding, and cruising. It's powered by a direct drive motor which doesn't require any shifting.
While the eFTR Mini can't be considered a genuinely automatic motorcycle because it doesn't have a gearbox, it also doesn't have a clutch, which means no shifting—you twist the throttle and go.
There are two versions of this bike, the Mini and the JR. While both are marketed to inexperienced youth riders, the Mini is geared towards 8-year-olds and up.
The eFTR JR, on the other hand, is stocked with actual suspension and brake systems and a more robust trim package suitable for 13-year-olds. Both bikes utilize the same electric engine concept, eliminating the clutch and shifter to make learning easier for new young riders.
Here are the specs per Indian's website:
Low Mode: High Mode
Ages:8+:13+
Top Speed:10 MPH:15 MPH
Run Time:140 Min:65 Min
Dimensions: Measurement
Overall Length:51″ (1296 mm)
Seat Height:23.2″ (589 mm)
Wheelbase:36.3″ (922 mm)
Weight:1 10 lbs.
Feature: Benefit
Ages 8+:Fun for All Ages
Low & High Modes: Adjustable Level for Rider Ability & Age
Long Range Battery: More Time on the Track Together (up to 12 hours to full charge)
Disc Brakes: Greater Stopping Power for Increased Safety
Full Suspension: increased Comfort & Shock Absorption
Electric Drive: Quieter & Lower Heat Output
Sources:
V9 | Brutus Electric Motorcycle (brutusmotorcycle.com)
Honda Powersports – Motorcycles, ATVs, Scooters, SxS
Indian Motorcycle – America's First Motorcycle Company
Electric Motorcycles | LiveWire
Home | BMW Motorrad (bmwmotorcycles.com)