The Ford EcoSport is an affordable subcompact crossover that's built on the same platform as the Fiesta.
It has good cargo space for its size, optional all-wheel drive, and even has decent towing capacity.
It entered the US market in 2018 but it's been sold in different parts of the world since 2003.
In this article, we'll take a look at some of the EcoSport's common issues and ways to deal with them…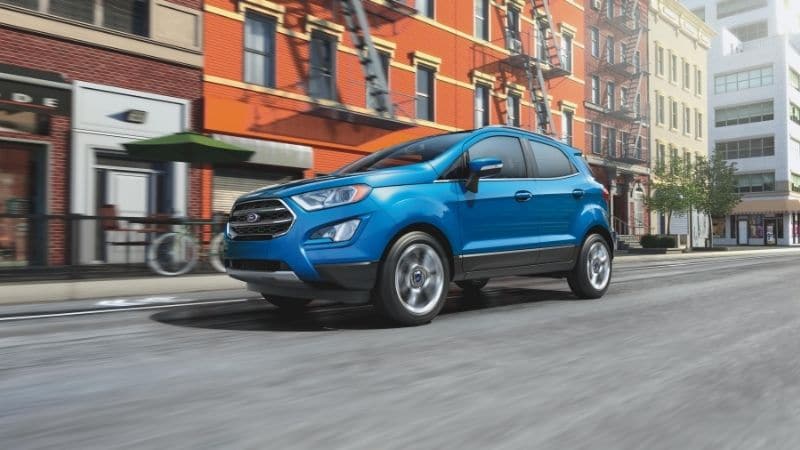 1. Oil Pump Failure
The EcoSport's turbocharged 1.0-liter engine has had lots of cases of oil pump failures which led to catastrophic engine failures.
The EcoSport's oil pump, which is responsible for keeping the oil flowing throughout the engine, is belt-driven instead of being gear driven like in other vehicles. When the belt fails, the car will lose oil pressure and the engine's internals won't be properly lubricated.
There are more reports of oil pump belt failures in the 2018 and 2019 models, but belt failures can occur in all model years of the small three-cylinder engine.
Here is how some owners described their experience:
"The oil pump failed while on the freeway. I received a "low oil pressure" warning and immediately pulled over and had the car towed. The car was only 3 years old and had 46,000 miles in it. The dealership informed me that I need a new engine."
"On July 9, 2022 Warning across dashboard stated engine oil pump pressure low then heard grinding noise. Towed to mechanic and found out the oil pump belt was broken and had metal in engine causing engine to fail also messing up turbo. Have to now replace engine with turbo which is costly but still owe on vehicle."
Solution
Ford released a TSB (Technical Service Bulletin) stating that the 2018 to 2019 EcoSport's oil pump belt tensioner can fail and cause engine damage.
They did not, however, have any recommendations to resolve the issue except for replacing the engine. They did indicate that cars built after April 2019 should not suffer from the belt tensioner issue, so they probably updated the part.
If you're worried about suffering from a belt tensioner failure, you can take it to the dealer or a regular mechanic to check if there's any play in it or if it's showing signs of wear.
Getting to the oil pump tensioner is a fairly complicated job that requires tearing out a lot of ancillary parts so it's not really a quick fix. If you do get this checked, it's a good idea to check the oil pump itself because the strainer also has a tendency to get blocked up over time.
2. Transmission Issues
Older second generation Ford EcoSports equipped with the PowerShift (DCT) Dual-Clutch Transmission were prone to suffering from severe failures after the first couple of years.
The EcoSport was equipped with these problematic transmissions in different markets from 2012 to 2017. In 2018, Ford swapped the old transmission out for a more reliable torque converter automatic in all markets.
These dual-clutch transmissions were also used in the Ford Focus and Fiesta, which also exhibited similar issues such as:
Transmission shudder or jerkiness
Clunking noises
Dashboard warning lights
Going into limp mode (limited RPM)
No reverse
Transmission failure
Here's is how one EcoSport described their issue:
"I purchased my Ford Ecosport 2015 automatic transmission, it had slips, bucks, jerks, and harshly engages when driven & accelerate from 1st to second gear."
Solution
Early models of the second gen EcoSport had bad seals in the transmission which caused transmission fluid into the dry clutch system. When this happens, the clutch packs get worn out prematurely and need to be replaced.
The PowerShift DCT also had other major parts that were prone to failure such as;
TCM (Transmission Control Module)
Shift forks
Shift motors
Release bearings
Most of these issues require dropping the transmission and opening it up to replace the broken parts, which are all pretty big jobs. In many cases, the transmission just gets completely replaced due to the extent of the damage.
Some people were able to get rid of the jerkiness by resetting the TCM. Doing this allows the car to relearn your driving habits and adjust accordingly to provide a smoother driving experience.
To reset the EcoSport transmission computer, follow these steps:
Turn on the car but don't start the engine
Step on the brake pedal
Shift from Park to Sport mode, then shift to Neutral
When the 'transmission ready' message appears on the center screen, shift back into park
More severe transmission problems will require a proper diagnosis by an experienced mechanic who is familiar with these DCT issues.
3. ABS Errors
ABS malfunctions are another common complaint with older models of the second generation EcoSport.
After starting the car, affected vehicles will usually start beeping and the 'ABS' light on the gauge cluster will flash.
Sometimes a 'transmission malfunction' error message will also appear on the center screen since the TCM requires all related systems to be working properly.
The car can usually still be driven normally even with the ABS light on, but safety is a concern if the problem is due to a faulty braking component.
Solution
A lot of ABS errors are actually caused by a weak or dead 12-volt battery. Lots of EcoSport owners were able to get rid of the ABS light after replacing the battery and resetting the codes in the car's ECU.
If the battery is still fairly new and has been tested that it can still hold a charge, there could be a problem with the ABS module itself which is known to fail pretty regularly.
The ABS errors could also be caused by a faulty wheel speed sensor or damaged wiring going to the sensor.
Some people were able to do a soft reset of the codes by switching on the ignition then disconnecting the negative terminal of the battery. If there are no major component failures, the ABS light and other errors should completely go away.
However, if you want to get to the bottom of the issue, you need to take the car to a mechanic who can scan the codes and find out where the problem is coming from.
4. Exhaust Flex Pipe Failure
Some Ford EcoSport owners who have the 1.0-liter three-cylinder engine have reported that their car's engine suddenly became extremely loud whenever they step on the gas.
This is usually due to a broken flex pipe in the exhaust system which can get disconnected when the underside of the car hits something hard or if it rusts out prematurely due to road salts.
Here's how one owner described the issue:
"I recently purchased a used EcoSport. I just accidentally cut my turn into my driveway a bit sharp and went over the curb a bit. Since that moment, my car is loud upon start and when it accelerates. It is accompanied by a bit of shaking. It gets slightly quieter when not accelerating."
Broken exhaust flex pipes seems to be a fairly common issue for the 1.0-liter EcoBoost engines in North America where lots of places use salt to melt ice on the road during the winter causing excessive corrosion in a lot of vehicles.
Solution
Getting the flex pipe replaced isn't a very difficult job, but Ford only sells it as part of the catalytic converter which increases the price significantly.
If your car is already out of warranty, an exhaust shop can weld new piping in to quiet the car down which should be much cheaper than paying for a new catalytic converter.
To prevent the exhaust from excessive rust, wash the underside of the car every few weeks to rinse out all the salt build up.
5. Rear Tailgate Won't Open
Many second gen Ford EcoSport owners have reported having issues opening the rear tailgate.
The EcoSport's tailgate can only be opened by pushing an electronic button or the key fob. It doesn't have a mechanical handle to open the rear door. When the button is pushed, it activates an actuator that pulls on the latch that keeps the door closed.
This actuator has been known to eventually give out after a few years leaving EcoSport owners with no other ways of opening the tailgate other than dismantling the interior panel and pulling on the latch manually.
Here's how one EcoSport owner described the problem:
"Got a problem with the rear (side opening) door not opening. I can hear the servo trying to do its job but not unlatching the lock."
Solution
To get the EcoSport's rear tailgate to open normally again, you'll need to replace the actuator itself.
This part can be ordered online or through a Ford dealer and any competent mechanic should be able to easily replace it in less than an hour.
A lot of owners have even managed to replace the actuator themselves as it only needs some basic tools and a bit of mechanical skill.
6. Timing Belt Issues
The EcoSport's 1.0-liter three cylinder engine uses a timing belt that's lubricated by the engine oil similar to a timing chain.
Like all timing belts, it needs to be replaced every 10 years or 100,000 miles as it could potentially break as it degrades with age.
The EcoBoost engine is an interference engine so if the timing belt breaks lots of internal engine components will get damaged.
Since the belt is dependent on the quality of the engine oil, poor maintenance could severely affect its overall lifespan.
Solution
To make sure the timing belt and the engine lasts as long as possible, it's important to follow the recommended oil change intervals and only use oil that meets Ford's specifications which is 5W-20 synthetic oil.
Using cheaper oil or oil with a different viscosity could cause the timing belt and the oil pump belt to wear out much quicker.
It's also a good idea to stick to the same brand that Ford uses, i.e. MotorCraft, to make sure it doesn't have any additives that could affect the belt's performance.
7. Poor Fuel Economy
A lot of EcoSport owners have been disappointed with the fuel economy of the 1.0-liter EcoBoost engine.
Despite being a small three-cylinder turbocharged powerplant, it doesn't get significantly better gas mileage than the 2.0-liter naturally aspirated engine.
Some people have reported getting only around 30 mpg which can even drop down to the mid 20s in stop-and-go traffic. The 2.0-liter engine provides similar fuel economy but has slightly better performance. But both drivetrains are pretty lethargic nonetheless.
Solution
There's nothing much one can do to improve the EcoSport's real-world fuel economy except to be more light footed with the gas pedal.
Fuel economy improves slightly when driving at highway speeds, but there are lots of other subcompact cars that can do much better.
8. Front Seat Problems
Some 2019 Ford EcoSports had a recall due to improperly welded front seat frames.
This manufacturing error could result in the seat back to fail prematurely and could potentially cause a safety issue.
Solution
Ford issued a recall to address these front seat issues in the first half of 2019 and replaced the front seats of affected vehicles.
Since the seat issue was identified fairly early, it likely only affects a small number of 2019 Ford EcoSports.
It's still a good idea to check if your vehicle was affected by the recall by typing in your VIN on the Ford recall site.
All costs for recall repairs are shouldered by Ford so there should be no additional costs if you schedule it along with your regular service intervals.
9. Blind Spots
The EcoSport has rather thick A-pillars in the front and C-pillars in the rear where the tailgate is.
This can affect visibility in both low and high speed traffic since these areas are pretty wide compared to other vehicles.
In addition, the EcoSport only has a rear view camera as standard and optional blind-spot monitoring. It doesn't have many of the modern driver aids found in other vehicles which can help you avoid accidents.
Solution
There's not much you can do to fix the blind spots of the EcoSport apart from being more aware of your surroundings and use your mirrors before making any sudden maneuvers.
Related: 5 Best & Worst Ford EcoSport Years (With Facts & Stats)
Ford Ecosport Model Years With the Most Problems
| | |
| --- | --- |
| Ford Ecosport Model Year | Problems |
| 2021 | 2 |
| 2020 | 9 |
| 2019 | 17 |
| 2018 | 26 |
Source: Car Problem Zoo
Ford Ecosport Pros and Cons
If you're considering a Ford Ecosport as your next car you might be wondering what its strengths and weaknesses are…
Pros
Affordable
Good amount of cargo space
Higher ground clearance than a hatchback
Optional all-wheel drive
Towing ability
Cons
Less than stellar fuel economy
Lacks performance
Lacks modern driver aids
Related: 4 Most Common Ford Fiesta Problems (Explained)
Ford Ecosport Reliability Compared to Similar Cars
Consumer Reports rankings detailed below is based on the model's last three years, the Ford Ecosport sits close to the bottom, with a poor score of 29/100.
| | |
| --- | --- |
| Make & Model | Consumer ReportsReliability Score |
| Chevrolet TrailBlazer | 100 |
| Subaru Crosstek | 85 |
| Nissan Rogue Sport | 84 |
| Chevrolet Trax | 82 |
| Mini Cooper Countryman | 82 |
| Mazda CX30 | 75 |
| Buick Encore GX | 68 |
| Lexus UX | 60 |
| Volvo XC40 | 59 |
| Toyota Corolla Cross | 58 |
| Honda HR-V | 54 |
| Hyundai Kona | 48 |
| BMW X1 | 42 |
| BMW X2 | 42 |
| Audi Q3 | 34 |
| Mercedes-Benz GLA | 34 |
| Volkswagen Taos | 30 |
| Ford EcoSport | 29 |
| Jeep Renegade | 26 |
| Fiat 500X | 25 |
| Jaguar E-Pace | 25 |
| Cadillac XT4 | 17 |
| Kia Seltos | 8 |
Source: Consumer Reports
Ford Ecosport Used Value
We've taken a look on Car Gurus to gauge the resale value of a Ford Ecosport, below are typical asking prices for each model year.
According to Car Edge, a Ford Ecosport will depreciate 35% after 5 years and have a 5 year resale value of $17,467.
Note: Used model prices will vary depending on trim level.
| | | |
| --- | --- | --- |
| Model Year | Mileage (miles) | Resale Price |
| 2021 | 12,204 | $23,579 |
| 2020 | 20,310 | $19,996 |
| 2019 | 91,448 | $15,999 |
| 2018 | 37,605 | $19,795 |
Source: Car Gurus
Related: Ford EcoSport Beeping? (6 Causes & Solutions)
What Do Owners Like and Dislike About the Ford Ecosport?
Based on owner feedback from the Kelley Blue Book site here are what real-life owners love and hate about the Ford Ecosport.
Likes
Fun to drive
Nice interior
Handling
Appearance
Size
Dislikes
Weak acceleration
Fuel economy
Swinging rear
Stiff ride
Small cargo space
Owners Reviews
"Much better value and performance than I expected. It would be better to have more room in the cabin and somewhere to store a spare tire and more speakers but overall very nice. I bought it with 3800 miles and 2 weeks later drove it 2000 miles on vacation and it did great…"
Source: Kelley Blue Book
"I get great gas mileage (35MPG) and it is so easy to drive and park. The only thing I don't like about it is that it has no spare tire…"
Source: Kelley Blue Book
"I love my eco sport. I have the 2021 in gray exterior tan interior. Driving is easy and sporty. Great for in town, school, work, shopping…"
Source: Edmunds
How Reliable Are Ford Cars?
According to a recent report from Consumer Reports, Ford are ranked the 18th most reliable car manufacturer out of 28 brands, with a score of 44/100.
| | | |
| --- | --- | --- |
| 1 | Lexus | 76 |
| 2 | Mazda | 75 |
| 3 | Toyota | 71 |
| 4 | Infiniti | 69 |
| 5 | Buick | 66 |
| 6 | Honda | 66 |
| 7 | Subaru | 66 |
| 8 | Acura | 64 |
| 9 | Nissan | 63 |
| 10 | Mini | 60 |
| 11 | Hyundai | 56 |
| 12 | Chrysler | 54 |
| 13 | Porsche | 52 |
| 14 | Chevy | 48 |
| 15 | Audi | 47 |
| 16 | Cadillac | 47 |
| 17 | BMW | 45 |
| 18 | Ford | 44 |
| 19 | Kia | 43 |
| 20 | Volvo | 42 |
| 21 | Ram | 40 |
| 22 | GMC | 37 |
| 23 | Mercedes-Benz | 34 |
| 24 | Volkswagen | 31 |
| 25 | Genesis | 30 |
| 26 | Jeep | 26 |
| 27 | Tesla | 25 |
| 28 | Lincoln | 18 |
Source: Consumer Reports
Related: Ford EcoSport Alarm Going Off? (11 Causes & Solutions)
Sources
https://www.consumerreports.org/cars/ford/ecosport/
https://www.carcomplaints.com/Ford/Ecosport/
https://www.carproblemzoo.com/tsb/ford/ecosport/
https://www.kbb.com/ford/ecosport/
https://www.edmunds.com/ford/ecosport/
https://caredge.com/ford/ecosport/depreciation