For the Fiesta, the party sadly stopped in 2019 after a long successful run as Ford turned its attention to SUVs.
It was well known for its affordability, small dimensions and driving fun, but like any car, it's not perfect.
In this article, we'll take a closer look at the Ford Fiesta's most common problems.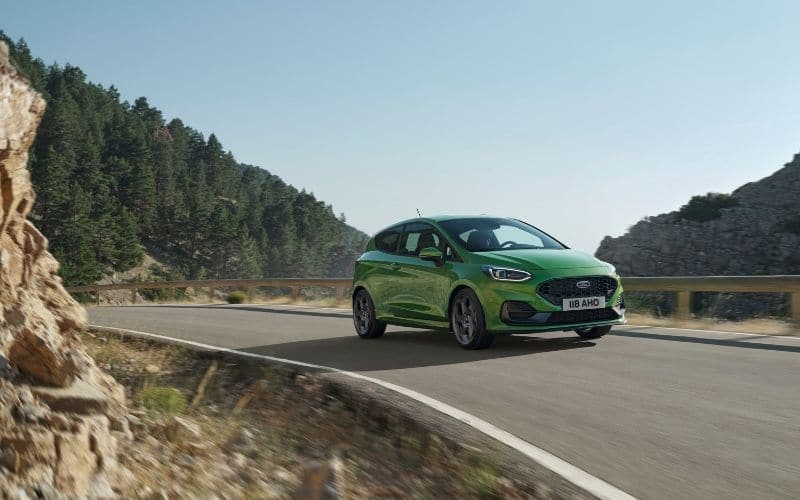 1. PowerShift Transmission Problems
The 2011-2016 Fiesta has a dual-clutch automatic transmission that was known to be extremely problematic, it was so bad that it became the subject of a class action lawsuit with over 2 million affected customers who stand to get some form of compensation.
The Ford Focus has amassed 1,262 complaints for power train problems alone on the Car Problem Zoo website, a large majority of which are due to the faulty PowerShift transmission.
The worst years for this issue are 2011, 2012, 2013 and 2014. The 2015 and 2016 models were affected also but not to the same extent.
The symptoms associated with problematic PowerShift transmissions include:
Shuddering and jerking while accelerating from a standstill
Followed by a rough upshift that sends vibrations throughout the car that can even be felt through the steering wheel
Here's what some unhappy owners had to say:
"Car currently has approx 52,000 miles. We bought it with around 30k miles. Since day 1 the transmission has been a problem. It lunges forward, slips and shifts violently. I've researched the problem and found there has been approximately 2,000,000 or more complaints over the same issue. Ford knowingly sold these cars and others with this faulty transmission."
"Over the last several years, soon after purchasing from a dealer, my 2011 Ford Fiesta will not gain speed as it should when driving in town. Will shudder when going up small inclines. Have had transmission/clutch replaced 2x by Ford. And had to fight for the last replacement in January 2018. Now car is no longer under warranty.."
According to the Detroit Free Press, Ford was well aware of the issues before mass production began but went ahead with it anyway instructing dealers "to tell customers that the cars operated normally" despite being well aware of its problems.
Solution
Owners have tried replacing the clutch, output shafts, the transmission control module (tcm) and even the entire transmission as well as having software updates. Despite these efforts, the problems seem to return.
If you've been affected by these issues then you could well be entitled to some form of repayment.
Ford had also extended the powertrain warranty on affected models to seven years or 100,000 miles.
2. Door Latch Failure
A very common complaint from Ford Fiesta owners is that the door latches aren't working as they should, this has been widely reported on 2011, 2012, 2013 and 2014 models and to a much lesser extent, 2015 and 2016 models.
This seems like an unnecessary problem Ford has brought upon its customers as door latches are one of the simplest mechanisms in a car.
However, it is in fact one of the most commonly reported issues for the Fiesta.
Here's what the owners had to say:
"Right rear door latch stopped working suddenly. Backing out of my driveway I noticed my passenger rear door swing open. I stopped to close it but it bounced off the frame with each attempt. Would not latch no matter how hard I pushed. Had to put the car in the garage because there is no way to secure the contents."
"I noticed my car door would not close. This is the second incident in one year. Ford is putting my life and my family's life in danger. Last year, it was the left rear door, more recently it was the driver's door."
"Door latches keep breaking. I have already paid to fix 2 now a 3rd one is broken. There was a recall for the door latches on the same year, make, model but my VIN number was not included."
Solution
If the door latch is broken then the only solution is to have the latch replaced. Fiesta door latches can be picked up relatively cheap and if you're mechanically inclined, they're not too difficult to install. Before you do, run a VIN check to see if you've been affected by the infamous door latch recall.
Ford's door latch recall affected almost 250,000 vehicles in the US including 2014-2015 Fiesta's (which is a bit odd as most of the complaints we came across for faulty door latches were from owners of earlier model years).
Nonetheless, the problem stems from the latch pawl's spring-tab design, which was known to degrade in hot weather conditions.
A common symptom of door latch failure is the alarm going off.
Related: Ford Fiesta Alarm Going Off? (9 Causes & Solutions)
3. A/C Heater Problems
A number of Fiesta owners have complained about AC and heater problems – these have mostly been reported on 2011 – 2014 models.
The problems with the heater blower seem to be most prevalent in cold weather, especially after fresh snowfall.
Here's one unhappy owner's account:
"New Year's Eve night of 2013 the blower wouldn't work on my car. No heat no nothing. I took the car in the following day and got the run around and was told that I would have to pay for a rental car."
One owner said since owning the car the A/C has never worked whilst another owner stated that the hot/cold air settings had gradually become unresponsive over time.
Solution
According to Repair Pal, the 2011 – 2014 Ford Fiestas with manual fan temperature controls may have issues with the blower motor due to a failing blower motor resistor.
Fixing this problem is fairly straightforward and simply involves the replacing of a small resistor that can be found behind the glove box, next to the blower motor.
4. Radio Not Working
A number of Fiesta owners have complained that their car radio is not working.
Some have even tried replacing the stereo unit however the problem still persists.
Solution
On a Fiesta, these problems are usually related to the module board and are typically caused by extreme temperature.
Option 1:
Remove the radio module (quite easy and there are many tutorials on YouTube)
Remove the four torque screws (silver) on the side with the plastic slide cylinders.
Also, loosen the two larger torque screws (black) then slide the cover slightly to the side and lift off.
Hold the board by the corners and twist both ends in opposite directions slightly two or three times, taking caution not to over-twist, only a slight bit of pressure should be required.
You can also disconnect the CD Player ribbon cable and plug it back into the car to test it, you also need your console connected too.
If all works you are golden.
If not, turn off the ignition and try again while connected and use just a bit more pressure.
Once it is working reassemble the radio module and ensure the two clips secure the heat syncs.
Reinstall the module, and that should fix it.
Option 2:
Replace fuses F10 and F19.
Check your owner's manual however both of these should be the only ones related to the sync/radio system.
Option 3:
Unhook the battery for 5-10 minutes to see if it resets the system.
Ford Fiesta Model Years With the Most Problems
To get a better idea of which Ford Fiesta has the most problems the fairest way is to compare models based on the number of vehicles sold in relation to the number of reported problems.
We're using the Car Problem Zoo PPMY index which means problems reported per thousand vehicles per Year.
For example, newer cars will have fewer complaints simply because they've been around for less time.
Based on this index, the most problematic years are:
2013 – 1.39 PPMY
2012 – 1.28 PPMY
2011 – 1.14 PPMY
And the least problematic years are:
2019 – 0.11 PPMY
2018 – 0.21 PPMY
2017 – 0.27 PPMY
Ford Fiesta
Model Year
Problems
Sales
Vehicle Age
PPMY Index
2019
20
63,376
3
0.11
2018
34
40,419
4
0.21
2017
65
48,350
5
0.27
2016
169
67,328
6
0.42
2015
268
70,212
7
0.55
2014
568
75,665
8
0.94
2013
840
67,150
9
1.39
2012
769
60,158
10
1.28
2011
975
77,557
11
1.14
Source: Car Problem Zoo
Related: 9 Best & Worst Ford Fiesta Years (With Facts & Stats)
Ford Fiesta Pros and Cons
If you're considering a Ford Fiesta as your next car you might be wondering what its strengths and weaknesses are…
Pros
Great looks
Sporty ride
Easy to park in tight spots
Affordable
Fuel efficient
Cons
Lacks the latest safety technology
Some models were plagued by transmission problems
Related: Ford Fiesta Tune-Up & Maintenance Costs? (Complete Guide)
Ford Fiesta Reliability Compared to Similar Cars
Model
Reliability
1
Toyota Yaris
4.5/5.0
2
Toyota Prius C
4.5/5.0
3
Mazda2
4.5/5.0
4
Honda Fit
4.5/5.0
5
Hyundai Accent
4.5/5.0
6
Kia Rio
4.5/5.0
7
Mitsubishi Mirage
4.5/5.0
8
Mazda MX-5 Miata
4.0/5.0
9
Nissan Versa
4.0/5.0
10
Chevrolet Spark
4.0/5.0
11
Chevrolet Sonic
4.0/5.0
12
Chevrolet Aveo
4.0/5.0
13
Ford Fiesta
4.0/5.0
14
Fiat 500
3.5/5.0
15
Mini Cooper
Countryman
3.5/5.0
16
Mini Cooper
3.0/5.0
Avg. Subcompact Car
4.0/5.0
Source: Repair Pal
Ford Fiesta Used Value
We've taken a look on Car Gurus to gauge the resale value of a Ford Fiesta, below are typical asking prices for each model year.
According to Auto Padre, a Ford Fiesta will depreciate 46% after 5 years and have a 5 year resale value of $7,358.
Note: Used model prices will vary depending on trim level.
| | | |
| --- | --- | --- |
| Model Year | Mileage (miles) | Resale Price |
| 2019 | 66,205 | $12,895 |
| 2018 | 24,032 | $14,999 |
| 2017 | 41,850 | $13,329 |
| 2016 | 105,782 | $6,495 |
| 2015 | 113,170 | $5,995 |
| 2014 | 120,500 | $9,009 |
| 2013 | 99,000 | $6,999 |
| 2012 | 61,145 | $7,850 |
| 2011 | 104,500 | $5,595 |
Source: Car Gurus
What Do Owners Like and Dislike About the Ford Fiesta?
Based on owner feedback from the Kelley Blue Book site here are what real-life owners love and hate about the Ford Fiesta.
Likes
Fun to drive
Fuel economy
Runs well
Easy handling
Reliable
Dislikes
Rough lower gears
Limited design
A bit small
Interior space
Cheap-looking interior
Owners Reviews
"…The five-speed manual has been great. It holds the road great, and is peppy for a little engine. The gas milage is excellent at 38-40 combination, and 48 on the highway if you keep it under 65mph…"
Source: Kelley Blue Book
"The transmission in our Ford Fiesta has had multiple issues and still makes lots of noise and is jerky. Ford tells us that this transmission comes with some noise but the noises get worse as does the responses of shifting and accelerating."
Source: Kelley Blue Book
"Absolutely love my car. Bought new in 17. It's been stone reliable. Never broke down and a blast to drive."
Source: Kelley Blue Book
"I simply love this little car. It gets better mileage than any car I ever owned and is quiet, comfortable, handles very well and I think it is nice looking…"
Source: Edmunds
How Reliable Are Ford Cars?
According to a recent report from Consumer Reports, Ford are ranked the 18th most reliable car manufacturer out of 28 brands, with a score of 44/100.
| | | |
| --- | --- | --- |
| 1 | Lexus | 76 |
| 2 | Mazda | 75 |
| 3 | Toyota | 71 |
| 4 | Infiniti | 69 |
| 5 | Buick | 66 |
| 6 | Honda | 66 |
| 7 | Subaru | 66 |
| 8 | Acura | 64 |
| 9 | Nissan | 63 |
| 10 | Mini | 60 |
| 11 | Hyundai | 56 |
| 12 | Chrysler | 54 |
| 13 | Porsche | 52 |
| 14 | Chevy | 48 |
| 15 | Audi | 47 |
| 16 | Cadillac | 47 |
| 17 | BMW | 45 |
| 18 | Ford | 44 |
| 19 | Kia | 43 |
| 20 | Volvo | 42 |
| 21 | Ram | 40 |
| 22 | GMC | 37 |
| 23 | Mercedes-Benz | 34 |
| 24 | Volkswagen | 31 |
| 25 | Genesis | 30 |
| 26 | Jeep | 26 |
| 27 | Tesla | 25 |
| 28 | Lincoln | 18 |
Source: Consumer Reports
Related: How Long Do Ford Fiestas Last? (11 Important Facts)
Sources
https://www.consumerreports.org/cars/ford/fiesta/
https://www.carcomplaints.com/Ford/Fiesta/
https://www.carproblemzoo.com/ford/fiesta/
https://www.kbb.com/ford/fiesta/
https://www.edmunds.com/ford/fiesta/2019/review/
https://caredge.com/ford/fiesta/depreciation
https://www.autopadre.com/depreciation-curves/ford-fiesta
https://www.cargurus.com/Cars/l-Used-Ford-Fiesta-d1060
https://www.caranddriver.com/news/a31927403/ford-recall-door-latch-fusion-fiesta-lincoln-mkz/