The Ford Fiesta is a sub-compact car that was first launched in 1976.
It might be a small vehicle, but it has made a big impression on millions of drivers worldwide over its seven generations.
It's known for its enthusiastic handling, quality standard features, high safety rating, and excellent gas mileage.
Sadly, it was discontinued in 2019 in the United States.
In this article we'll take a closer look at the Fiesta's average lifespan...
Here is the short answer to how long a Ford Fiesta will last:
The Ford Fiesta should typically last 200,000 miles provided it's maintained properly, although it can last over 250,000 miles. Based on driving 15,000 miles per year, a Fiesta will last between 13 and 17 years before breaking down or requiring expensive repairs.
How Long Do Ford Fiestas Last:
The Fiesta is one of Ford's most popular models, notching up over 16 million sales worldwide, thanks to its subcompact shape, reliability, and value for money.
Testament to its reliability and robustness, on used car websites such as Car Gurus and Autotrader, you'll be able to find some very high mileage examples – some with nearly 300,000 miles. However, there's no guarantee any car will last this long.
This goes to show just how far these subcompact cars can go, but realistically, once you've reached mileages in excess of 250,000 miles, the car may have rusted, not be in great shape or be in need of expensive repairs.
Ultimately, how long your Fiesta will last boils down to how well it's maintained and looked after and the style of driving it's subjected to.
If you take your Fiesta street racing or off-roading, you can expect it to last a fraction of what we project.
Alternatively, if you adopt a conservative and smooth driving style, you can safely expect to reach significant numbers on the odometer.
Some Fiesta will go on forever, although these are the minority, most will meet their demise somewhere in the 200,000 – 250,000-mile region and their longevity is entirely dependent on maintenance, driving style and ownership habits.
Common Problems of the Ford Fiesta
We've taken a closer look at CarComplaints and CarProblemZoo to find out what problems Fiesta owners typically have to deal with.
PowerShift Transmission Problems
The 2011 to 2016 Fiesta has a dual-clutch automatic transmission known to be highly problematic.
This problem led Fiesta owners to raise a class action lawsuit to get some form of compensation for the more than 2 million affected customers.
The problems with the PowerShift transmission include the following:
Shuddering and jerking while accelerating from a standstill
Rough upshifts that send vibrations throughout the car that be felt through the steering wheel
Door Latch Failure
Door latch failure is a common complaint from Ford Fiesta owners.
It is a widely reported problem on 2011 – 2016 models.
This problem is door lock mechanisms failing, which stems from the latch pawl's spring-tab design known to degrade in hot weather conditions.
Fiesta owners noted that the car's alarm would go off when parked and locked, or the doors swing open while the vehicle is traveling.
A/C Heater Problems
Another common problem encountered by Fiesta owners is caused by the A/C and heater system on 2011 – 2014 models.
It stems from a failing blower motor resistor.
The problems with the heater blower seem to be most prevalent in cold weather, especially after fresh snowfall.
The hot/cold air settings gradually become unresponsive over time as the manual fan temperature controls have problems.
Radio Not Working
Many Fiesta owners have reported their car radios not working correctly.
These problems are most commonly related to the module board and are typically caused by extreme temperatures.
Related: 4 Most Common Ford Fiesta Problems (Explained)
What is High Mileage for a Ford Fiesta?
A Ford Fiesta is considered high mileage at around 100,000 miles. Though many would say that it's got at least another 100,000 miles of life left, a higher mileage Fiesta will likely need more attention – especially if it wasn't regularly maintained.
Once the warranty has expired, you're also financially responsible for any significant problems that may arise.
Lower mileage vehicles are generally considered a safer bet, but you shouldn't focus too much on mileage alone; a well-kept Fiesta with over 100,000 miles on it can still be a great purchase.
When buying a used Fiesta, consider the following:
Service history. Check that the vehicle was adequately serviced and the owner has documented evidence.
Take it for a test drive. Ask the seller to leave the car cold; this way, you'll see how easily it starts ups. Listen out for strange noises.
Check for rust. Rust is a problem that will spread. Have a good look under the vehicle too.
Number of previous owners. More owners usually equate to more wear-and-tear issues. As a general rule, less is better.
Examine the interior. The condition of the interior tells the story of how well the truck was maintained and cared for.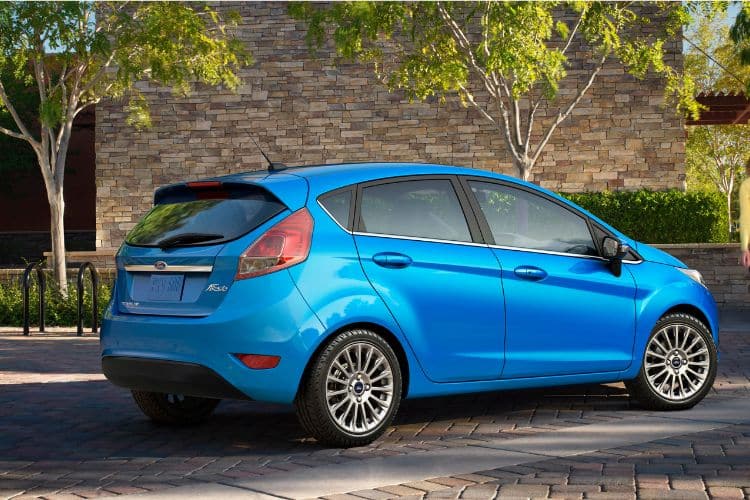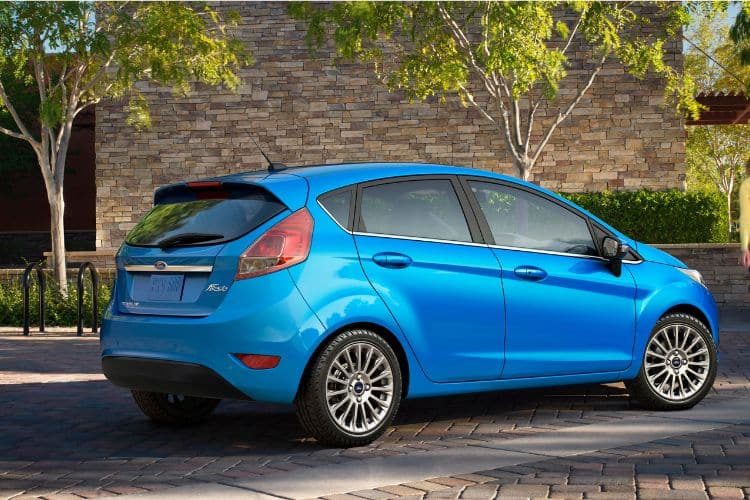 Ford Fiesta Longevity Compared to Other Subcompact Cars
In this section, we'll compare the Fiesta to some of its rivals in the subcompact car segment.
Ford Fiesta vs. Toyota Yaris
The Toyota Yaris is one of the world's most popular subcompact cars.
Like the Ford Fiesta, it offers buyers excellent value for money, reliability, and comfort.
Also, like the Fiesta model in the USA, the Yaris bowed out of the market at the end of 2020.
The Yaris is a solid choice for buyers, with favorable reviews from different car magazines and automotive journalists.
The Yaris can last 250,000 – 300,000 miles, which is slightly more than the Fiesta's expected lifespan.
| | | |
| --- | --- | --- |
| | Ford Fiesta | Toyota Yaris |
| RepairPal Reliability Rating | 4.0/5 | 4.5/5 |
| Annual Repair Cost | $552 | $333 |
| Kelley Blue Book Consumer Rating | 3.9/5 | 4.6/5 |
| Edmunds Score | 8.2/10 | 7.4/10 |
| JD Power Score | 78/100 | 78/100 |
Yaris resale values match those of the Fiesta on the used car marketplaces, although the Yaris is cheaper to maintain over time thanks to a higher reliability score and more affordable parts.
The Fiesta and Yaris offer similar capabilities and features, and it really comes down to personal preference when choosing between the two.
Related: How Long Do Toyota Yaris Last?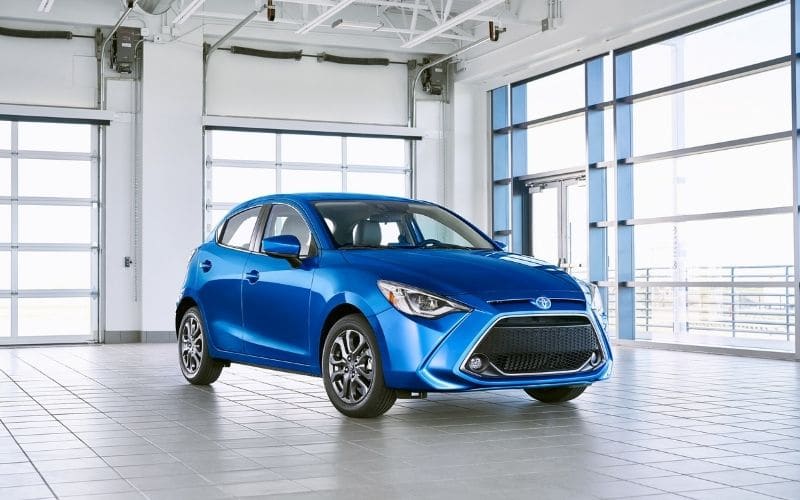 Ford Fiesta vs. Honda Fit
The Honda Fit is a fun-to-drive, low-maintenance, and practical subcompact.
It offers owners excellent reliability, comfort, and fantastic gas mileage.
Like the Fiesta model in the USA, the Fit was discontinued for the 2020 model year.
The Fit has grown a massive fanbase worldwide thanks to its practical interior design and go-kart-like handling.
The Fit can certainly last 250,000 – 300,000 miles, which is slightly more than the Fiesta's expected lifespan.
| | | |
| --- | --- | --- |
| | Ford Fiesta | Honda Fit |
| RepairPal Reliability Rating | 4.0/5 | 4.5/5 |
| Annual Repair Cost | $552 | $390 |
| Kelley Blue Book Consumer Rating | 3.9/5 | 4.4/5 |
| Edmunds Score | 8.2/10 | 8.2/10 |
| JD Power Score | 78/100 | 82/100 |
The Fit will outlast the Fiesta in terms of lifespan and will also cost owners less to maintain and repair each year. It also received higher ratings from consumers and experts.
The Fiesta and Fit are evenly matched in terms of standard equipment and features. Still, the Fit offers higher levels of reliability and quality to edge it out as a winner in this comparison.
Related: How Long Do Honda Fit Last?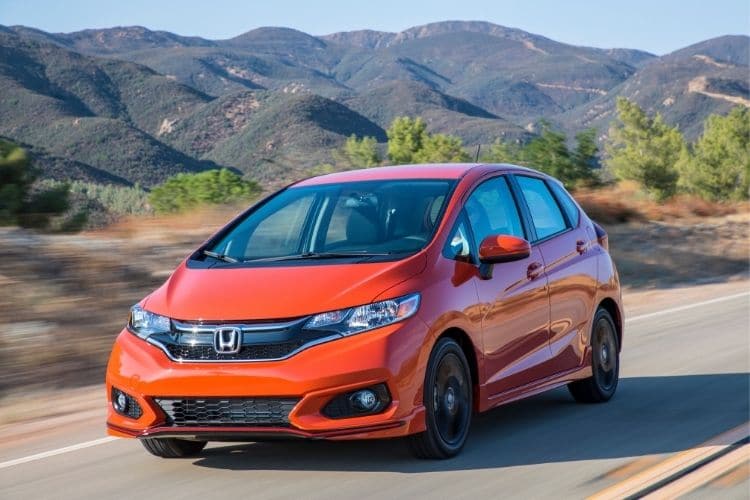 Ford Fiesta vs. Hyundai Accent
The Hyundai Accent is an award-winning car renowned for its crisp handling, fresh styling, and highly-functional interior design that defies its affordable price tag.
The Accent is only available as a compact sedan in the USA, and the brand has made massive inroads into the market with this model to be one of the best-selling products in its segment.
The Accent can last for 200,000 – 250,000 miles, which is the same expected lifespan as that of the Fiesta.
| | | |
| --- | --- | --- |
| | Ford Fiesta | Hyundai Accent |
| RepairPal Reliability Rating | 4.0/5 | 4.5/5 |
| Annual Repair Cost | $552 | $468 |
| Kelley Blue Book Consumer Rating | 3.9/5 | 4.0/5 |
| Edmunds | 8.2/10 | 7.2/10 |
| JD Power | 78/100 | 80/100 |
The Accent has similar longevity to the Fiesta but has a slightly better reliability rating and lower annual repair cost.
The Fiesta and Accent are closely rated, but the Accent offers slightly better consumer and expert ratings.
If you need a slightly bigger vehicle, then the Accent will be better suited to you.
Related: How Long Do Hyundai Accents Last? (11 Important Facts)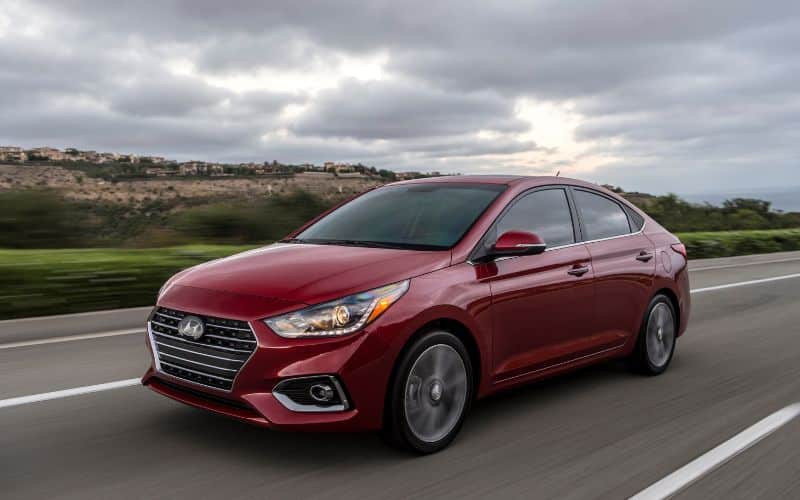 Ford Fiesta Reliability
The Ford Fiesta is generally a very reliable vehicle that usually only requires regular maintenance to keep it running smoothly and safely for 200,000 – 250,000 miles.
The cars are robustly built and can last well over ten years. With a relatively low maintenance profile, it is not uncommon to see the older Fiesta models still on the road today.
Bullet-proof engines and high-quality interiors mean the Fiestas can stand up to 13 – 17 years of driving when properly maintained.
RepairPal ranked the Fiesta 15th out of 21 other subcompacts for reliability.
Many older Fiestas have nearly 300,000 miles on their odometers and are still running fine.
Owner reviews for newer models have generally been very positive on forums and review platforms.
However, despite being very reliable – it should be noted that the 2011 to 2016 Fiesta models with the Powershift, dual-clutch automatic transmission are known to be problematic.
How Reliable is the Ford Fiesta Compared to Other Subcompact Cars?
Model
Reliability
Toyota Yaris
4.5/5.0
Toyota Prius C
4.5/5.0
Mazda2
4.5/5.0
Honda Fit
4.5/5.0
Hyundai Accent
4.5/5.0
Kia Rio
4.5/5.0
Mitsubishi Mirage
4.5/5.0
Mazda MX-5 Miata
4.0/5.0
Nissan Versa
4.0/5.0
Chevrolet Spark
4.0/5.0
Chevrolet Sonic
4.0/5.0
Chevrolet Aveo
4.0/5.0
Ford Fiesta
4.0/5.0
Fiat 500
3.5/5.0
Mini Cooper
Countryman
3.5/5.0
Mini Cooper
3.0/5.0
Avg. Subcompact Car
4.0/5.0
Source: Repair Pal
Best and Worst Years of the Ford Fiesta
Let's take a quick look at the Fiesta's best and worst model years.
It should give you an idea of which years to avoid and which ones are good buys.
Worst Model Year
Based on the number of reported issues on CarComplaints and CarProblemZoo, the seventh-generation Fiesta from 2011 to 2013 should be avoided.
The number of complaints spiked in these years. These model years had issues with the PowerShift transmissions, A/C and heating systems, and equipment.
Considering that these cars are roughly ten years old and entry-level models, it's normal for them to require more maintenance as more things wear out over their lifespan.
Best Model Year
The 2019 Ford Fiesta is what we would consider the best model year.
It was the final year that the Fiesta was sold in the United States, and it was the last year of the sixth generation of the supermini that Ford built for the US market, so Ford had enough time to fix any design and equipment quality issues.
Related: 9 Best & Worst Ford Fiesta Years (With Facts & Stats)
Ford Fiesta Recalls
The Ford Fiesta has had a total of 20 recalls since 2011.
You can always check if your Ford Fiesta has been subjected to a recall campaign by entering your VIN (Vehicle Identification Number) on the Ford recall web page.
Recalls are manufacturing faults repaired at no charge to the consumer.
Ford Fiesta recalls according to the NHTSA's records:
2019 Ford Fiesta: 1
2018 Ford Fiesta: 0
2017 Ford Fiesta: 0
2016 Ford Fiesta: 0
2015 Ford Fiesta: 3
2014 Ford Fiesta: 7
2013 Ford Fiesta: 3
2012 Ford Fiesta: 3
2011 Ford Fiesta: 3
Ford Fiesta Generations and Model Years
The first Fiesta was launched in 1976 and is still currently in production in factories around the world, although it has been discontinued in the US since 2019.
First Generation (1976 – 1983)
1976 Ford Fiesta
1977 Ford Fiesta
1978 Ford Fiesta
1979 Ford Fiesta
1980 Ford Fiesta
1981 Ford Fiesta
1982 Ford Fiesta
1983 Ford Fiesta
Second Generation (1983 – 1989)
1983 Ford Fiesta
1984 Ford Fiesta
1985 Ford Fiesta
1986 Ford Fiesta
1987 Ford Fiesta
1988 Ford Fiesta
1989 Ford Fiesta
Third Generation (1989 – 1997)
1989 Ford Fiesta
1990 Ford Fiesta
1991 Ford Fiesta
1992 Ford Fiesta
1993 Ford Fiesta
1994 Ford Fiesta
1995 Ford Fiesta
1996 Ford Fiesta
1997 Ford Fiesta
Fourth Generation (1995 – 2002)
1995 Ford Fiesta
1996 Ford Fiesta
1997 Ford Fiesta
1998 Ford Fiesta
1999 Ford Fiesta
2000 Ford Fiesta
2001 Ford Fiesta
2002 Ford Fiesta
Fifth Generation (2002 – 2008)
2002 Ford Fiesta
2003 Ford Fiesta
2004 Ford Fiesta
2005 Ford Fiesta
2006 Ford Fiesta
2007 Ford Fiesta
2008 Ford Fiesta
Sixth Generation (2008 – 2019)
2008 Ford Fiesta
2009 Ford Fiesta
2010 Ford Fiesta
2011 Ford Fiesta
2012 Ford Fiesta
2013 Ford Fiesta
2014 Ford Fiesta
2015 Ford Fiesta
2016 Ford Fiesta
2017 Ford Fiesta
2018 Ford Fiesta
2019 Ford Fiesta
Is the Ford Fiesta Expensive to Maintain?
The Fiesta is robust and reliable and has cost-effective materials and parts, making it less expensive to maintain. RepairPal estimates the Fiesta's average annual repair costs to be around $552. It's a little more costly to keep than its competitors, but only by a few dollars.
You can find a full price breakdown of Fiesta ownership costs here.
Model
Avg. Annual
Repair Cost
Frequency of
Unscheduled Repairs
Probability of
Severe Repairs
Toyota Yaris
$333
0.4
6%
Toyota Prius C
$383
0.36
7%
Mazda2
$449
0.3
7%
Honda Fit
$390
0.4
8%
Hyundai Accent
$444
0.2
8%
Kia Rio
$434
0.2
9%
Mitsubishi Mirage
$457
0.1
9%
Mazda MX-5 Miata
$429
0.3
10%
Nissan Versa
$456
0.4
11%
Chevrolet Spark
$434
0.3
11%
Chevrolet Sonic
$536
0.4
11%
Chevrolet Aveo
$616
0.2
11%
Ford Fiesta
$552
0.4
11%
Fiat 500
$522
0.2
17%
Mini Cooper
Countryman
$652
0.59
11%
Mini Cooper
$846
0.62
13%
Avg. Subcompact Car
$456
0.3
11%
How Long Do Fiesta Brakes Last?
The Ford Fiesta's brake pads typically last between 30,000 – 70,000 miles.
Some owners have even reported getting over 80,000 miles out of the factory brakes.
If you live in the rust belt, you might need to replace the rotors sooner due to excessive corrosion.
Driving style and usage also affect the life of the brake pads. If you commute in heavy traffic and use your brakes usually, you'll need to inspect them more often.
There are lots of aftermarket parts and replacements for the Fiesta brakes.
How Long Do Fiesta Tires Last?
The Ford Fiesta's tires should last around 50,000 – 60,000 miles or roughly 3 to 5 years with regular use. They can wear out much sooner depending on road conditions, driving habits, climate and maintenance.
The tire compound also matters a lot. Winter tires, for example, don't last as long as all-season tires.
Tire tips:
Rotate your tires every 5,000 miles to ensure even wear.
Check your tire pressure every few weeks to make sure they're at the correct tire pressure.
Check your wheel alignment every six months.
How Long Do Fiesta Transmissions Last?
Fiesta's dual-clutch automatic transmissions are known to give problems, while manual transmissions can last the vehicle's entire lifetime or at least 200,000 miles.
The PowerShift automatic transmissions may develop faults and require repair or replacement, especially on 2011 – 2016 model years.
Other model years reported no major transmission problems.
How Long Do Fiesta Spark Plugs Last?
Newer Ford Fiestas need new spark plugs every 37,500 miles.
Signs of a fouled spark plug include:
Reduced gas mileage
Lack of acceleration
Rough idling
Hard starts
Engine misfires
How Long Do Ford Fiesta Engines Last?
Fiesta engines can easily last 200,000 – 250,000 miles with proper care and some preventive maintenance.
Turbocharged engines might be more finicky because they're a lot more complicated, but potential issues should be easy to figure out for any competent mechanic.
How Long Do Fiesta 12V Batteries Last?
The Ford Fiesta's battery usually lasts between 3 – 4 years. A vehicle's battery life varies depending on many different factors, such as climate, driving habits, and battery type, among many others.
Keep your battery tightly fastened: The vibrations of your car can loosen the connections, potentially resulting in short circuits and internal damage.
Limit short rides: Quick car rides prevent the battery from fully charging.
Storage: Keep your Lincoln stored indoors away from extreme temperature changes.
Control Corrosion: Clean the terminals (toothbrush dipped in baking soda and water mixture) and keep them free from build-up.
What Are the Insurance Costs?
According to Insuraviz, Ford Fiesta full coverage insurance averages at around $1,124 per year or $94.
The Fiesta ranks as the #1 for insurance affordability in its segment.
If you have an older model, you could get coverage from as little as $688 per year.
Insurance costs can vary, so be sure to shop around to find the best possible deal.
How to Get the Most Life From Your Ford Fiesta
Practice smooth and safe driving habits.
Keep up to date with factory-recommended maintenance.
Use quality parts and fluids.
Keep on top of repairs to prevent them from developing into larger problems.
Regularly wash your Fiesta to remove dirt and grime, as well as to protect the paint and undercarriage from rust.
Keep your Fiesta stored in a garage to help protect it from extreme heat and cold.
Read the owner's manual to learn the location of important components, what your Fiesta needs and in what quantities, and to understand the symbols and dashboard warning lights.
Sources:
https://www.cargurus.com/
https://www.autotrader.com/cars-for-sale/ford/fiesta
https://enginepatrol.com/ford-fiesta-common-problems/
https://www.carcomplaints.com/Ford/Fiesta/
https://www.carproblemzoo.com/ford/fiesta/
https://www.jdpower.com/cars/2019/ford/fiesta
https://insuraviz.com/vehicles/ford/ford-fiesta-insurance/