It was only a few years ago when hybrids were discounted as nothing more than boring commuters.
Nowadays, you can get sports car performance from many hybrids even in SUV form.
In this article, we'll take a look at hybrid SUVs that are not only very practical but are also very fun to drive.
1. Porsche Cayenne E-Hybrid
Despite raising quite a few eyebrows when it was first announced, the Cayenne helped make the Porsche brand more accessible to a much larger market.
Fortunately, it exceeded expectations and was the only SUV at the time that truly handled like a sports car despite its enormous weight.
It's also no stranger to innovation with the hybrid version debuting in 2010 and the plug-in hybrid model coming out in 2015.
The current Cayenne E-Hybrid still has the best handling in its class and produces 455 hp allowing it to achieve a 0 to 60 time of 4.6 seconds.
The more powerful Cayenne Turbo S E-Hybrid has 670 hp and rockets from 0 to 60 mph in just 3.6 seconds. Both models have an all-electric range of around 17 miles.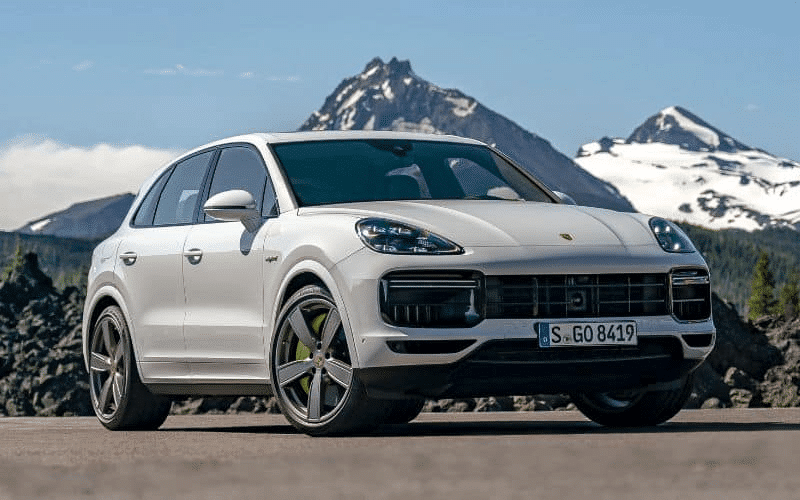 2. Mazda CX-90 PHEV
The CX-90 is the much needed update to Mazda's CX-9 flagship three-row SUV.
As Mazda makes its entire lineup more upscale, the CX-90 backs up its elegant looks with more luxury and comfort than ever before.
It also hasn't lost any of the athleticism and precise handling that Mazdas are widely praised for, which will help make your daily commutes and road trips more enjoyable.
You can get the CX-90 with either a mild hybrid or a plug-in hybrid powertrain which are both capable of producing over 300 hp. Either one is good enough to get the CX-90 from 0 to 60 mph in around 6 seconds. With the CX-90 PHEV, you also get up to 26 miles in electric-only mode.
3. Audi Q5 55
The best selling Q5 compact luxury crossover has a distinct premium feel and drives like a smaller sedan. Many have even described it as being similar to a sporty hatchback on stilts.
It first got a hybrid powertrain in 2013 and the second generation Q5 started offering a plug-in hybrid model in 2020.
The Audi Q5 55 PHEV produces a combined output of 349 hp and can go from 0 to 60 mph in around 4.5 seconds — beating out the performance oriented SQ5 model. It can also get up to 23 miles in electric-only mode.
Its suspension is tuned to be comfortable and compliant, but it's still very planted and competent on twisty roads.
If you want sharper handling, the SQ5 will suit you more. There's also the Porsche Macan which is built on the same chassis, but isn't available as a hybrid.
Related: 10 Best Hybrid SUVs for Camping (With Pictures)
4. Jaguar F-Pace P400
Jaguar's bestselling F-Pace borrows many styling cues from the F-Type sports car but is much more practical and family friendly.
When you get behind the wheel, you'll immediately realize its sporty nature. It offers responsive steering and agile handling, which comes at the price of comfort.
The P400 model's turbocharged 3.0-liter inline-6 produces 395 hp and is helped along by an electric supercharger and a 48V mild hybrid system, allowing it to go from 0 to 60 in a little over 5 seconds.
The F-Pace has a plug-in hybrid P400e model that's only available in Europe with roughly the same performance as the P400, but can also travel up to 40 miles in electric-only mode.
There's also a limited edition SVR model that sports the same supercharged 5.0-liter V8 found in the F-Type.
Related: 16 Hybrid SUVs with All-Wheel Drive (With Pictures)
5. BMW X5 xDrive50e
When BMW debuted the X5 for the 2000 model year, they also blessed it with their legendary suspension and chassis tuning.
It immediately gained many fans because it was one of the few large SUVs that didn't handle like a boat and could still handle all types of surfaces.
Modern X5s still have some of the best driving dynamics in its class and are very sure footed at high speeds.
The xDrive50e plug-in hybrid also has lots of power under the hood with its combined output of 483 hp. This allows it to sprint from 0 to 60 mph in the 4 second range.
Its performance is significantly improved over the older xDrive45e and xDrive40e PHEVs, and puts it almost in league with the twin turbo V8 models. Its estimated EV range is also quite impressive at 40 miles.
6. Volvo XC60 Recharge
The Volvo XC60 Recharge may look like a sedate and elegant luxury SUV, but it packs a lot of power under the hood.
Its 2.0-liter 4-cylinder engine is fitted with Volvo's twincharger setup, which was first introduced in 2018, so it's both turbocharged and supercharged. An additional electric motor powers the rear wheels for a combined output of 455 hp. Newer model years of the XC60 Recharge also have an electric range of up to 35 miles.
It's able to go from 0 to 60 mph in an impressive 4.5 seconds which makes it just as fast as the Cayenne E-Hybrid. The XC60's suspension will also give you confidence in the corners and isn't plagued by body roll.
If you want even more athleticism, check out the range topping Polestar Engineered model which comes with Ohlins sport suspension and Brembo brakes.
7. Honda CR-V Hybrid
The Honda CR-V has always been one of the best handling compact SUVs in its class, which isn't surprising since it uses the same platform as the Civic.
It's also historically one of the best selling SUVs in the US due to its amazing reliability and affordable price.
The CR-V got its first hybrid model in 2020, boasting an estimated combined fuel economy of 40 mpg, which is significantly better than the non-hybrid's 30 mpg.
The hybrid model makes almost the same power as the non-hybrid at around 200 hp, allowing it to go from 0 to 60 mph in 8 seconds, which is nothing to write home about. But it handles better than its rivals and the responsive steering makes it feel more athletic on twisty roads.
8. Toyota RAV4 Prime
People have been lining up in droves and even waiting months just get a chance to own Toyota's RAV4 Prime plug-in hybrid.
Although it's the most expensive RAV4 ever and costs as much as a luxury SUV, it's still selling out because of Toyota's stellar reliability and extensive experience with hybrids.
It's also impressively quick with a 0 to 60 time of just 5.7 seconds, making it the second fastest model in Toyota's lineup just behind the GR Supra. It's also faster than the Toyota GR86 and Subaru BRZ.
Driving dynamics is another story though, because it has noticeable body roll and vague steering, so it isn't very confidence inspiring when going through curves.
But if you're looking for a practical and reliable daily driver that has a lot of pep on the highway, the RAV4 Prime is an excellent choice. There's also the Lexus NX450h+ plug-in hybrid, which is basically a more upscale SUV that uses the same platform and powertrain as the RAV4 Prime.
Related: Best Hybrid SUVs for Mountain Driving (With Pictures)
9. Volvo XC90 Recharge
Volvo's flagship XC90 isn't normally the first thing that comes to mind when choosing a fun SUV. It's mostly known for its elegant styling, comfort, and excellent reputation for safety.
But it's got some serious power under the hood with its turbocharged and supercharged plug-in hybrid powertrain producing up to 455 hp in the newer models. This allows the big and heavy three-row SUV to sprint to 60 mph from a standstill in 5 seconds flat.
Its impressive straight-line speed is more than enough to entertain most drivers in their daily commutes and long road trips.
Although the XC90's handling is designed for comfort, it handles its weight admirably and provides lots of confidence even at higher speeds.
10. Jeep Wrangler 4xe
The Jeep Wrangler won't win any awards for its truck-like handling, but you can have endless amounts of fun in it once you take it off-road.
The Wrangler 4xe plug-in hybrid has the same legendary off-road capabilities you would expect from any Wrangler, but it can go up to 25 miles in electric-only mode.
It's decently quick with a 0 to 60 time of 6 seconds or less. If you want more acceleration, the Wrangler also comes with a gas guzzling Hemi V8 that does the same sprint in around 4 seconds.
You can also remove the doors on the Wrangler 4xe which seems like a useless party trick, but adds to its fun and adventurous image. It's just one of the many reasons the 4xe outsold the venerable RAV4 Prime, making it the best selling plug-in hybrid SUV in 2022.