The GMC Sierra is considered a workhorse in the world of pick-up trucks, providing stiff competition against the likes of the Ram and the Ford F-Series.
Reliable, strong, and capable, the Sierra merges classic styling with unquestionable performance.
If you're in the market for a pickup truck, then researching the Sierra makes sense.
This guide contains statistics regarding sales figures, depreciation, demographics, and much more. Let's get into it!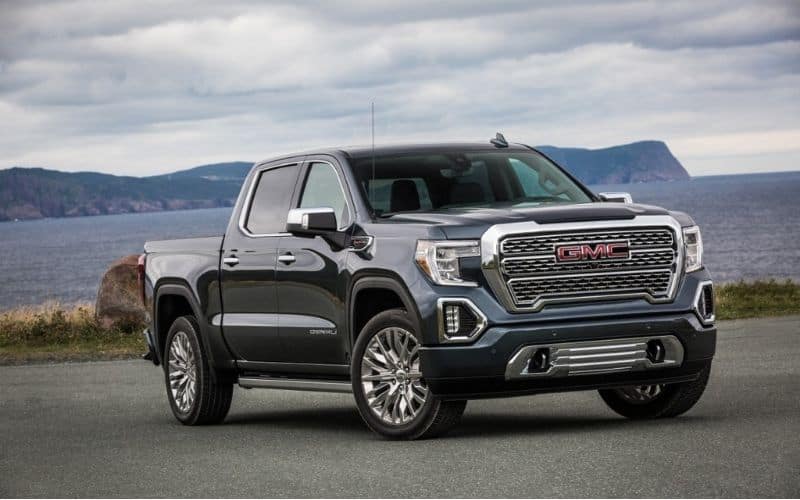 How Many GMC Sierras Have Been Sold Per Year in The U.S.?
The GMC Sierra is a regular feature in the top 20 best-selling vehicles list and was ranked in 9th position for the 2020 year.
Despite the high number of sales, the Sierra is often outranked by other pickups such as the F-150, the Ram 1500 and the Chevy Silverado.
Even though the GMC Sierra is in many ways identical to the Chevrolet Silverado, it hasn't quite had the same level of sales figures.
In fact, over twice the amount of Chevrolet Silverados have been sold in the past few years, compared to the Sierra.
This could possibly be attributed to the fact that the Silverado is slightly cheaper with an MSRP of $28,600 Vs the $29,700 MSRP of the Sierra.
Having said that, the Sierra still manages to sell hundreds of thousands of models every year.
2020 was the best year for Sierra sales in the U.S., with 253,014 units sold.
2009 was the lowest year for Sierra sales, selling 111,842 units.
This was not through any fault of the manufacturer though, as all auto manufacturer's sales in 2009 faced hardship due to the 2008 financial crisis.
In the years that followed the Sierra was able to bounce back and consistently sold an increasing number of units every year from 2009-2016.
Here is a table showing the sales figures for the GMC Sierra since 2005:
| | |
| --- | --- |
| Year | No. of Models Sold |
| 2005 | 229,488 |
| 2006 | 210,736 |
| 2007 | 208,243 |
| 2008 | 168,544 |
| 2009 | 111,842 |
| 2010 | 129,794 |
| 2011 | 149,170 |
| 2012 | 168,491 |
| 2013 | 184,389 |
| 2014 | 211,833 |
| 2015 | 224,139 |
| 2016 | 221,680 |
| 2017 | 217,943 |
| 2018 | 219,554 |
| 2019 | 232,325 |
| 2020 | 253,014 |
What Year Did GMC Start the Sierra Models?
The naming of GMC trucks can be a somewhat confusing topic.
This is because the trucks have a long rich history of over 100 years filled with different nameplates and models.
To be exact, GMC traces its history all the way back to 1902.
Over the years it would establish itself as a brand that was keenly focused on trucks, later incorporating vans and SUVs.
GMC first used the name Sierra in 1972, but it was simply used more as a trim level, because not all GMC full size pick-ups were Sierras.
Prior to 1988, the Sierra was referred to as a C/K, but GMC rebranded the Sierra in 1988 to have its own nameplate across the board, the same year they redesigned the full-size truck.
So, according to GMC, the official first-generation Sierra started in 1988.
The GMC Sierra and the Chevrolet Silverado are owned by parent company General Motors, and are based on the same platform.
Both trucks are successors to General Motors C/K trucks, however, the Silverado didn't earn its own nameplate until 1999.
The list of GMC Sierra generations are as follows:
First Generation: 1988-1999
Second Generation: 1999-2007
Third Generation: 2007-2014
Fourth Generation: 2014-2019
Fifth Generation: 2019-present
How Is the Fuel Economy on GMC Sierra?
The GMC Sierra is not the most environmentally friendly vehicle, this is largely due to its size and weight which greatly impacts its fuel economy, however it has become more efficient over the years.
Pick-ups in general have a stigma for being poor on fuel.
It isn't completely unjustified, because pick-ups typically have larger engines than any other type of vehicle.
Trucks need high power and high torque figures if they are expected to perform tasks, such as towing heavy trailers or navigating rough terrain.
There are many variants of the Sierra – Some are much heavier with high engine displacement, typically used as work trucks or tow rigs, while others are lighter with smaller engines, used more for daily commutes.
In fact, the Sierras engine options are so vast, that they offer trucks with 4, 6, and 8-cylinder options.
The 2.7L 4-cylinder comes equipped with a turbo to boost fuel efficiency, while a cylinder deactivation (otherwise known as dynamic or active fuel management) can run a bigger, 5.3L V8 engine on as little as 2 cylinders to save fuel.
4WD models will almost always have a lower fuel economy as it requires more power to drive 4 wheels instead of 2.
To make it simple, we've broken down the stats into an easy-to-read chart based on real data.
Let's go through the fuel economy statistics of the 2021 Sierra with drivetrain and chassis variations in mind:
| | |
| --- | --- |
| Model | Miles Per Gallon (MPG) |
| Sierra 1500 – 6.2L EcoTec®3 V8 | 4WD: 15 city, 19 highway, 17 combined |
| Sierra 1500 – Duramax® 3.0L Turbo-Diesel | 4WD: 22 city, 26 highway, 24 combined 2WD: 23 city, 30 highway, 26 combined |
| Sierra 1500 – 5.3L EcoTec®3 V8 | 4WD with 8 speed transmission: 14 city, 20 highway, 17 combined 4WD with 6 speed transmission: 14 city, 20 highway, 17 combined 2WD with 8 speed transmission: 17 city, 23 highway, 20 combined 2WD with 6 speed transmission: 15 city, 21 highway, 18 combined |
| Sierra 1500 – 2.7L Turbo Engine | 4WD: 18 city, 21 highways 2WD: 20 city, 23 highways |
| Sierra 1500 – 4.3L V6 | 4WD: 15 city, 20 highways 2WD: 16 city, 21 highways |
How Quickly Do GMC Sierras Depreciate?
In comparison to compact cars, trucks tend to hold their value pretty well. This is due to the utilitarian nature of a pick-up truck.
It should be noted however, that a 4WD model tends to hold more value than a 2WD model. A Sierra equipped with a diesel engine also holds more value than a Sierra equipped with a petroleum engine.
This is a result of "supply and demand". More people want 4WD trucks over 2WD ones, and the market is flooded with 2WD pick-ups.
Another reason for this price variation between drivetrain options, is because the initial cost of a 4WD or a diesel is higher.
According to caredge.com a GMC Sierra 1500 will only depreciate 31% after 5 years.
Compared to the Ford F-150s depreciation rate of 36% over 5 years, and the Ram 1500s eye-watering 50% depreciation rate over 5 years, the Sierra 1500 ranks very high over other domestic trucks when discussing value retention.
You may also be interested in our article: GMC Sierra Tune-Up & Maintenance Costs
Did GMC Recall Any of the Sierra Models?
According to cars.com, there are currently 89 recalls for the Sierra 1500.
A recall is issued when a manufacturer or the NHTSA (National Highway Traffic Safety Administration) deems that a vehicle or one or more of its components creates an unreasonable safety risk or does not meet minimum safety requirements – All safety recall repairs are FREE at authorized Hyundai dealers.
4 recalls have been issued on 2020 models, the most notable one being a faulty battery terminal causing the vehicle to stall.
General Motors has issued a recall on every generation Sierra since its conception in 1988.
It is not unusual for any vehicle to have recalls in every generation, so this should not deter customers from buying a Sierra, and customers should not assume the Sierra's build quality is substandard.
General Motors recently recalled 6 million vehicles with the Sierra included, for the infamous Takata airbag defect.
The recall of Takata airbags is the longest and largest recall campaign in automotive history, with 67 million airbags recalled, across many major auto manufacturers.
To find out if your GMC vehicle has been subject to a recall, you can use the GMC Lookup on their website, by simply entering in the vehicles 17 character VIN code which can be found on the driver's dashboard or inside the driver's door jamb.
You may also be interested in our article: how long do GMC Terrain last?
How Much Do Sierra Models Pollute?
Trucks tend to pollute more than compact cars or subcompact crossover SUVs.
This is because it requires more engine power to perform the tasks a light-duty truck is capable of. More engine power usually results in more fuel being used, which in turn results in more emissions.
Greenhouse gases are measured in grams per mile, effectively meaning how many grams of CO2 per mile does the vehicle pollute.
CO2 emissions constitute 99% of all tailpipe emissions, after all.
The Environmental Protection Agency (EPA) has a rating system out of 10, (10 being the least polluting) to rank the emissions of any given vehicle based on a standard they have set.
It uses the calculated grams per mile data and ranks all manufactured automobiles comparatively using their rating system mentioned.
The greenhouse gas emissions and emissions rating of the new model Sierra 1500 are as follows:
| | | |
| --- | --- | --- |
| Model | Greenhouse Gas Emissions | Emissions Rating |
| 5.3L V8 (4WD) | 477 | 4/10 |
| 3.0L V6 (2WD) | 383 | 5/10 |
| 3.0L V6 (4WD) | 405 | 4/10 |
| 2.7L I4 (2WD) | 422 | 4/10 |
As you can see, the V6 2WD model was the least polluting. In fact, all V6 models, whether they were 2WD or 4WD, ran the cleanest.
How Much Can the Sierra Models Tow?
According to gmc.com, the Sierra Heavy Duty 3500 can tow a whopping 35,500 lbs, while the smaller 1500 can tow up to 12,100 lbs.
Of course, these weights will vary, and likely be reduced based on engine size and chassis configuration.
Factors that affect Sierra towing limits are:
Whether the engine is diesel or petroleum
If it is dually or not
Whether it is a 1500, 2500 or 3500.
All these things can change the tow rating, so pay attention to the specifics of your model, and consult your dealer or owner's manual before doing any sort of heavy towing.
Using the data provided by the GMC website, we've compiled a simple list of tow ratings for the 1500 crew cab, short bed only.
More information can be found at gmc.com, regarding other models and model configurations.
| | | | | | | |
| --- | --- | --- | --- | --- | --- | --- |
| Model: crew cab, shortbed, 1500 | Max Gross Vehicle Weight | Max Gross Combination Weight | Max Conventional Hitch | Max Fifth Wheel Hitch | Max Gooseneck Hitch | Max Payload |
| 4.3L V6 2WD | 6,800 lbs | 12,800 lbs | 7,700 lbs | 7,600 lbs | 7,600 lbs | 2,030 lbs |
| 4.3L V6 4WD | 7,000 lbs | 12,800 lbs | 7,500 lbs | 7,400 lbs | 7,400 lbs | 2,010 lbs |
| 2.7L Turbo 2WD | 6,900 lbs | 12,000 lbs | 6,800 lbs | 6,800 lbs | 6,800 lbs | 2,060 lbs |
| 2.7L Turbo 4WD | 7,000 lbs | 12,000 lbs | 6,600 lbs | 6,600 lbs | 6,600 lbs | 2,040 lbs |
| 5.3L V8 (Base trim only) 2WD | 6,900 lbs | 15,000 lbs | 9,800 lbs | 9,700 lbs | 9,700 lbs | 2,060 lbs |
| 5.3L V8 (Base trim only) 4WD | 7,100 lbs | 15,000 lbs | 9,600 lbs | 9,500 lbs | 9,500 lbs | 2,040 lbs |
How Reliable are GMC Sierras?
GMC Sierras are very reliable trucks. Some would argue that out of all the light duty trucks, the Silverado and Sierra are amongst the most dependable.
Each year J.D. Power conducts a Vehicle Dependability Study, and the GMC Sierra ranks top 5 in their specific categories.
RepairPal gave the GMC Sierra 1500 an "above average" reliability rating of 3.5/5, ranking it 3rd out of 17 full-size trucks, a better rating than the F-150 received.
This is not to say the vehicle does not come without its problems, but the Sierra is still worthy of being classified as reliable.
You may also be interested in our articles: how long do Ram 1500 last and Ram 1500 in snow and winter driving
How Safe Is the GMC Sierra?
Safety is the most important factor when considering a new vehicle purchase.
The 2019-2021 Sierra scored a significant rating during the Insurance Institute for Highway Safety (IIHS) crashworthiness test, with a few noteworthy exceptions.
The only place where it scored a "marginal" crash rating, was the small overlap front passenger's side test.
During this test it was found the structure and safety cage absorbed this specific impact at a "poor" level.
The test for small front overlap on the passenger's side indicated that the passenger's survival space was not maintained well.
On a lighter note, another test by IIHS found the vehicle held up exceptionally well during a side impact.
The headlights also scored a "poor" rating as well by IIHS.
Headlights have been the object of complaint on the Sierra for a while now.
The National Highway Traffic Safety Administration (NHSTA) gave the Sierra a 4-star overall safety rating.
What's the Typical Buyer Demographic for This Model?
The Sierra's buyer demographic are no different than most pick-up trucks.
Most buyers tend to be middle aged men. In fact, males proportionately make up a margin of 15% over females regarding new GMC Sierra sales.
In regards to financial status, GMC Sierra owners typically have an average household income of over $80,000.
Hispanics especially enjoy the Sierra at about 10% of the demographic for ethnicity.
GMC Sierra Theft Rates
Theft rates are a statistic that shines a poor light on the Sierra.
According to the Highway Loss Data Institute, an insurance industry trade group, GM pickups are the most stolen trucks in the United States.
Believe it or not, trucks in general tend to be stolen more than any other vehicle.
The GMC Sierra 1500 crew cab ranked fifth most stolen among all vehicles, and was 4 times more likely to be stolen than the average automobile.
To help prevent your car from vehicle theft we advise:
Keeping the vehicle locked at all times
Do not keep valuables on display where thieves can see them
Invest in a steering lock and car key signal blocking wallet
Researching anti-theft technology
Never leave your vehicle running unattended
Related: 14 Best & Worst GMC Sierra 1500 Years (With Pictures)
Resources
https://www.gmc.com/trucks/sierra/1500/capability
https://www.fueleconomy.gov/feg/bymake/GMC2021.shtml
https://caredge.com/gmc/sierra-1500/depreciation
https://www.cars.com/research/gmc-sierra_1500/recalls/
https://www.motorbiscuit.com/the-2020-gmc-sierra-1500-already-has-four-recalls-for-dangerous-problems/
https://www.epa.gov/greenvehicles/greenhouse-gas-rating
https://www.gmc.com/content/dam/gmc/na/us/english/index/about/trailering-towing/02-pdfs/GMTB20CT300_2020_GMC_Trailering%20Guide.pdf
https://repairpal.com/reliability/gmc/sierra+1500
https://www.iihs.org/ratings/vehicle/gmc/sierra-1500-crew-cab-pickup/2021
https://cars.usnews.com/cars-trucks/gmc/sierra-1500/safety
https://www.trucks.com/2019/08/01/gm-pickup-trucks-most-stolen-hldi/