The Harley Davidson Road King is a beefy, stripped-down touring cruiser.
Its upright riding position, multi-positional floorboards, rider safety enhancements, locking one-touch saddle bags, and comfortable passenger seat make it a timeless, slow-and-steady cruiser perfect for long-distance rides and around-town stunting.
However, no bike is perfect; this article examines the most common problems with the Harley Davidson Road King.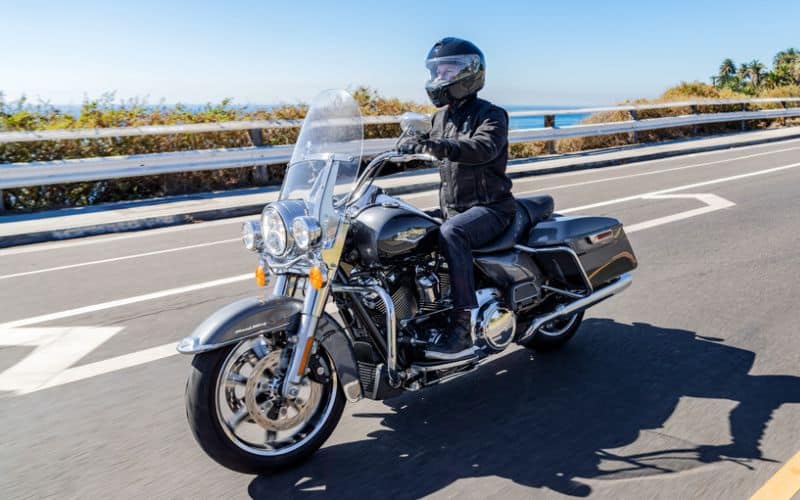 1. Windshield Doesn't Fit All Riders
One complaint aired often by owners of the Harley-Davidson Road King is that its windshield is ineffective for riders taller than 6 feet and shorter than 5'8. There are taller windshield replacements available for the HD King; some riders feel that, for the price, Harley should swap the windshield out for taller riders at no cost.
"I currently have a stock Harley quick release on my 2002, though it didn't come with the bike when I bought it used last year. It measures 20″ from the headlight to the top. I've used it all this year but find it a little annoying in that I'm constantly either stretching a little to look over the top or else through it. I think an inch or a half lower would be ideal, and I'm presently contemplating trimming it over the winter."
Motorcycle windshields are most effective when they sit at shoulder height on the sides, arching right at the tip of the rider's nose.
This way, the incoming wind rolls up and over the rider's helmet, causing less abrasive wind noise and disruptive buffeting between the shield and the rider's face and chest.
Therefore, like many other moto cruiser manufacturers, Harley stocks the Road King with a windshield most effective for those of average height.
That said, HD and a slew of aftermarket part manufacturers make replacement windscreens of multiple shapes, colors, and sizes.
2. Windshield Clips Vibrate Loose
Another common problem with the HD Road King's windscreen is its spring clips' tendency to pop up while riding on account of the hefty vibrations put out by its 107 ci V-Twin engine.
"I have a 2014 Road King, and the spring clips that lock down the windshield won't stay clipped in place. They both "spring" up as soon as the bike is started due to vibrations."
This is a common problem with Road King bikes; the dealership techs are familiar with them and will often repair the clips for free, even after the bike is out of warranty since it's such a quick fix.
Sometimes, the windshield spring clips need an adjustment, as they were simply knocked out of place.
While Harley always resolves this issue on the house while the bike is under warranty, that's not always the case.
One home repair is to bend the clips towards the top before the factory bends to add tension to the clip in place and lock in.
Still, more than a few riders take issue with bending components on their $24,000 motorcycle so that they fit correctly, not to mention that this can void the warranty.
3. Inaccurate Fuel Gauge
One problem Road King riders frequently express is with the Road King's Fuel light coming on after only a hundred or so miles of riding.
While some riders suggest the tank reaches empty due to a small capacity of inefficient fuel injection, consumer reports suggest the King's almost 5-gallon tank has plenty of capacity; its fuel gauge becomes inaccurate due to the gauge's faulty data sending unit.
"I got a great deal on a 1998 Road King Classic Anniversary Edition … It is fuel injected… It was nearly out of fuel when I got it, and when I went to fill 'er up the first time, it only took about 2.2 gallons until it was up to the neck. I thought this was strange…I rode about 110 miles until the fuel light came on. I was hoping to get around 45-50 miles per gallon, but when I again went to fill up, it only took about 2.2 gallons. So, it looks like I'm getting the mileage, but I can't hold fuel."
The HD Road King's Fuel Tank capacity should be close to 5 gallons, depending on the year model package.
The older models had a 4-gallon capacity with an additional 1-gallon reserve of fuel available after the low fuel light was activated.
A faulty fuel gauge sending unit is one of the most common problems with the Harley Road King. Once it fails, the sending unit senses low fuel in the tank no matter how much is in there. Once it detects low fuel, the low fuel light illuminates even if you have half a tank and a full reserve left.
"This [Road King] tank has got to hold more than that! I know it is like two separate parts joined by a hose across the front…but the fuel gauge seems to be working, so I wouldn't think there wasn't fuel over the other side."
We recommend that Harley-Davidson Road King riders reset their trip odometer every time they refuel.
Tracking your fuel mileage is the most effective way to track the potential mileage per full gas tank.
Even when the gauges sending unit receives the correct data regarding your fuel level, it's only 100% accurate when it's full or empty.
Therefore, we suggest tracking your mileage capacity via your odometer readings rather than relying on the gauge, especially when riding long distances through areas with limited gas stations.  
If you suspect your Harley Road King has a faulty fuel gauge sending unit, a Harley-Davidson-literate mechanic can replace, repair, or bend the wire back into place.
Related: How Long Do Harley-Davidsons Last? (Complete Guide)
4. Warped Front Discs
One of the most common problems reported online by Road King owners is warped front brake discs. This is a complex problem to diagnose due to the already-grabby nature of the King's Anti-Lock Brake System, yet it's a worsening problem that can be dangerous if left unchecked.
"I had a warped front rotor, which caused a pulse every time I used the front brakes. I could tell the difference by jacking the bike (front Wheel) off the floor and spinning the wheel by hand. It had a drag at the same spot every time."
Inspecting your brake rotors for burs, warping, glazing, and road damage is a routine part of moto maintenance on any bike.
Brake inspections are especially important on the Road King due to the tendency of the front rotor to warp; if this problem gets worse, it can cause brake failure or dragging, both of which can cause a collision.
Some riders go through so many front rotors on their King that they replace them with aftermarket "floating rotors" as a more permanent solution.
"Mine was bad enough that it almost scared me to use them, but they were still inside the specs set by HD… I have had this happen on two different bikes with these exact brakes… I ended up changing the rotors to floating ones from Renegade that match the wheels, and it was gone, never to return thus far…"
"I replaced front rotors on a 2010 FLHX twice before the dealer convinced me to replace the stock items (on extended warranty) with the H-D "floater rotors" — Standard rotor has one button in the "spokes." The floaters have about 8 or 10 buttons, allowing more float in the rotor and cooling the rotor better. "
5. Bolts Vibrate Out
One of the most common complaints regarding the Harley-Davidson Road King is its heavy engine vibration.
Its engine is only designed to counter the vibrations via its crankshaft balancing, which attempts to transfer vibrations into RPM ranges that riders don't spend much time in.
This vibration can be so intense that it rattles bolts, hardware, fasteners, and even engine mounts lose.
Once hardware begins to loosen, it can start popping out, making the vibration even more debilitating while riding.
This is a characteristic of the Harley Engine, much like its signature sound – the only solution is to follow the owner's manual service chart and inspect/tighten every bolt to spec per the suggested intervals.
6. High Maintenance Chrome Upkeep
One of the most attractive qualities of the Harley-Davidson Road King is its beefy, American aesthetic, made complete by the amount of chrome included on the King straight from the factory. However, if this chrome isn't polished and maintained efficiently by the bike's owner, the unkept King looks dumpy.
Some riders complain that the excessive chrome leaves the Road King more suspectable to corrosion than other models, while other riders enjoy the polishing process and site it as a pro rather than a con.
Pros and Cons
Pros
Engine Lasts Long
Lots of Customization Upgrades
Replacement Parts available from HD for All Year Models
Signature Harley-Davidson Charm and V-Twin Engine Sound
Windshield
HD Daymaker™ Triple Front Light Set-Up
Fun to ride
Industry-Leading Harley-Davidson Warranty Coverage
Hard-Body Touring Cases
Impressive Resale Value
Low Insurance Cost
Cons
Windshield Doesn't Work for Tall/Short Riders
Inaccurate Fuel Gauge
Warped Brake Discs
High Maintenance Chrome Upkeep
Loud Brakes
Clunky Gearbox
Poor Rear Suspension
What Do the Reviews Say?
"This bike is a shameless attention seeker. It gets noticed wherever it goes. Pros: comfortable and powerful, and the low-speed handling is great. It's an absolute chrome fest Cons: noisy brake pads and a lot of polishing as I said, it's a lot of chrome."
"Noticeably better than the 103 ci. 4 valves and two plugs per head which also benefit from oil cooling. The new power utilizes a single cam rather than the 'twin cam' on the old model. Less noise from the engine gear has allowed some 'engineering' on the exhaust system that has resulted in a much better sound from a standard set–"
"–The new clutch (now hydraulic) makes for much smoother gear changes. When cold, the selection of first is now usually silent. The agricultural "clunk" hasn't been totally eliminated, but it's noticeably better. A newly designed alternator delivers more power to the electrics, and a battery tender lead is a standard fit. Cruise control is standard, as are 'linked brakes' and ABS, of course. So overall, a lot has changed – faster, runs cooler, handles better, more economical, and sounds more like a Harley as standard. It does have a fair bit of tech on board as standard, and of course, you're free to add on as much as your credit carders can stand."
"There are no sufficient luxurious gadgets to make you feel like a King. The bike is on the heavy side, has poor rear suspension, the fuel tank is too small, and has a useless original windscreen."
I've had my road king classic for just over a year and done nearly 12 thousand miles. Apart from warped front discs (changed under warranty), I've had no problems. Cleaned regularly, it's holding up quite well despite all year riding. Ridden as it's meant to be, i.e., slowish, it's comfy, relaxing, and enjoyable. Try to ride it hard; it's bouncier than Tigger on acid! It's my first Harley and overall, I'm more than happy with it. The fuel range is ok, between 165/170 miles per tank, and so far, it's not used a drop of oil. Ride it like a Harley cruiser, and it does exactly what it says on the tin!"
SOURCE: HARLEY-DAVIDSON FLHR ROAD KING (1993-on) Review | MCN (motorcyclenews.com)
What's the Resale Value of a Harley-Davidson Road King?
| | | |
| --- | --- | --- |
| Year | Mileage | Price |
| 2021 | 252 | $23,499 |
| 2017 | 10,243 | $16,000 |
| 2016 | 24,427 | $23,000 |
| 2013 | 22,247 | $13,999 |
| 2006 | 15,000 | $13,500 |
What are Some Alternatives to the Harley-Davidson Road King?
| | | |
| --- | --- | --- |
| Make/Model | MSRP | Average MPG |
| Harley-Davidson Road King | $21,499 | 38 |
| Harley-Davidson Road Glide | $26,699 | 38 |
| Indian Springfield | $22,999 | 40 |
| Kawasaki Vulcan 1700 Vaquero | $18,599 | 42 |
| Yamaha Road Star 1700 | $6,999 | 40 |
Related: How Long Do Kawasaki Vulcans Last? (9 Important Facts)
Sources:
HARLEY-DAVIDSON FLHR ROAD KING (1993-on) Review | MCN (motorcyclenews.com)