The Harley-Davidson Tri-Glide hit the streets in 2008 as the iconic American brand's first contemporary three-wheeled motorcycle.
Initially, the Tri-Glide was supplied as a two-wheeled Harley Electra Glide to a third-party motorcycle-to-trike conversion shop in South Dakota.
Since 2012, Harley has assembled all their Tri-Glide trikes themselves, but how reliable are they?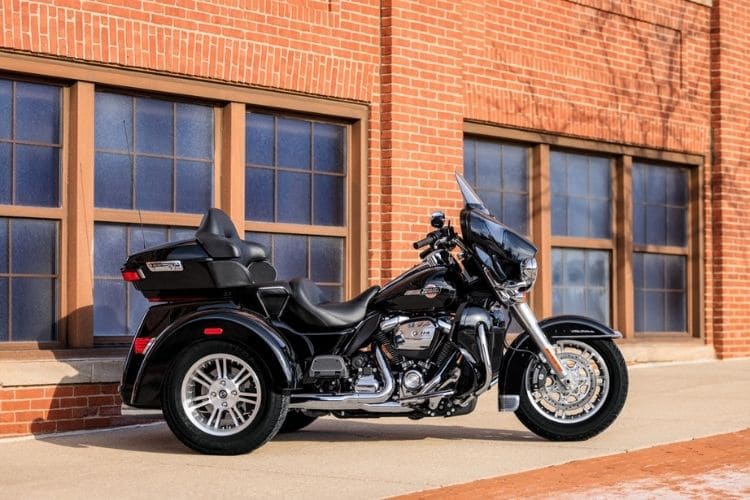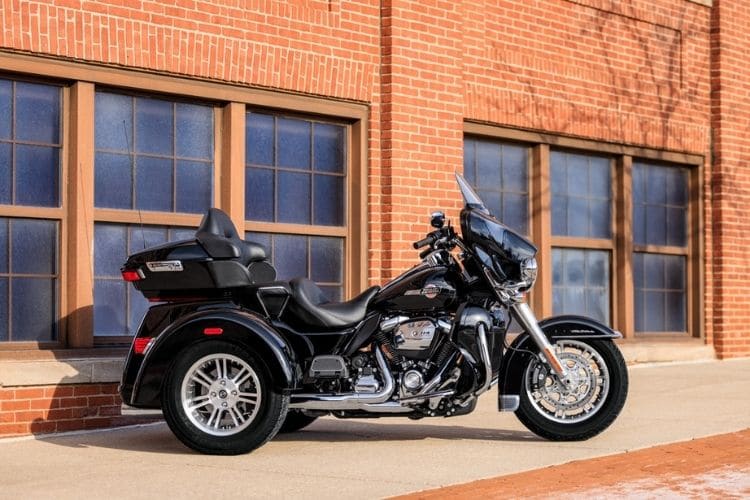 Here is the short answer to whether Harley-Davidson Tri-Glides are reliable:
The Harley-Davidson Tri-Glide is generally quite reliable, although over the years there have been some severe incidents with some of their parts and features, such as water pumps and traction control. Harley has addressed these via recalls.
How Reliable Are Harley-Davidson Tri-Glides?
The Tri Glide shares its engine with the Electra Glide Ultra Classic family. The 114 cu in, 1970cc beast of a V-Twin stocks overhead cams and is designed specifically for cross-country touring, going hundreds of miles a day.
To make sure the engine doesn't get bogged down by the weight of a fully-loaded Trike, Harley gave it plenty of power and a six-speed transmission. This engine is as reliable as big-twin baggers come and most owners experience few problems with it.
However, it hasn't been plain sailing for the Tri-Glide, in 2019, Harley Davidson recalled over 12,624 Tri-Glides from year models 2019 and 2020.
Affected trikes were experiencing issues with traction control, as a result of faulty computer software.
The ECU responsible for triggering the traction control would incorrectly process signals from its rear wheel sensor.
This technical glitch would then activate the rear wheel brakes despite the fact that the unsuspecting rider never intended to do so.
This did more than shock Harley trike riders. It put their lives at risk.
Because of the inherent safety risks, the NHTSA got involved which prompted Harley to initiate a recall.
Unfortunately though, the drama didn't stop there and there were some high-profile incidents, one involved two New York riders who suffered catastrophic accidents.
Moving on…
The 2014-2016 water-cooled Tri-Glides stocked faulty water pumps which were notorious for failing prematurely.
In some cases, riders didn't know the pumps on their trikes had failed, leading them to ride for hours on a bike that couldn't cool down.
Once the pump goes, it's a matter of time before a seal or a radiator hose blows and your bike loses coolant pressure.
Fortunately, the water-coolant is only responsible for cooling the exhaust area of the engine heads – the majority of the V-Twin is still air-cooled like most HDs.
And Harley did upgrade the water pumps on all water-cooled Tri-Glides after 2016. In fact, some 2014-2016 trike riders upgrade their pumps to the new pumps ahead of time to prevent an early failure down the road.
And finally, the Tri-Glide was one of the motorcycles targeted in the massive Hydraulic Clutch Recall, affecting 177,636 models of various 2017-2018 HD bikes.
The clutch's actuator cylinder developed an internal leak that, in some cases, was severe enough to stop the clutch from disengaging despite rider input.
All motorized vehicles have issues, some more serious than others. That said, there are plenty of Tri-Glide owners who celebrate their Trike's reliable performance.
Before we move on, let's peep some real-life testimonies from Harley Trike riders:
"We just got back from a trip last week. We rode from West Virginia to Georgia, then down into Florida, back up through Alabama, Tennessee, and Kentucky, and back into West Virginia. The Trike performed flawlessly."
"There was a clutch cable recall, and the drive belt lost several teeth. There was no belt in stock, and it took the dealer too long to get one and much too long to replace it."
"The Tri Glide is a great bike; easy on, easy off, very stable. An old saying goes when age and health dictate that you have to stop riding, it's time to go to a trike. The Harley-Davidson Tri Glide was a great option."
"I have not had any issues with the Tri Glide. Harley did perform a recall on the clutch, but I was not having any problems prior to the recall."
How Many Miles Can a Harley-Davidson Tri-Glide Last?
A Harley Davidson Tri-Glide can last for more than 75,000 miles if properly stored, maintained, and serviced per the schedule outlined by Harley in the owner's manual – following routine maintenance is critical.
The Tri-Glide was a smash hit, especially with the retired motorcycle community with health factors that prevent them from balancing on two wheels the way they once could.
Because of its popularity, Harley has made an effort to improve upon the Trike's tech. Not to mention the fact that, from day 1, the Tri-Glide stocked the Ultra Classic's powerful engine, celebrated by many for its ability to go long distances before needing a needs a rebuild.
Owners who service their bikes per the maintenance schedule have clocked high miles and counting. Here are a few testimonies:
"98,000 on my 02 ultra[same engine]. A friend had 117,000 on his 02 ultras when he traded for a 2011 tri-glide. Never needed anything… other than brake pads, tires, and normal service."
"I bought my 09 ten years ago in August. I have kept it in stock, and it has been a good bike. I had an issue that was taken care of during warranty times. I have 78,000 miles on the odometer. Keep the oils clean, and I would recommend getting one with NO mods."
"We have 57,000 on our '11 [Tri-Glide], and it runs great. I just replaced the rear tires and am getting ready to head for Daytona. The only serious trouble was the stator went out with 30k miles. We were completely covered under warranty. The wifey says that we can get a new one when we hit 100k. The way that we have been traveling, that shouldn't be too long."
Still, proper upkeep and responsible riding are both variables. Here's an example of a Trike that's still clocking miles but needed a little love to keep ripping.
"I have 41,000 on my 2011 Triglide… rear brakes replaced two times, front brake pads and warped rotors once. I also had the reverse motor replaced as it quit at 30,000 miles. Compensator and clutches replaced at 40,000 miles."
What is Considered High Mileage for a Harley-Davidson Tri-Glide?
A Harley-Davidson Tri-Glide is considered high mileage after 40,000 miles on the used market, but this has little bearing on the actual lifespan of the motorcycle.
A low-mileage used Tri-Glide might be more expensive than a high-mileage Tri-Glide.
This doesn't guarantee the previous owner took care of it or that it's in better condition, nor does it imply it will last longer.
Low mileage could indicate that the Tri-Glide sat unused for extended periods.
When assessing a used Tri-Glide your best bet is to give the bike a thorough examination and always ask for service records.
Service records are strong evidence that a bike is valued, appreciated, and cared for properly.
It's also a good idea to run the VIN number, ensuring the bike wasn't involved in any collisions, thefts, or police reports.
We also suggest writing down any issues or recalls particular to the year model you're considering, so you don't forget to ask.
And finally, call ahead and request the seller leaves the Trike cold so you can start it from cold before your test ride.
Engines are easier to fire up when they're hot, even if they have starting problems. A healthy trike will start cold or hot.
High mileage could mean getting a great bike for a low price.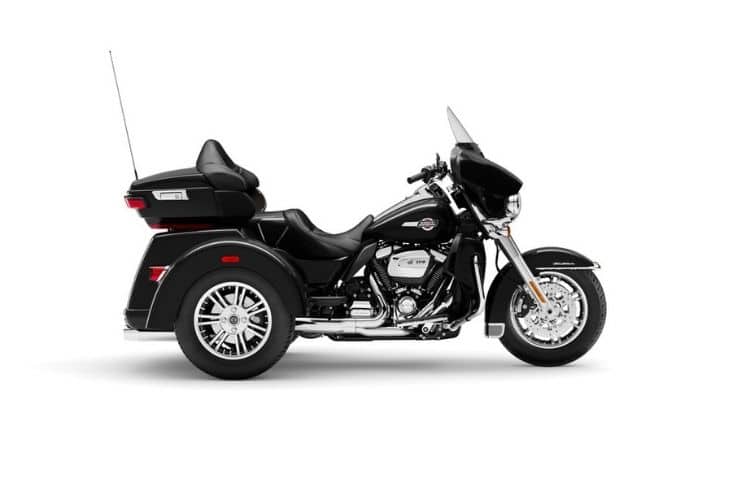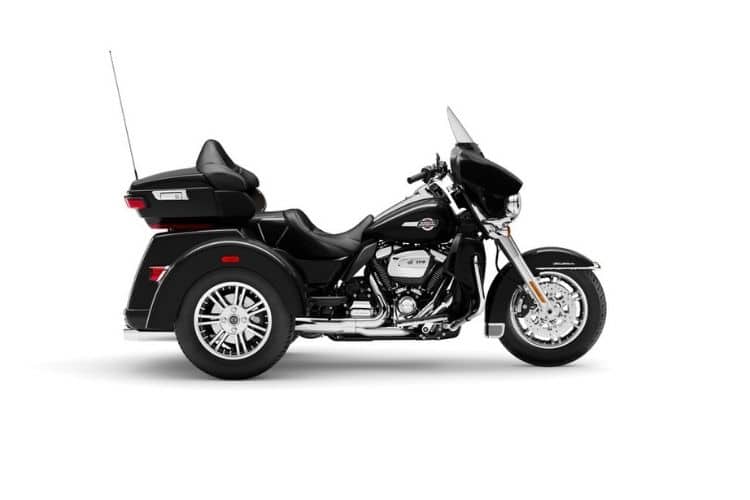 Related: Are Can-Am Spyders Reliable?
What Are the Best Model Years to Buy and Avoid?
Best Years: 2020-2022
2019 marked the introduction of the 114 ci engine we keep ranting and raving about.
The earlier years performed great with their 107s, but the 114 makes a significant difference in power and performance, pushing 120 HP and sending 100 directly to the back tire.
We suggest 2020, as the 2019 year model inherited some clutch kinks from the previous year, which seem to be worked out by the following year.
Worst Years: 2008-2009
The 2008-2009 year model Trikes had 103ci motors with significantly less power than is ideal for a bike of that weight class. Not to mention, the trunk's weatherproofing gaskets let water into the Trike's chest.
The trunk gaskets failed so frequently on both models that they resulted in a recall. That said, some trike-owners reported the new gaskets didn't solve the issue.
What Usually Breaks First on a Harley-Davidson Tri-Glide?
Harley Tri Glide Owners claim that the clutch is usually the first thing to break on their Tri-Glides.
Some model years were recalled due to failure with their hydraulic clutch's actuator cylinder, resulting in clutches that fail to disengage regardless of rider input.
All motorcycle clutches are prone to wear, but the Harley chain drives on the Tri-Glide wear earlier than shaft or gear-driven transmissions used by other brands.
The clutch utilizes a chain to spin the rear wheel during motorcycle operation. Over time, the chain turns the clutch drum into an oval, wearing it out.
Harley-Davidson Tri-Glide Maintenance Costs
The Maintenance cost of a Harley Davidson Tri-Glide is relatively average and comparable to the cost of other brands. Harley suggests servicing your Tri-Glide every 5,000 miles. The average price for a service is $600, putting the average maintenance cost of a Tri-Glide at $1600 a year.
That said, since the Tri-Glide has three wheels, the cost of tire replacements is 33% more expensive than on a two-wheeled motorcycle.
Here are a few examples of Tri-Glide maintenance costs:
$350-$500 a set for tires
$208 for stator replacement
$70 for a new battery
$175 for chain and sprockets
$150 for fork seals, bushings, snap rings, washers, dust seals, and fluid
$100 for the wheel bearings front and rear
$54 an oil change
There are other Tri-Glide ownership costs besides maintenance, however, as the prices of:
Jacket=$200
Gloves=$100
Winter riding gear=$200-$500
Rain gear=$75-$300
Helmets=$100-$500
Tires=$300-$500
Fuel=$15 a tank
Storage=$?
Etc.
Related: Are Polaris Slingshots Reliable?
4 Tips to Make Sure Your Harley-Davidson Tri-Glide Is Reliable
1) Keep your Harley Clean—Use Harley-Approved Cleaning Products
2) Ride your Tri-Glide Often; Ride Per Harley's Suggested Use
3) Follow Harley's Provided Service Schedule For Routine Maintenance
4) Store Your Trike Out of Extreme Weather and Away from Corrosive Chemicals
What Are Some Alternative Options?
| | |
| --- | --- |
| Model | Base MSRP |
| Can-Am Spyder | $15,999 |
| Can-Am Ryker | $8,499 |
| Polaris Slingshot | $19,999 |
| Goldwing Trike | $25,000 |
| Harley Trike | $28,499 |
Sources:
https://www.nbcnewyork.com/investigations/i-team-lawsuits-blame-harley-davidson-trikes-for-death-injuries
https://ultimatemotorcycling.com/2019/12/16/harley-davidson-tri-glide-trike-recall-unintended-rear-brake-activation/
https://www.asphaltandrubber.com/recall/harley-davidson-trike-traction-control-recall/