Launched in 2014, the Polaris Slingshot is in an open-air cockpit, 3-wheeled 2-seater that sits just inches from the pavement.
It looks like something from a Batman movie — a cross between a stripped-down sports car and a motorcycle, and produces a thrill you can only appreciate by experiencing it first hand.
If you're keen to learn about the reliability of the Slingshot, we'll cover that in this article.
Read on to find out…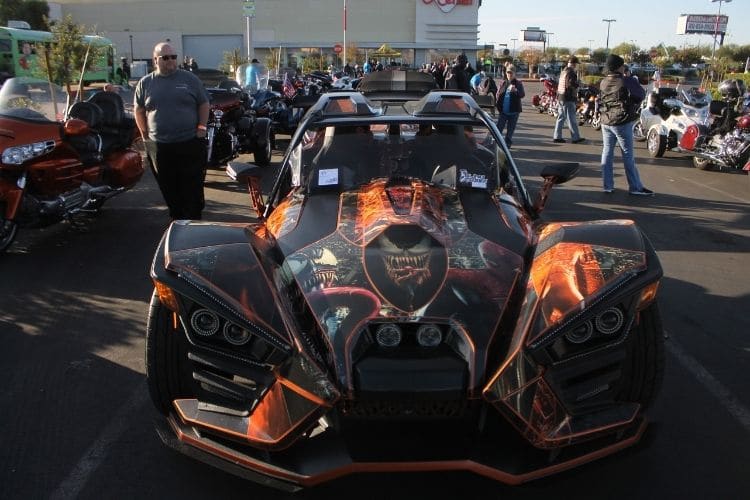 Here is the short answer to whether Polaris Slingshots are reliable:
The Polaris Slingshot is reliable providing it's stored properly, serviced regularly, broken in properly, maintained per the manual, and ridden responsibility. Most owners report minor issues if any. The Slingshot has been subject to a number of recalls however this is normal for any vehicle.
How Reliable Are Polaris Slingshots?
The general consensus is that the Slingshot is in fact very reliable, they're not perfect by any means but there are a lot of owners with significant miles on theirs with little or no issues.
This should come as no surprise – Polaris is a top-tier brand with over 65 years of experience in pioneering breakthroughs products.
On the Slingshot dedicated forum slingshotforums.com we found a number of owners who had clocked around 10,000-miles with no major problems and still going strong.
One owner stated, "The maintenance and upkeep and overall quality has been about the same as most sports cars and actually less maintenance than most motorcycles."
There have been some minor problems reported, but this doesn't mean the Slingshot is unreliable – it just means someone ran into a problem, which is normal for any vehicle.
Over the years they have been recalled a few times ranging from faulty headlights to whining noises coming from the angle drives, again this is completely normal however failing to get the recalls fixed will negatively impact reliability.
The Slingshot is also known to hydroplane in the rain, more so than a sports car as it's significantly lighter. It's more similar to a motorcycle in this regard as you will get wet and will need to slow right down and be much more attentive to conditions.
It's important to note that the Slingshot needs to be broken in properly, on an importance scale from 1 – 10 a dealer has rated this an 11:
"The break-in period for your vehicle is the first 500 miles (800km) of operation. During this break-in period, critical engine parts require special wear-in procedures so they seat and mate properly"
Reliability is also dependent on:
Regular maintenance – As per the manual at an authorized dealership
Use smooth acceleration and braking – reduces wear and tear on parts
Regular washes – This help keep dirt out the engine and prevents rust
Proper storage – A dry, well-ventilated storage location away from direct sunlight, preferably a garage or similar structure
In summary, the Slingshot is very reliable, fun and comfortable but it should be thought of as a toy, so it might not be the best idea to rely on it as your daily driver and it would be a good idea to have a car as backup.
How Many Miles Can a Polaris Slingshot Last?
A Polaris Slingshot can last over 70,000 miles if it's well-kept per the service schedule, appropriately stored, ridden responsibly, and broken in per Polaris's break instructions. There are multiple real-life examples of Polaris Slingshots on the road with 70,000+ miles that have never had a major issue.
Here are two examples of high mile Slingshot rider testimonies:
One Slingshot rider from Virginia clocked over 82,000 miles on his Slingshot's odometer on a stylish Slingshot that claimed the Polaris prize for best theme. Not only was this high-mile Slingshot in good enough condition to receive a syle based award, but the Slingshot also seemed to run as good as the day he bought it.
One rider we heard from in the forums shared a picture of his Slingshot's Odometer, 79,000 miles, and he says he's never had an issue. But the story doesn't stop there. The Slingshot enthusiast mentioned a couple he knows with more miles than even he had—the couple makes cross-country trips in their Slingshot that include visits to Alaska without any mentionable reliability issues.
If we investigated these real-life examples of high mile Slingshots further, we'd probably find they were all subject to stellar ownership habits.
We'll get more into some Slingshot ownership tips below, but for starters, it's imperative to adhere to the Engine and Drivetrain Break-in Period outlined in the Slingshot owner's manual:
Engine and Drivetrain Break-In
The Below extract is taken from Slingshot Help Center:
Failure to properly follow the engine break-in procedures outlined in this manual can result in severe damage to the engine. Follow all break-in procedures carefully. Avoid full-throttle operation and other conditions that may place an excessive load on the engine during the break-in period.
1. Fill the fuel tank with gasoline. Heed the fuel warnings found in your Owner's Manual
2. Check the oil level. See your Owner's Manual. Add the recommended oil as needed to maintain the oil level between the safe and add marks.
3. Vary speed. Do not drive at a constant speed, whether fast or slow. Do not drive at sustained idle.
4. Avoid full-throttle starts and do not drive at full throttle.
5. Do not exceed 70mph (113km/h).
6. Avoid the use of downshifting to brake or slow the vehicle.
7. Avoid making hard stops for the first 200 miles (322km).
8. Perform regular checks on fluid levels, controls, and areas outlined on the daily pre-ride inspection checklist found in your Owner's Manual.
9. Change both the engine oil and filter at 500 miles (800km).
For more information, see your authorized Slingshot Dealer. Find a dealer near you with the Dealer Locator.
What is Considered High Mileage for a Polaris Slingshot?
A Polaris Slingshot is considered high-mileage over 35,000 miles due to the recreational nature of the vehicle, a low mileage Slingshot is generally anything under 10,000 miles. Lower mileage is preferable as the vehicle will have less wear and tear on components although this isn't always the case.
Buying a high mileage Slingshot won't necessarily equate to a bad outcome.
Mileage can give some indication of the Slingshots value but it only makes up one piece of the puzzle.
A low-mileage Slingshot might be more expensive than a high-mileage one, but that doesn't mean the previous owner took care of it or that it will last longer – low mileage could indicate that it was sat unused for extended periods.
So, while a Slingshot is considered high-mileage after 35,000 miles, a well-kept model can last well over 70,000 miles.
When assessing a pre-owned Slingshot, consider the following:
Service records: Some owners are very meticulous and may have receipts and documented history of everything concerning their Slingshot and this is good evidence of a vehicle valued, appreciated, and cared for properly; regardless of the mileage.
Assess the overall condition: If you can see signs of neglect or repairs that have been left for a long time it can give you an idea of the type of owner your dealing with. Conversely, if the owner has all related receipts and you can detect attention to detail with the smaller points on the bike such as waxed paint, matching tires etc you know you're headed in the right direction.
Take it for a test ride: You'll likely have to leave the money for the bike with the owner and maybe your drivers license – a test ride can highlight any major issues.
Bring a checklist: Take a checklist with you of things to go over to make sure you dont' forget anything. Familiarize yourself with the model beforehand and don't be afraid to take your time or walk away from the sale.
You may also be interested in our article: Are Can-Am Spyders Reliable?
What Are the Best Model Years to Buy and Avoid?
Best Year: 2021
2021 Marked the Launch of the Slingshot R Limited Edition.
While all 2021 Slingshots come with the Prostar 2 Liter 4 Cylinder engine, the R has the boosted 144 foot-pounds of torque for a peak Horsepower of 203.
Base price: $32,799
Powertrain: 2.0-liter four-cylinder, 5-speed automatic, rear-wheel drive
Horsepower: 203 @ 8,250 rpm
Torque: 144 lb-ft @ 6,500 rpm
0-60: 4.9 seconds (est.)
Top speed: 125 mph (limited)
Curb weight: 1,653 pounds
It's slightly pricier than the old and familiar Slingshots before it, including the same year S and SL models.
Still, the 2021 Slingshot R Limited Edition's price starts looking better when you consider the details.
Its equipped with blacked-out badging, lightweight forged wheels and an Intuitive AutoDrive transmission with the choice of paddle shifters or a sporty 5-speed manual.
On the technology front, the 7" display is powered by RIDE COMMAND, GPS navigation, connected services, stage 2 Rockford Fosgate® audio, and Apple CarPlay.
And that's not to mention the Neon Fade paint and sleek graphic combo; Polaris made the R Limited the stand-out Slingshot.
Worst Year: 2015
The 2015 Polaris Slingshot is the worst model year. A major issue with this model resulted in the sales being halted and owners being told to stop riding until a recall relating to an upper pinion bearing in the steering rack assembly had been addressed.
First model years are problematic for most vehicles, let alone one of the most unique 'motorcycles' you'll find on the roads today.
Essentially, the problem could cause the upper pinion bearing in the steering rack assembly to disengage which could cause the rider to lose control of the Slingshot – yikes.
This issue was exacerbated by the fact that Polaris announced the protective roll-over bars lacked integrity.
2015 Slingshot SL and SL LE models equipped with a backup camera were also recalled, with Polaris issuing the following statement:
The back-up camera may fail internally, possibly melting the voltage regulator and blowing the fuse for that circuit, thereby preventing the taillight from functioning properly.
In Polaris' defense, they are very proficient at rectifying factory errors however the 2015 model year might be the one to avoid.
What Usually Breaks First on a Polaris Slingshot?
The first thing to break on a Polari Slingshot is the bearings, especially on poorly maintained models. Bearings should be inspected in intervals outlined by Polaris in Slingshot's owner manual and replaced when worn past a certain point. If not replaced when worn, Slingshot bearings can break.
Here are a few symptoms of bad bearings on a Polaris Slingshot:
Humming or grinding noises due to pitting or slight damage on the surface of the bearing race rollers.
Bearing rollers that aren't adequately greased will feel rough or clunky due to a lack of lubrication and may even cause overheating.
As bearing wear over time, tiny pieces of metal may fall into the grease and cause wear to the high-polished bearing surfaces, causing deformities and pitting.
A lot is riding on the bearings of your Slingshot, literally.
Since they take so much weight-related force at the hands of the riding load, especially on Slingshots that hit the corners hard, you'll hear humming sounds on bearing that are just slightly damaged.
If you hear grinding, your bearings probably need to be replaced asap.
Polaris Slingshot Maintenance Costs
5,000 mile service: $450.
10,000 mile service(includes brake fluid change): $530
15,000 mile Service: $450
New Tires(set of three) $600-$900
Protective riding Jacket: $150-$800
Helmet: $80-$400
Motorcycle Insurance: $500-$1000 a year.
Winter Storage: $75-$600
3 Tips to Make Sure Your Polaris Slingshot Is Reliable
Reliability isn't just about quality materials and design, it's also down to the owner to ensure they get the best from their slingshot.
1. Service Your Slingshot Regularly by a Polaris-Authorized Mechanic
The engineering of a Polaris Slingshot is something unlike that of any other vehicle, especially on the newer models with the Prostar motor.
The Slingshot's performance-packed engine is governed by a complex CPU that receives dealership updates during maintenance.
Polaris mechanics are well-versed in the routine service inspections and maintenance procedures outlined in the Owner's Manual.
Taking it to the dealership leaves a paper trail of responsible ownership for both your warranty and insurance providers, should something go wrong.
2. Store Your Slingshot Out of the Elements; Away from Corrosive Chemicals
It's essential to store your Slingshot away from the elements to keep it reliable.
Exposure to the sun's harmful UV rays can wear your seals, grips, leather, and adhesive components early.
Moisture and precipitation can cause your recreational ripper to rust.
Storing your Slingshot indoors is ideal, but a hefty tarp can provide enough protection to keep it lasting long.
That said, if you do store your Slingshot in a garage, be sure there aren't any airborne corrosive chemicals nearby, as acidic chemical corrosion can be worse than the elements outside.
3. Ride your Slingshot Regularly and Responsibly
Sure, they're typically designed to be driven sportingly, but overworking the engine or being too aggressive with the brake and gas pedals can be hard on any vehicle.
Using smooth, controlled acceleration and braking will reduce wear and tear on vital components and ensure a long life of reliable performance.
Riding your Slingshot regularly will keep its engine lubricated, battery charged, and its fluids fresh.
If you know your Slingshot is going to sit unused for an extended period, winterize it, tender its battery, and prepare it for proper storage to keep your unique recreational riper reliable for the long haul.
What Are Some Alternative Options?
| | |
| --- | --- |
| Model | Base MSRP |
| Can-Am Spyder | $15,999 |
| Can-Am Ryker | $8,499 |
| Polaris Slingshot | $19,999 |
| Goldwing Trike | $25,000 |
| Harley Trike | $28,499 |
Related: Are Harley-Davidson Tri-Glides Reliable?
Resouces
https://slingshot.polaris.com/en-us/owners-manuals/
https://slingshot.polaris.com/en-us/self-help/article/KA-01090/