Honda's CRF line is a range of full-size motocross bikes, all stocked with single-cylinder four-stroke engines.
Widely considered the most practical of the lineup is the CRF 250R.
Built around a 250cc, liquid-cooled four-stroke motor, the stripped-down Honda motocross menace is primarily designed for closed-course racing.
No bike is perfect, so what are the most common problems with the Honda CRF 250R?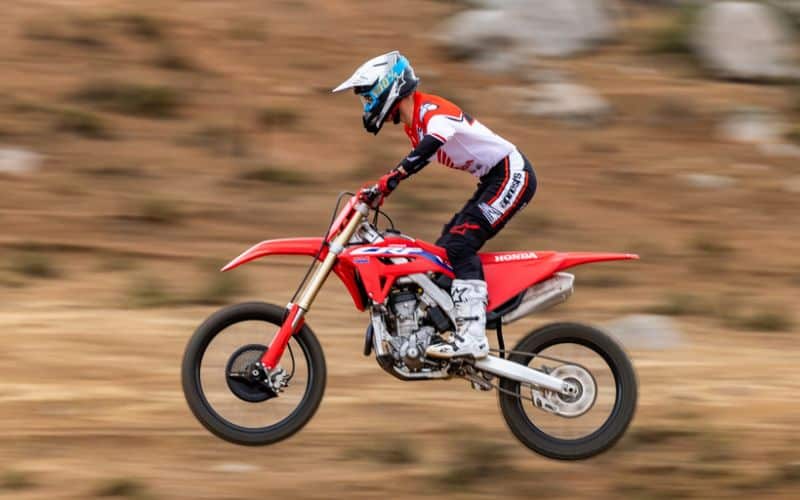 1. Valve Problems; Valve Spring Failure
All valves wear out eventually, but some 250 R riders have claimed to experience valve failure within the first 100 miles.
Multiple Honda on and off-road moto models catch flak for having valves that fail early, and unfortunately, the CRF 250R is high on that list.
To make a disheartening quality more discouraging, Honda's statement to its dirtbike community has been that the issue is due to dirt entering the air filter and clogging the carb vents due to poor owner upkeep.
Honda-dirt rippers call the Japanese brands bluff on this by citing that the brand's street bike lines also experience frequent early valve failures, even though they're never ridden in the dirt.
Furthermore, 100 miles isn't enough time for maintenance to be a factor.
There are multiple theories about what the cause of the CRF 250R's valve problem is; this real-life 250R rider was happy to list them all:
"1) A manufacturing issue. Tolerances most likely are not correct.
2) It's a heat spot issue. The correct intake valve is not cooling properly from the water jacket.
3) It's a valve coating issue. Meaning the coating (a 'sputtered' solid film lubricant) is not correct in either the amount (thickness) sputtered or the type/composition of the coating (there are hundreds of types), causing the coating to wear prematurely.
4) It's a valve stem thickness issue. The valve stem is too slim, leading to the valve's fluttering, and a wearing of the coating and the seat, etc.
5) It's an issue of too soft and too hard a valve seat. This, in turn, is causing the coating on the valves to wear."
That said, there's one popular theory not expressed on this list that might be the most likely answer to why valves wear out earlier on Honda CRFs than on other dirtbikes:
While there are many theories, more than a few dirt bike mechanics attribute the issue to the valve springs being of low quality, particularly on the older year models. If the valve spring can't maintain its action under the valve action, it can wear out the valves.
2. Engine Lacks Power
Another common complaint about the CRF 250R is that its engine lacks power compared to other bikes in its class, particularly in the low and mid-range.
While this isn't necessarily attributed to an issue with the engine, it's a hot topic among dirt bike enthusiasts that's worthy of mention here.
PulpMX had this to say in their post-ride review:
"The 2018 Honda CRF 250R needed more torque to hang with the Yamaha YZ250F. For 2019 Honda improved bottom-end delivery, but it's still not up to Yamaha YZ250F standards. The 2019 CRF 250R can pull out of a soft corner slightly better than 2018, but where you will feel the difference between last year's machine is through the mid-range. Mid-range pulling power and RPM response are much improved as the Honda now feels more playful when accelerating over square edges and popping over braking bumps.
The low-end response doesn't have that exciting feel like the Yamaha, but to me, the low-end feeling (coming out of corners) feels on par with the KX250. The Honda CR250R needed more "meat" in the second gear, and it did get some, but the recovery time from a mistake by the rider is still not quite as good as the blue bike. If you're looking for a 250 four-stroke that likes to be revved and pulls far, then the 2019 Honda CRF 250R is your ticket."
Unless your valves are failing and you're experiencing frequent misfiring, throttle lags, and erratic performance, if your engine feels like it's dragging in the lower gears compared to the competition, rest easy knowing it's just the concept behind Honda's moto designs.
Honda engineered the CRF 250R to be a reliable, efficient, and long-lasting moto that's comfortable for hours of track riding. Its high seat position and more rugged frame add some weight, and its engine doesn't rev as high as other 250s because it's built to last, not to run hard.
3. Limited Transmission Power
The gear spacing and the power limitations it causes in the gearbox is another common critique in the dirt bike community.
The experts at PulpMX had this to say on the subject:
"The Honda still needs some help with 2nd, 3rd, 4th gear spacing. If I am at a jumpy track, it's tough to decipher which gear I want to be in to hit something. Sometimes I come out of a corner in second, start accelerating, shift to third, and it feels like third gear runs out too quickly (for third gear). I end up shifting to fourth a lot of times to hit stuff."
Riders who rip dirt courses can tell you how rare it is to get up to fourth on a Yamaha or KTM, whereas it's a frequent necessity on the Honda just to do with how its gears are spaced.
The upside is that the fourth gear on the Honda is exceptionally usable in dirt course riding, with a solid yet accessible high-end range.
Still, some riders are so turned off that they opt to upgrade their transmission or venture to respace their gears, while others trade for the 250R's sportier Yamaha counterpart for harder riding in the low and mid gear ranges.
Still, it's all about what type of riding you enjoy. While the Honda isn't the fastest dirt bike off the line, its unique gear spacing and frame height/riding position make for a more swift ride in the high-end spectrum.
Related: 6 Common Honda CRF150R Problems (Explained)
4. Overheats: Coolant and Oil Consumption Issues
Another common problem with the CRF250R is overheating. More specifically, when riding in hot weather or riding around the course for hours, the 250R tends to guzzle coolant and sometimes even oil at a rate that requires a refill before the riding day.
I used to think this was only an issue on the older year models until a very experienced dirt bike rider had this to say about riding the 2019 year model:
"Yes, [overheating] is still a problem…If you ride deep sand tracks or ride when it's over 100 degrees outside, then make sure to check your coolant levels after every moto. I have tried a 1.6 radiator cap in the past, and it helps a little just make sure you don't sit there in the pits too long with your motor idling. You will not run out of coolant and blow up your bike unless you're… doing a three-hour wide-open moto. Just make sure to be conscious of the coolant level when riding."
Source: https://pulpmx.com/2018/11/26/keefer-tested-10-things-about-the-2019-honda-crf250/
The same thing happens to oil, or as one rider puts it:
"I have an 04 that I love. But there is one thing that bugs me. It burns oil. About 1/4 a quart in a day. It has done this since I bought it new. The folks at ESP said it was the valve seals that were bad. So I had them replace the top end, chain, valves, and valve seals, and that fixed it, but now it's back."
This owners report is among several which lead us to believe the oil consumption issue is connected to the valve problem mentioned in the first section.
5. Clutch Basket Might Fail.
In 2018, Honda recalled a slew of CRF250Rs due to clutch baskets breaking and causing problems that lock the engine up–a problematic situation that can damage other moto parts and cause collisions.
Honda recalled the affected 2018 year models to upgrade the clutch basket and judder spring for free with the improved version they put on the 2019 models, which fixed the issue for the most part.
That said, the 2019 year model's clutch basket was reported to dip in performance after a full day of riding; riders describe a drag or a clutch slip occurring after 10-12 hours of riding.
Related: 5 Most Common Problems With Yamaha YZ 250F
Pros and Cons
Pros
Comfortable seat and ergonomic riding position
Its tall frame translates to excellent handling while doing technical course riding.
Class-leading suspension.
Rugged, durable, and comfortable chassis
Class-leading efficiency.
Long Lasting
Fun to ride.
Cons
Valves wear out early
The engine is not as powerful as other bikes in its class(particularly on the early year models).
Its gear spacing costs its transmission power.
Overheating Problems/Oil consumption Issues
Clutch Basket Might Fail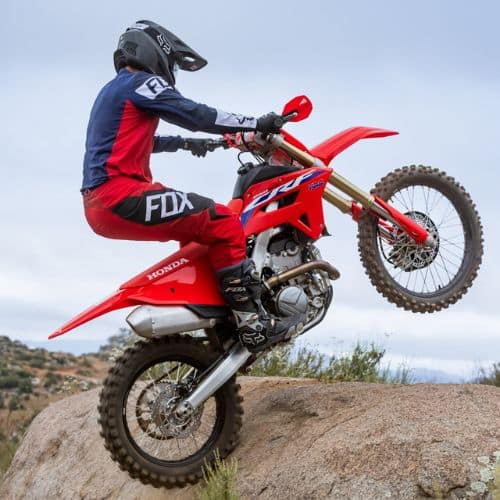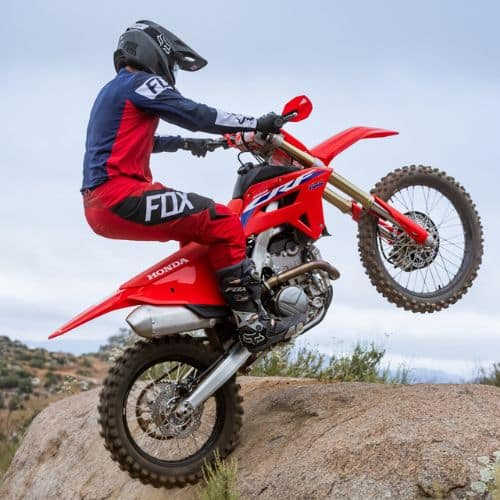 What Do the Reviews Say?
"Thank you, Honda, for going with the 839 Renthal Fatbar! It is a lower bend than the old 971 7/8 Renthal bar, which makes it easier to get over the front end and corner. I can stand up through corners much easier with the handlebar, seat, and footpeg layout. I am 6'0 tall, and Honda is one of the roomier cockpits. "
"The updated valving that Honda came up with for 2019 helps the chassis feel out tremendously. The fork better holds up on decel and can be ridden harder with a heavier rider on board. The comfort that the CRF 250R has is almost as good as the KYB that is on the YZ250F. The Honda is slightly more comfortable when slapping the front end down from a big single or flat landing. The balance of the Honda should be praised as it always feels flat when coming in hot to a corner and the stink bug that Honda is sometimes known for is not apparent on this model."
"Top-end pulls strong, and over-rev is close to the KTM 250 SX-F, which means you will be rewarded by waiting for a second or two longer when making your shifts. The harder you ride this Honda, the more it will reward you. This is not a lazy rider's machine! If you were to ride both the 2018/2019 bikes back to back, you would be able to feel the overall increased engine performance within the first couple of laps. Trust me. I have done this several times."
"I have ridden almost all of the 2019 250s, and I must say that Honda has the best feeling chassis out of the bunch (I have yet to ride the 2019 Suzuki). The rigid feel the CRF450R comes with is not apparent on the 250R. It feels planted at speed and can corner extremely well. The Honda is not the lightest on paper but feels extremely light when riding. The beauty of this chassis is that you can rear-end steer this 2019 Honda and front steer without a problem. I complain about being trapped in a box with the 450R chassis as it's super finicky to each change I make. The 250R has a wider window for the rider and doesn't seem different when going from track to track. You may be wondering why the chassis feels better in 2019 when there wasn't anything changed to the frame. I am glad you asked! With the newfound bottom-mid range pulling power and the suspension changes that Shows made to 2019, this a more fun/playful chassis to ride (compared to the 2018 version) on all different types of terrain."
Sources: https://pulpmx.com/2018/11/26/keefer-tested-10-things-about-the-2019-honda-crf250/
What's the Resale Value of a Honda CRF 250R?
| | | |
| --- | --- | --- |
| Year | Mileage | Price |
| 2004 | 1,415 | $4,000 |
| 2009 | 4,298 | $2,995 |
| 2018 | 3,789 | $7,499 |
| 2020 | 10 | $8,999 |
| 2016 | 60 | $5,995 |
What are Some Alternatives to the Honda CRF 250R?
| | |
| --- | --- |
| Make/Model | MSRP |
| Honda CRF 250R | $7,999 |
| Yamaha YZ250F | $8,199 |
| Suzuki RM-Z250 | $7,899 |
| Kawasaki KX250 | $7,799 |
Related: 5 Most Common Suzuki RM Z250 Problems (Explained)
Sources:
Keefer Tested: 10 Things about the 2019 Honda CRF250 – PulpMX