Launched in 2004 and discontinued in 2014, the TSX is a compact executive car from Japanese automaker Acura.
The TSX shares many similarities with the Accord however it is a nimbler, lighter, sportier alternative.
If you're thinking of buying one as your next vehicle, you might be wondering about its average lifespan.
We'll cover that in this article, read on to find out…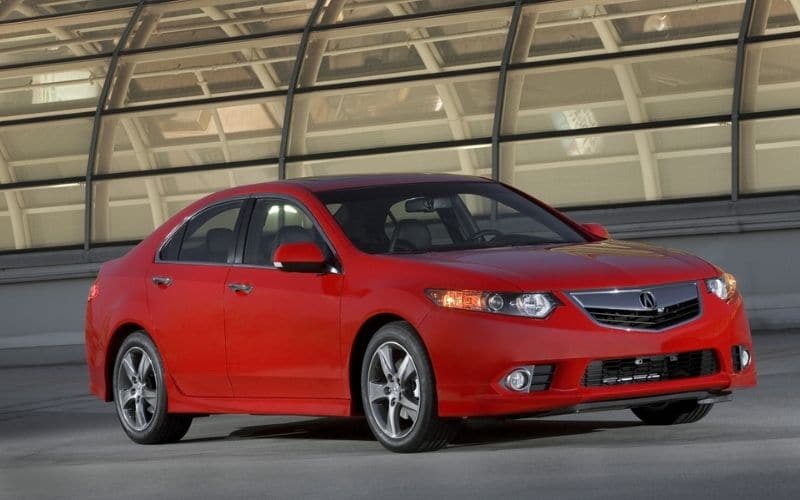 Here is the short answer to how long the Acura TSX lasts:
The Acura TSX is a highly reliable and durable car that can last between 250,000 – 300,000 miles when properly maintained and driven conservatively. Based on driving 15,000 miles per year, you can expect the TSX to last 17 – 20 years before requiring uneconomical repairs or breaking down.
How Many Miles Can You Expect from an Acura TSX?
It should come as no surprise that the TSX is capable of going the distance – Acura is the luxury division of Honda, the Japanese carmaker synonymous with reliability.
Across online forums such as acurazine.com and tsxclub.com there are plenty of reports from owners who have hit numbers in excess of 200,000 miles and still going strong.
As one owner said: "It's like the Energizer Bunny, it keeps going and going and going and going……. You just have to do the proper maintenance at the right intervals."
Its durability becomes more evident when looking on used car websites such as Car Gurus where you can find older TSX models with over 250,000 miles.
Although some owners are concerned about excessive oil consumption, transmission failure could be the biggest problem you encounter at high mileage, and this could spell the end for your TSX as the cost of repairs could outweigh the value of the car at this stage in its life.
The TSX is designed to be driven sportingly however aggressive use of the accelerator can be hard on any vehicle – adopting a smooth, conservative style of driving will make a big impact on the longevity of the car as wear and tear on major engine components is significantly reduced.
Longevity is ultimately down to the owners as the car's design and build quality will only get you so far.
The life expectancy of your Acura TSX will be cut short if you avoid:
Using quality parts
Service appointments
Routine oil changes
Regular car washes
Tire rotations
Driving smoothly
Do Acura TSX Rust Easily?
The Acura TSX does not have a reputation for excessive or premature rust issues and these cars are not known to rust easily with proper care. This is thanks to a good standard of corrosion protection that is applied during the manufacturing process.
That's not to say the TSX is immune from rusting issues – as long as car bodies continue to be made from sheet steel, and road surfaces have small stones and grit, it is not possible to prevent rust entirely.
These stones damage the paint while driving, creating points of attack for water and road salt.
Common rust spots on the TSX include:
Rear 1/4 panels around the wheel well (paint flaking)
The hood – surface rust underneath the hood trim (front and back)
Passeneger rear door
The forward part of the rocker panels, immediately after each of the front wheels (2nd gen. TSX)
If you live in a state where roads are heavily salted during the winter or near the coast where salt air is prevalent, rust will be much more of an issue.
For those living in drier states, rust will be much less of a concern. However, paint fading will be more common.
Tips to protect your Acura TSX from rust:
Regularly wash and dry your car: This includes its underside (especially during the winter) to remove the salt, dirt and grime that causes rust. We recommend having a detail shop wash everything underneath at the end of each winter.
Repair paint damage and scratches: Exposed metal will oxidize. If it's beyond a DIY fix, speak to your local body repair shop – get it repaired before it gets worse.
Garage: Store your TSX in a garage to protect it from harsh weather and bird droppings.
Waxing: Wax your car twice a year. Not only will this give your TSX a nice shine, it also gives it a protective coating against rust.
Rustproofing: If you're planning on keeping your TSX for a very long time, consider a rustproofing treatment; popular choices are Krown and Rust Check.
Ceramic Coating: A popular choice for those who want to add an extra layer of protection to the paint job.
Related: 6 Most Common Acura TSX Problems (Explained)
What is High Mileage for an Acura TSX?
An Acura TSX with 130,000 miles is considered high mileage. This can equate to a riskier purchase because of a higher chance of problems arising; most parts will have some degree of wear and tear and there is a higher risk of transmission failure. However, you should not assess the car on mileage alone.
Purchasing a high mileage TSX won't necessarily lead to a sour outcome – it really depends on the driver and the maintenance performed.
A well-maintained TSX with 130,000 miles might be a better option than one with 80,000 miles that had many owners and led a tough life or was previously a hire car.
If you're buying a used Acura TSX, consider the following:
Maintenance history. Check that the car was properly serviced and the owner can provide proof of this.
Get a second opinion. Take it to an independent auto repair shop or have it inspected by a mechanic you trust.
Check for rust. Rust is a problem that will spread. Some dishonest salespeople cover up the rust with a bit of paint or some stickers. It's always a good idea to look under the car.
Check the CarFax. This can provide a good overview of the car and includes the vehicle's title, mileage, previous ownership, accident reports, and it might tell you what the vehicle was used for, such as whether it was a personal or commercial vehicle.
Number of previous owners. As a general rule, less is better. More owners usually equate to more wear-and-tear. If one family owned it and drove the full mileage and serviced the car, then you can almost guarantee they took good care of it throughout their ownership.
How long you are planning on keeping the car. If you're planning on keeping the car for a long time, evaluate whether the short-term savings outweigh spending extra on something more reliable.
Examine the interior. The condition of the interior tells the story of how well the car was maintained and cared for. Does the steering wheel, pedals, or shifter look suspiciously new? If so, there's a good chance that the car was heavily used, and those parts were just replaced before sale.
Inspect engine for obvious leaks and obvious damage. If the engine looks immaculately clean, it means it was washed. The question is why? Most likely to hide oil leaks and similar nasty problems.
Check the car's VIN and get a full history report. Was it a taxi or rental car? Recalls? How many owners? Real mileage? Stolen? Any accidents? If you're buying a used Acura, always check the VIN – you never know what the car has been through.
How Long Does the Acura TSX Last Compared to Similar Car Models?
In this section, we'll look at some of the TSX's closest competitors and see how they stack up in terms of durability and repair costs.
Acura TSX vs. Mazda6
The Mazda6 is a compact executive car known for its high levels of comfort, technology, safety and performance.
The Mazda6 can last 200,000 – 250,000 miles or 13 – 16 years, slightly less than what is expected of the Acura TSX.
Acura TSX
Mazda6
RepairPal Reliability Rating
4.5/5.0
4.0/5.0
RepairPal Reliability Ranking
2nd / 31
Luxury Midsize Cars
6th / 24
Midsize Cars
Average Annual Repair Cost
$415
$481
Kelley Blue Book Reliability Score
4.9/5.0
4.5/5.0
JD Power Quality & Reliability Score
84/100
83/100
The TSX is praised for having a nicer interior however it has less interior space.
Both cars offer solid performance and we'd advise taking both for a test drive before making any big decisions.
You may also be interested in our article: How Long Does the Mazda6 Last?
Acura TSX vs. Lexus IS250
The Lexus IS250 is a compact executive sedan that offers a refined ride, chiseled features and a premium interior.
The IS250 is one of Lexus' most popular vehicles in the U.S. and can last 250,000 – 300,000 miles or 17 – 20 years, which is on par with the TSX.
Acura TSX
Lexus IS250
RepairPal Reliability Rating
4.5/5.0
4.0/5.0
RepairPal Reliability Ranking
2nd / 31
Luxury Midsize Cars
7th / 31
Luxury Midsize Cars
Average Annual Repair Cost
$415
$487
Kelley Blue Book Reliability Score
4.9/5.0
4.4/5.0
JD Power Quality & Reliability Score
84/100
86/100
In terms of reliability, the TSX narrowly outscored the IS250 – it's also cheaper to maintain and should be easy enough to take to an independent Honda mechanic too.
The TSX interior looks more modern and is laid out in a more comfortable way however the IS has nicer and better put together materials.
Performance-wise these cars are evenly matched and fuel economy is pretty much the same.
You may also be interested in our article: How Long Does the Lexus IS Last?
Acura TSX vs. Honda Accord
The Accord and TSX are both produced by Honda and despite their similarities on paper, these are very different machines.
The Honda Accord can last 250,000 – 300,000 miles or 17 – 20 years, which is on par with the Acura TSX.
Acura TSX
Honda Accord
RepairPal Reliability Rating
4.5/5.0
4.5/5.0
RepairPal Reliability Ranking
2nd / 31
Luxury Midsize Cars
1st / 24
Midsize Cars
Average Annual Repair Cost
$415
$400
Kelley Blue Book Reliability Score
4.9/5.0
4.5/5.0
JD Power Quality & Reliability Score
84/100
82/100
Both models offer top-notch reliability and quality however the TSX offers sportier and more aggressive driving characteristics.
Comparison Chart
| | | | | |
| --- | --- | --- | --- | --- |
| | Acura TSX | Mazda6 | Lexus IS250 | Honda Accord |
| Annual Repair Cost | $415 | $481 | $487 | $400 |
| Reliability Rating | 4.5/5.0 | 4.0/5.0 | 4.0/5.0 | 4.5/5.0 |
| KBB Consumer Rating | 4.9/5 | 4.5/5.0 | 4.7/5 | 4.5/5.0 |
| J.D. Power Rating | 84/100 | 83/100 | 86/100 | 82/100 |
| Lifespan (miles) | 250k – 300k | 200k – 250k | 250k – 300k | 250k – 300k |
Is the Acura TSX Reliable?
The Acura TSX was available in the U.S. for a decade and has received excellent reliability scores overall. The most recent models received better reliability scores than older ones. Based on industry data, the TSX has above-average reliability overall.
Japanese cars are well known for their reliability and Acura's TSX is no different.
It has received impressive scores across the board from the leading auto-review sites and this is supported by owner feedback on online forums too.
The TSX is by no means perfect though – in 2004 and 2005 models were known for transmission issues and rough shifting and 2009 models suffered from excessive oil consumption.
The TSX received the following reliability reviews:
RepairPal gave the TSX an average reliability rating of 4.5/5.0.
Kelley Blue Book's consumer rating index gave the TSX a near-perfect reliability rating of 4.9/5.0.
J.D. Power gave the TSX a respectable Quality and Reliability rating of 84/100
RepairPal ranks Acura highly for reliability, with a score of 4.0/5.0 which ranks it 2nd out of 32 car brands.
Consumer Report gave the TSX the following reliability reviews:
| | |
| --- | --- |
| Model Year | Reliability Verdict |
| 2014 | NA |
| 2013 | NA |
| 2012 | 5/5 |
| 2011 | 3/5 |
| 2010 | 4/5 |
| 2009 | 3/5 |
| 2008 | NA |
| 2007 | NA |
| 2006 | 5/5 |
| 2005 | NA |
| 2004 | 1/5 |
As with longevity, the reliability of your TSX will also depend on keeping up to date with the service schedule and adopting good driving habits.
Reliability Compared to Other Luxury Cars
| | |
| --- | --- |
| Model | Reliability |
| Acura TLX | 4.5 / 5.0 |
| Acura TSX | 4.5 / 5.0 |
| Lexus ES300h | 4.5 / 5.0 |
| Lexus ES350 | 4.0 / 5.0 |
| Infiniti G25 | 4.0 / 5.0 |
| Acura TL | 4.0 / 5.0 |
| Lexus IS250 | 4.0 / 5.0 |
| Infiniti G37 | 4.0 / 5.0 |
| Lexus IS350 | 4.0 / 5.0 |
| Infiniti Q50 | 4.0 / 5.0 |
| Volvo S60 | 3.5 / 5.0 |
| Mercedes-Benz C350 | 3.5 / 5.0 |
| Mercedes-Benz C300 | 3.5 / 5.0 |
| Audi A4 | 3.5 / 5.0 |
| Mercedes-Benz C250 | 3.5 / 5.0 |
| Hyundai Genesis Coupe | 3.5 / 5.0 |
| Cadillac CTS | 3.5 / 5.0 |
| Cadillac STS | 3.0 / 5.0 |
| BMW 328i | 3.0 / 5.0 |
| Lincoln MKZ | 3.0 / 5.0 |
| Audi A4 Quattro | 3.0 / 5.0 |
| Jaguar XF | 3.0 / 5.0 |
| Audi A5 Quattro | 3.0 / 5.0 |
| BMW 328i xDrive | 2.5 / 5.0 |
| Porsche 911 | 2.0 / 5.0 |
| BMW 335i xDrive | 2.0 / 5.0 |
| Audi S4 | 2.0 / 5.0 |
| BMW 335i | 2.0 / 5.0 |
| BMW M3 | 2.0 / 5.0 |
| Audi S5 | 2.0 / 5.0 |
| BMW 335d | 1.5 / 5.0 |
| Avg. Lux. Midsize Car | 3.5 |
The Best and Worst Years for the Acura TSX
We've done some digging to find the best and worst model years for the TSX.
Worst Model Year
The worst model years for the TSX are 2004, 2005 and 2012 based on the severity of the issues faced. The 2004 and 2005 models had a high rate of transmission failure whilst the 2012 model was notorious for its power steering issues.
According to Car Complaints, the transmission on '04 and '05 TSX models typically failed in the region of 100,000 – 130,000 miles and cost around $2,500 to rectify – the solution was to replace the transmission entirely.
2012 was another bad year for the TSX with many owners complaining of power steering failure, one minute they'd be driving along fine and then the "Check Power Steering" notification light would turn on.
This left drivers unable to steer as the steering wheel locked up and as you can imagine this is extremely dangerous.
One distraught owner shared "when driving on a local road I suddenly lost power steering and the warning light came on the dashboard, was a close call, had to replace the entire epu unit which cost me about $1200 to fix".
Best Model Year
The 2014 Acura TSX is the best model year, it has received the fewest number of complaints overall and has the most up-to-date features and tech.
Standard features in the 2014 TSX include:
Bluetooth
USB port
Power moonroof
Notable available features include:
A 10-speaker Acura/ELS audio system
Aatellite radio, and navigation.
J.D. Power gave the 2014 TSX a reliability rating of four out of five which is above average.
Are there any problems with this model?
Some owners have reported a problem with the brakes – when the car is started in cold weather the brake pedal does not work for several minutes.
Related: 11 Best & Worst Acura TSX Years (Pictures & Stats)
Model Year and Number of Complaints
Here is the total number of complaints and problems for every TSX model year from the CarComplaints and Car Problem Zoo databases:
Model Year
Car Complaints
No. of Complaints
Car Problem Zoo
No. of Problems
2014
0
7
2013
3
31
2012
21
135
2011
10
49
2010
26
73
2009
33
98
2008
9
36
2007
5
24
2006
23
57
2005
12
49
2004
9
156
What About Recalls for These Models?
The Acura TSX has had a total of 51 recall campaigns.
You can check if your Acura TSX has been subjected to a recall campaign by entering your VIN (Vehicle Identification Number) on Acura's recall site or the NHTSA recall database.
It is important to note that recalls are manufacturing faults repaired at no charge for the consumer.
Here is the total number of recall campaigns for every model year of the Acura TSX:
2014: 3
2013: 4
2012: 6
2011: 7
2010: 7
2009: 6
2008: 3
2007: 3
2006: 4
2005: 4
2004: 4
Acura TSX Model Year List
First Generation:
2004 Acura TSX
2005 Acura TSX
2006 Acura TSX
2007 Acura TSX
2008 Acura TSX
Second Generation:
2009 Acura TSX
2010 Acura TSX
2011 Acura TSX
2012 Acura TSX
2013 Acura TSX
2014 Acura TSX
Are Acura TSX Expensive to Maintain?
The Acura TSX is one of the most affordable vehicles in its class in terms of maintenance. Parts are still readily available and you should have no problem taking it to an independent Honda mechanic for servicing and repairs.
Acuras, in general, are very reliable vehicles and this keeps maintenance costs down.

According to RepairPal:
The Acura TSX will cost an average of $415 per year in repairs and maintenance. This is lower than the average of $739 for other compact executive cars and lower than the average for all vehicles in different segments, which is estimated at $652.
Model
Avg. Annual
Repair Cost
Frequency of
Unscheduled
Repairs (per year)
Probability of
Severe Repairs
Acura TLX
$440
0.2
6%
Acura TSX
$415
0.4
6%
Lexus ES300h
$524
0.4
4%
Lexus ES350
$468
0.6
6%
Infiniti G25
$533
0.5
7%
Acura TL
$467
0.4
9%
Lexus IS250
$487
0.6
8%
Infiniti G37
$540
0.5
8%
Lexus IS350
$543
0.7
9%
Infiniti Q50
$648
0.6
8%
Volvo S60
$750
0.5
8%
Mercedes-Benz C350
$724
0.5
10%
Mercedes-Benz C300
$739
0.7
9%
Audi A4
$739
0.4
13%
Mercedes-Benz C250
$770
0.8
9%
Hyundai Genesis Coupe
$621
0.4
17%
Cadillac CTS
$663
0.4
16%
Cadillac STS
$669
0.4
17%
BMW 328i
$773
1.0
12%
Lincoln MKZ
$831
0.6
15%
Audi A4 Quattro
$925
0.7
14%
Jaguar XF
$1,066
0.7
12%
Audi A5 Quattro
$887
1.2
12%
BMW 328i xDrive
$900
1.2
12%
Porsche 911
$1,072
0.5
22%
BMW 335i xDrive
$1,079
1.2
16%
Audi S4
$1,171
0.9
17%
BMW 335i
$1,030
1.2
18%
BMW M3
$1,161
0.8
21%
Audi S5
$1,164
1.2
17%
BMW 335d
$1,113
1.4
24%
Avg. Lux. Midsize Car
$739
0.6
12%
How Long Do the Brakes Last?
Acura TSX brake pads will typically last between 30,000 and 70,000 miles. This can vary widely and depends mostly on your style of driving and the traffic conditions you normally experience.
You can expect your brakes to wear out sooner if you frequently stop and accelerate in rush-hour traffic
Brake pad replacement, which includes parts and labor, can cost anywhere between $150 – $300 per axle.
Full and complete stops from a high speed are the #1 cause of premature brake pad wear.
A sporty driving style will lead to faster deterioration of brakes. A slow and steady style will help them last longer.
How Long Do the Tires Last?
The Acura TSX's stock tires usually last around 40,000 to 50,000 miles or 3 to 5 years. However, they can wear out much sooner. This depends on various factors, such as driving habits, climate, and road conditions.
Rotate tires every 5,000 miles to ensure even wear.
If you have to drive on rough or flooded roads, or go off-roading, your tires will take more of a beating.
Check your tire pressure every few weeks to make sure they're at the correct tire pressure.
Have a mechanic or tire shop check your wheel alignment every 6 months.
How Long Do Acura TSX Engines Last?
The Acura TSX with a 201-hp 2.4-liter in-line four-cylinder engine and a 280-hp 3.5-liter V6 in North America. Both engines are expected to last over 250,000 miles on average provided they're properly maintained.
You may also be interested in our article: How Long Do Infiniti Q50 Last?
How Long Do Acura TSX Batteries Last?
The Acura TSX battery should last between 3 – 5 years. A vehicle's battery life varies depending on many factors such as climate, driving habits, and battery type, among many others.
Keep your battery tightly fastened: The vibrations of your car can loosen the connections, potentially resulting in short circuits and internal damage.
Limit short rides: Quick car rides prevent the battery from fully charging.
Storage: Keep your Acura stored indoors to protect it from extreme temperature changes.
Control Corrosion: Clean the terminals (toothbrush dipped in baking soda and water mixture) and keep them free from build-up.
How Long Do the Spark Plugs Last?
For the TSX, Acura recommends changing the stock iridium spark plugs every 100,000 miles although they may last much longer with some owners chaning them at 130,000 miles.
Spark plugs are usually inspected every time you take your car in for routine maintenance.
Signs of a fouled spark plug include:
Reduced gas mileage
Lack of acceleration
Rough idling
Hard starts
Engine misfires
What About Insurance Costs?
The average cost of full comprehensive coverage for an Acura TSX is $1,186 per year or around $99 per month.
In comparison, its rivals in the compact executive car segment cost an average of $1,636 per year, which is $450 more expensive.
Insurance costs can vary from person to person; be sure to shop around to find the best potential deal for your Acura TSX.
Tips to Prolong the Life of Your Acura TSX
Adopt smooth driving habits.
Keep up to date with factory-recommended maintenance.
Use quality parts and fluids.
Keep on top of repairs to prevent them from developing into larger problems.
Regularly wash your Acura TSX to remove dirt and grime to protect the paint and undercarriage from rust developing.
Check your TSX's engine oil, coolant, brake, and transmission fluid levels and top them up when required.
Keep your TSX stored in a garage to help protect it from the elements.
Read the owner's manual to learn the location of important components, what your TSX needs and what quantity, and to understand the symbols and dashboard warning lights.
Resources
https://repairpal.com/reliability/acura/tsx
https://www.carcomplaints.com/Acura/TSX/
https://www.carproblemzoo.com/acura//tsx/
https://www.kbb.com/acura/tsx/
https://www.jdpower.com/cars/2011/acura/tsx
https://www.consumerreports.org/cars/acura/tsx
https://owners.acura.com/service-maintenance/recalls
https://www.kbb.com/mazda/mazda6/
https://repairpal.com/reliability/mazda/6
https://repairpal.com/reliability/lexus/is250
https://www.jdpower.com/cars/2021/lexus/is
https://www.kbb.com/honda/accord/
https://www.jdpower.com/cars/2021/honda/accord