The BMW Z4 roadster first came out in 2003 to replace the Z3.
Its small size gives it nimble handling, but it's also designed to be a luxury tourer that's easier to live with on a daily basis compared to its rivals.
In this article, we'll take a closer look at the BMW Z4's average lifespan.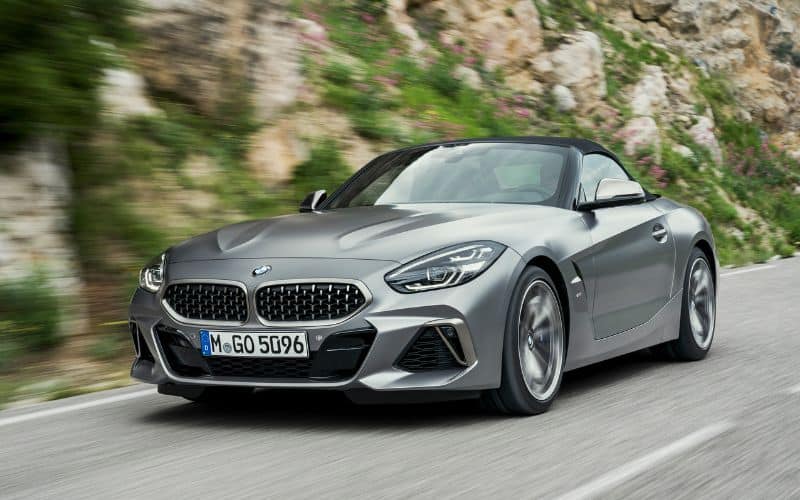 Here is the short answer to how long the BMW Z4 lasts:
A BMW Z4 will typically last 200,000 miles with proper maintenance although they can last must longer, some have even lasted over 250,000 miles although these are the outliers. If you drive 15,000 miles a year, you can expect 13 years of reliable service before requiring expensive repairs.
How Many Miles Can You Expect from a BMW Z4?
The BMW Z4 has received fairly average reliability reviews from auto critics but that doesn't mean they can't hit big numbers on the odometer.
Repair Pal and Consumer Reports both gave the Z4 a reliability rating of 3.0/5.0.
On used car websites, most of the high mileage Z4s have around 150,000 miles on the clock, which is a testament to the car's durability.
Based on industry data, a BMW Z4 can last about 200,000 miles if you follow the recommended maintenance schedule, drive sensibly and deal with repairs asap before they develop into bigger problems.
Of course, it can potentially last longer but at this stage in the car's life repair costs can outweigh its value or despite repairs, it remains unreliable.
Z4s share many parts with other BMWs like the 3-series, including the engines and transmissions.
This means that lots of mechanics can easily perform basic maintenance and major repairs on a Z4, and parts are widely available.
On different BMW forums like BimmerForums and ZPost, you'll see lots of Z4s with over 100,000 miles on the clock, and some with over 200,000 miles that are still running strong. 
Of course, high mileage Z4s are usually owned by enthusiasts who maintain their cars religiously and many do their own maintenance because they treat it as a hobby.
But it goes to show how reliable and long-lasting a properly maintained Z4 can be even after almost 2 decades.
Keep in mind, that although the Z4 is designed for spirited driving, treating it like a race car will have a negative impact on its longevity as parts will wear out much sooner.
All new BMW Z4s also come with a 4-year/50,000-mile Limited Warranty and a 12-year/unlimited-mile Corrosion/Perforation Warranty, so the first few years of ownership should be very trouble-free.
What are the Common Problems of the BMW Z4?
Here are some common BMW Z4 issues you have to watch out for.
Steering Issues
According to CarComplaints and CarProblemZoo, the most commonly reported problem with the Z4 is power steering failures.
The first-generation Z4 often has issues with sticky or notchy steering when it's hot outside and the power steering starts to overheat.
When this happens, the steering wheel gets extremely heavy and it's hard to turn it smoothly.
For most people, the problem only happens when the car is left outside in hot weather, so they just avoid leaving the car out in the sun.
A more permanent fix requires taking a closer look at the Electric Power Steering (EPS) system to check if it needs to be replaced.
The M Roadster and Coupe shouldn't have these issues since they use hydraulic power steering.
The second generation Z4 can also have power steering issues, but it's not as common as the first generation.
Convertible Top Issues
The first-generation BMW Z4 also had issues with the convertible motor going out over time due to moisture and corrosion. 
Once the motor fails, you can still open and close the soft-top roof manually.
Replacing the roof motor can be expensive and it will eventually break again, so some have relocated the motor to the trunk of the car so it's not exposed to the elements.
Roof motor failures are not as common in the second generation Z4, but when it does happen, you can't open or close the metal roof manually.
The most common cause of convertible roof failures in the second gen Z4 is a broken microswitch, which is cheap to replace.
It can also have a faulty wiring harness or a leaking hydraulic line, both of which are expensive repairs.
What is High Mileage for a BMW Z4?
A BMW Z4 with 80,000 miles is considered high mileage. Most Z4s aren't used as daily drivers and only get driven on weekends or on special occasions. It takes much longer for these cars to accumulate miles compared to a typical sedan or SUV.
Z4s with 80,000 to 100,000 miles are usually at least 10 years old and will have more parts that need to be replaced due to age.
For example, the Z4's water pump uses plastic blades that wear out after around 60,000 to 80,000 miles. It's an essential component of the car's cooling system and will leave you stranded if it suddenly fails.
Other wear-and-tear parts will also need to be replaced soon once the car reaches 100,000 miles.
These repairs can easily add up to several thousand dollars in just a few years or even a few months.
A high-mileage BMW Z4 can still be a great deal if it's recently gone through a major service and has had a lot of typical wear parts replaced. 
To minimize the risk of expensive repairs, look for cars that have a complete service history, or at least get it inspected by a BMW specialist before purchasing.
If you're buying a used BMW Z4, consider the following:
Maintenance history. Make sure the car has had its routine servicing done and the owner can provide proof, ideally at a BMW dealership or an independent BMW specialist.
Check for rust and damage. Rust is a problem that will spread, make sure to check under the car too. Any damage or scratches will be an indicator of how the car was treated.
Number of previous owners. As a general rule, less is better – more owners usually means more wear-and-tear.
How long you are planning on keeping the car. If it's for a long time, evaluate whether the short-term savings outweigh spending extra on something more reliable.
Examine the interior. The condition of the interior tells the story of how well the car was maintained and cared for.
How Long Does the BMW Z4 Last Compared to Similar Car Models?
In this section, we'll look at some of the BMW Z4's closest competitors and see how they stack up in terms of durability and repair costs.
BMW Z4 vs. Audi TT
The Audi TT is a compact sports car that's available either as a 2+2 coupe or a two-seat roadster.
The TT features Audi's Quattro all-wheel-drive system so it's more sure-footed in slippery road conditions.
The Audi TT has the same expected lifespan as the Z4 at 200,000 miles or at least 13 years.
| | | |
| --- | --- | --- |
| | BMW Z4 | Audi TT |
| RepairPal Reliability Rating | 3.0/5.0 | 3.0/5.0 |
| RepairPal Reliability Ranking | 14th / 17Luxury Compact Cars | 11th / 21Luxury Compact Cars |
| Average Annual Repair Cost | $859 | $924 |
| Kelley Blue Book Reliability Score | 4.5/5.0 | 4.9/5.0 |
| Edmunds Consumer Review Score | 4.0/5.0 | 5.0/5.0 |
| JD Power Quality & Reliability Score | 75/100 | NA |
The Audi TT and Z4 are pretty even when it comes to price and reliability.
The TT uses the same platform as the VW Golf and Audi A3 while the Z4 is designed to be a sports car from the ground up.
Choosing between the two really comes down to personal preference and whether you need all-wheel-drive during the winter.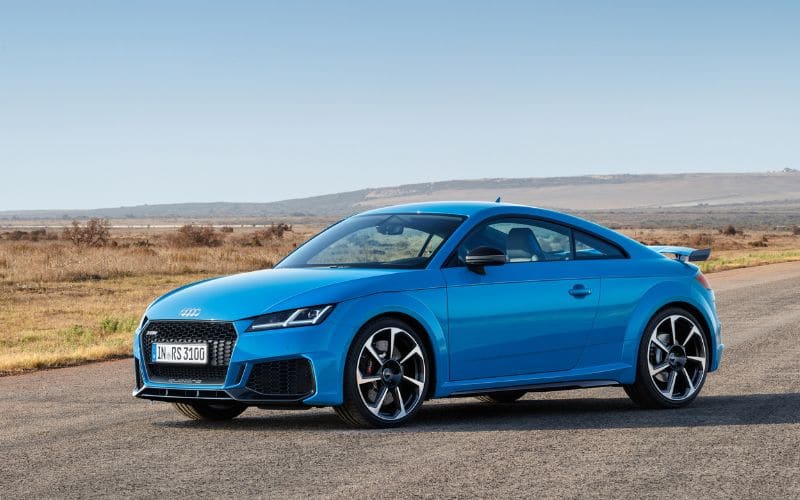 BMW Z4 vs. Porsche Boxster
The Porsche Boxster is a mid-engined roadster that's been sold since 1997.
Although it's the entry-level sports car in Porsche's lineup, it's considered one of the best handling cars on the market.
The Porsche Boxster can last 200,000 miles or 13 years, which is similar to the expected lifespan of the Z4.
| | | |
| --- | --- | --- |
| | BMW Z4 | Porsche Boxster |
| RepairPal Reliability Rating | 3.0/5.0 | 2.5/5.0 |
| RepairPal Reliability Ranking | 14th / 17Luxury Compact Cars | 15th / 17Luxury Compact Cars |
| Average Annual Repair Cost | $859 | $952 |
| Kelley Blue Book Reliability Score | 4.5/5.0 | 5.0/5.0 |
| Edmunds Consumer Review Score | 4.0/5.0 | 5.0/5.0 |
| JD Power Quality & Reliability Score | 75/100 | 88/100 |
Although the Z4 and Boxster have similar reliability ratings and lifespans, the Boxster's engine is much harder to access which makes maintenance more difficult.
Z4 parts are also widely available since it uses the same engines and transmissions used in other BMWs, while the Boxster is more exclusive.
The Z4 has a much lower starting price compared to the Boxster and has slightly more storage space.
If you're looking for an all-out sports car, the Boxster is the clear winner. But if you just want to comfortably cruise around with the top down, the Z4 is the better option.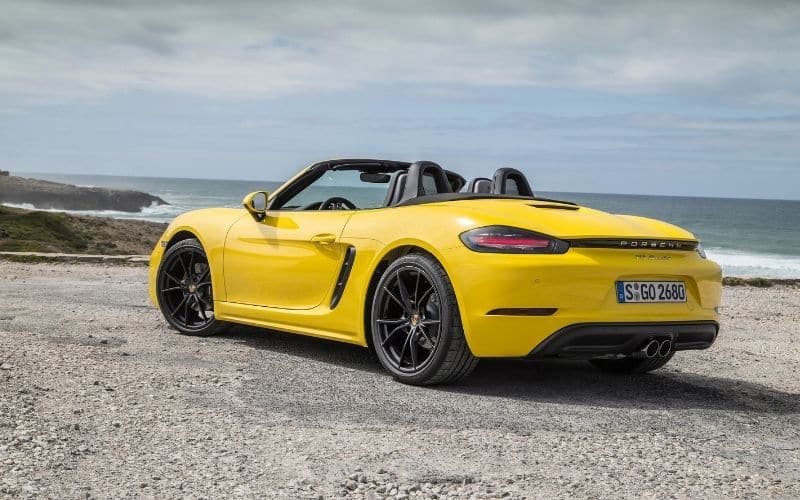 Related: How Long Do porsche Boxters Last?
BMW Z4 vs. Mazda MX-5 Miata 
The Mazda Miata is a fun yet affordable sports car that has a huge following.
It's significantly cheaper than the Z4, but it has less power and creature comforts.
The MX-5 Miata can easily last 200,000 – 300,000 miles with proper maintenance.
| | | |
| --- | --- | --- |
| | BMW Z4 | Mazda MX-5 Miata |
| RepairPal Reliability Rating | 3.0/5.0 | 4.0/5.0 |
| RepairPal Reliability Ranking | 14th / 17Luxury Compact Cars | 8th / 21Subcompact Cars |
| Average Annual Repair Cost | $859 | $429 |
| Kelley Blue Book Reliability Score | 4.5/5.0 | 4.5/5.0 |
| Edmunds Consumer Review Score | 4.0/5.0 | 4.9/5.0 |
| JD Power Quality & Reliability Score | 75/100 | 70/100 |
Miatas typically require much less maintenance than a Z4 and parts are also significantly cheaper.
If all you're looking for is a cheap and cheerful convertible sports car, the Miata is a clear winner.
But it's not as luxurious as the Z4 and larger people have trouble fitting inside due to its smaller size. The Z4 is much more comfortable overall for both daily driving and longer trips.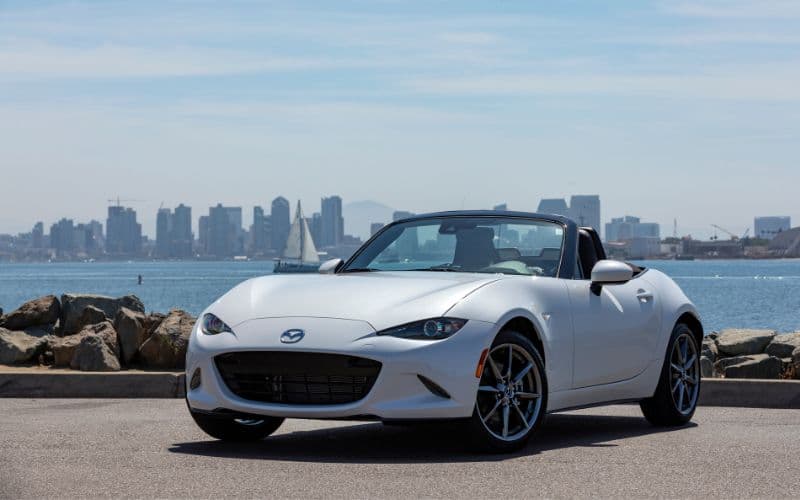 Related: How Long Do Mazda MX-5 Miata Last?
Comparison Chart
BMW Z4
Porsche Boxster
Audi TT
Mazda Miata
RepairPal Reliability Rating
3.0/5.0
2.5/5.0
3.0/5.0
4.0/5.0
RepairPal Reliability Ranking
14th / 17
Luxury Compact Cars
15th / 17
Luxury Compact Cars
11th / 21
Luxury Compact Cars
8th / 21
Subcompact Cars
Average Annual Repair Cost
$859
$952
$924
$429
Kelley Blue Book Reliability Score
4.5/5.0
5.0/5.0
4.9/5.0
4.5/5.0
Edmunds Consumer Review Score
4.0/5.0
5.0/5.0
5.0/5.0
4.9/5.0
JD Power Quality & Reliability Score
75/100
88/100
NA
70/100
Expected Lifespan (miles)
200k
200k
200k
200k – 3000k
Expected Lifespan (years)
13+
13+
13+
17+
Is the BMW Z4 Reliable?
The BMW Z4 has received middle-of-the-pack reliability ratings from auto critics, in general, it should be fairly reliable as long as it's properly maintained.
BMWs aren't best known for their reliability, and according to one survey for most owners it's not their primary concern.
In fact, many BMW owners want a car that looks good, is a status symbol and has impeccable driving characteristics and the Z4 certainly ticks those boxes.
That being said the Z4 has fairly average reliability according to Repair Pal and Consumer Reports who both scored the Z4 with a 3.0/5.0 for reliability.
Just like any other BMW, it is essential that you follow the recommended service intervals to keep it in good working order and keep problems at bay.
Skipping scheduled oil and fluid changes usually ends up in more expensive repairs down the line. 
Key Takeaways:
BMW enthusiasts on different Internet forums have noted that the Z4 is one of the most reliable BMWs you can buy. 
RepairPal gave the BMW Z4 a reliability rating of 3/5 which is higher than BMW's overall rating of 2.5/5.
JD Power's 2022 Vehicle Dependability Study ranked BMW as the 3rd most dependable luxury brand after Lexus and Porsche.
Consumer Reports ranks BMW in 17th position for reliability out of 28 car brands.
Here's what a few owners had to say:
"2007 Z4M coupe, purchased in 2010 with 30,000 miles, at 148,00 now. VANOS [engine component designed to enhance the efficiency of intake performance] and alternator under warranty (thank the Lord). Not much else except regular maintenance."
"I've owned an E85 with the M54 motor 3.0l since 07. I have 145k smiles. It has been very solid with mainly just the normal seals leaking from age."
"Outside the top motor my '06 3.0si has been rock solid, and it's lived a hard life. Autocross, track days, Florida heat, no issues."
Reliability Compared to Other Small Luxury Cars
| | |
| --- | --- |
| Model | Reliability |
| Lexus CT200h | 4.5 / 5.0 |
| Acura ILX | 4.5 / 5.0 |
| Volvo S40 | 3.5 / 5.0 |
| Audi A3 | 3.5 / 5.0 |
| Cadillac ATS | 3.5 / 5.0 |
| Volvo C30 | 3.5 / 5.0 |
| Mercedes-Benz CLA250 | 3.5 / 5.0 |
| Lexus HS250h | 3.5 / 5.0 |
| Volvo C70 | 3.5 / 5.0 |
| Mercedes-Benz A-Class | 3.0 / 5.0 |
| Mercedes-Benz SLK350 | 3.0 / 5.0 |
| Audi TT Quattro | 3.0 / 5.0 |
| Audi A3 Quattro | 3.0 / 5.0 |
| BMW 128i | 3.0 / 5.0 |
| BMW Z4 | 3.0 / 5.0 |
| Porsche Boxster | 2.5 / 5.0 |
| Porsche Cayman | 2.0 / 5.0 |
| BMW 135i | 2.0 / 5.0 |
| Avg. Luxury Compact Car | 3.5 / 5.0 |
Source: Repair Pal
The Best and Worst Years of the BMW Z4
Worst Model Year
The 2003 to 2005 Z4 are the worst model years due to the number of power steering failures that have been reported on CarProblemZoo and CarComplaints.
The 3.0-liter models of the 2003 to 2005 BMW Z4 also used a SMG or Sequential Manual Gearbox which were notorious for pump failures and clutch issues.
However, many consider the naturally aspirated M54 inline-6 engine used in these early Z4s as one of the best BMW engines ever made in terms of reliability.
Best Model Year
The best model year of the BMW Z4 is the third generation model sold from 2019 onwards.
This latest version was co-developed with Toyota and uses the same chassis and mechanical components as the Toyota Supra, which is essentially a re-bodied coupe version of the Z4.
These Z4s are also significantly faster than previous generations without having to resort to using exotic engines and transmissions that are more expensive to maintain.
What About Recalls for These Models?
The BMW Z4 has had a total of 44 recall campaigns since it was released in 2003.
You can check if your BMW Z4 is part of a recall campaign by entering your VIN (Vehicle Identification Number) on BMW's recall lookup site or the NHTSA recall database.
It is important to note that recalls are manufacturing faults repaired at no charge for the consumer.
Here is the total number of recall campaigns for every model year of the BMW Z4:
2022 BMW Z4: 0
2021 BMW Z4: 3
2020 BMW Z4: 5
2019 BMW Z4: 5
2016 BMW Z4: 0
2015 BMW Z4: 0
2014 BMW Z4: 2
2013 BMW Z4: 2
2012 BMW Z4: 3
2011 BMW Z4: 5
2010 BMW Z4: 4
2009 BMW Z4: 4
2008 BMW Z4: 2
2007 BMW Z4: 2
2006 BMW Z4: 2
2005 BMW Z4: 0
2004 BMW Z4: 1
2003 BMW Z4: 4
BMW Z4 Model Year List
The BMW Z4 was first introduced as a 2003 model year.
It was briefly discontinued in 2016 until it made a comeback for the 2019 model year.
Each generation received updates and a facelift midway through its production run.
First Generation (2003 – 2008)
2003 BMW Z4
2004 BMW Z4
2005 BMW Z4
2006 BMW Z4 (facelift)
2007 BMW Z4
2008 BMW Z4
Second Generation (2009 – 2016)
2009 BMW Z4
2010 BMW Z4
2011 BMW Z4
2012 BMW Z4
2013 BMW Z4 (facelift)
2014 BMW Z4
2015 BMW Z4
2016 BMW Z4
Third Generation (2016 – present)
2019 BMW Z4
2020 BMW Z4
2021 BMW Z4
2022 BMW Z4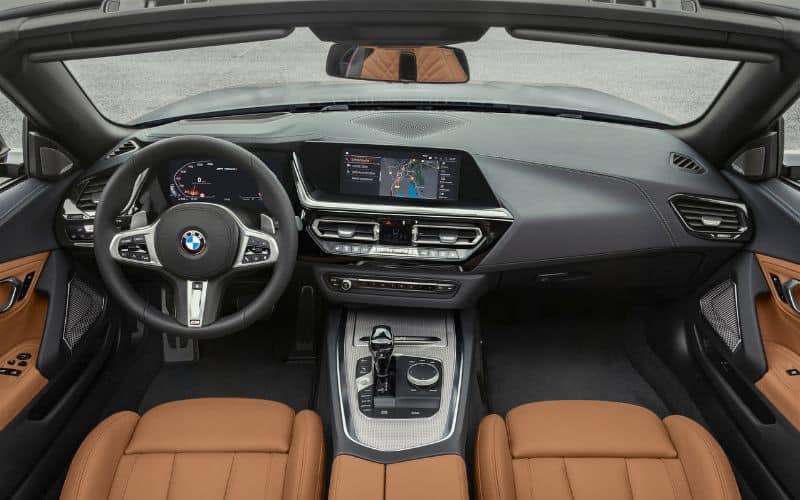 Are BMW Z4s Expensive to Maintain?
According to RepairPal, repairs and maintenance for the BMW Z4 costs an average of $895 per year.
It's much cheaper to maintain compared to the overall average for BMW which is estimated at $968 per year.
Model
Avg. Annual Repair Cost
Frequency of
Unscheduled
Repairs (per year)
Probability of
SevereRepairs
Lexus CT200h
$386
0.4
5%
Acura ILX
$435
0.3
6%
Volvo S40
$693
0.5
9%
Audi A3
$741
0.5
9%
Cadillac ATS
$741
0.3
12%
Volvo C30
$720
0.8
9%
Mercedes-Benz CLA250
$736
0.9
8%
Lexus HS250h
$361
0.9
15%
Volvo C70
$818
0.7
10%
Mercedes-Benz SLK350
$808
0.6
14%
Audi TT Quattro
$924
0.5
15%
Audi A3 Quattro
$824
1.5
8%
BMW 128i
$801
1.2
11%
BMW Z4
$894
0.7
16%
Porsche Boxster
$952
0.6
17%
Porsche Cayman
$1,135
0.7
19%
BMW 135i
$1,031
1.2
18%
Avg. Luxury Compact Car
$801
0.7
11%
How Long Do the Brakes Last?
The BMW Z4's brake pads typically last between 30,000 to 50,000 miles or 3 to 5 years depending on your driving habits and usage.
If you drive aggressively and/or regularly take it to the track, you'll need to replace the pads more often.
Using high performance brake pads requires more frequent brake pad changes because they tend to wear out much quicker.
Replacing brake pads shouldn't cost more than $200 for parts and labor, and there are lots of aftermarket options available.
How Long Do the Tires Last?
The BMW Z4's rear tires usually last around 15,000 – 20,000 miles while the front tires last about twice as long at 40,000 to 50,000 miles.
Z4s are usually fitted with high performance summer tires that are quite sticky but also wear out much faster.
If you regularly take it to the track, you might even struggle to get 5,000 miles out of your tires.
If you don't really care about performance, you can fit longer lasting tires the next time you have to replace them.
The rear tires are much wider than the fronts, so you can't rotate them to even out the tire wear.
To get more life out of your tires you should get a proper alignment at least every year and regularly check your tire pressure.
How Long Do BMW Z4 Engines Last?
BMW Z4 engines can last 300,000 miles with proper maintenance.
They all use the same engines used in other BMWs like the 3-series so they won't be difficult to take care of and parts are widely available.
You'll get more life out of your Z4 if you take it to a BMW specialist who is familiar with its nuances and all the tricks needed to keep it running for a long time. They can recommend preventative maintenance that will help you avoid expensive repairs in the future
The top-of-the-line models, like the first generation Z4M, typically require more maintenance and more expensive repairs compared to the standard versions.
How Long Do the Transmissions Last?
The BMW Z4's transmissions are extremely reliable and can last over 300,000 miles with only basic maintenance.
All Z4 models use the same transmissions found in other BMW passenger cars so repairs and replacements shouldn't be much of an issue.
The manual transmission is the most reliable, followed by the traditional automatic and the DCT (Dual-Clutch Transmission).
Avoid Z4s equipped with the SMG transmission, also known as a Sequential Manual Gearbox. These units are prone to SMG pump failures, which are expensive to fix, and have lackluster performance.
How Long Do BMW Batteries Last?
The BMW Z4's 12-volt battery should last between 3 – 5 years.
The Z4's battery is no different from any other battery you can find at a parts store, you just need to make sure it's the right size.
A vehicle's battery life varies depending on many factors such as climate, driving habits, and battery type, among many others.
Keep your battery tightly fastened: The vibrations of your car can loosen the connections, potentially resulting in short circuits and internal damage.
Limit short rides: Quick car rides prevent the battery from fully charging.
Storage: Keep your Z4 stored indoors to protect it from extreme temperature changes.
Control Corrosion: Clean the terminals (toothbrush dipped in baking soda and water mixture) and keep them free from build-up.
Use a battery tender: If you're storing your Z4 for several months, hook it up to a battery tender to keep the battery fully charged.
How Long Do the Spark Plugs Last?
BMW recommends changing the Z4 spark plugs every 60,000 miles and is part of its major service interval.
It's a good idea to change them every 4 – 6 years to make sure they don't get seized up even if you haven't gotten to 60,000 miles since the last time they were changed.
Spark plugs are usually inspected every time you take your car in for routine maintenance. Your mechanic or dealership may recommend a spark plug change if they appear worn out or fouled up even before the recommended service intervals.
Signs of a fouled spark plug include:
Reduced gas mileage
Lack of acceleration
Rough idling
Hard starts
Engine misfires
What About Insurance Costs?
The average cost of full comprehensive coverage for a new BMW Z4 is $1,642 per year or around $137 per month.
Insurance costs can vary from person to person; be sure to shop around to find the best potential deal for your BMW Z4.
Tips to Prolong the Life of Your BMW Z4
Although it's a sports car, try to drive as "normal" as possible, this will help keep wear and tear to a minimum.
Have the car washed regularly to keep rust at bay, especially after exposure to rain and road salt.
Keep your Z4 stored in a garage to protect it from the elements and bird droppings that can ruin the paintwork.
Familiarize yourself with the owner's manual to learn the location of important components, what your vehicle needs and in what quantities, and to understand the symbols and dashboard warning lights.
If your Z4 needs any repairs done, have them carried out asap to prevent it from turning into bigger and more expensive problems.
Sources
https://www.caranddriver.com/bmw/z4
https://repairpal.com/reliability/bmw/z4
https://www.edmunds.com/bmw/z4/
https://www.jdpower.com/cars/2020/bmw/z4
https://www.jdpower.com/business/press-releases/2022-us-vehicle-dependability-study
https://www.carcomplaints.com/BMW/Z4/
https://www.carproblemzoo.com/bmw/z4/
https://insuraviz.com/vehicles/bmw/bmw-z4-insurance/
L